Last Full Moon Party for 2018 attracts 30,000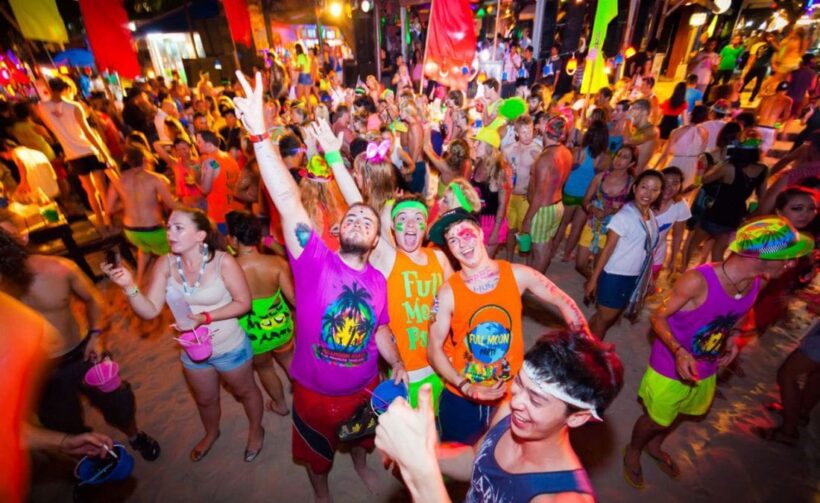 Authorities claim over 30,000 tourists flocked to Hat Rin on Koh Phangan for the Saturday night (well, Sunday morning really), monthly full moon party, the final party for 2018. The party kicked off at 1am on Sunday morning and wound up at 7am.
Most of the local hotels were full with highly inflated prices for the monthly gathering whilst many others arrived on speedboats from Koh Samui. The two kilometre beach filled quickly with its collection of DJ stages and exotic lighting filling the beach area. There were 12 sound systems running the length of the beach.
Due to the cost of cleaning up after such carnage, the local community implemented a 100 baht entry fee to access the beach on the night of Koh Phangan Full Moon Party.
Police report that there were no complaints or incidents and that the huge crowd were mostly well-behaved.
Keep in contact with The Thaiger by following our
Facebook page
.
Over half returning from Indonesia tested positive with Covid-19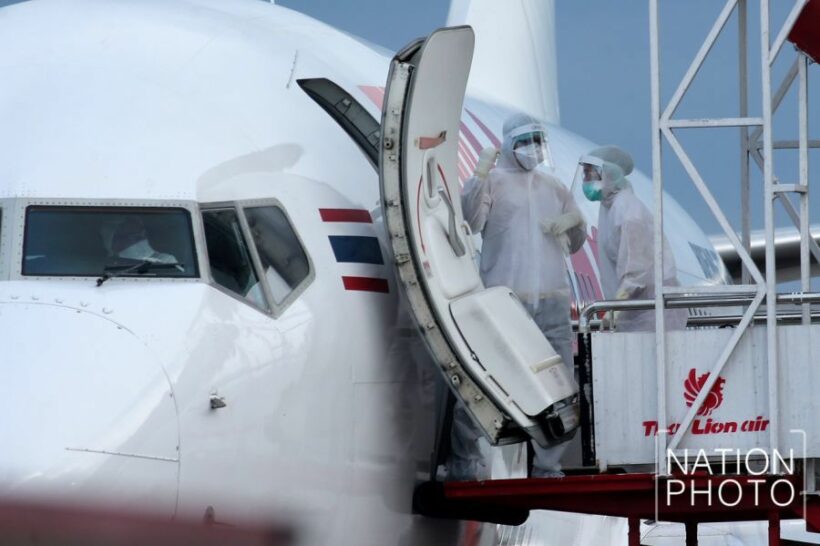 42 of the 76 Thais who returned from Indonesia on Monday have now ended up as Covid-19 patients.
Members of the Thai Islamic community travelling to Indonesia to preform "Dawah " an Islamic missionary tradition, amidst a rise of Covid-19 cases in Indonesia, have returned with over half testing positive.
After health care workers examined the returnees, 22 have been sent to quarantine at Southern Lak Muang Stadium in the southern Songkhla province, including 11 who are under observation, 10 who are confirmed positive for Covid-19, and one who tested negative.
7 were sent to Seangtham Vittaya School in Narathiwat province in the Deep South where 5 are under observation and 2 others have tested positive.
In the southern province of Pattani, 13 returnees have been quarantined in government facilities. 8 are under observation and 7 tested positive to the virus. 
The other 26 returnees have been quarantined at Songkhla Rajabhat University Satun campus where 16 tested positive. 
As a result of the high numbers, 35 LionAir staff have been quarantined in a hotel in Songkhla's Hat Yai district as well but so far none of the staff has
symptoms.
SOURCE: The Nation
Keep in contact with The Thaiger by following our
Facebook page
.
Surat Thani village headman kills monk and his assistant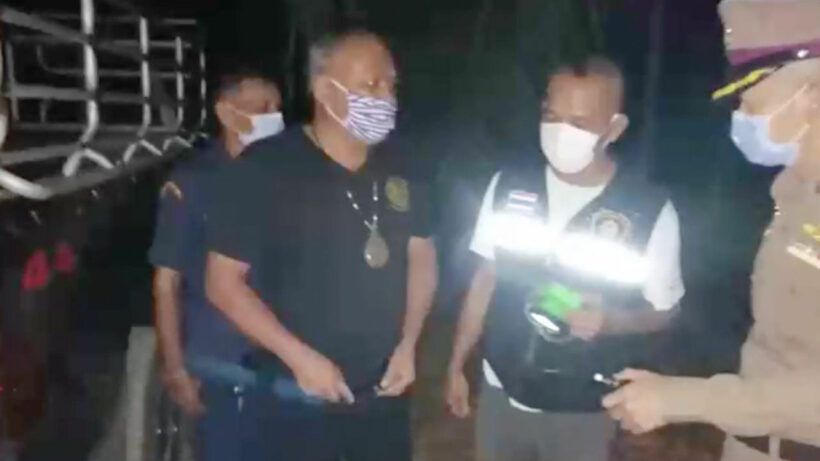 A 'Phu Yai Barn' or village headman has been arrested after allegedly killing a monk and his assistant near the entrance to Khao Phela monastery in Tha Chana district, Surat Thani Province. The Chief of Tha Chana district reported that around 2 am this morning he was accompanied by the Thana Chan police chief and other police officers to the crime scene.
When they arrived they found a pickup truck loaded with torches, fuel and coconut husks parked on the road. A man identified later as 48 year old Churat Khongkhlai was lying dead on the back of the vehicle with a gunshot wound to his neck.
10 metres away was the dead body of a monk found on the ground, later identified as 49 year old Phra Chonlathan Thavaro Kanchanabut, a monk of the Khao Phela monastery. He had two gunshot wounds, one in the back of his head and the other in his chest.
A .32 handgun was found near his body.
55 year old Manop Kopin, the headman of a village in tambon Samor Thong, was waiting for authorities and surrendered himself.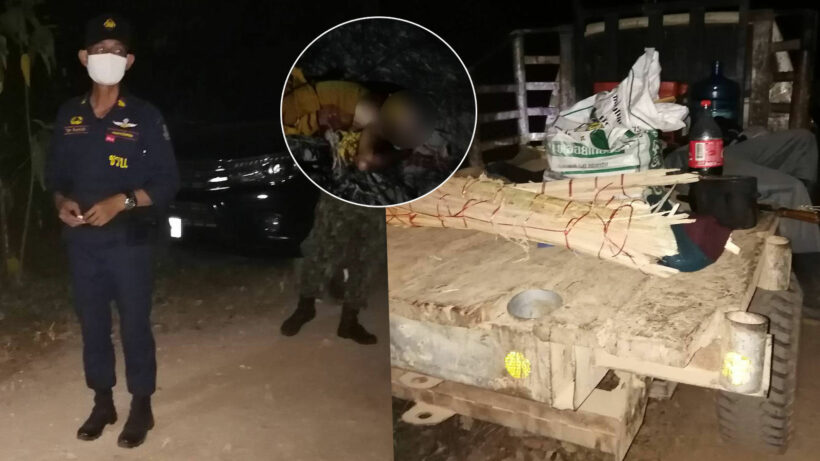 Assistant district chief Panyaporn Wattanapramote said they received a report from the chief of tambon Samor Thong, Thasaphon Thipsak, that two people had been previously arrested at 12.30am for leaving their homes during curfew hours. He led a team to the area and found Mr Manop and his team had already detained Churat and Phra Chonlathan. They had also seized a truck and equipment used for catching bees.
Panyaporn says "while he was reporting the curfew violation to the district chief over the phone, he heard gunshots. He went to check and found the village head had shot dead the monk and the layman."
Mr Manop told police that he saw the monk pulling out a pistol and Mr Churat grabbing a knife. He said he was frightened and thought they would attack him, so he fired three shots at them.
Police have detained the village headman as the investigation continues.
SOURCE: Bangkok Post | Thai Rath
Keep in contact with The Thaiger by following our
Facebook page
.
Dead Covid-19 train passenger had just returned from India, Pakistan, had contact with 3 Phuket cases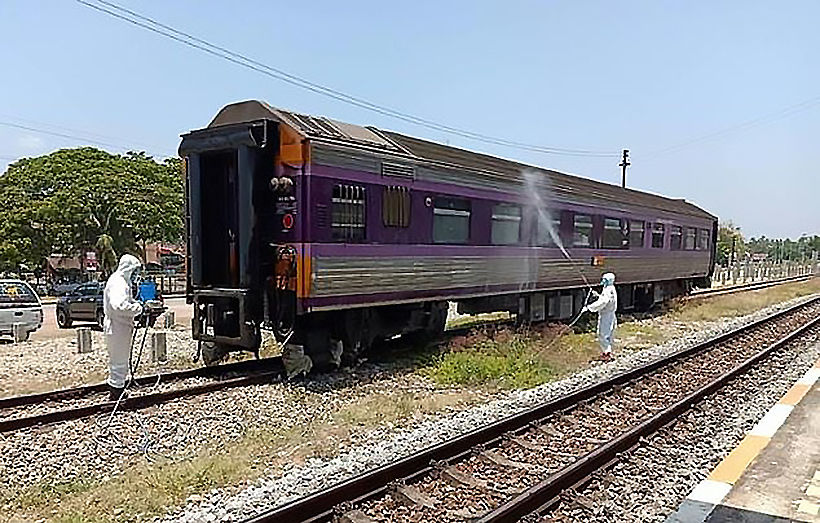 "The deceased had participated in a Dawah [Muslim missionary] activity in India in February, and before that he had been to Pakistan."
The 57-year-old Thai man found dead on a Bangkok-Narathiwat train on Tuesday had recently returned from India. Preecha Nuannoi, district chief of Su-Ngai Kolok in Narathiwat province, made the announcement yesterday.
"He was a local of Su-Ngai Kolok and had boarded the train from Bangkok on March 30 to return home. However, he was found dead when the train made a rest stop at Prachuap Khiri Khan's Thap Sakae district."
Tests on the body at Songkhla hospital came back positive for the Covid-19 coronavirus on Wednesday.
Preecha says Narathiwat public health authorities sent officials to interview and test the victim's family members and also disinfect his home.
The body was not sent to Narathiwat but instead buried Wednesday at an Islamic cemetery in Thap Sakae district, where family members joined the ceremony.
The dead man is known to have had contact in Pakistan with 3 cases of the virus confirmed in Phuket today. The southern island province reported 13 new cases, bring its total to 100.
The State Railway of Thailand announced it had disinfected and cleaned the train thoroughly. Eight train staff were ordered home for 14 days of self-quarantine, while a list of about 10 passengers who may have come into close contact with the victim was sent to the Public Health Ministry.
SOURCE: The Nation
Keep in contact with The Thaiger by following our
Facebook page
.