Last Full Moon Party for 2018 attracts 30,000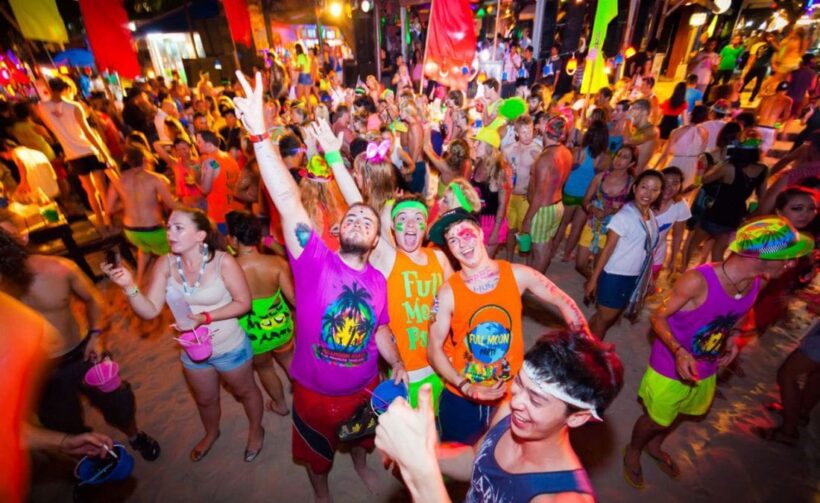 Authorities claim over 30,000 tourists flocked to Hat Rin on Koh Phangan for the Saturday night (well, Sunday morning really), monthly full moon party, the final party for 2018. The party kicked off at 1am on Sunday morning and wound up at 7am.
Most of the local hotels were full with highly inflated prices for the monthly gathering whilst many others arrived on speedboats from Koh Samui. The two kilometre beach filled quickly with its collection of DJ stages and exotic lighting filling the beach area. There were 12 sound systems running the length of the beach.
Due to the cost of cleaning up after such carnage, the local community implemented a 100 baht entry fee to access the beach on the night of Koh Phangan Full Moon Party.
Police report that there were no complaints or incidents and that the huge crowd were mostly well-behaved.


Read more headlines, reports & breaking news in South Thailand. Or catch up on your Thailand news.
Village leader killed in Yala in an insurgent ambush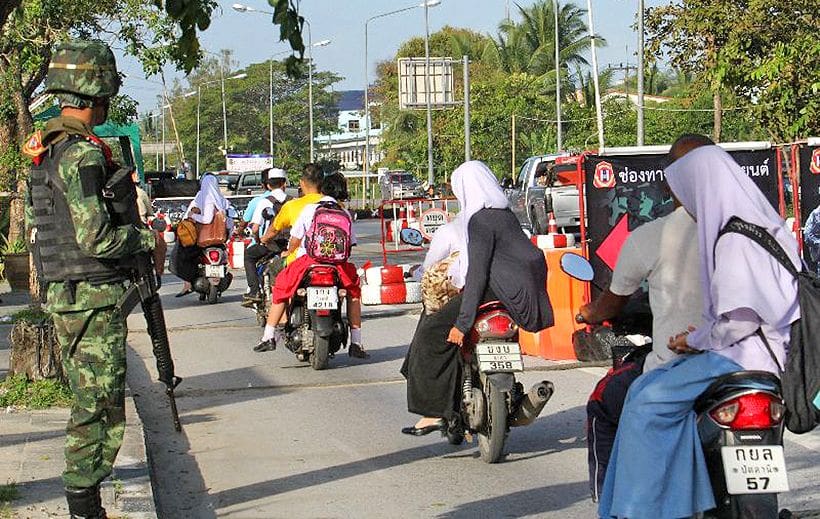 FILE PHOTO
An assistant village headman has been ambushed and shot dead in Yala's city district just after midnight today (Wednesday).
53 year old Sakariya Waemamah was killed on the main village road in Ban Taseh village at about 12.05am while riding home on his motorcycle.
Police found 23 spent shells from an M16 assault rifle and two spent shells from a shot gun at the scene.
Police said Sakariya was riding home at the end of his night-shift keeping guard at the village's security post when he was ambushed by at least two insurgents.
SOURCE: The Nation
'Boonrod' plucked out of the Gulf of Thailand, 220 kilometres offshore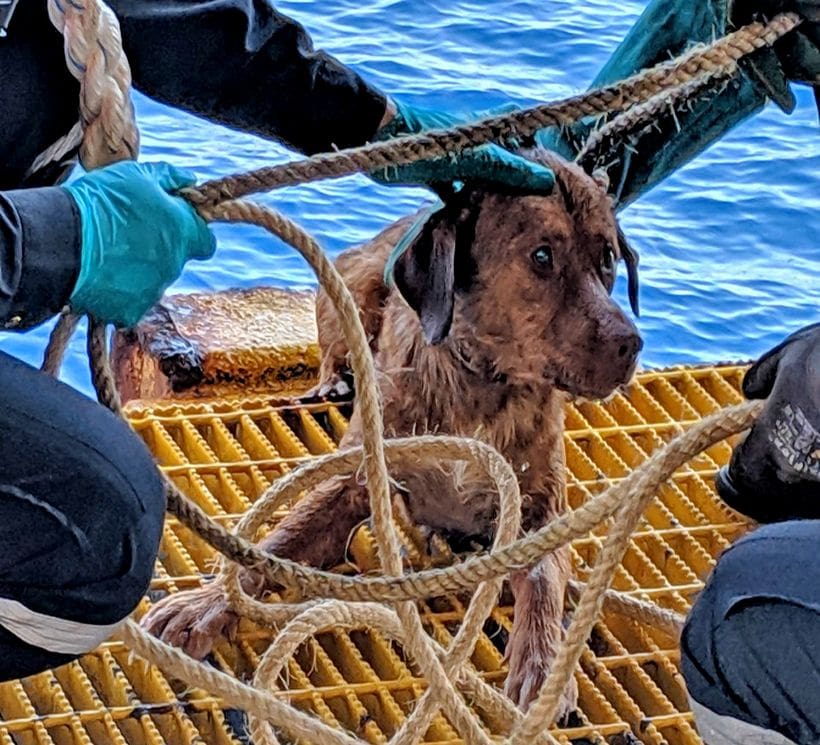 The story of a lucky dog. But how did he get there?
by Nicola Stow via VIRAL PRESS
Workers onboard a Thai oil rig noticed a dog's head poking above the ripples as she was paddling around the Gulf of Thailand on Friday. The rig was 22o kilometers off the coast of Songkhla. It's understood the Aspin dog, named Boonrod (Thai for 'survivor') by her rescuers, fell from a fishing trawler, according to the Bangkok Post.
Offshore drillers called out to the exhausted dog and she swam towards them, taking refuge among the rusty metal bars of the rig.
The workers then lowered a rope down to Boonrod and pulled her to safety. She stayed on the drilling platform for two nights while a special cage was welded and staff gave her food and water.
Boonrod was finally lifted by crane onto another oil vessel passing through the area last Sunday, which delivered her to vets in Songkhla, southern Thailand.
Khon Vitisak, an oil rig worker, who pulled the animal to safety, says he would like to adopt her if no owner comes forward.
"We just saw her small head but if the ripples were bigger, I think we probably wouldn't have noticed her at all. We found her trying to swim towards our rig, which is about 220 kilometres from the shore. Thankfully the sea was quite still because the wind was calm."
"After she made it onto the bars below the rig she didn't cry or bark at all. We looked for a way to help her and in the end, decided to use the rope to tie around her body to lift her up. When we first took her on board she was depressed and tired from being in the water for a long time."
ORIGINAL ARTICLE: thesun.co.uk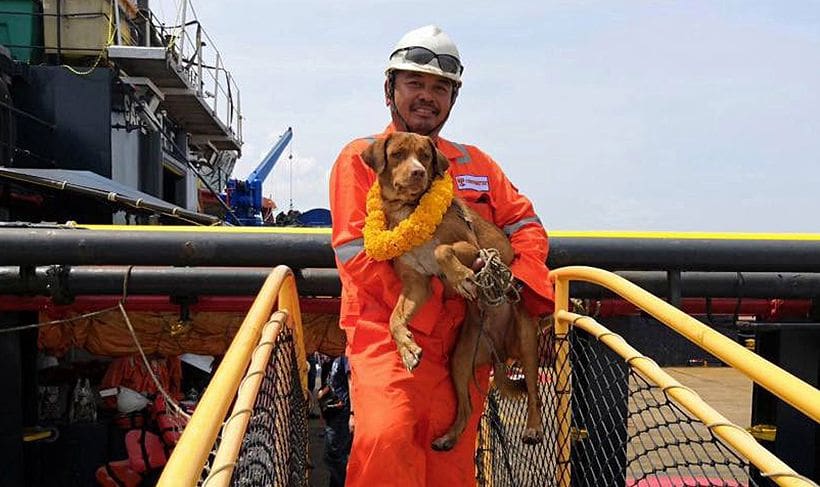 Parents offer reward to find the suspected killer of their innocent son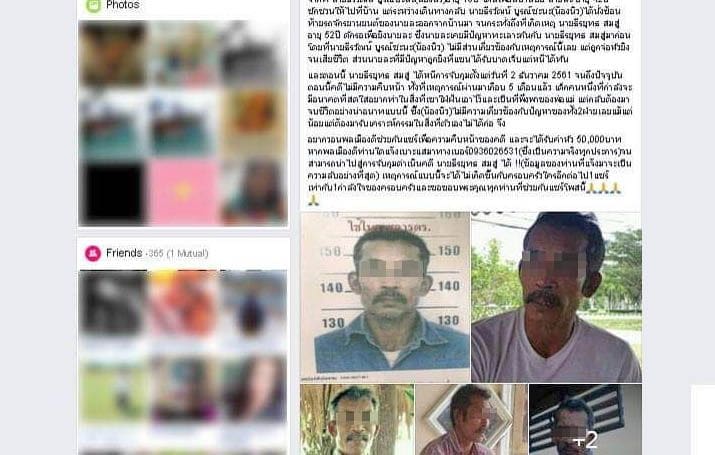 by Khanitta Sitong
The parents of a Mathayom 4 schoolboy, shot dead in Trang's Muang district last December, are offering a 50,000 baht reward to anyone who could provide information leading to the arrest of the 51 year old suspect. He was the innocent victim when bullets, intended for someone else, hit and killed him instead.
Police say they have failed to arrest the wanted man at this stage.
Anan Burachana and his wife Song have made an online appeal for help from citizens to locate the elusive suspect 'Teerayuth Somsu'.
Teerayuth allegedly shot dead the 16 year old Theerawat Burachana during a night ambush on December 2, 2018 in an intended attack on his rival 42 year old Worawat Klabjit.
Worawat at the time was driving the motorcycle with Teerayuth riding pillion. The teenager was an innocent party but received a fatal shot to the head, while Worawat sustained a gunshot wound in his arm.
SOURCE: The Nation