Six metre, duck-eating python caught at a Krabi gas station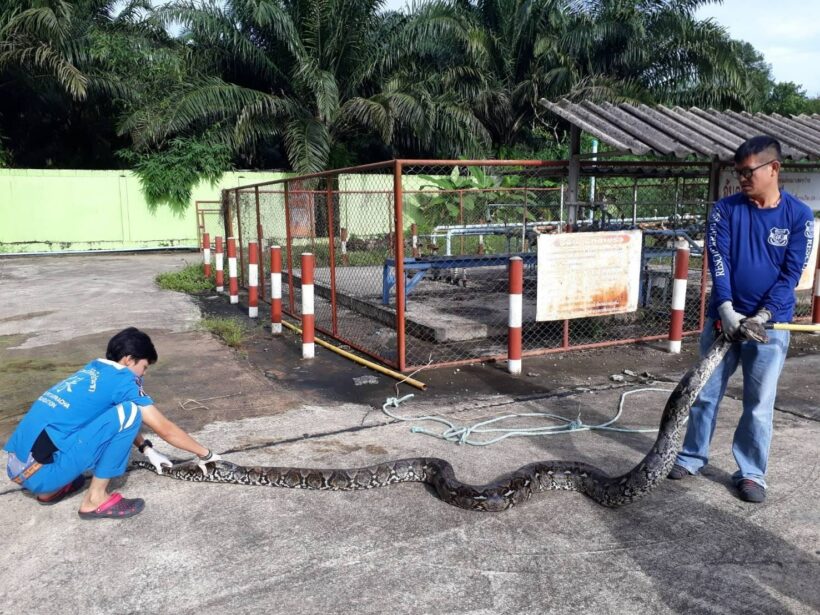 Krabi rescue workers yesterday (June 28) caught a six metre long python at a petrol station after the reptile had eaten a duck.
Three rescue workers from Krabi Pitak Pracha Foundation, along with a plucky local, took about 20 minutes to catch the python which weighed 56 kilograms at a gas station in Thab Prik.
Head of snake catcher team of the Foundation, Tongchai Wongwiwat, says, "We were notified by staff members of the gas station that a big python had eaten a duck in a farm just behind the gas station."
"When we arrived at the scene we found that the python has hiding in a bush. We used a snake snare to catch it and then put it in a bag."
"The python might have lived in the forest nearby. This time is rainy season and the python came out from the forest to eat the duck. The farmer told us he'd seen the python eat the duck… the python's stomach was still swollen when we caught it."
"I have caught about 100 snakes and this is the biggest one I have ever caught."



Read more headlines, reports & breaking news in Krabi. Or catch up on your Thailand news.
Update on renovations to Krabi International Airport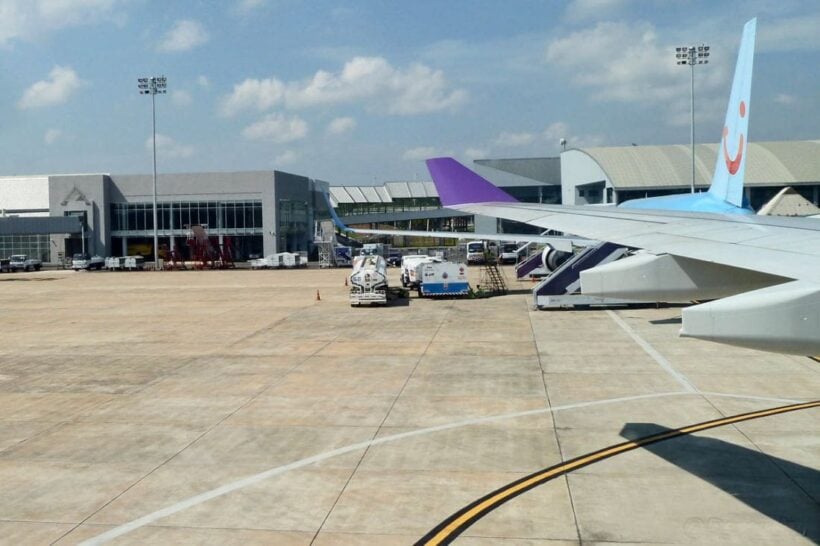 The Thailand Airports Authority has updated the expansion and refurbishment plans currently underway at Krabi International Airport. They report that work on a third terminal building will be completed by 2022.
Manager Online reports that Amphawan Wannako, the director-general, says that work is also being done to refurbish Terminals 1 and 2, including the car parks.
"When the work is all done the airport capacity will be 3,000 passengers per hour with 8 million expected to use the facility annually."
The infrastructure works are budgeted at 3.8 billion baht.
Amphawan says that passenger safety remains a paramount consideration. She noted that features of interest at the airport in the future will include improved check-in facilities and free wi-fi.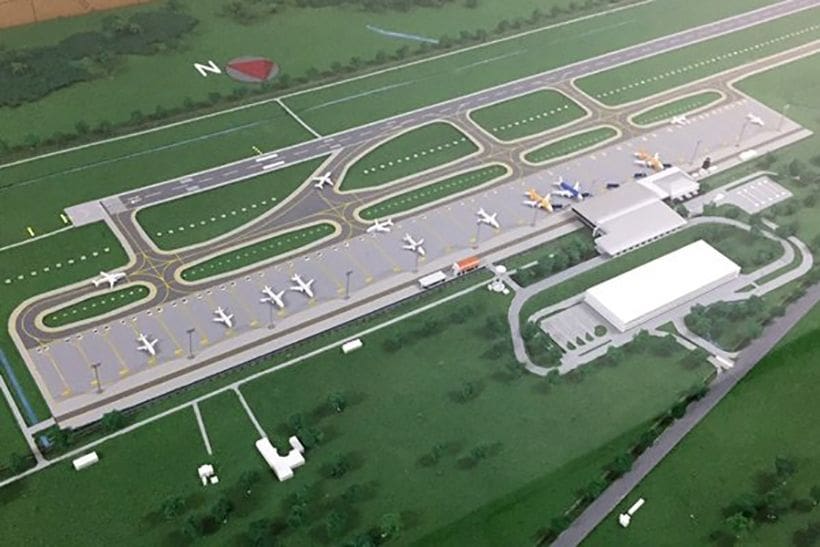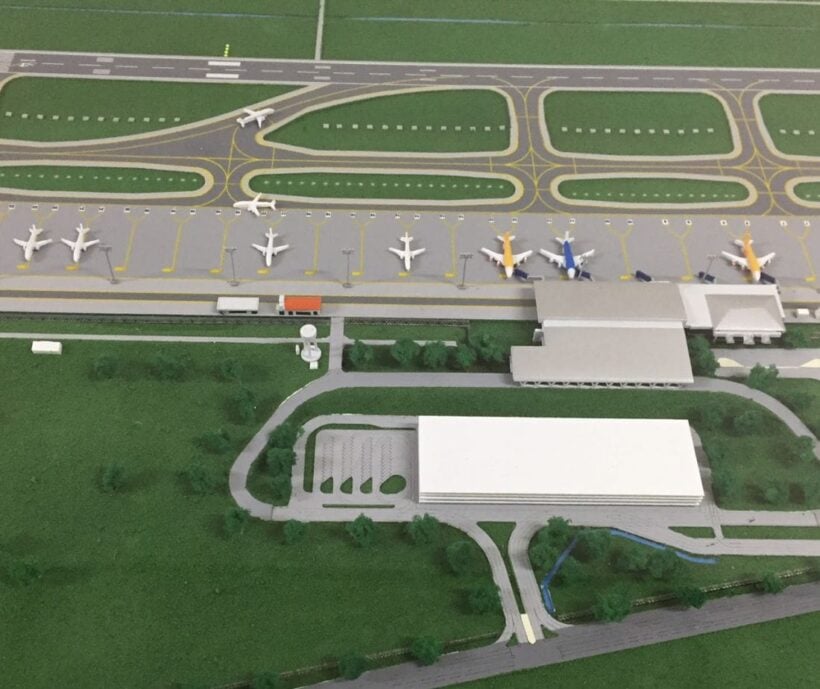 SOURCE: Manager Online
Man injured, chicken dead after explosion of oil tank in Krabi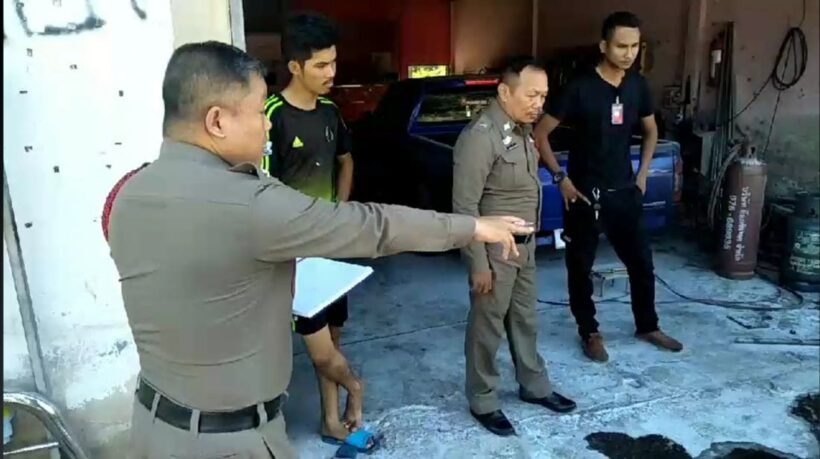 A man has been injured at an exhausted pipes shop in the main town of Krabi.
Police and rescue workers arrived to find an incinerated 200 litre gasoline tank in front of the shop.
Nearby they found a dead chicken and 42 year old Chockchai Theptawee who had sustained injuries including burns on his legs and face. He was taken to Krabi Hospital.
Mr Chockchai told Police that a customer asked him to drill an empty oil tank to install a faucet. The customer confirmed to Mr Chockchai that there was no oil left in the oil tank as the tank has already been cleaned.
Mr Chockchai used iron cutting equipment to drill the tank. But, surprise, suddenly the tank exploded and caught fire.
RIP the chicken.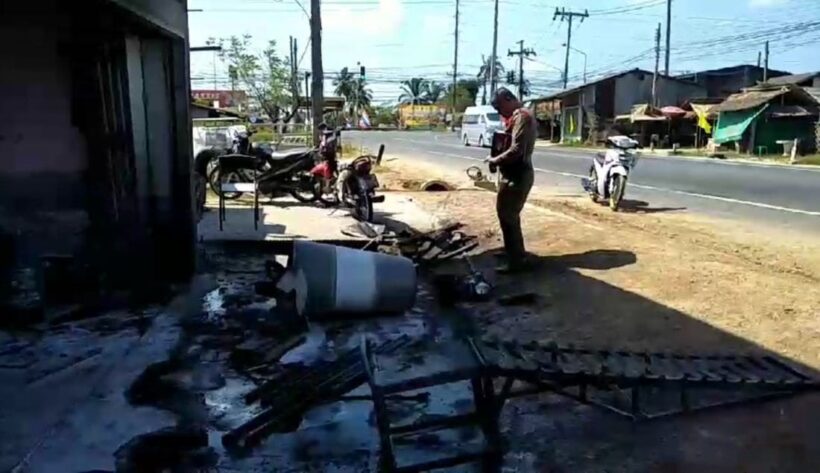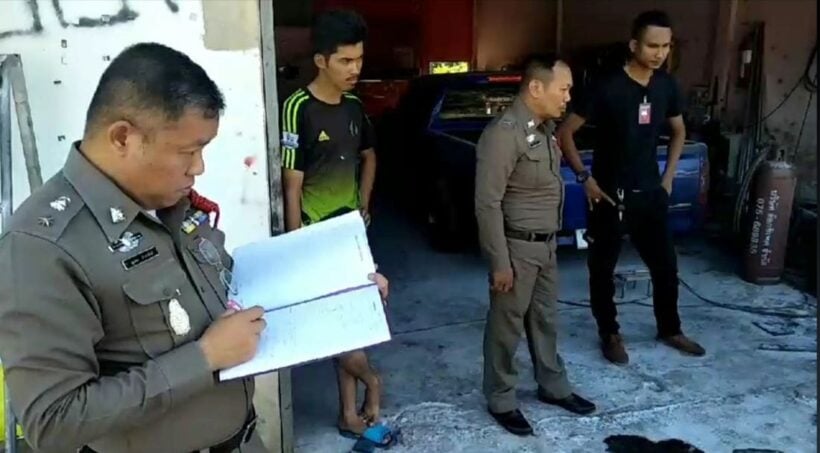 Krabi Tourist Police warn of shoplifting gangs in Ao Nang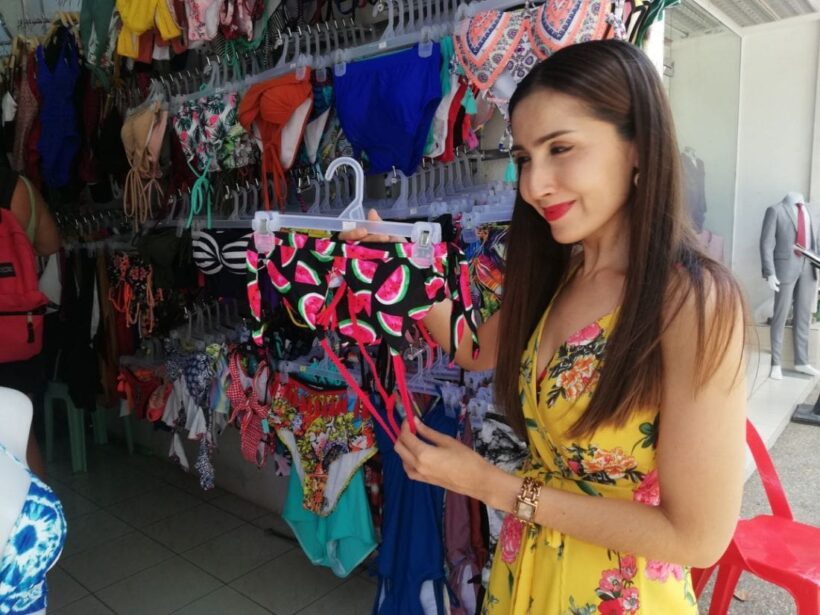 The Krabi Tourist Police are warning of 'tourist shoplifting gangs' after they have received reports that several tourists and shops had items stolen around Ao Nang.
Video clips of tourists stealing a bikini at a shop in Ao Nang went viral in social media this week.
34 year old Netdao Wiwatrassamee, who posted the video clip, says, "I have already reported this to Ao Nang Police. The incident happened on Monday. Two female foreign tourists were browsing at my shop."
"One of them has taken a bikini and put it in her bag before she left the shop. The CCTV camera has recorded the incident."
"I have two clothes shops in Ao Nang. A similar incident has happened several times. At this shop it's already happened three times. Every time I have reported to police but they can't find the thieves."
"Other shop sellers have also facing similar kinds of incident. An iPhone 10 has also been stolen."
Yesterday 21 year old Saharat Jewsakun, a crew on a ferry, filed a report to police after a male foreign tourist stole his bag which contained an ATM card and 5,000 Baht cash. CCTV cameras recorded the incident.
LT Col Attapong Sanejaiwut of the Krabi Tourist Police says, "Most tourists are planning these thefts in pairs. One of them will talk with a shop seller while the other will steal an item."
"Please be aware of them. We are strictly patrolling the shopping areas to prevent this kind of incident."