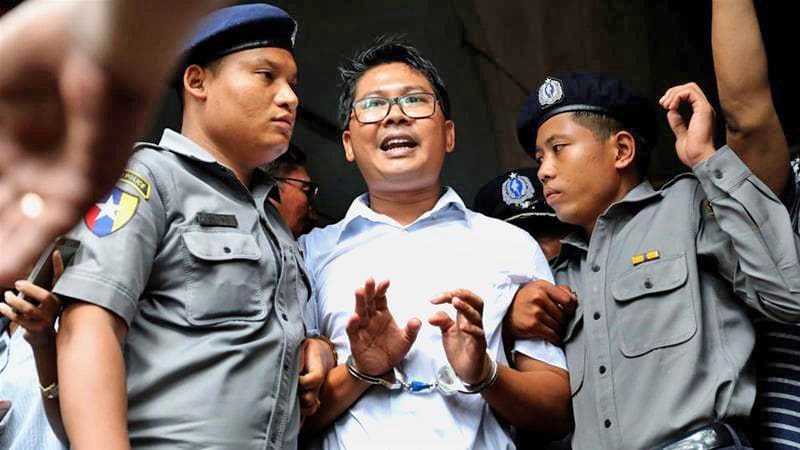 Reuters reports that a Myanmar judge today found two Reuters journalists guilty of breaching a law on state secrets and jailed them for seven years, in a landmark case seen as a test of progress towards democracy in the Southeast Asian country.
Yangon northern district judge Ye Lwin said 32 year old Wa Lone 28 year old and Kyaw Soe Oo breached the colonial-era Official Secrets Act when they collected and obtained confidential documents.
The judge said… "The defendants … have breached Official Secrets Act section 3.1.c, and are sentenced to seven years.
He added that the time served since they were detained on December 12 would be taken into account. The defense can appeal the decision to the regional court and then the supreme court.
The two reporters had pleaded not guilty and told the court police planted documents on them in the course of their work in reporting on Myanmar's violence-plagued Rakhine State.
Press freedom advocates, the UN, the European Union and countries including the United States, Canada and Australia had called for the journalists' acquittal.
"Today is a sad day for Myanmar, Reuters journalists Wa Lone and Kyaw Soe Oo, and the press everywhere," Reuters editor in chief Stephen J Adler said in a statement.
The Thaiger also describes the court decision as a serious over-step where the punishment doesn't fit the crime. Another sad day for journalism in south east Asia.
Read more of the story from Reuters and Thai PBS HERE.