Dengue alert declared in The Philippines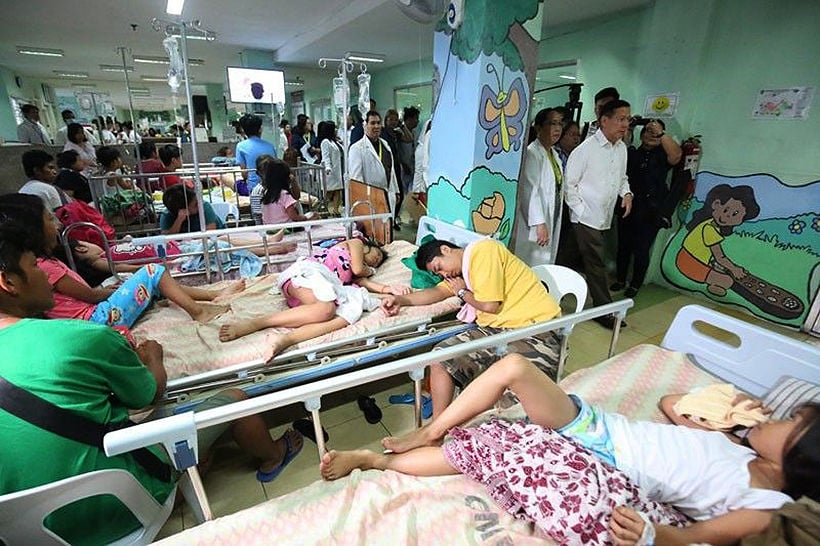 PHOTO: Philippine Star
Dengue cases have doubled in Thailand this year. And in The Philippines a similar situation is unfolding. Health authorities in The Philippines are declaring a national dengue alert after a spike in cases leaving more than 450 people dead since the start of 2019.
Around 100,000 dengue cases were reported across The Philippines in the first six months of 2019, an increase of 85% on the same period last year. This surge in dengue cases comes as the country is grappling with a nationwide measles outbreak, which authorities say has killed more people so far this year than all of 2018 and puts 2.6 million children at risk.
Epidemics of dengue have been declared in Mimaropa, Western Visayas, Central Visayas, and Northern Mindanao, areas that contain about 20 million people – 20% of The Philippines population. Health Secretary Francisco Duque III said 106,630 dengue cases had been reported from January 1 to June 29, 2019 – 85% more than the 57,564 cases reported from the same period in 2018.
While it is most common in tropical and sub-tropical climates such as Te Philippines, India and Brazil, a recent study shows that global rising temperatures caused by the climate change are likely to see mosquitoes which carry dengue – along with other diseases such as chikungunya, yellow fever and Zika – move further north (in the northern hemisphere and south in the southern hemisphere), affecting states in the southern US, inland Australia and coastal areas of China and Japan.
Dengue cases in the Philippines have historically surged every three to four years, and the sharp increase this year is in line with expectations after a spike in cases nationwide in 2016.
Keep in contact with The Thaiger by following our
Facebook page
.
Five days to move out – restaurant encroaches on Nakhon Si Thammarat creek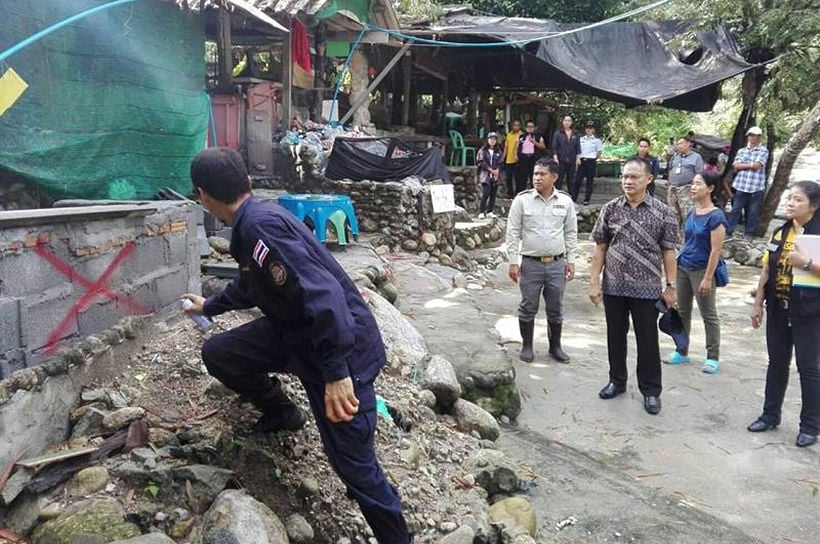 PHOTO: Facebook/Strong Club – Sufficiency mind, anti-corruption
A restaurant in Nakhon Si Thammarat has been exposed for illegally encroaching on the Baan Kiriwong creek and constructing permanent foundations and infrastructure. They've been ordered by authorities to move out.
The Nation reports that a Facebook page titled "Strong Club – Sufficiency mind, anti-corruption" posted a photo with a caption on October 14, alluding to the illegal encroachment. The concrete platform runs for about 60 metres along one side of the stream.
The restaurant had allegedly created a cement platform in the creek and set up tables and chairs at Baan Kiriwong, which has become famous as an eco-attraction for tourists in the Nakhon Si Thammarat province, west of Krabi on the Gulf of Thailand.
The area also serves as a natural flood warning system, so, in the event of flash floods, the locals send emergency warnings to people in the town to prepare for approaching flood waters.
The Facebook page owners had asked the local government to inspect the area to ensure more damage wasn't inflicted on the forest and the Baan Kiriwong creek.
On Tuesday, the Lansaka district governor and rangers went to the scene and questioned the owner of the restaurant. The restaurant owner was given an ultimatum to break up and remove the cement platform and move the restaurant out of the area within five days.
SOURCE: The Nation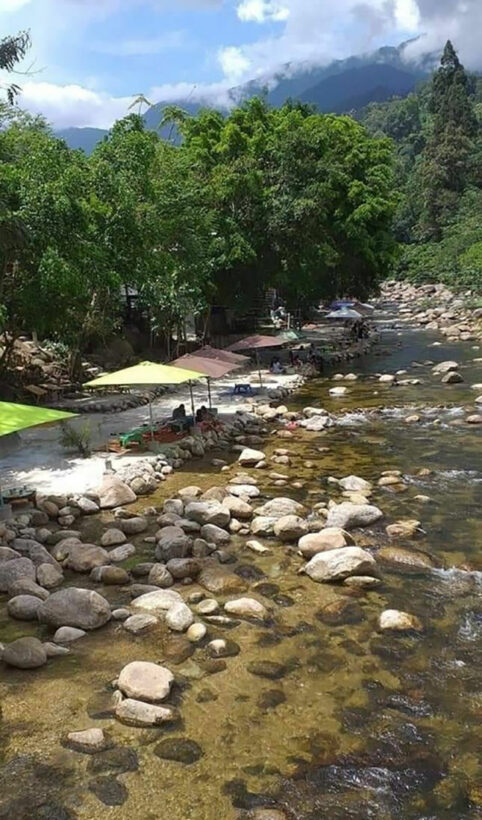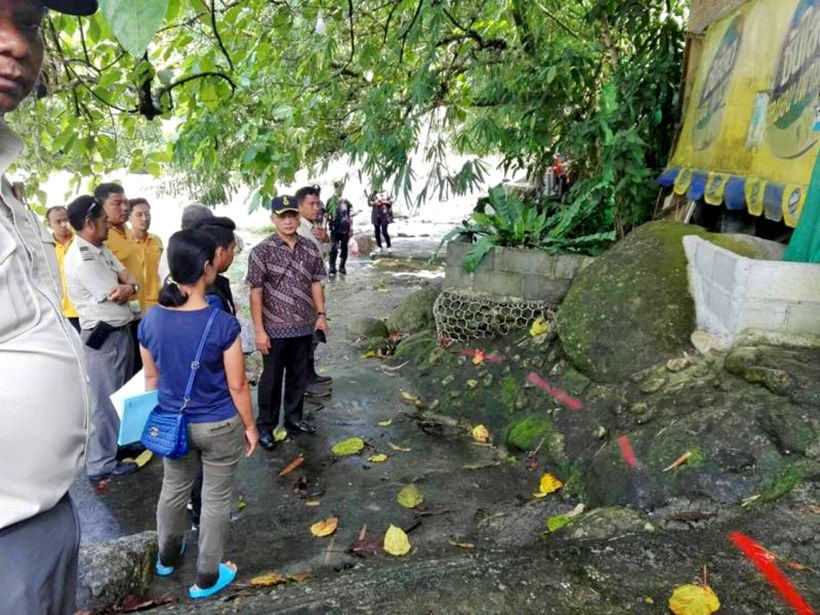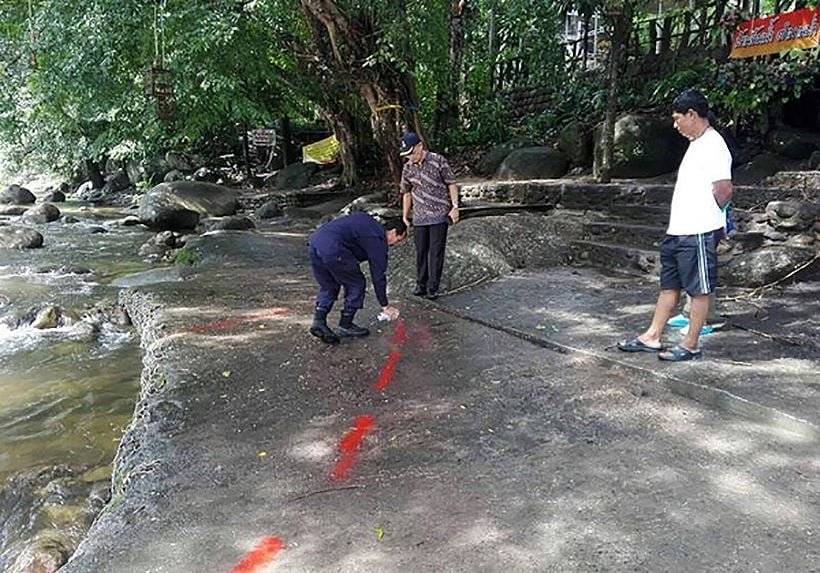 Keep in contact with The Thaiger by following our
Facebook page
.
Bodies of 8 dead elephants risk contaminating reservoir in Thai national park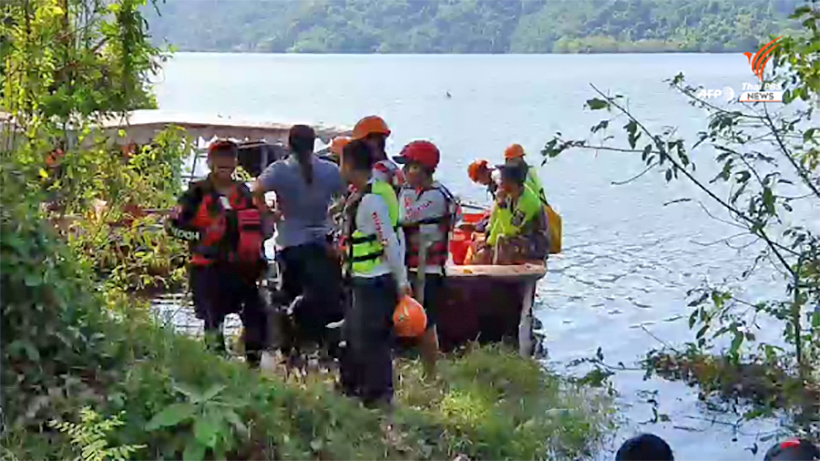 PHOTO: Thai PBS
Officials are concerned that the bodies of eight elephants who died after plunging down a waterfall in Khao Yai national park, central Thailand, now risk contaminating the park's water flowing into a nearby reservoir.
Thai PBS World reports that officials at the Khun Dan Prakan Chon reservoir plan to take a boat upstream to Khlong Ton Sai and scatter anti-pollutant chemicals over the elephant carcasses, which are currently trapped in the water by large boulders. Access to retrieve the carcasses is limited due to the difficult terrain.
Concern was raised after the water started to smell bad, with officials from Nakhon Nayok province conducting constant quality tests on the reservoir's water supply. The reservoir is filled by water from the creek and Khlong Ton Sai and the province relies on it as a primary water source.
Efforts to remove all the elephant carcasses from the water have been hampered after they became trapped by rocks, with officials only managing to remove three so far.
A large net has been used to trap the elephant bodies and prevent them being carried further downstream, but rising water levels has meant the recovery operation has had to be temporarily suspended. Officials have been stationed to monitor the carcasses.
SOURCE: Thai PBS
Keep in contact with The Thaiger by following our
Facebook page
.
Thailand's swift response to the 'fall armyworm' pest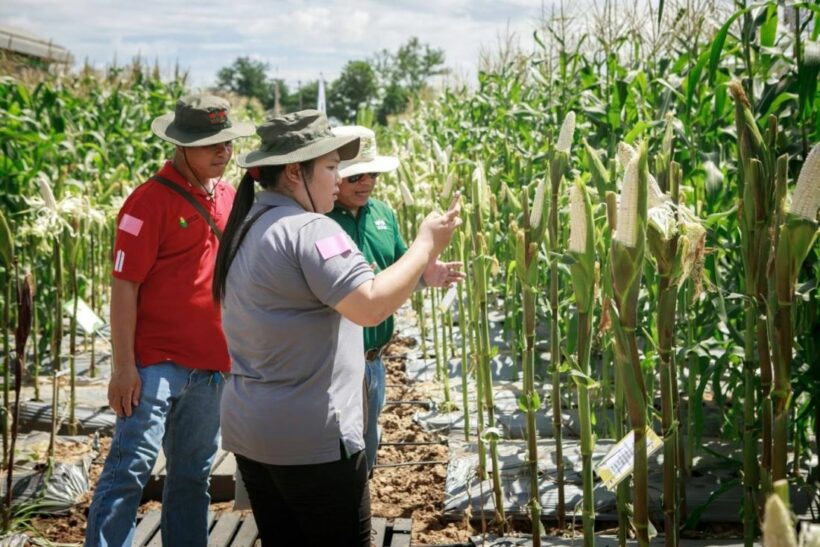 OPINION: Somsak Samanwong – Regional Technical Educator for APAC, Corteva Agriscience. PHOTO: East-East Seed
In Thailand, corn is an indispensable staple crop, used as an important source of feed for a thriving poultry and livestock industry. About 1.04 million hectares of our land is used to produce corn, with this year's yields estimated at a record high of 5.3 million tonnes.
As Thailand becomes increasingly recognised as a major world food exporter, our reliance on corn is growing to meet consumer demand for meat, both locally and globally – we are currently the third largest chicken exporter in the world. For many of us, it comes as a surprise that this ordinary but versatile crop is intrinsic in fuelling our status as the "kitchen of the world".
A small but powerful threat
However, this established position and the very growth of our food economy is currently under siege from the rise of fall armyworm, a pest so damaging that it can destroy corn crops overnight. The fall armyworm is an insect native to the Americas, where it has caused significant damage for decades. With a zealous appetite for corn, the pest quickly began to ravage crops in the Africa region following its arrival in 2016, causing losses of $13.3 billion.
Fall armyworm started moving closer to home, spreading across Yemen, India, Bangladesh, Sri Lanka and Myanmar, before reaching Thailand in December 2018. Since then, around 50 corn-growing provinces have been infested, particularly in the west of Thailand.
Fall armyworm infestations can result in yield losses for corn of up to 50%, which can have devastating implications – for those whose livelihoods rely on their crops, but also for the poultry and other meat production industries whose success and expansion heavily depend on their produce.
What makes fall armyworm so challenging to control is its high reproductive capacity and long migration distances. The pest has been known to migrate up to 1500 km3, slightly more than the distance from Kuala Lumpur to Bangkok, covering up to 100 km per night. Couple this ability to travel with rapid reproduction – four generations of fall armyworm can be observed in a single corn crop – and you have a devastating mix.
Recognising the tremendous impact of fall armyworm on the nation's farmers and our food security, the Thai authorities and key stakeholders across the agriculture industry have come together, uniting efforts to equip our farmers with the tools they need to help manage the spread of fall armyworm. By applying our learnings with fall armyworm in response to future threats, we can help to ensure our farmers are empowered and our nation's food supplies – for Thailand and for the rest of the world – are protected.
Taking swift and decisive action
Thailand's Department of Agriculture responded to the first FAO warning of fall armyworm in India by setting up a surveillance program to monitor corn growing states along the shared border with Myanmar. During this time, informative materials about fall armyworm and the ongoing surveillance program were shared with relevant agencies, universities, and most importantly, corn farmers.
Establishing communication between the authorities and those on the ground was and remains an important focus, and a telephone hotline and Line account were set up so that farmers are able to report potential infestations. As a previously unseen pest in Thailand, setting up infrastructure to monitor crops in the recognition of fall armyworm was pivotal to aiding a quick response.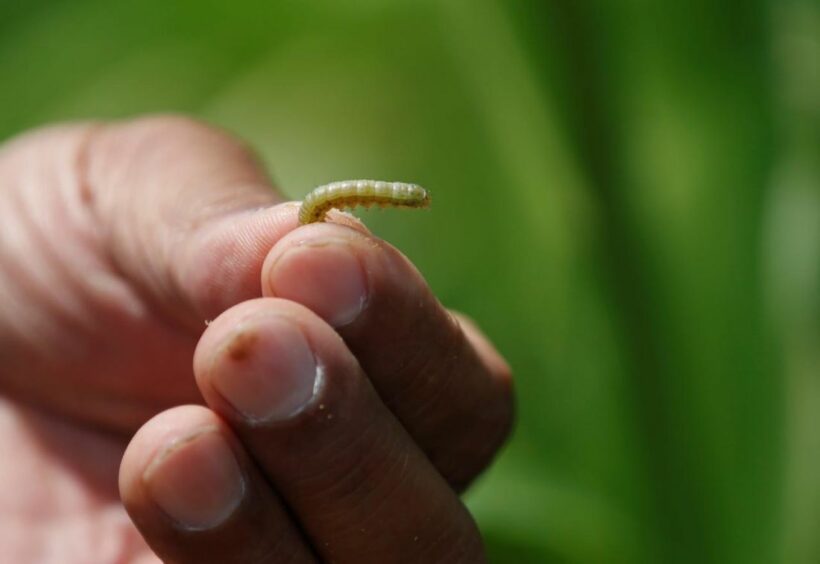 Imparting knowledge through educational efforts
Knowledge-sharing between the authorities, academic experts, farmers and industry is crucial in the fight against threats like fall armyworm. In November 2018, an educational programme for Thailand's authorities developed with the Insecticide Resistance Action Committee (IRAC) by CropLife Asia helped to provide senior agricultural and food industry leaders with in-depth information about fall armyworm and its habits.
By sharing knowledge of the pest between the government and affected industries, accurate and up-to-date information could spread across the country almost as quickly as fall armyworm itself.
Farmers remain at the heart of agriculture, and thus, in-field education is of paramount importance to safeguard crops.
Through a series of training programmes and the provision of educational materials, farmers were educated on and empowered to adopt an Integrated Pest Management (IPM) approach, as recommended by the World Trade Organisation on Sanitary and Phytosanitary Measures, to control and prevent the spread of fall armyworm. IPM combines pre-emptive treatments, scouting, monitoring and targeted treatments to protect the health of corn crops from seed to plant, and, in turn, to protect Thailand's food security.
Equipping farmers with the necessary tools
In adopting an IPM approach against fall armyworm, it is our role as agriscience experts to ensure farmers have access to safe, effective and greener solutions to control its physical spread. And, through the development of innovative technologies, solutions are available to provide farmers with long-lasting control of fall armyworm, whilst being environmentally safe to use.
Amparar®, Corteva Agriscience's foliar spray, contains the active ingredient Spinetoram and has been recommended for use in corn in Thailand to help protect corn crops against fall armyworm. It controls the insects in two ways – through ingestion and contact by the pest, providing a quick knock-down for lasting control. Amparar® has been awarded the prestigious Presidential Green Chemistry Challenge Award for its positive environmental profile and margin of safety towards beneficial insects. It is recommended by the Thai authorities as the top crop protection product for managing fall armyworm.
Our fight against fall armyworm has brought to light the invaluable role of corn in the development of Thailand as global provider of food. Perhaps even more importantly, it has helped to demonstrate how much can be achieved when public and private sectors work together in response to those that threaten our food security. We must continue to activate and engage all stakeholders – from farmers, governments, industry and academia – to ensure that, whatever the next threat to our "kitchen of the world", we remain poised for action to protect it.
Keep in contact with The Thaiger by following our
Facebook page
.