Burmese refugees are being aided, PM Prayut assures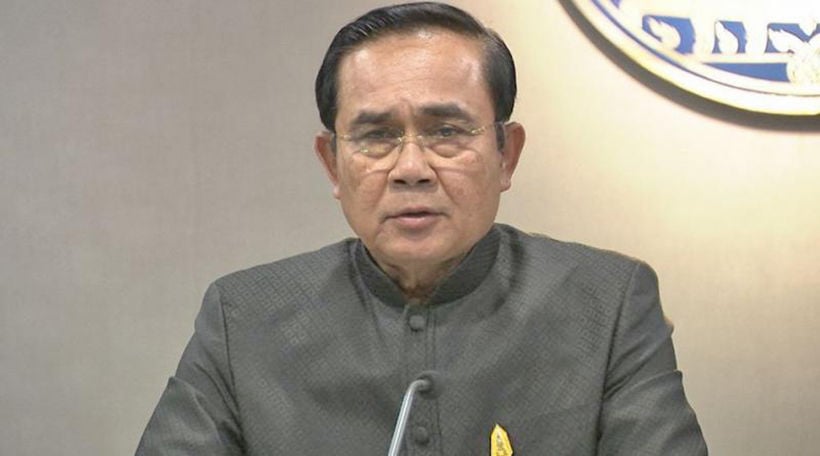 Burmese refugees along the Thai-Myanmar border are being provided with humanitarian assistance according to a statement by PM Prayut Chan-o-cha yesterday. PM Prayut spoke about the growing crisis at Government House Wednesday after a cabinet meeting. He said that the two countries, since they are neighbouring, need to be in agreement and work together and Thailand can't take sharp independent action. He believes the problem must be addressed diplomatically.
The remarks come in defence of growing concern that the Thai government is not doing enough to help Burmese refugees affected by the military crackdown. PM Prayut pointed out that there's already a government body in place designed to address and handle issues along the border, called the Thai-Myanmar Township Border Committee.
"It doesn't mean we don't care when speaking in terms of humanitarian affairs because it is about human lives. The government has suggested guidelines to solve [the crisis] via the Ministry of Foreign Affairs and ASEAN which will have a meeting shortly. We must solve the problem systematically. Because our two countries are next to each other, we can't take decisions by ourselves. As for violence, we disagree [with it]."
The Immigration Bureau Chief estimates there are about 2,000 Burmese refugees currently in the Mae Hong Son province. Several Burmese refugees have even been treated within Thailand after being injured fighting inside the Myanmar border.
The issue is exacerbated by a dual crisis with the crackdown on protests following the Burmese coup and the expanding outbreak of Covid-19 transmission. Government officials are calling for cooperation along the border and in both countries to try to resolve the refugee crisis as well as contain Covid-19 outbreaks, which are currently on the rise again.
Six more checkpoints have been reopened in the meantime along the Thai-Burmese border since March. 46 of the 97 border openings are currently open with checkpoints in operation..
SOURCE: Bangkok Post
Keep in contact with Thaiger by following our Facebook page.
Never miss out on future posts by following Thaiger.
Red paint in Burmese streets mark 700+ deaths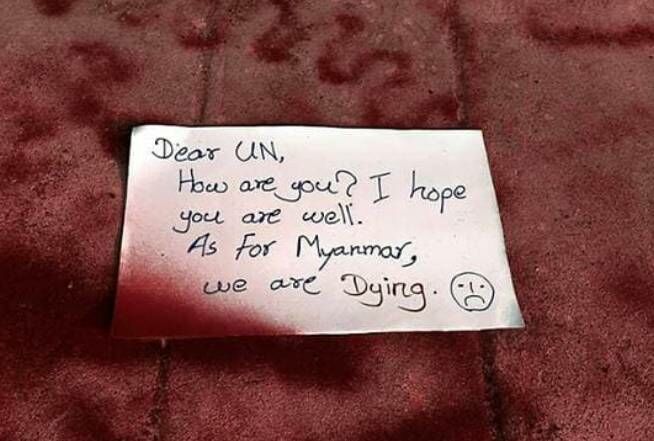 Marking over 700 deaths in the Burmese military crackdown, anti-coup protesters in Myanmar are splashing red paint across the streets of Yangon to represent the blood of those killed in the growing crisis. Myanmar has ground to a halt as the military junta attempt to silence opposition to their February 1 takeover with deadly force. 714 deaths have been verified by local monitoring groups, but they warn the actual number may be much higher.
The economy and daily functioning of the country is immobile, the internet has been cut off to many citizens, even Myanmar's Thingyan New Year festival, similar to Thailand's Songkran holiday, has been cancelled. Instead of water fights in the street, protesters explained they used the holiday to draw a parallel, splashing red paint "blood" instead to draw attention to the Burmese deaths at the hands of the military.
"The purpose of the "bleeding strike" is to remember the martyrs who died in the struggle for democracy. We should not be happy during this festival time. We have to feel sadness for the martyrs who are bleeding and we must continue to fight this battle in any way we can."
Simple but powerful signs and notes were found amongst the blood protest with phrases like, "blood has not dried on the streets," "overthrow the era of fear," and "hope our military dictatorship fails." Perhaps most poignant was a note found on red-painted streets reading, "Dear UN, How are you? I hope you are well. As for Myanmar, we are dying."
The UN fears that a Syrian-style conflict is around the corner for Myanmar, calling on countries to take immediate steps against the military junta, citing possible crimes against humanity. High Commissioner for Human Rights Michelle Bachelet draws the Syria comparison, worried a full-blown Burmese civil war could parallel the Syrian war that has led to 400,000 deaths and 6 million refugees. While some countries have enacted sanctions, infighting has delayed meaningful action with the EU claiming Russia and China are blocking possible UN arms embargos.
Meanwhile, the military added many more people to the list of over 260 people including doctors and celebrities they are seeking to arrest for crimes such as spreading dissent or treating injured protesters. 7 protesters in Yangon, 3 in absentia, were sentenced to death for the alleged murder of a suspected informant.
In the northwest of Myanmar, a milk delivery couple were killed by military storming the town of Tamu. And in the Mandalay region, protesters drove motorbikes with red flags supporting imprisoned leader Aung San Suu Kyi.
SOURCE: Channel News Asia
Keep in contact with Thaiger by following our Facebook page.
Never miss out on future posts by following Thaiger.
Myanmar could descend into a civil war comparable to Syria- UN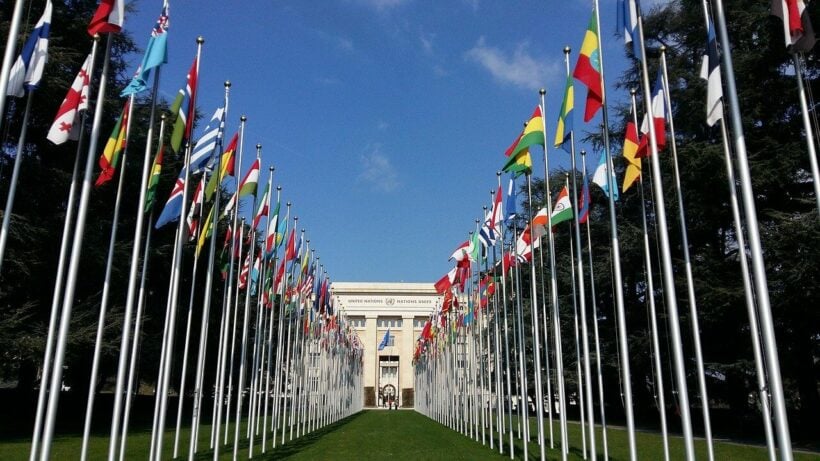 A top UN official is warning that Myanmar could follow that of Syria in terms of descending into a bloody civil war, unless the violence subsides. Michele Bachelet, the UN high commissioner for human rights is calling on all countries with influence to apply concerted pressure on the ruling military junta to end its campaign of repression and the slaughtering of its people. Bachelet says neighbouring countries are especially being called upon.
She says the military has committed, what amounts to, crimes against humanity, and the human rights violations must be stopped. Ravina Shamdasani, who is Bachelet's spokeswoman, says the high commissioner feels that a continuation of such crimes could lead to a civil war.
"The high commissioner states that there are clear echoes of Syria in 2011. There too, we saw peaceful protests met with unnecessary and clearly disproportionate force. The state's brutal, persistent repression of its own people led to some individuals taking up arms, followed by a downward and rapidly expanding spiral of violence all across the country."
Shamdasani said the country's armed forces, known as the Tatmadaw, attacked civilians last weekend with rocket-propelled grenades and mortar fire, killing at least 82 people. She said credible reports also indicate that people are fighting back by using makeshift or primitive weapons with clashes between the military and ethnic armed groups in Kayn, Shan, and Kachin states are picking up steam.
"As arrests continue, with at least 3,080 people currently detained, there are reports that 23 people have been sentenced to death following secret trials — including 4 protesters and 19 others who were accused of political and criminal offenses. The mass arrests have forced hundreds of people to go into hiding."
She added that the country's economic, education and health infrastructure are at the point of collapse, making the situation untenable. She said nations must cut off the supply of arms and finances to the military leadership that allow it to kill and seriously violate its people's human rights.
Myanmar's military took over in a coup on February 1, arresting the democratically-elected leader of National League for Democracy and Nobel Peace Laureate Aung San Suu Kyi. Since then, other top leaders have been arrested over what the junta says is fraudulent election results, without giving any evidence.
Suu Kyi has not been seen since her arrest, and is now facing even more charges that could see her barred from political office or worse. The junta military has been accused of killing innocent civilians and peaceful protesters since the coup began, censoring the media, and shutting down the internet.
The US, UK, and other nations have imposed sanctions against the military, but to no avail. Neighbouring countries, including Thailand, are expecting an influx of refugees to cross the border, but conflicting reports point towards Thailand turning away such asylum-seekers.
SOURCE: VOA News
Keep in contact with Thaiger by following our Facebook page.
Never miss out on future posts by following Thaiger.
$85 to retrieve the dead after bloody Burmese military clash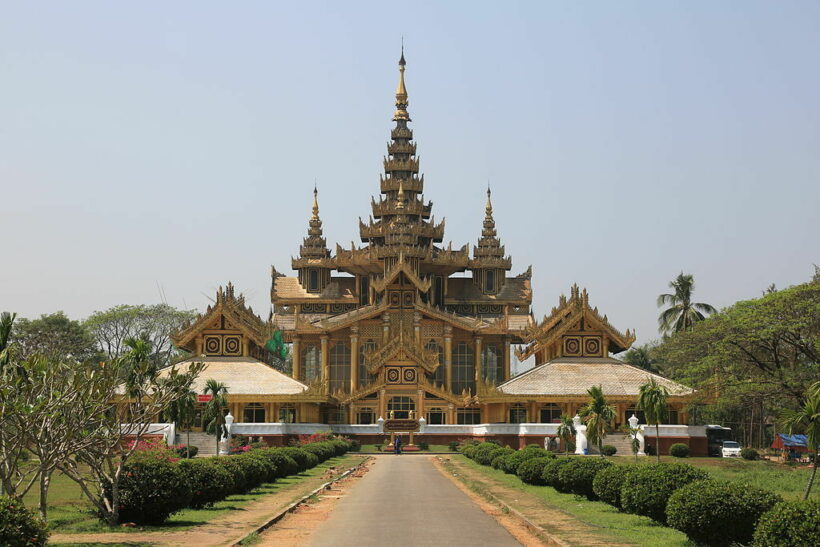 Activists say the Burmese military is charging US$85 to families to recover the bodies that security forces killed in last Friday's violent clash. The city of Bago, just northeast of Yangon, was raided by military forces with 82 people killed according to Assistance Association for Political Prisoners, a local advocacy group. Since the February 1 coup, the military has been systematically cracking down against peaceful protesters, detaining 3,000 civilians and killing over 700 more.
Eyewitnesses in Bago say the Burmese military used grenades, RPGs, and assault rifles to quell anti-coup protestors, forcing many villagers and activists to flee and go into hiding. Military security forces are going through the neighbourhoods now and have cut off internet access. Burmese forces claimed they were attacked by protestors while removing road barriers, alleging that demonstrators used homemade guns, shields, grenades, arrows and fire bottles.
In the aftermath of the bloody clash, the military charged families 120,000 Burmese Kyat (about $85) to collect the bodies of lost relatives. This was reported by Bago University Students' Union's Facebook page as well as Radio Free Asia's Burmese service.
NGO Human Rights Watch had published a call for the European Union to take action and implement strict sanctions on the Burmese military on Thursday. And yesterday the US Embassy in Myanmar joined the call, posting on Twitter, urging peace.
"We mourn the senseless loss of life in Bago and around the country where regime forces have reportedly used weapons of war against civilians. The regime has the ability to resolve the crisis and needs to start by ending violence and attacks."
A volunteer doctor who chairs the Red Cross in Bago had been detained by the Burmese military police on April 2, and yesterday a second volunteer doctor was taken after administering free medical aid to protestors, according to his family.
Meanwhile, the military's commander-in-chief and another spokesman maintain that the Burmese military are peacekeepers, trying to strengthen the democratic system of Myanmar by safeguarding the country and investigating a fraudulent election. They deny that they seized power and blame the violence and death in the country on protestors rioting.
SOURCE: CNN
Keep in contact with Thaiger by following our Facebook page.
Never miss out on future posts by following Thaiger.