Phuket's Ao Kung residents oppose marina project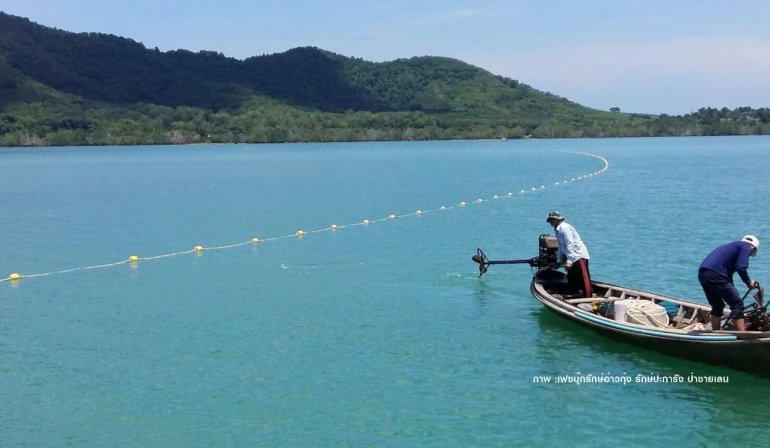 Locals from the Ao Kung community, in the far north of the Phuket, along with environmentalists, are expressing serious concern about the building of a new marina.
The 120 million baht marina project will have the capacity to accommodate up to 72 yachts.
Locals say the proposed marina is very close to the Ao Kung bay and will threaten coral reefs in the area as well as the livelihood of fisherman and others making a living from the waters around the area.
The coral reefs in Ao Kung have been photographed by a local fisherman, Ood Sompit, who then posted the images on Facebook resulting in a broader investigation into plans for the marina.
Read more about alleged encroachment on the land set aside for the proposed marina HERE.
Thai PBS reports that Pichit Pankham, a member of Ao Kung mangrove forest conservation group, pointed out that the sea in Ao Gung is shallow and a source of food for marine lives and is home to coral reefs whereas the shoreline is covered by about 3,000 rai of mangrove forest.
He says the eastern coast, which faces towards the mainland and Phang Nga Bay is relatively quiet and rich with marine resources and shoreline mangrove forests.
He said it would be a bad mistake if coral reefs and mangroves were sacrificed to make way for the construction of a marina. He suggests the project owner to change the marina project into a luxury housing project so that people living there could enjoy the aesthetic beauty of the bay.
They say they only learned about the proposal in October last year when they demanded a hearing to express their concerns. They claim the information from the project owner is flawed as it say that there is no coral reefs within 1-km radius of Ao Kung bay. They also note that the mangrove forests are being threatened by encroachers suspected of trying to destroy the forest to justify the construction of the marina project.
Keep in contact with The Thaiger by following our Facebook page.
Never miss out on future posts by following The Thaiger.
Police say at least 2 people to be arrested in Bangkok bomb attack – UPDATE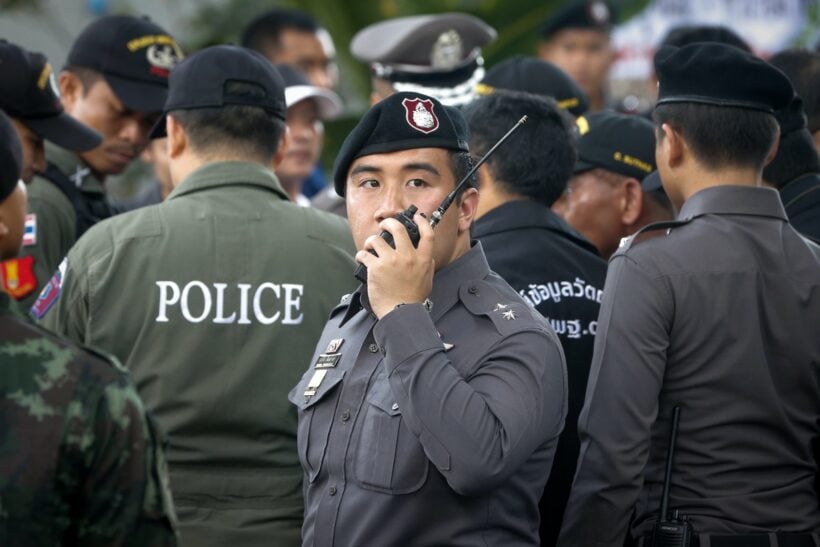 Police say they will issue arrest warrants for at least 2 people in connection to yesterday's bomb attackin Bangkok. According to Thai PBS World, the people are suspected of throwing a ping pong bomb into a group of police officers in front of the Chamchuri shopping centre that injured 3 policemen and 1 reporter. But previous reports by Khaosod English say the bomb attack saw only 2 policemen injured out of a total of 4.
Piya Tawichai, the deputy commissioner of the Metropolitan Police Bureau, says it is believed that the perpetrators threw the bomb from a vehicle on the flyover heading towards Hua Lampong railway station. Police say they found nails, wire and black electrical tape at the scene of the explosion.
The attack occurred at 6pm, during a pro-democracy rally over the government's enforcement of the lesé majeste law, which has seen over 43 people arrested, including students, since November. Just last week, a Thammsat University student was arrested in his dorm room over lese majeste charges. Ironically, the reason for his arrest was reportedly due to his calling for such a law to be abolished.
Earlier today, a group of pro-democracy protesters and Ratsadon guards rallied in front of the Internal Security Operations Command head office in Dusit district, demanding for the release one of the guards, who has been missing since last night.
ISOC spokesman Thanathip Sawangsaeng responded to the claims by saying that ISOC had nothing to do with Mongkol's disappearance because it is "not responsible for maintaining peace and order in the city."
Now, Thai Lawyers for Human Rights have reported that that Mongkol has been released in the Bangpoo area. Mongkol and his lawyer went to notify the police at the Muang district police station and say that Mongkol will be sent for a physical and psychological evaluation.
SOURCE: Thai PBS World
Keep in contact with The Thaiger by following our Facebook page.
Never miss out on future posts by following The Thaiger.
Thailand's PM says he won't let Thais become vaccine "guinea pigs"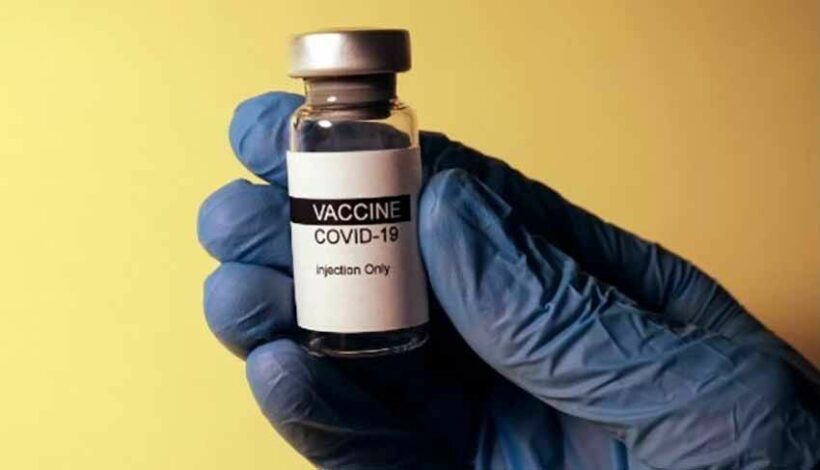 Thailand's PM is saying he won't let Thai people become vaccine "guinea pigs" in his Facebook post today as he points to reports of serious negative side effects that some people have suffered after getting jabbed with the Covid-19 vaccine. Instead, PM Prayut Chan-o-cha says he will wait for more information from the experts about whether such side effects were attributed to the vaccine solely, or other factors.
"For Thai people, I decided not to take the risk and will not rush to inoculate with vaccines which have not been fully tested and will not let Thai people become guinea pigs."
He says the National Vaccine Committee will advise the government and closely supervise the use of Covid-19 vaccines in the country once they are rolled out. As the vaccines are not yet available, he reiterated the importance of taking precautions such as wearing face masks when leaving home, practising social distancing and abstaining from gatherings, particularly political ones.
The government has reported 374 new cases of Covid-19 in the kingdom today, with all but 10 being locally-transmitted. Now, the total has risen to 12,000 cases since the pandemic began.
A government spokesman is also saying that PM Prayut is worried about people's health as the weather has taken a turn for the cold. He also affirmed the importance of imposing measures under the Emergency Decree and Thailand's Communicable Disease Act in order to help curb the recent Covid second wave. He is also reminding the public to download the Thai Chana and Mor Chana apps.
Thailand has ordered 60 million doses of Covid-19 vaccines from a variety of sources, with the first shipment of 200,000 doses to arrive in February. Those vaccines are from China's Sinovac Biotech. In March, another 800,000 doses are scheduled to arrive and another million by April.
The government has also pre-ordered 26 million doses of the Covid-19 vaccine from AstraZeneca, using vaccine technology transfer to allow local production by Thailand's local company, Siam Bio Science.
SOURCE: Thai PBS World
Keep in contact with The Thaiger by following our Facebook page.
Never miss out on future posts by following The Thaiger.
Police hunt for those behind Bangkok bomb attack near pro-democracy protest site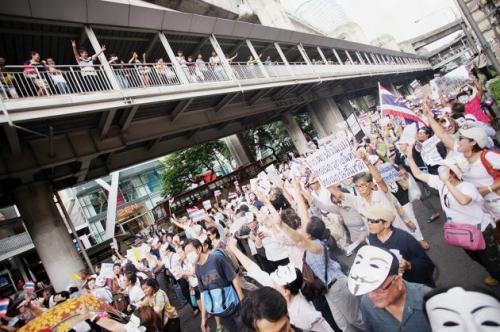 Police are hunting for those responsible for yesterday's bomb attack that hit near a pro-democracy protest site in Bangkok. The attack occurred at Samyan Intersection at around 6pm, leaving 4 people injured, including 2 policemen. Bangkok police chief Phukphong Phongpetra says the device used appears to be a pingpong bomb, which was filled with nails.
Demonstrators gathered yesterday in front of Samyan Mitrtown shopping mall to protest enforcement of Thailand's royal defamation law, which has been used sweepingly since the protests started up again last year. Riot police were deployed to the site as well as to Victory Monument, where police dispersed a group of activists earlier yesterday.
Since November, at least 43 people have been charged with lese majeste, including underage students, with most being comprised of activists that helped organise the protests in Bangkok calling for monarchy reforms.
"The government does not wish to see a rise in infections caused by political rallies. Therefore, we'd like to ask for cooperation from the public to comply with measures to prevent the spread of COVID-19."
The cooler weather is expected to last for another 2 days, after a cold spell from China washed over Thailand, with the northern part of the country expected to see a drop of up to 8 degrees Celsius in temperature.
Authorities are banning any unauthorised gatherings under the Emergency Decree, as Anucha confirms the need to carry out the decree as well as Thailand's Communicable Disease Act measures.
SOURCE: Khaosod English
Keep in contact with The Thaiger by following our Facebook page.
Never miss out on future posts by following The Thaiger.