Phuket boats banned from leaving port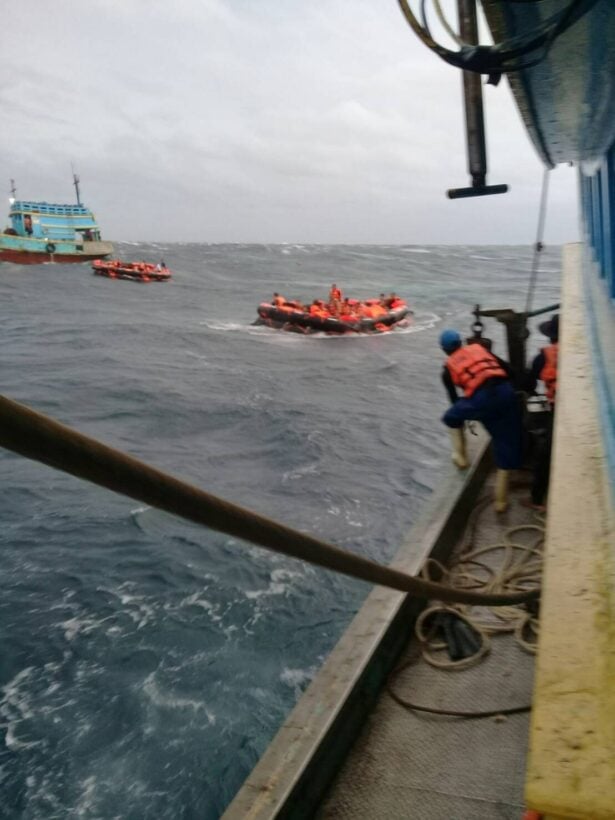 Some Phuket boats have been banned to leaving port today (July 6). Tourist Police have warned tour operators not to leave from Phuket's piers.
The Phuket Marine Office Chief, Surat Sirisaiyat, says, "The Phuket Marine Office has been informed from the Meteorological Department that heavy rains and strong winds will hit the southern part of Thailand on the Andaman Sea. Waves are predicted up to three metres today (July 6)."
"The Phuket Marine Office has announced that any boat, less than 10 metres long, which was planning to travel to Phi Phi Island and Racha Island today, is not allowed to leave ports. Boats heading to Phang Nga Bay, Koh Lon and islands closer to Phuket are permitted to leave port and proceed with caution."
Tourist Police Deputy Commander Maj Gen Surachet Hakpan says, "We have warned many Phuket tour operators not to leave port today. They have ignored our warnings many times before by departing from ports with tourists into the Andaman Sea while wind and wave are at danger level."
"Those two tour operators are being questioned about marine accidents for further legal action."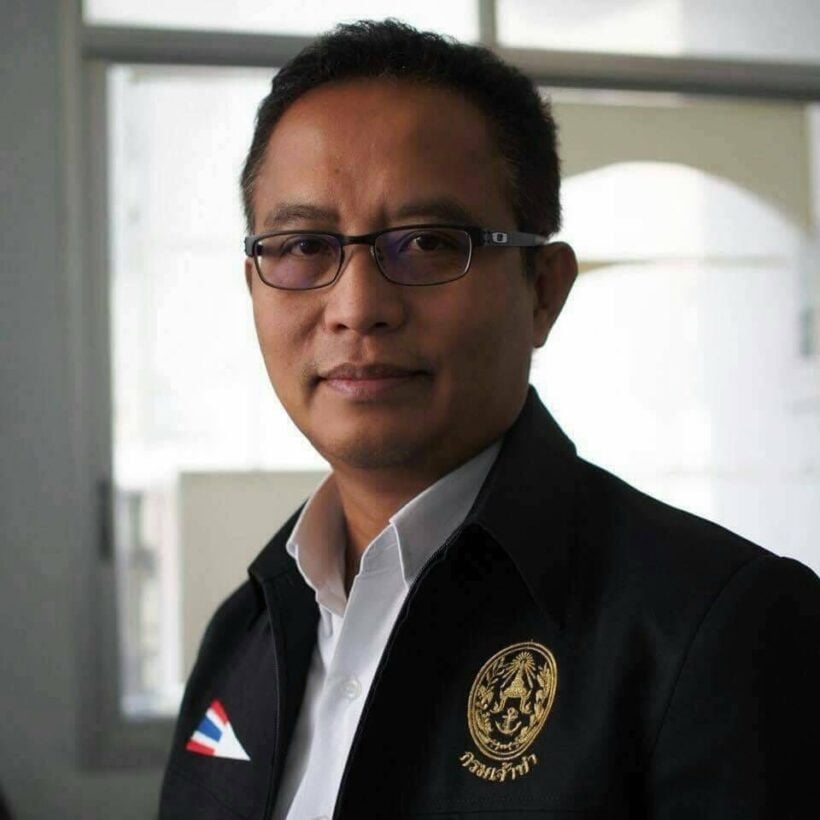 Keep in contact with The Thaiger by following our Facebook page.
Never miss out on future posts by following The Thaiger.
Thailand News Today | Changes to quarantine, 'adult content' ban continues | March 5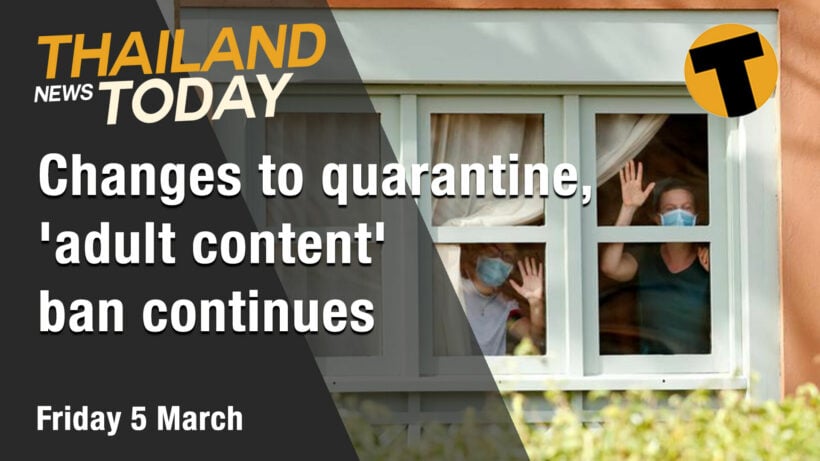 Thailand's Public Health Minister is chairing a meeting next Monday, where a vaccine passport scheme and potential travel bubbles is on the agenda. Anutin says those who've been vaccinated against Covid-19 will be issued with a book to confirm their vaccination. It's hoped this will make international travel easier, as well as boosting the public's confidence and helping life return to some kind of normality.
In related news…. From next month, foreign visitors to the Kingdom will be able to experience the delights of "area quarantine", after the government confirmed the scheme for 5 provinces. Following a meeting with the Public Health Ministry, the Tourism Minister confirmed that Phuket, Krabi, Chiang Mai, Chon Buri and Surat Thani, which includes Koh Samui, have been chosen to pilot the scheme.
P**nhub and other adult websites are remaining blocked in Thailand as they apparently "conflict with good morals for upstanding citizens". The Thai Government says the websites encourage "poor moral standpoints and can affect youth in a negative manner".
The Acting Minister of Digital Economy and Society and current Minister of Culture says that the decision that was made by the previous office holder will be upheld. The decision also includes keeping other popular adult websites blocked as the Thai Government has labelled them to be "obscene". But the move to ban adult content has brought protests with those disagreeing saying such sites are a part of freedom of expression.
A houseowner in the central province of Ang Thong, central Thailand, has discovered 3 skeletons on his land that are thought to be over 3,000 years old. 54 year old Somkiat Briboon says this most recent discovery isn't the first, as the first lot of bones was found last year after preparing his 17 rai plot of land to be rented out for sugarcane farming.
The Thai PM says he's ordered an investigation into allegations that the military has been using fraudulent social media accounts to aggravate the ongoing unrest in southern Thailand. Facebook has announced the removal of 185 accounts and groups that it has accused of "information-influencing", targeting audiences in the deep south of the country, where Muslim insurgents continue to fight for independence. The PM says he's tasked the Defence Ministry with looking into the matter and explaining it to the public.
Keep in contact with The Thaiger by following our Facebook page.
Never miss out on future posts by following The Thaiger.
Pattaya announces plans to hold Songkran Festival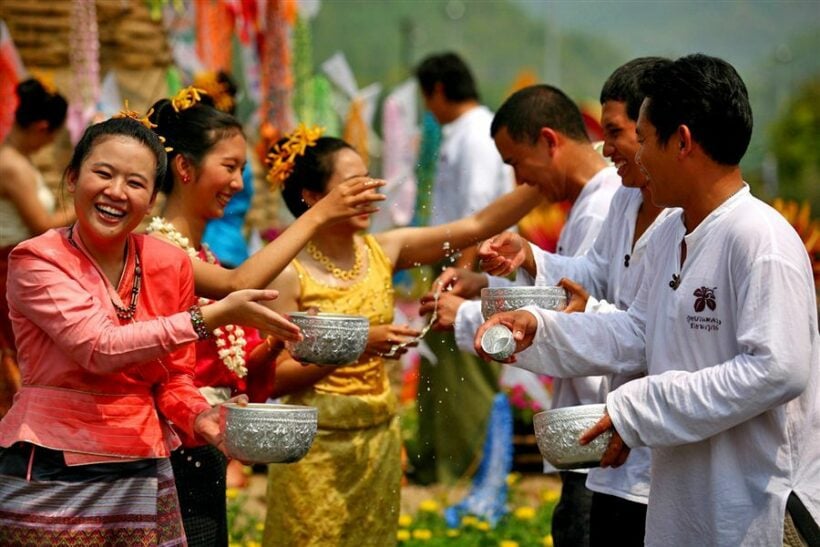 The tourist city of Pattaya is holding Thai New Year, or Songkran Festival, this year as long as they receive the "go ahead" from the government. The Pattaya City Mayor, Sonthaya Khunplume, made the announcement today, saying that the water festival will be held with all the traditional activities including those taking place at temples.
Songkran is the biggest holiday of the year for Thai people and falls on the public holidays from April 10 to 15. Pattaya City officials say they have a plan to celebrate the "Big Day" of Wan Lai on April 19, which will include water fights, as long as the Centre for Covid-19 Situation Administration and the Ministry of Public Health approves it.
The event, which is hoped to domestic tourism and the local economy, will feature covid precautions. Mask-wearing and going through screening checkpoints will be part of the safety measures for the event, as well as crowd limits, temperature checks and social distancing.
The Pattaya City mayor has pointed towards the city's past successes in holding events under the Covid-19 safety measures. Such events included fireworks and music festivals. He went on to assure that holding the Songkran Festival would be successful as well under the Covid safety regulations.
Recently, Pattaya City launched the "Welcome Back Pattaya" campaign to lure domestic tourists back to the city as Covid-19 situation has continually improved. The campaign is aimed towards attracting domestic tourists and is expected to boost the local economy after many businesses in the province were ordered to close last month.
Those businesses were already struggling to survive as many hotels took their featured restaurants to the streets by offering take-away meals and street stalls. Schools, entertainment venues, gyms, pools among others have reopened with travel restrictions, for people entering the province, also having been lifted.
SOURCE: The Pattaya News
Keep in contact with The Thaiger by following our Facebook page.
Never miss out on future posts by following The Thaiger.
Pro-democracy group to reach outskirts of Bangkok after almost 250 kilometre walk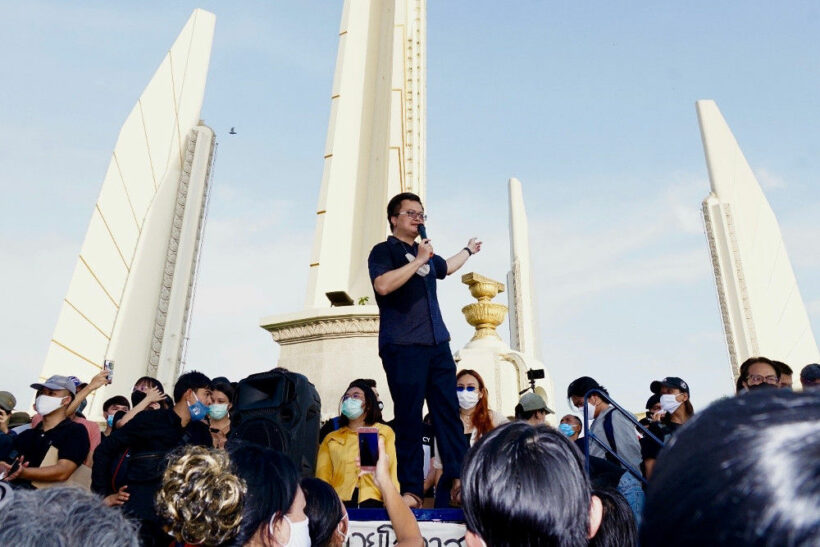 A group of pro-democracy protestors, on an almost 250 kilometre walk, are expected to reach the outskirts of Bangkok today. The group has been walking for 17 days, starting from the Thao Suranaree statue in Korat province's Muang district to protest the imprisonment of 9 pro-democracy demonstrators who are being denied bail.
The demonstrators imprisoned include 4 protest leaders from Ratsadon named Parit "Penguin" Chiwarak, Anon Nampa, Somyot Pruksakasemsuk and Patiwat "Morlum Bank" Saraiyeam. The 247.5-kilometre march, named "Walk Through the Sky: Bring Back the People's Power," started on February 16. Jatupat "Pai Dao Din" Boonpattararaksa, from the student-led protest group Ratsadon, is leading the walking protesters and says they have been held in jail without bail since February 9.
The 4 are facing charges under Article 112, which prohibits lese-majeste, or the defaming of the Thai Royal Monarchy. Lese-majeste carries a jail sentence of 3 to 15 years. They are also facing charges of sedition under Article 116 of the Criminal Code, which carries a jail term of 7 years, as they are accused of organising pro-democracy rallies.
"The ignition and the fuel for the walk is simple. They have started to incarcerate our friends while denying their bail requests, which made it impossible for us to do nothing."
The court has denied the demonstrators bail requests 4 times now, citing that their release would create more unrest.
Pai said he emphathises with the detained protestors as he has been imprisoned for lese-majeste before. He says he spent 2 years and 6 months in prison for sharing a BBC Thai's biography of the monarch on Facebook.
"When I was in jail, there were people outside who were protesting for my release so now that my friends are in jail by an unfair law while being denied their right to political expression, I must come out and do something."
"A walk is a type of a fight against injustice and we choose to fight this way in order to peacefully spread the words about police brutality, the uses of various laws to silence dissidents, the plights of the poor and the mismanagement of the government's covid-relief measures and natural resources."
The walk-in protest group is expected to reach Zeer Rangsit in Pathumthani around 5:30 pm today and will camp out near the department store before marching at the Bang Khen intersection tomorrow. On Sunday, the march is expected to end at Bangkok's Democracy Monument.
SOURCE: Thai Enquirer
Keep in contact with The Thaiger by following our Facebook page.
Never miss out on future posts by following The Thaiger.