Phuket boat show rumbles – a new show announced
There used to be one Phuket boat show, then there was two, then there was the two coming together as one… and now there is a new event. Royal Phuket Marina are putting together their own show with Andy Dowden, of PIMEX fame, the principle organiser of the new Phuket Yacht Show. The new show is being planned for January 3-6, 2019, a week ahead of the scheduled 'Thailand Yacht Show & RendezVous'.
But first a quick history.
First there was PIMEX which was an annual showcase for all things 'nautical' held at the Royal Phuket Marina. It was a well-organised show and ran like clockwork under the capable hands of Andy Dowden.
Then along came the Thailand Yacht Show, a bigger show aimed more at the super yacht end of the market and held, in part, to promote Phuket as a destination for super yachts. The organisers, Verventia, under the leadership of Andy Treadwell, were mounting their annual show at the Ao Po Grand Marina. Verventia are also the organisers of the Singapore Yacht Show. It was bold and big but Ao Po is a long way from Phuket's population centres.
PIMEX was last held in 2016 and in 2017 the event was re-packaged and re-launched as the 'Phuket Rendezvous'. The event was again held at the Royal Phuket Marina but now organised by the Burlot brothers, owners of Asia RendezVous, organisers of the Phuket, Penang and Singapore Rendezvous events
Earlier this year the Burlot brothers and Andy Treadwell announced that the two shows, the Phuket Rendezvous and the Thailand Yacht Show, would merge
Read about that announcement HERE.
"The move was precipitated by a request earlier in the year from the Tourism Authority of Thailand (TAT) to gather the industry together in one major event in Thailand so as to demonstrate united support for the government's yacht tourism initiative."
The boat industry demanded it, the TAT and other Thai funding bodies demanded it and somehow, the Burlot brothers and Andy Treadwell would make it work – they're all competent business-people and, despite their differences, would mutually benefit, as would the local boating industry, if there was ONE big boat show for Phuket. They've both proven that they can mount excellent shows.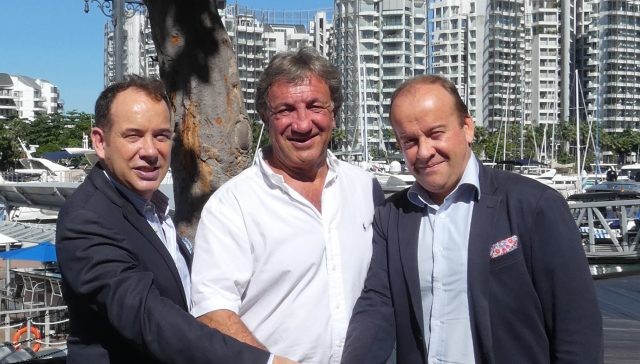 But where would it be held?
Ao Po Grand Marina have been forced to remove a lot of their pontoons that weren't a part of their original plans so it's made mounting a big boat show almost impossible. RPM is just too small to handle any of the larger yachts or super yachts.
Also, the Burlot brothers, who mounted the first Phuket Rendezvous, have not signed any contract for the next event at RPM as Verventia and their company continue to work out the best way to work together.
With the months ticking by quickly, and no firm decisions being made about venues, Gulu Lalvani, the owner of RPM, has brought back Andy Dowden to organise their own independent show.
Of course the people that should be calling the shots are the local marine industry players who fund the shows and put up the time and money to display all these luxury craft. They are now going to be torn between competing events again.
Royal Phuket Marina has the space and infrastructure to mount another moderately sized show and has hosted similar shows many times before – with PIMEX and Phuket Rendezvous.
Now we await a response from the newly merged "Thailand Yacht Show & RendezVous" as to where they are going to mount their show for the next season. And the region's boating industry now has to wrestle again with which of the shows it will support, precisely the situation they were trying to avoid.


Read more headlines, reports & breaking news in Phuket. Or catch up on your Thailand news.
Man found dead in pickup with charcoal burner in Rassada, Phuket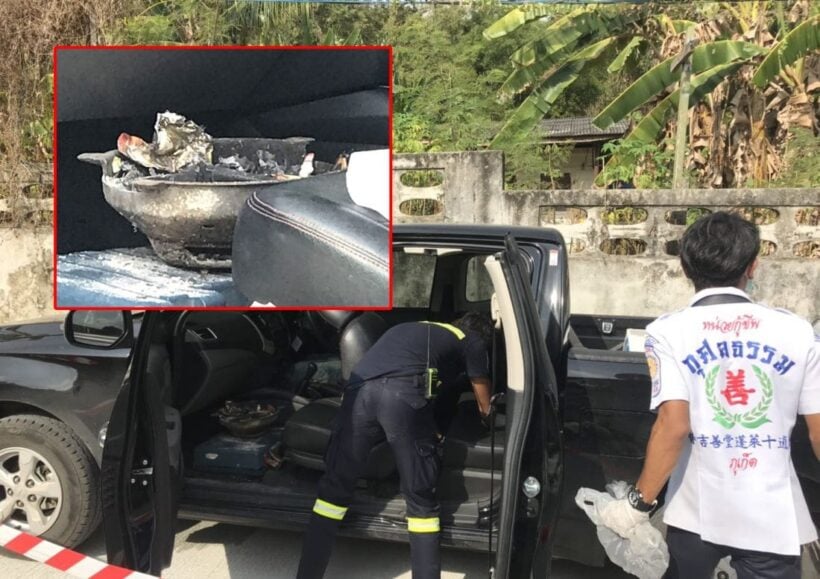 A man has been found dead inside a pickup truck with a coal burner also inside the vehicle in Rassada this morning. Police were notified of the situation in Soi Muen Sri in Rassada.
Police and emergency responders arrived to find the man's body in the parked pickup truck. The man was identified as 28 year old Weerawat Pakdeewirot from Phuket.
A coal burner was also found inside the vehicle. A suicide note addressed to his girlfriend was also found. The letter stated that he was facing financial problems. His body was taken to Vachira Phuket Hospital.
Police says that Mr Weerawat is a CCTV camera and internet contractor. His home was only 50 metres from the scene. Yesterday locals noticed his pickup parked at the scene. Today they saw the pickup in the same location and went to check out the situation.
Police are continuing their investigation.
If you or anyone you know is in emotional distress, please contact the Samaritans of Thailand 24-hour hotline: 02 713 6791 (English), 02 713 6793 (Thai) or the Thai Mental Health Hotline at 1323 (Thai).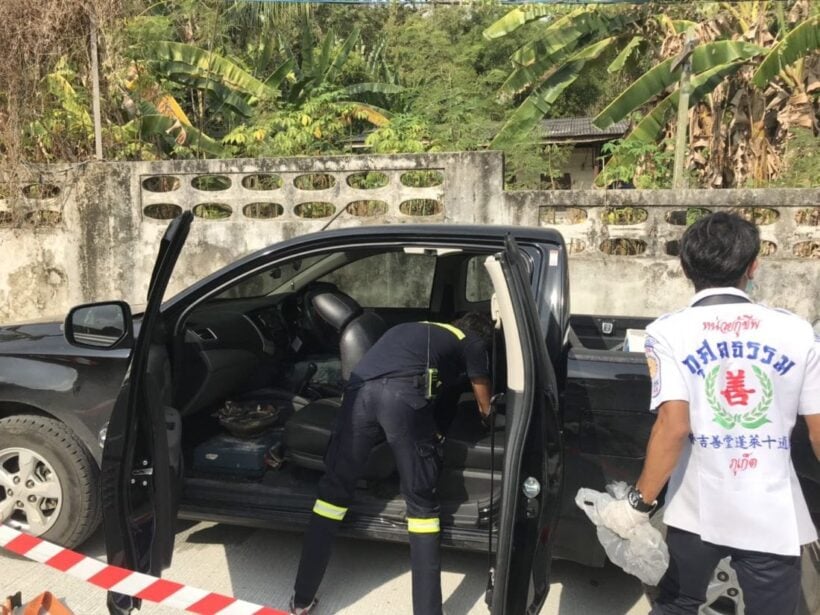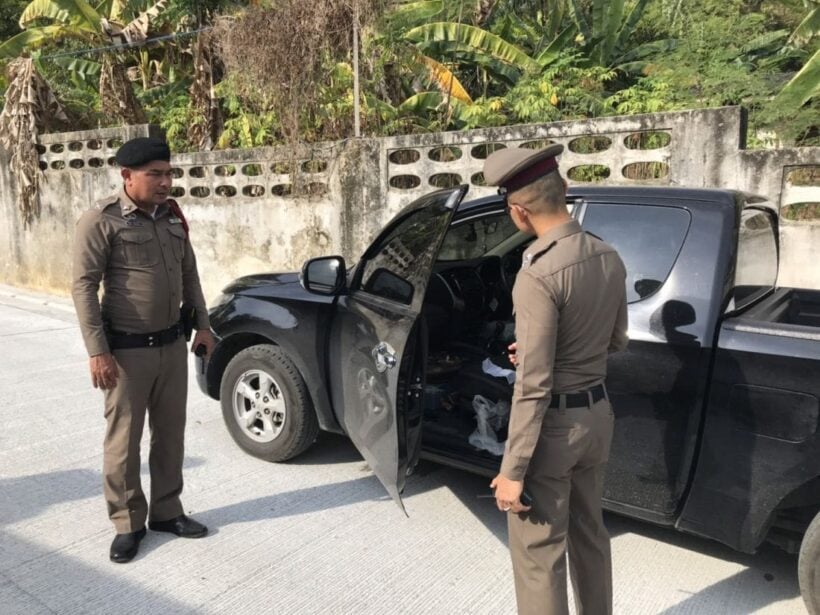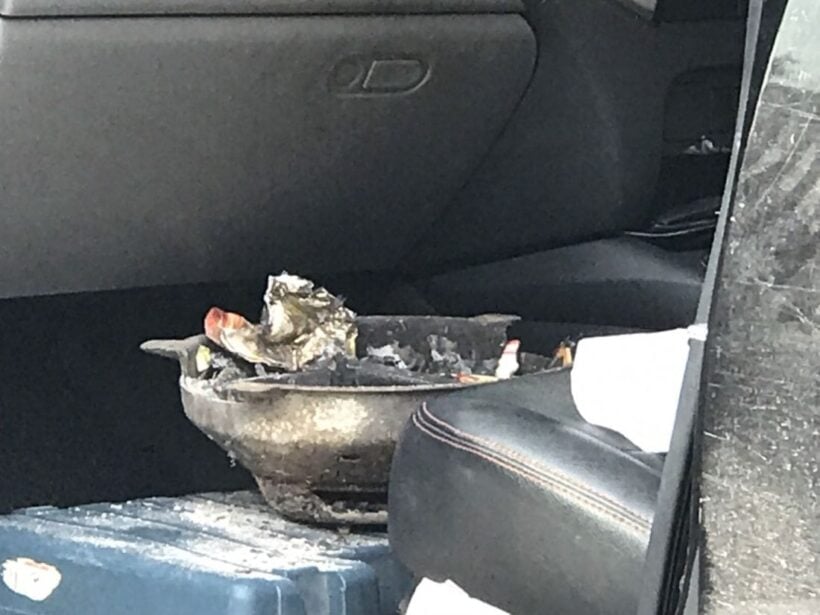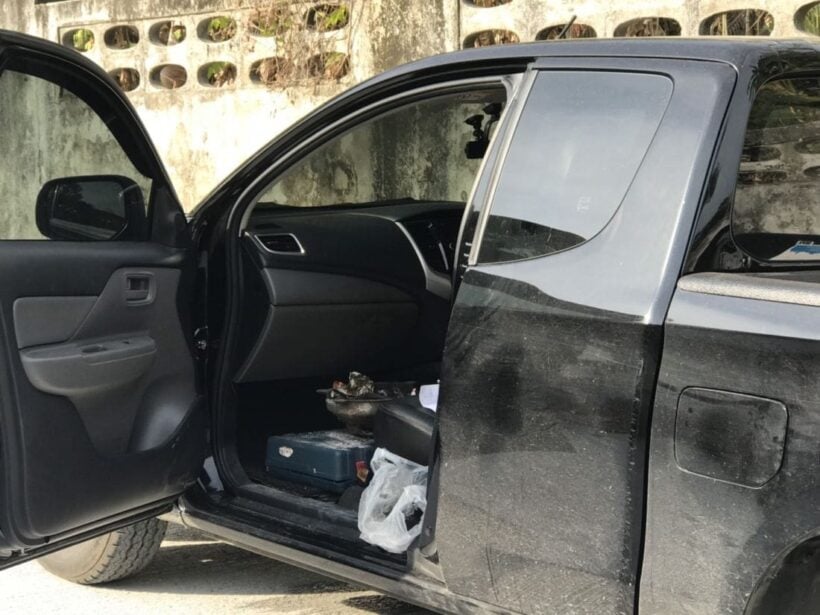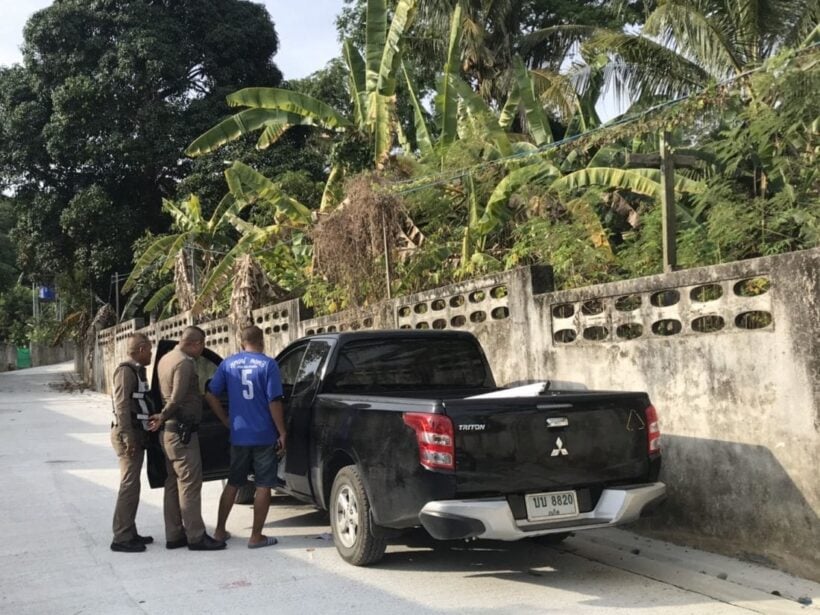 Injured Brahminy Kite (bird) rescued in Karon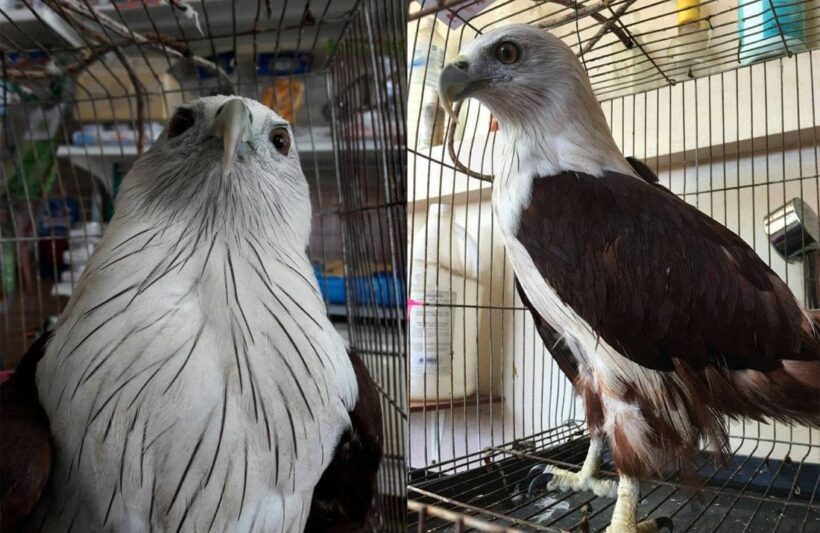 An injured Brahminy Kite has been rescued by locals in Karon, Phuket.
The mature Brahminy Kite was found in Karon this week. Locals who found the bird contacted the head of Khao Phra Thaeo Non-Hunting Area, Pongchart Chueahom.
The Brahminy Kite had a wound similar to a bite wound under its wing. It was unable tp fly. It is now being treated at a pet hospital in Thalang until it is ready to be set free.
The Brahminy Kite is a protected species in Thailand.
The brahminy kite (Haliastur indus), also known as the red-backed sea-eagle in Australia, is a medium-sized bird of prey in the family Accipitridae, which also includes many other diurnal raptors, such as eagles, buzzards, and harriers. They are found in the Indian subcontinent, Southeast Asia, and Australia. They are found mainly on the coast and in inland wetlands, where they feed on dead fish and other prey. Adults have a reddish-brown body plumage contrasting with their white head and breast which make them easy to distinguish from other birds of prey – Wikipedia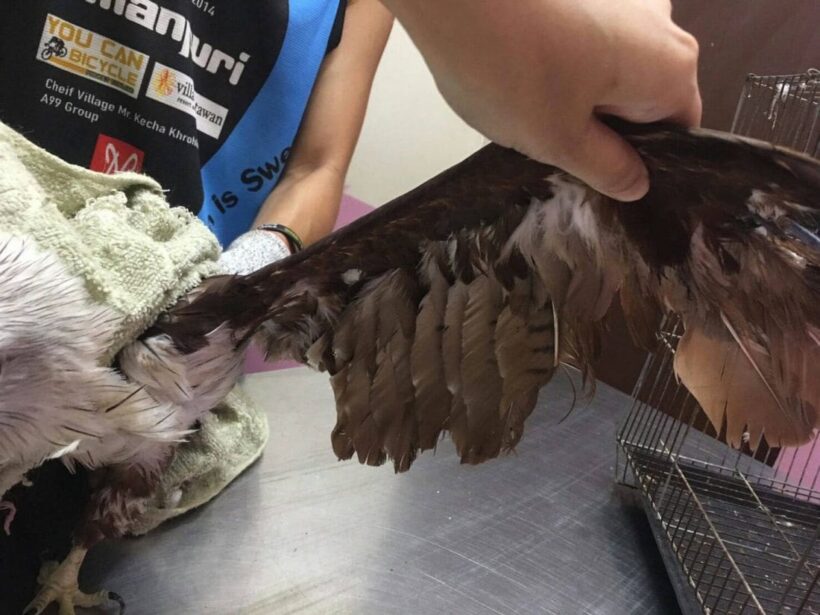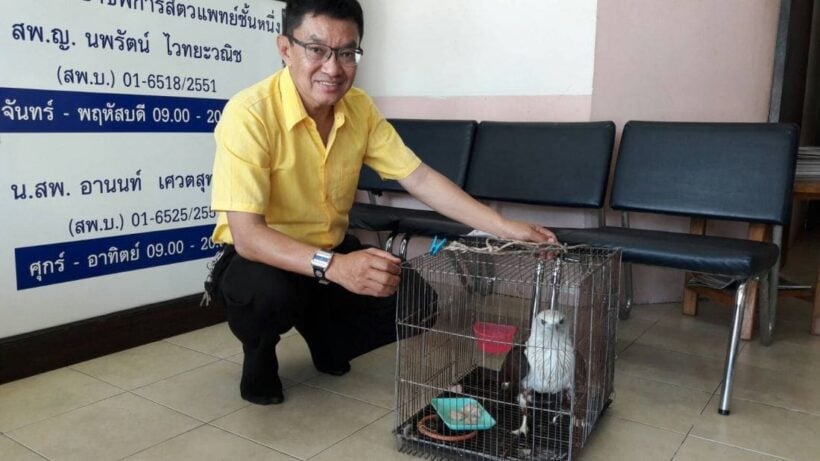 Army commander visits Phuket residents to discuss water shortage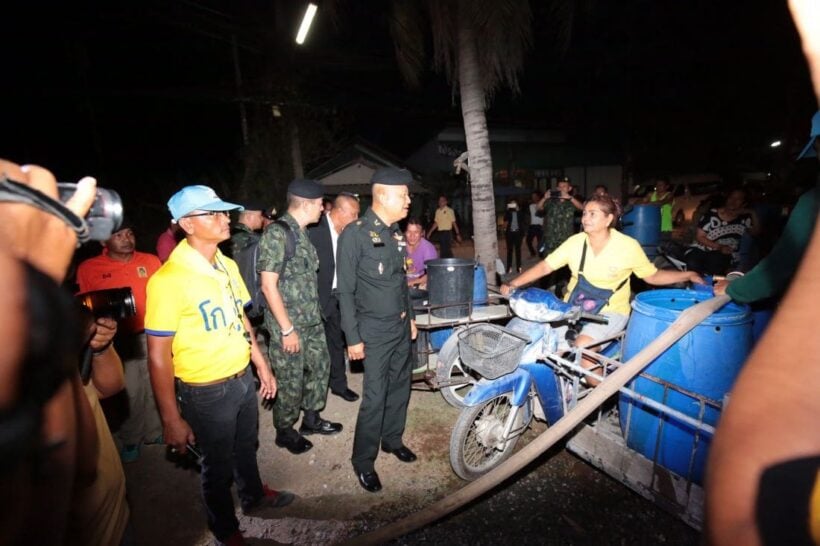 Lt Gen Pornsak Poonsawat, the Commander of the Fourth Army Region (Southern) in Nakhon Si Thammarat, came to Phuket to visit residents over water shortage issues in Rassada.
Lt Gen Pornsak says "we were contacted from the Phuket Governor that Phuket is facing serious water shortages. We have come here with water trucks to help residents to join with other government agencies in Phuket.
There are now 23 water trucks which are delivering free water to residents around Phuket. However we need cooperation from every one to save water."