Phuket
Peaks Residences structures demolished after illegal building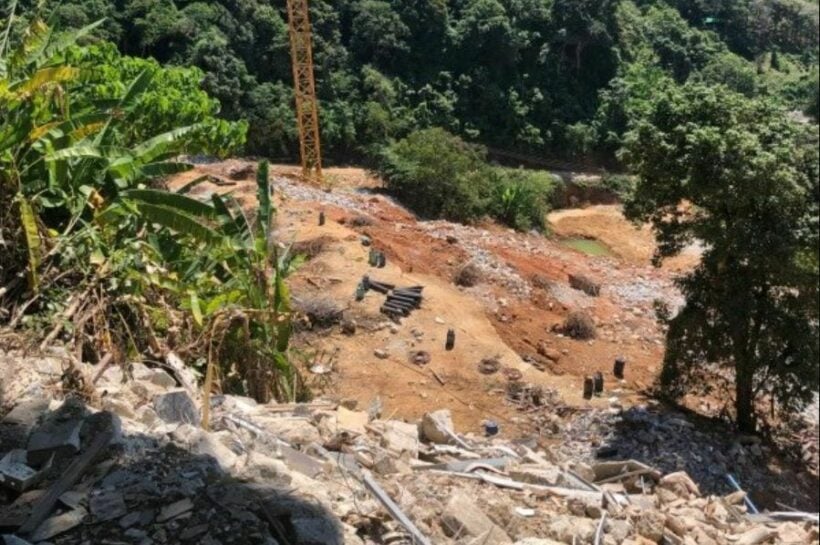 After years of conflict stemming from what courts ruled as an invalid land title in 2017, the saga of the Peaks Residences in Phuket is finally coming to a close. The residences that were built on land the Supreme Administrative Court ruled was illegally encroaching on protected forests at Kata Noi have now been completely demolished.
The court gave the developers Kata Beach Co one year to remove all the Peaks Residences structures they had built and return the land back to its original condition within one year. Demolition was started on September 13 according to Karon Municipality officials, but the company requested 180 days to complete the process with a target completion date of February 2022.
Officials say they expect the full demolition to take a whole year and said the municipality was willing to give more time if requested. But as of today, all the major structures and buildings that had been erected on the land have been collapsed and broken into rubble.
Kata Beach Co is eating all the demolition costs as well as expenses for removing the rubble from the site, without any physical or financial aid from the local governments. City officials say so far the demolition has gone off without a hitch and explain their job is to make sure the company follows through with demolishing and removing all the debris. After that, the reins are passed to the Department of Lands and the Royal Forest Department to oversee things like planting trees to return the land to its original natural state.
The CEO of Kata Beach assure investors in the Peaks Residences they would not lose their money on the failed 23-building, 435-condo project that were selling for 5.5 million baht each. He said some people were transferring deposits to a project at Surin Beach instead. Meanwhile, the Chairman of the House Committee for Law, Justice and Human Rights has vowed to pursue all who were involved with the illegal project, including city officials who issued land title deeds and construction permits.
SOURCE: The Phuket News