Patong's beach road closed for an hour for new year celebrations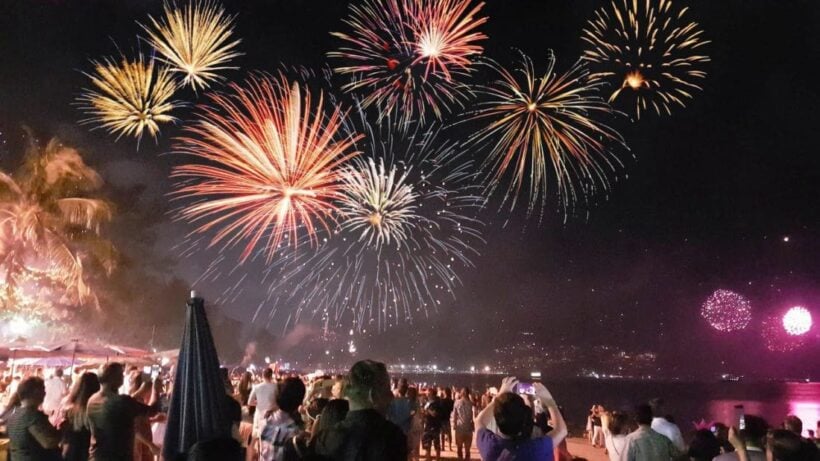 The Patong beach road will officially close for an hour as Patong revelers celebrate New Year 2019 at the island's most famous beach. Thaweewong Road (Beach Road) will close from 11.30pm-12.30am.
The closure is meant to be a safety measure to stop the volume of tourists and new year revelers from being run over. But last new year the traffic was in gridlock from 11pm until nearly 1.30pm with people who parked near the beach stuck in Patong until the hoards of people started to dissipate.
Most of the beach road will be closed to traffic from Prachanukroh Road in the south near the Absolute Sea Pearl Beach Hotel to Hatpatong Road near Loma Park.
The Patong Municipality has organised two nights of celebration for its Patong Beach "Countdown 2019".
Sunday night
5pm-6pm – DJ Rocker
6pm-6:55pm – DJ Daee
7pm-8pm – Welcome greetings and opening of the Patong Beach Countdown 2019 by Phuket Governor Pakkapong Tawipat and Patong Mayor Chalermlak Kebsub
8pm-9pm – DJ Notto
9pm-10:30pm – DJ T.W.B Beer
10:30pm-midnight – DJ Eliz Too
Midnight-1:30am – DJ Leo.P
1:30am-3am – DJ Samatsky
3am-close – DJ New Aks
New Year's Eve (Monday)
5:30pm-6:30pm – "Sending off of the Sun for 2018" with a countdown by the Phuket Governor and Patong Mayor
6:35pm-7:30pm – DJ Ben
7:30pm-8:30pm – DJ Mayga
8:30pm-9:30pm – DJ Karim
9:30pm-11:30pm – DJ T.W.B. Beer
11:30pm – Start of live broadcast of Patong Beach Countdown on Thai TV channel "Spring News Channel 19"
Then… Midnight Countdown to the New Year
Midnight – Happy New Year 2019 fireworks!!!!!
Midnight-2am – Top DJ duo "Breathe Carolina" from the US
2am-3am – DJ Samatsky
3am-Close – DJ AKS
Keep in contact with The Thaiger by following our
Facebook page
.


Find local events and browse venues in Thailand with Thaiger Events, or post your own today.

Read more headlines, reports & breaking news in Phuket. Or catch up on your Thailand news.

Violette Wautier new release "Brassac"

Violette Wautier's new dreamy alternative pop single "Brassac" proves is met with excitement from her fans both in Thailand and around Southeast Asia!
After more than a year away from the recording studio, Thai-Belgian artist "Violette Wautier" has returned with an instant alternative pop hit, "Brassac". Premiered on March 8th 2020 on YouTube, the highly anticipated English single has already hit 200,000 views overnight. Spotify has also picked up the dreamy track to lead their "Indie Shuffle" playlist, allowing Violette to reach more fans worldwide.
Named after a small town in the South of France, "Brassac" is an irresistible alternative pop anthem about a short-lived summer romance. Violette sings about falling in love quickly and embracing the rush of getting to know someone before the season inevitably draws to a close: "So love me slowly… Stay awake all night… We don't need forever… Just you and I."
To capture the sunny vibes of "Brassac", the music video plays with beautiful warm imagery, Violette's carefree dancer-like movements and a storyline about two people sharing momentary happiness together as lovers.
The combination of playful lyrics, electric synths, and Violette's signature airy vocals makes "Brassac" the perfect third track for her upcoming album. It is a gentler, upbeat singalong song that follows Violette's first two edgier singles, "Drive" and "Smoke".
ABOUT "VIOLETTE WAUTIER"
Since rising to fame in 2013, Violette has garnered national recognition for both her music and acting. In 2018, Violette released her first English single "Drive", topping various charts across the country. Following this success, she dropped her second single "Smoke", which went on to break the record for most views for an English song performed by a Thai artist on YouTube with 61 million views. Her music has crossed borders, with "Smoke" also ranking No. 1 on Apple Music Chart in 8 countries, including Thailand, Singapore, Malaysia, and Indonesia, and Vietnam
Keep in contact with The Thaiger by following our
Facebook page
.
'Watching the Thais' – understanding Thai culture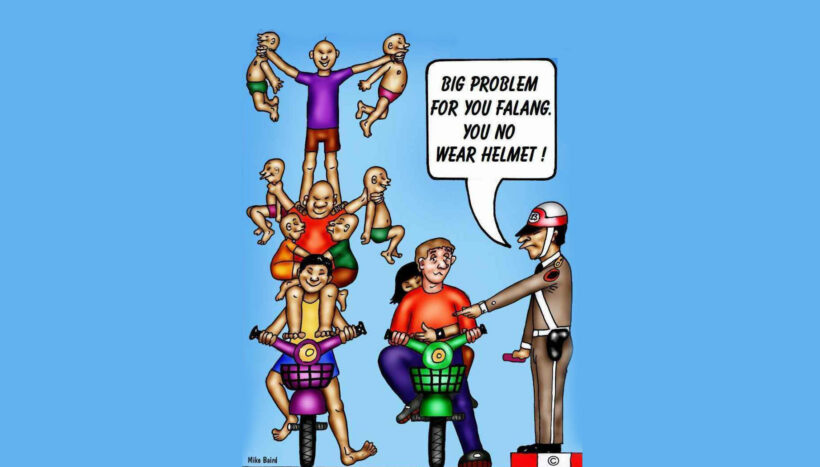 Why does a Thai smile at you after crashing into the back of your car? Why do Thais deplore walking?
The heat, the heat.
What about the weather? Why is everything done as a pack? What is all this 'face' stuff about?
Lies? Confrontation? 

Sleeping and shopping?
Just what is it with the Thais? 

What's it all about?
Author and academic Tom Tuohy answers all these questions and much more in his new book about the Thais and all their quirks. I wish I had read it before I learned the hard way.
"The psychology and general atmosphere whilst using public transport in Thailand is also interesting to think about. When you happen to find yourself on, for example a regular Thai bus, some general considerations need to be noted.
"The same driver will invariably drive as if he has a prior appointment (which he's only just remembered), with some mysterious benefactor who is going to alter his and his family's life radically. It is apparently for this reason that he will proceed to slam hard on the brakes at every juncture.
"It amazes me how these drivers wait till the last second to do this, instead of gently easing on the brakes when approaching a junction. What results is a collective surge of passengers moving forward en-masse like an unintentional human, as opposed to Mexican Wave: grandma on her weekly visit to feed the ducks in Lumpini Park gets a new seat on the floor; Somchai, the 7-11 employee gently and apologetically extricates himself from the cleavage of Navaporn, the cute SCB teller; students from nearby colleges hang on for dear life, hoping their hair isn't messed up and make-up isn't smudged when they collide with the stainless steel handrails.
"The unflappable ticket-collector, almost always a woman, moves slowly down the bus, click-clacks open and shut her klaxon-like metal pencil case full of five- and one-baht coins, and carries on collecting the money as if nothing ever happened. 'Mai pen rai!' the elderly gentleman mumbles in the corner. 'Amen brother' I say quietly to myself as I pick myself up off the floor!"
(Watching the Thais, Chapter Three, Thais and Movement , Keep on Walking, Johnny Walker)
If you are one of the forty million or so expected visitors to Thailand this coming year, or an expat interested in moving to the country, this book is a must for you. The book is divided into ten chapters, each one detailing some of the virtues as well as common misconceptions about living and working in Thailand.
Common questions asked by visitors are also dealt with: why do Thais walk so slowly? Why do they like spicy food? Why are they always smiling? Why does nothing seem to upset them?
Towards the end of the book, a series of blogs discuss deeper aspects of living and working in Thailand e.g. the state of Thai education, cross-cultural communication, the Thai floods, marriage to a Thai, and the way the Thai riots in 2010 were presented by the foreign media. If you are planning to spend any length of time in the country and really want to understand the Thai modus operandi, this book will give you a great insight into the uniquely Thai way of thinking and being.
"This is a book I wish I'd read before I went to Thailand for the first time (although it hadn't been written then). Even now, 23 years later, it taught me things I didn't know."
(Timothy Hallinan, author of the Poke Rafferty and Junior Bender series of books)
"Watching the Thais" is a great resource for anyone with an interest in the magnificent kingdom of Thailand. A great read – informative and entertaining.
(James Newman – Author of Bangkok Express and The White Flamingo)
"Though he doesn't yet qualify as an Old Thailand Hand with two decades in residence, he has lots of personal impressions of the Land of Smiles. Tom, Ajarn Tuohy, is well read on the subject."
(Bernard Trink, Nite Owl columnist for the Bangkok Post)
To buy the book, click HERE or HERE
Keep in contact with The Thaiger by following our
Facebook page
.
World's biggest band launch their new album "Map of the Soul: 7" BTS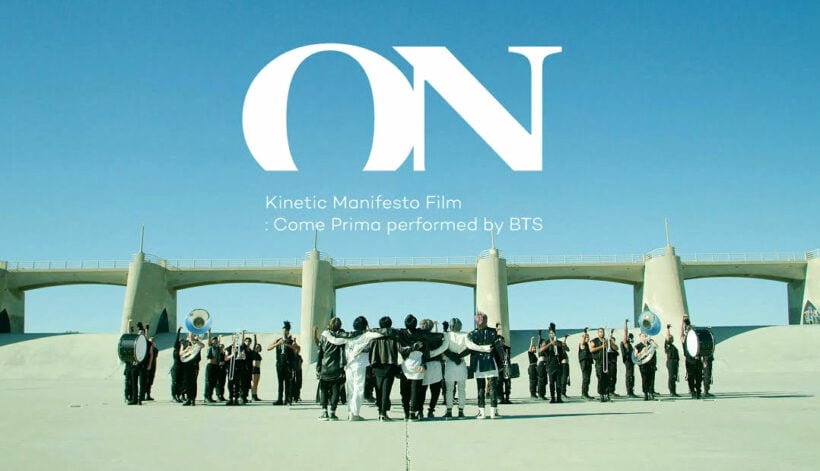 From the first determined drum stroke in the new BTS music video (below) you get the sense that these guys mean business for their new album. The music video for their first official single ON kicked over more than 70 million views in its first 2 days since launch.
The world's biggest band BTS – in terms of album sales, stadium tickets sold, and sheer internet presence – has launched their latest studio album, their seventh, Map of the Soul:7. And they're spending their time launching it in the US, seen as the holy grail of pop for bands around the world.
The seven-member South Korean band has boldly gone where few 'foreign' language bands have gone before. Last year they notched up a major milestone becoming only the second band to have three consecutive No. 1 albums in the Billboard Chart in a 12 month period. The last band to do that was a British quartet called The Beatles… you may have heard of them.
But the white-washed world of American pop has been slow to come around to the invasion of the South Korean band that cut its teeth in the ultra-competitive world of K-pop before making headway in the international market. Indeed they've done just about everything differently than bands before and, somehow, etched out a brave new world of pop success, on their own terms.
Launching in June 2013, BTS (aka. Bangtan Boys, Bangtan Seoyondan, which translates as Bulletproof Boy Scouts), the seven members have played with hip hop, R&B, power ballads, pure pop and edgy rap styles. Seven years later their music is much more difficult to define as it crosses multiple genres and emerges as something new and distinct. 
But BTS is a lot more than its three letter acronym. BTS is RM, Jin, Suga, J-Hope, Jimin, V and Jungkook.
Much of their success is rooted in a few points-of-difference, all of them taken to new levels of professionalism and art.
• Every BTS music video is almost a piece of art, sometimes filmic and always beautifully crafted.
• BTS write, produce and perform. They act, sing, dance and rap. They are the total pop-package.
• BTS lean heavily on their authentic messages of loving yourself, acknowledging your shadows, accepting your frailties and, well, a lot of other 'young people' issues. Apart from the occasionally dark and 'real' messages in their music, all seven members appear humble and intelligent, and willing to share their ups and downs with fans (Band leader 'RM' has an IQ of 148).
• BTS have weaponised social media in a way never before attempted or achieved. YouTube, Facebook, Twitter, TikTok… they have accumulated a vast online fandom, called ARMY. It's easy to say that there has NEVER been such a motivated, dedicated fandom in music history, across borders, across languages.
• They have a well-catalogued rags-to-riches backstory, complete with hundreds of videos following their early days, failures and apprehension. From living together in a tiny dorm and cooking their own meals together, all the way to their world-wide popularity and chartered jets, it's a fascinating journey that adds to their appeal.
• They are genuinely likeable and have always, ALWAYS, thanked their legion of fans, first and foremost, for their success.
'7' has held its position at No. 1 on Amazon's bestsellers chart for nearly a month, and the upcoming US stadium tour (then to Europe and Asia) has already sold out. Even before its release, Map of the Soul: 7 was the fastest-selling album this year (4 million sales), selling four times the numbers of pre-release sales for Taylor Swift's Lover.
There's little doubt BTS will earn their fourth consecutive No. 1 debut on the Billboard 200.
Why '7'? The band says it's a salute to their seven years together as a band and, well, there's seven of them.
Their launch single (which follows two YouTube teaser music videos of the songs Shadow and Ego, plus a hugely popular performance of Black Swan on James Corden's Late Late Show – 39 million views), is ON.
The music video released yesterday is an alternative version of the collaboration featuring Sia on the album. ON is a catchy anthem starting out with a stripped back church-like organ breaking into a precision drum-band punching out the rhythms for the track.
As with most of their work, all BTS members get their chance to shine. Just when you think you're getting into the track (it's in Korean and English), it changes direction and surprises. Wait until you get to the dance break in the middle!
The new album has 20 tracks including some from the previous Map of the Soul: Persona. But this is certainly taking a darker and edgier turn for the band which, seven years on, has a rich tapestry of styles in their extensive repertoire.
Full Track List for Map of the Soul: 7
Intro: Persona
작은 것들을 위한 시 Boy With Luv (Feat. Halsey)
Make It Right
Jamais Vu
Dionysus
Interlude : Shadow
Black Swan
Filter 시차
Louder than bombs
ON
욱 UGH!
00:00 (Zero O'Clock)
Inner Child
친구 Moon Respect
We are Bulletproof : the Eternal
Outro : Ego
ON (Feat. Sia)
But there's stormy weather ahead for the band and ARMY with South Korea's compulsory military conscripton looming over the seven 20-something members. The oldest member, Jin, reaches 28 years of age in December this year which will force him to enter the mandatory 2 year military service. And that will be followed over the following four years by the other band members – Suga, J-Hope, RM, Jimin, V and Jungkook. Although there's been a strong media and online push to get an exemption for the group, (in 2019 BTS contributed $4.65 billion to the South Korean GDP), the members have all said they look forward to serving their country.
For now BTS are switched ON with their new album and their reshaping of the world pop industry will continue, for at least the rest of 2020.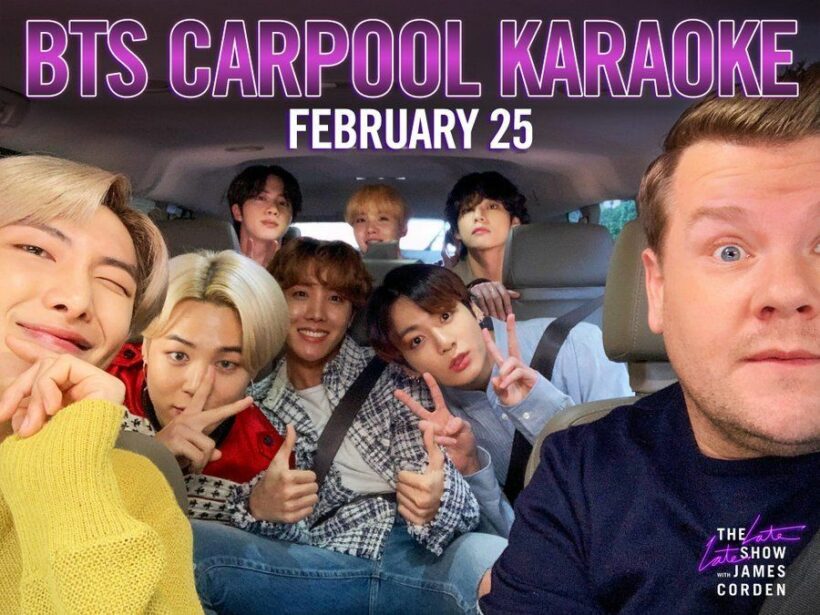 You know you've made it in the pop music world when you end up on Carpool Karaoke
Keep in contact with The Thaiger by following our
Facebook page
.