Phuket
Navy help 177 tourists back from Koh Racha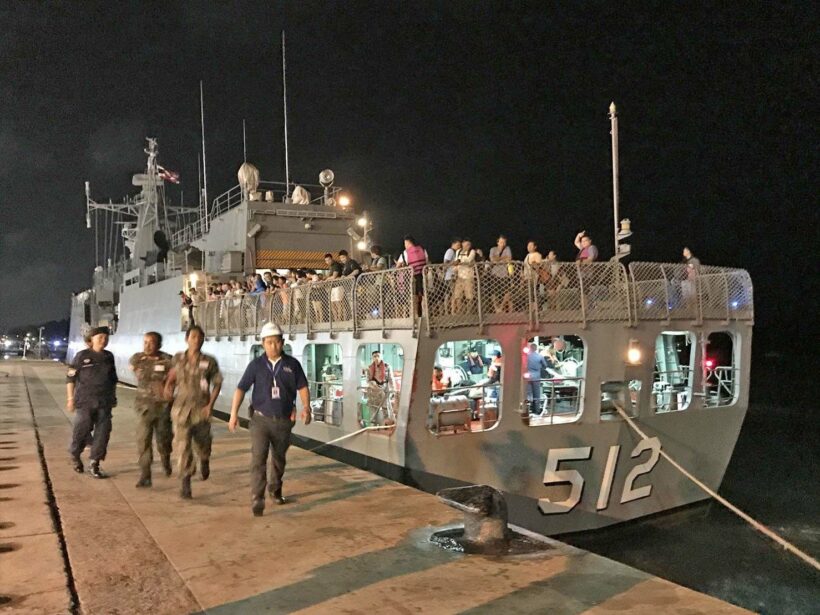 The Royal Thai Navy was called by tour operators on Koh Racha Yai yesterday (August 8) to help bring 177 Thais and tourists back to the Phuket Deep Sea Port following strong winds and high seas in the Andaman Sea.
The Royal Thai Navy Third Area Commander Admiral Somnuek Prempramot says, "At about noon yesterday (August 8) we were asked to help bring 161 tourists, including Chinese and Russians and 16 Thais, from Koh Racha Yai back to the Phuket Deep Sea Port. They were unable to get back due to the strong winds and waves up to 5 metres high."
"They have been in Koh Racha since Monday (August 6). Some of them were scheduled to leave Phuket last night. By 10.10pm last night (August 8) they were all safely ashore at the Phuket Deep Sea Port. It took about 4 hours for the journey due to the poor weather. Normally it would only take 90 minutes."
A Russian couple say they arrived in Phuket on July 28 and left Phuket last night. Two days ago they went to Koh Racha but there were strong winds and the tour boats were unable to run their usual daily routes.
"The Royal Thai Navy Third Area Command can be contacted on 07 6391 598 or 1696, 24 hours a day for advice about the current weather."