Police drag man out of Pattaya school after ex-wife clams he was carrying a gun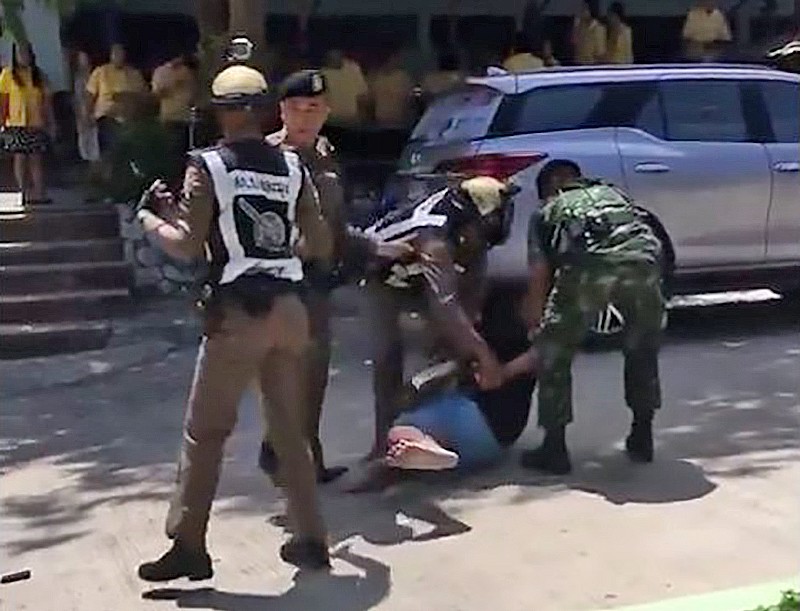 The father at the centre of a viral video has brought along his lawyer to the Bang Laming Police to discuss, what he claims, was an excessive use of force at a primary school in Pattaya yesterday. The issues relate to a long-term domestic custody issue.
35 year old Thara Welajaeng says he was having lunch peacefully with his daughter when his estranged wife arrived at Muang Pattaya 6 school. She had told police that Thara was a drug user and was armed.
Police and military descended on the school, apprehended Thara and escorted him away amid lots of screaming and scuffles.The father of two was dragged away in full view of teachers and students in, what social media has described as a 'heavy-handed' use of force. Posters on Facebook are saying Thara should sue the police and army for his rough treatment. Comments say the police went over the top and should be held accountable for their excessive use of force.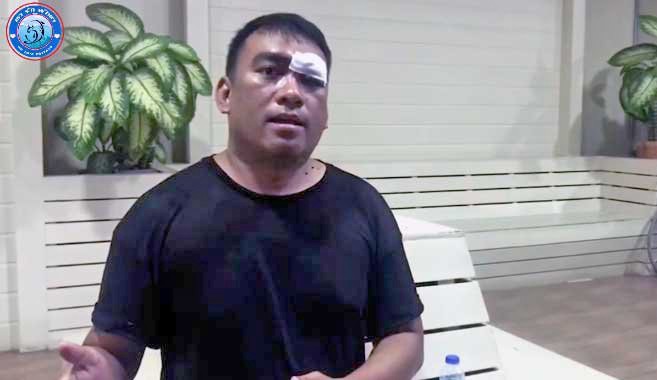 Thara later explained to a an initial police inquiry that he had been having lunch with his youngest daughter. He saw his estranged wife and went upstairs to check on his eldest daughter. When confronted by police he surrendered. Police found no drugs or guns with him. Then trouble flared as his estranged wife's father got in on the act, hit Thara, and a scuffle ensued.
Thara told police that he split up with his wife five years ago and was caring for his children but that his wife wants custody. He admitted to police that he had used drugs as a teen but that was twenty years ago. Thara says he may press charges against his estranged wife and her family for assault and making false accusations and defamatory remarks. He also says he wants formal custody of his children.
Police claim they had to do something urgently to prevent the situation from escalating on the school grounds.
เกิดไรขึ้น⁉️#เหตุเกิดในโรงเรียน#พัทยา#เหตุแย่งลูก ฝั่งพี่ผู้ชาย เอาลูกมาเลี้ยง 2 คน พาย้ายหนีฝั่งแม่มาหลายโรงเรียน จน ทางแม่ไปฟ้องศาล ว่าพ่อไม่มีสิทธิ์เลี้ยงดู จนพ่อพาย้ายมาเรียนเมือง 6 แกก็ค่อยเฝ้าลูกตลอด กลัวทางฝั่งแม่มาเอาไป #พี่ผู้ชายแกรักลูกมากนะค่ะไม่มีใครนี้คือท้าวความ แล้ววันนี้ ฝั่งผู้หญิงเอาหมายสิทธิ์ลุดมาพร้อมพ่อ แล้วไปแจ้งตำรวจว่าพี่แกขายยา เลยตำรวจมาเพียบ แล้วก็มาจับพี่แก พี่แกก็มาคนเดียวจะไปสู้ไร แค่แกไม่ให้ลูกไป

Posted by รู้ยัง – พัทยา on Tuesday, August 7, 2018
VIDEO: เหตุเกิดในโรงเรียน
SOURCE: We Love Pattaya Facebook Page
Keep in contact with The Thaiger by following our
Facebook page
.
The body of an unidentified foreigner found floating south of Pattaya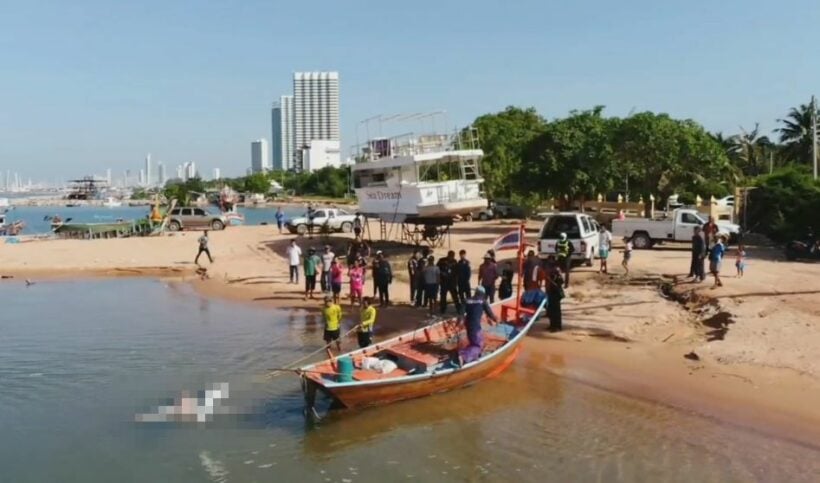 A fisherman has recovered a body, thought to be a foreigner, from the Gulf of Thailand off Sattahip.
Na Jomtien Police were notified of the body by 24 year old Teerapong Boonwat, a fishing boat captain plying the waters around Sattahip, south of Pattaya.
Mr. Boonwat had recovered the body found floating near Koh Ped (Duck Island), about three nautical miles from the Sattahip shore. Police and emergency responders rushed to the scene near Amparam Temple.
Police report that the male body appears to be a foreigner aged around 40 years old with a beard and little head hair. He was wearing a white T-shirt, long jeans and black sneakers.
No identification was found on the man. It is believed that he had died at least 7 days before his body was found floating in the water. The police didn't state if there was any signs of foul play or the condition of the body.
Police are investigating the incident and reviewing missing person reports to establish identification.
SOURCE: The Pattaya News
Keep in contact with The Thaiger by following our
Facebook page
.
Pattaya City's Police Chief dies from sudden heart attack on way to Bangkok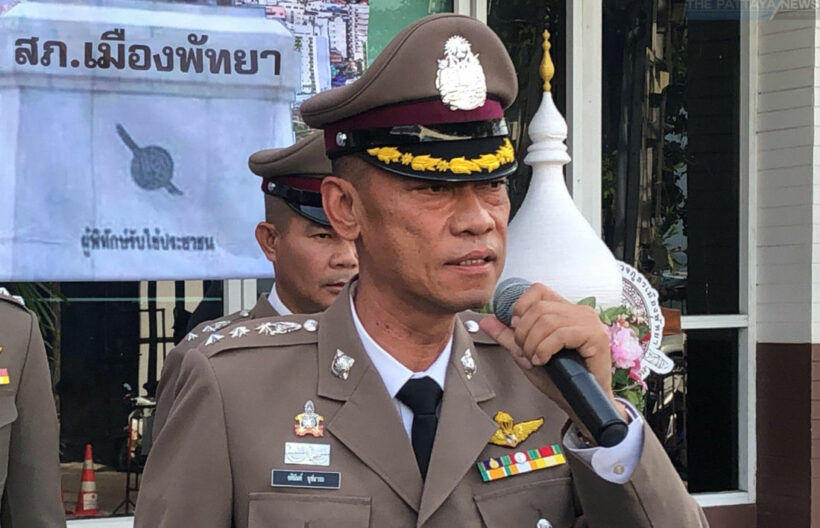 PHOTOS: The Pattaya News
The Pattaya City Police Chief Col. Atinan Nuchanart has died from a heart attack yesterday morning (Friday) while he was on the way to a meeting. 59 year old Col Atinan was the Pattaya City Police Acting Chief, new in the position, and died at the Chonburi Hospital from a heart attack.
Yesterday morning he and his team were heading to Bangkok from Chonburi for a meeting when he started complaining of chest pains before falling unconscious in the car. The Chief was rushed to the Chonburi Hospital by other officers in the vehicle. He was pronounced dead by doctors at 2pm.
Col Atinan was born in Lopburi and was the previous Police Chief of Mueang Chonburi Police Station. He was later transferred as the Pattaya City Police Acting Chief on September 2. He had only been in the top job for little over a month.
The previous Pattaya police Chief was removed from the position pending an investigation into large drug raids at local discos open after legal closing hours during this year.
A full funeral for the well respected veteran officer will take place in the near future but has not been announced at this time.
SOURCE: The Pattaya News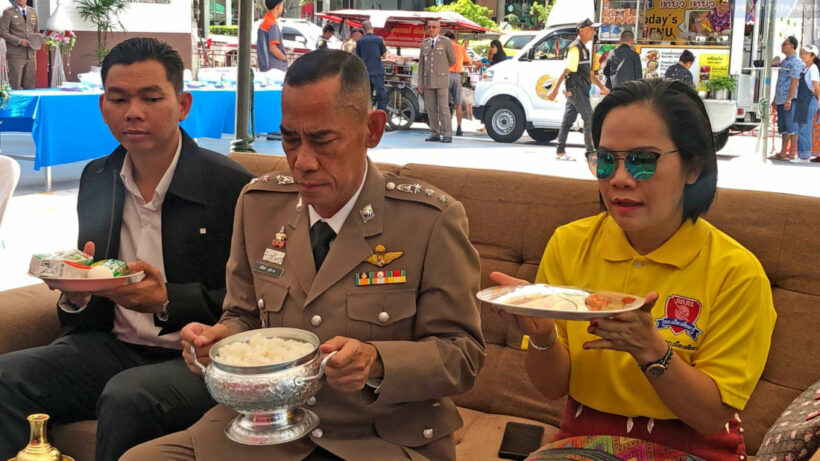 Keep in contact with The Thaiger by following our
Facebook page
.
Local residents and vendors demand action on Pattaya Beach erosion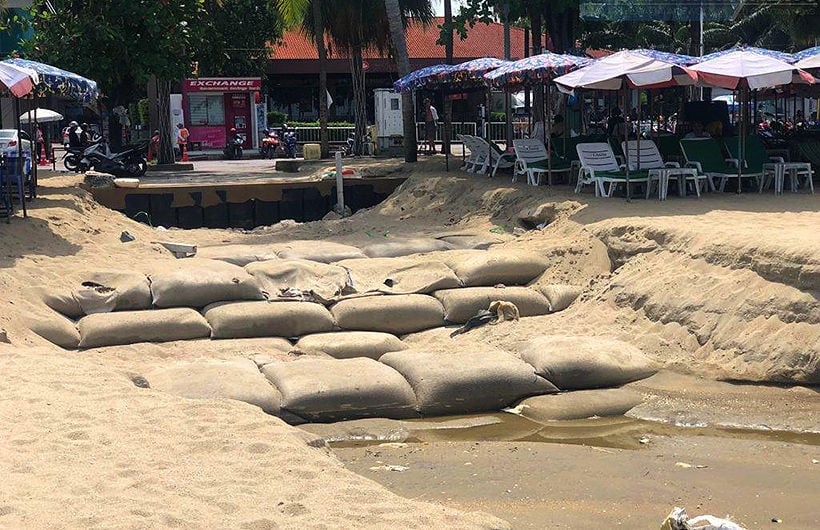 PHOTOS: The Pattaya News
Recent heavy rains over the past week in Pattaya have caused significant deep erosion and gaping holes on Pattaya Beach that have now been sitting in plain view for nearly a week. The situation is an unsightly embarrassment and a potential hazard for tourists, according to local residents and beach vendors.
The Pattaya News reports that, earlier this week, storm waters were flowing onto Pattaya beach into the Gulf after torrential rains, notably at the beach area near Central Festival Pattaya, and have been washed away.
The erosion is at least a metre deep in places, exposing some of the underpinning sand-bag foundations that were placed there doing the re-instatement works last year. Local vendors are complaining that tourists were avoiding the beach.
Beach vendors say this erosion has happened nearly a week ago and is very dangerous especially at night time. They are asking for city officials to speed up repair work and fix the problem.
Earlier this week residents were complaining about an unknown white sediment floating around some of the areas where the erosion had occurred. Last year some 400 million baht was spent re-building some of Pattaya's beaches which end up damaged and washed out to sea any time there are heavy rains.
SOURCE: The Pattaya News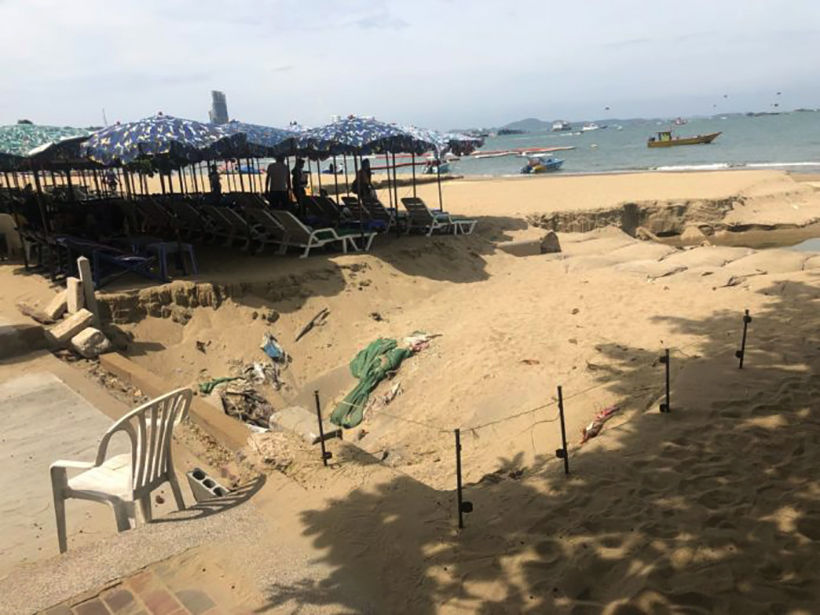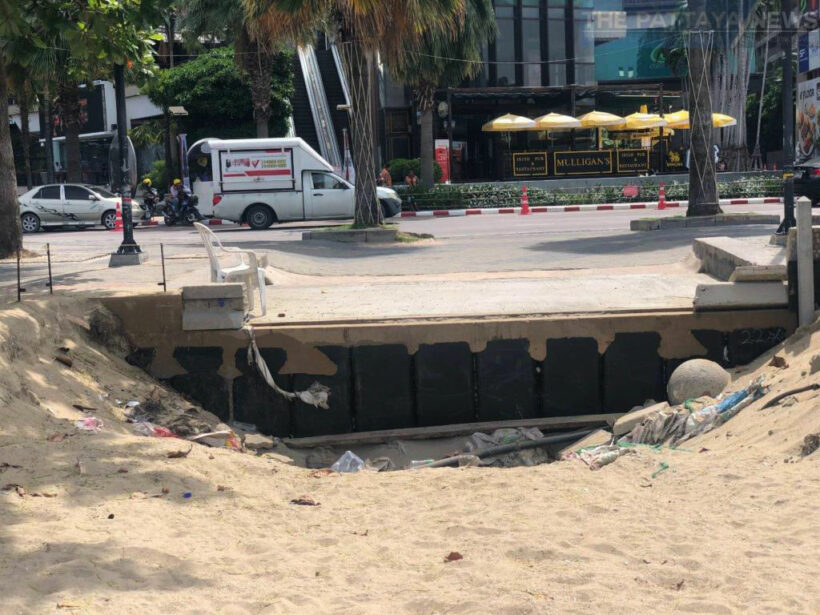 Keep in contact with The Thaiger by following our
Facebook page
.