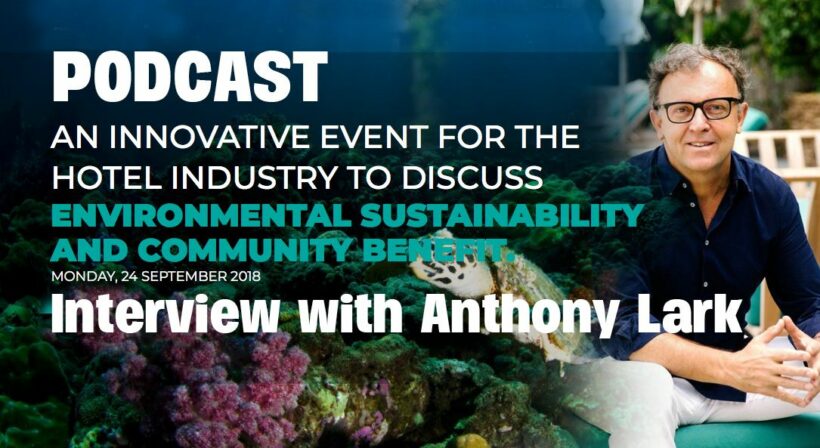 Garry Holden from 'Waking The Thaiger' on Phuket's The Thaiger 102.75 FM, spoke to Anthony Lark, the President of the Phuket Hotels Association who are organising PHIST (read more details below).
400+ attendees are going to the event on Monday in Mai Khao to change Phuket's prospects for an environmental and sustainable future. Have a listen…
PHIST is the first of its kind, an innovative event rallying the hotel industry and its stakeholders to discuss environmental sustainability and community benefit. With over 500 delegates, the event will be held on Monday, September 24, 2018 at JW Marriot Resort & Spa Phuket, with partners and other stakeholders also organizing affiliate events and meetings in tandem. The day will have an exhibit hall and offer attendees a mix of short expert panels and quick topical talks, covering areas of destination development, ocean health and impacts, corporate hotel sustainability, community tourism, and global trends on sustainability and masstourism. In addition, longer, technical workshops and roundtables will be held to convene the wider audience of hotel staff. Speakers will be mostly from international organizations and their regional representation from outside Phuket, but all gearing their content on the discussion for Phuket to apply best practice and opportunity.
Organised by The Phuket Hotels Association and supported by the Thai Hotels Association, the Phuket Hotels Association is a non-profit organization with over 60 member hotels and resorts, comprising small boutique hotels to large luxury international chains who have joined together to promote Phuket as a destination, together with a number of important activities, each with its own working group of General Managers that oversee the following: Environment & Sustainability; Education and Destination Marketing.