PHOTOS: Gustavo Valiente, Bajaj Family
The killer of a British father has been seen wandering free around Phuket just nine days after allegedly choking him to death in a frenzied 4am attack at the Centara Grand Resort on Karon Beach.
54 year old Norwegian Roger Bullman has been staying at a Phuket guesthouse on bail awaiting an appearance in court in relation to the killing of British IT consultant Amitpal Singh Bajaj.
Speaking to the Mail Online, Bullman explained how a night of karaoke with his girlfriend at the Karon resort led to him singing on his hotel balcony at 4am. When 34 year old Amitpal, staying in the next room with his wife and two year old son, confronted him over the noise, Bullman allegedly attacked and choked him.
"Adrenalin took me over. I didn't want to kill him. I didn't know he was dead until the police told me he had died in hospital," he told Mail Online.
'I was with my girlfriend and we were happy that night."
Police said that Bullman, a Norwegian bodyguard, from Olso, had been drinking and began singing opera at 4am from his hotel balcony while his partner was sleeping. But when London-born Amitpal protested about the noise, Bullman allegedly opened a sliding door which separated their balconies and confronted the British man, according to the article.
Bullman told police that Amitpal picked up a metal knife as he grappled with his attacker and tried to stab him, bending the blade in half.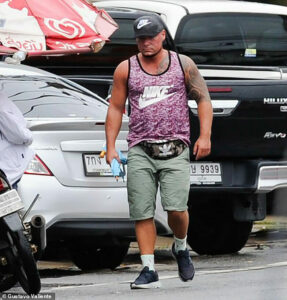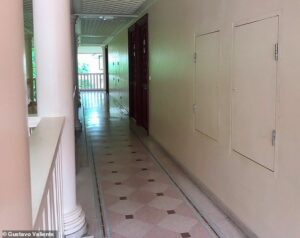 According to the account in the Mail Online article, Bullman said, "I am sorry, really sorry. I am a father too and I can understand how his wife must be as they have a child."
Bullman and his partner had flown to Phuket from Oslo, via Bangkok on August 17, for a two week packaged holiday at the Centara Grand Resort at the north end of Karon beach.
"I am going to jail for between three and ten years and at my age of 54 it is not going to be easy."
"I am lost. My girlfriend has gone home and I am alone here", according to the article.
Amitpal was allegedly strangled by Bullman after hotel security were called twice to his room to ask him to tone down his 'opera' singing.
Mail Online reports that, during the brawl the former soldier dragged Amitpal out into the walkway in front of their rooms. According to hotel security, the victim was lying postrate with his killer's arms still around his neck as officials intervened.
As Amitpal grappled with his attacker, he begged his wife Bandhna to escape with their two year old son Veer. She told police she heard her husband screaming for his life from the third floor when she reached the ground floor to seek help.
The victim had tried to run, "but was dragged from his room and onto a walkway where he struggled in vain to fight off his attacker who later admitted he had been drinking heavily in nearby bars."
Amitpal, who had been celebrating his 10th wedding anniversary with his wife, died shortly after being taken to Patong Hospital.
SOURCE: Mail Online