Yacht excise tax finally reduced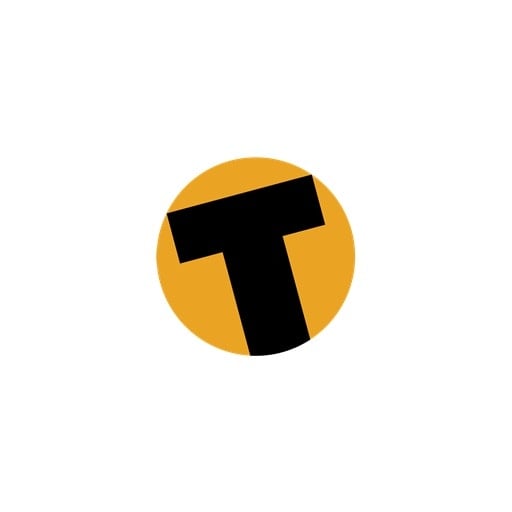 PHUKET: The chief of the Phuket Provincial Excise Office, Narong Srivanitchakorn, has announced that the long-awaited reduction in excise tax on foreign registered yachts has finally come into effect. The new rate of excise tax means that anyone keeping a foreign-registered boat in Thailand for longer than six months must pay taxes and duties totaling 37.6%, or 47.2% if the boat is to be used in a business. Previously, the taxes and duties for importing a boat totaled a hopeless 209% of the value of the boat, which, K. Narong admitted, was much too high. "The reason for the reduction is that we were not able to collect much tax; most yacht owners avoided paying by sailing their boats out to Langkawi or Singapore every six months, before bringing them back into Thai waters." He advised owners, "It would be in your best interests to come and pay the tax yourself, without us having to ask you or having to issue an order." Anyone late in paying the tax, he pointed out, faces a fine of anywhere between two and 10 times the amount of tax owed – on top of the tax. "If your boat has been imported for commercial purposes, the fine will be between five and 15 times the tax owed," he added. K. Narong noted that yachts that are for personal use only – and that will not be used in a business – are now not subject to value added tax (VAT), but only to import duty, excise tax, and the Mahad Thai (Interior Ministry) tax. The new, lower rates are unlikely to be of any benefit to either Thailand or the yacht owners, as they are still much higher than in neighboring countries. Malaysia, for example, allows yacht owners to keep their boats in Langkawi for two years without paying taxes, and after that period requires payment of only 5% VAT. Yacht-owners may check how much it will cost to import their boat into Thailand at https://thethaiger.com/boattax.asp While yacht owners face reduced imposts, K. Narong announced that the owners of imported motorcycles, "such as Harley-Davidsons", face higher taxes, with the excise tax rate going up from 3.1% to 5.29% with effect from the new year.


Read more headlines, reports & breaking news in Phuket. Or catch up on your Thailand news.
Guyanese arrested over 'magic' bank note scam in Phuket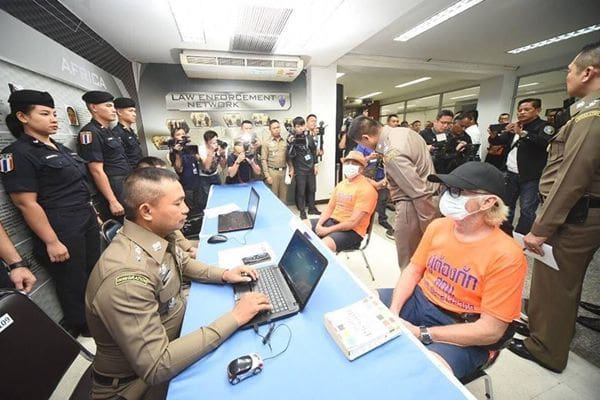 PHOTOS: Surachete Hakparn
A Guyanese man has been arrested in Phuket after the owner of a local language school reported a money scammer with an unusual scam.
The Immigration Bureau Chief Lt Gen Surachate Hakparn reports that they have arrested the Guyanese man named Abdul Kalam Azad Sattaur at a mansion in Phuket Town last Friday.
The arrest follows a Thai woman, the owner of a language school in Phuket, filing a report to the Thalang Police that a suspect used a fake Facebook and LINE account and claimed that he was an American man who had worked in Syria.
He told the woman that he will send a security box which contained blank papers and a special liquid that would turn the blank paper into bank notes when she added the special liquid.
He claimed that the total money was 650,000 US dollar, about 20 million baht.
He said that the woman had to pay him an amount before he would send the security box. The victim had transferred money to the man's bank account 10 times, a total of about 9 million baht.
Beware of magic bank notes!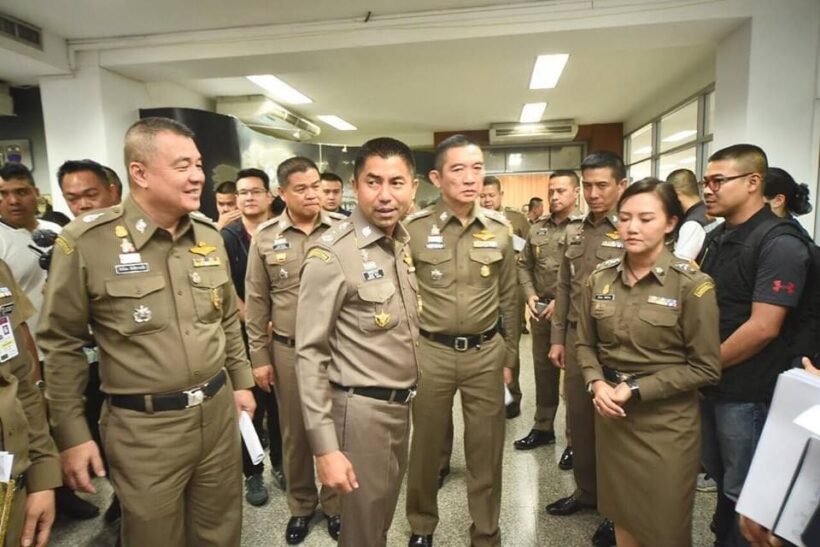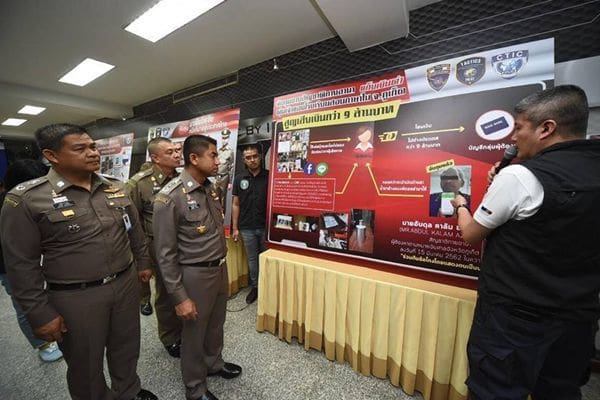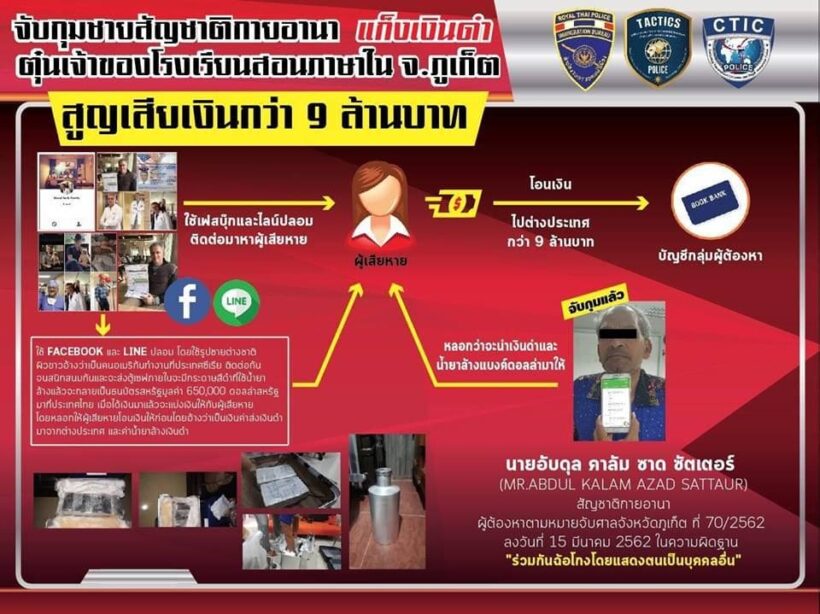 Russian 'mafia' suspect arrested in Phuket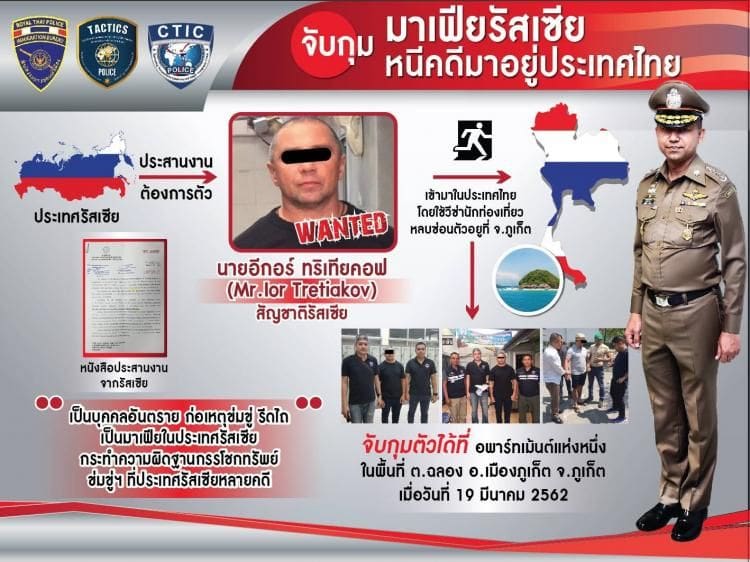 PHOTO: Siam Rath/Thai Immigration
A male Russian 'mafia' identity has been arrested in Chalong, wanted over a number of alleged offenses in his home country.
Lt Gen Surachate Hakparn says, "Officers have arrested a Russian man named Igor Tretiakov (spelt as 'Ior' on the Immigration poster), at an apartment in Chalong last Friday."
"We were notified from the Russian Embassy about the man wanted over a number of 'mafia' style offenses in Russian. He was living in Thailand using a tourist visa."
"He has threatened and extorted many people in Russian and then fled to Thailand. His visa will be revoked and he will be deported back to Russia to face charges."
Alleged Greek murderer of Phuket beautician remains at large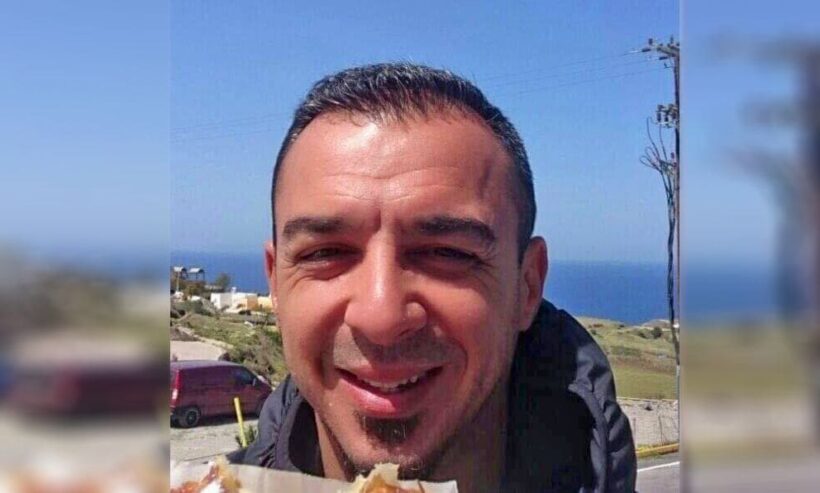 PHOTO: Dimitrios 'Dim' Chairopoulo, wanted and believed to be living in Greece
Local Phuket police are yet be informed of the latest in an international hunt for a Greek alleged murderer Dimitrios Chairopoulos. He remains wanted as a suspect in the murder of local beautician 43 year old Niramon 'Bea' Aewkaew in Phuket during February.
Cherng Talay police say they want an Interpol Red Notice issued so that they can track down and arrest 42 year old Dimitrios 'Dim' Chairopoulos, wanted for the murder. Bea and Dim were seen leaving their accommodation on February 11. It was the last time Bea would be seen alive.
Mr Chairopoulos was recorded as clearing Immigration at Phuket International Airport to board a flight to Dubai in the hours after Ms Niramon was last seen alive. He boarded an Emirates flight EK0379 to Dubai, departing Phuket at 2am. Police also confirmed that he arrived in Dubai on the same day.
"If he comes back to Thailand he will be arrested," said Chief Col Sen Kwannimit of the Cherng Talay Police.
A request for a Red Notice was submitted with the Foreign Affairs Division of the Royal Thai Police on February 19 but, for now, no formal international's notice has been published..
Cherng Talay Police confirmed that Dim was seen leaving the room at a guesthouse in Bang Tao where Ms Niramon's body was found on Saturday, February 16.
In the days leading up to her murder her family had been desperately trying to contact her.
'Bea' was the eldest of 5 children from Phatthalung province and had been working in Phuket as a beautician at the time.
One of her sisters, May' was contacted on February 15 by one of Bea's workmates trying to locate her.
Neither May or Bea's other sisters, relatives or friends were able to contact her. Bea had just moved to a new house so nobody knew where she was living. Another sister, Pichy, spoke to friends and was able, using Google Maps, to locate the guesthouse she was staying.
The owner of the room told the family that the air-conditioning was on in the room but there was no response. When the owner returned with a key he informed the family that Bea was found on the bed with a black cloth stuffed in her mouth and her hands and feet bound.
CCTV footage shows the couple leaving the room in the afternoon of February 11, the last time that Bea was seen alive.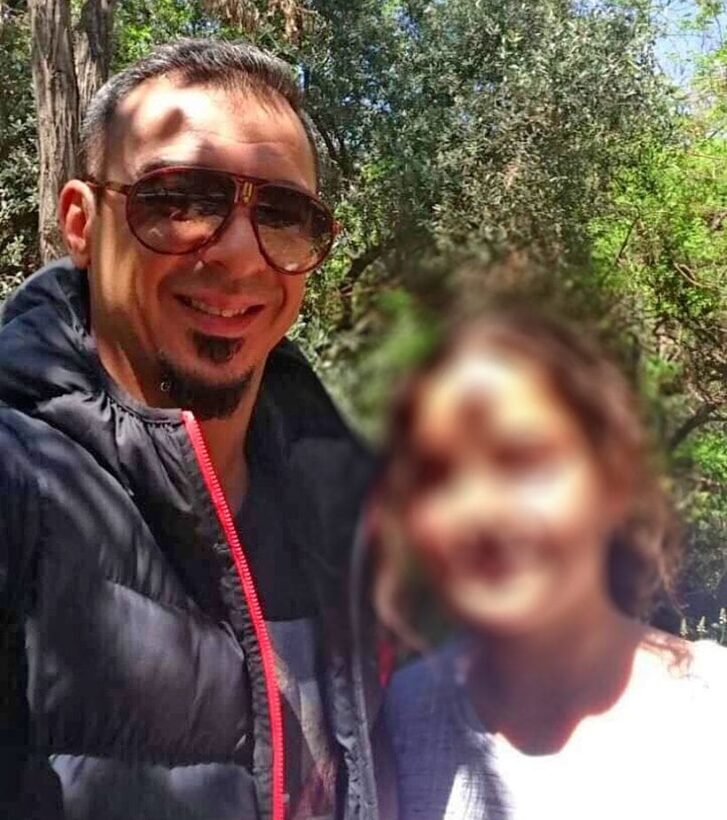 Dimitrios 'Dim' Chairopoulos with his daughter from another relationship
What we know about the alleged murderer?
Dimitrios 'Dim' Chairopoulos, who remains at large and thought to be in Greece, worked as security in a night club in Athens. He already had a daughter to another woman in Greece.
During his relationship and marriage with Bea he was said to be 'controlling' and 'jealous' by members of Bea's family. A close family friend told The Thaiger that the family had concerns for Bea's safety and were 'uncomfortable' with her ongoing relationship and marriage with Dim.
"We tried to get to know him at family functions but he was not easy to know and seemed very possessive of Bea," said one of the close family members who asked not to be named.
"He did threaten to kill her if she ever left him and Oh, another of her sisters, went with Bea to file a report of the threats at the Cherng Talay police station at the time," they explained.
That report was made to police in 2016. A year later the pair married and were still married at the time of the murder.
"He would drive past the beauty shops that Bea worked at and spy on her."
The family claim that, apart from his own possessions, he also stole Bea's phone before he headed to the Phuket International Airport on the evening of the murder.
So where is Dimitrios Chairopoulo?
At this stage the Greek Embassy has made no comment about the case or followed up with Greek Police about the pursuit for the fugitive man.
There are currently approximately 58,000 valid Red Notices worldwide of which only 7,000 are public. An Interpol Red Notice has not been issued to alert international police or Immigration officials to be on the look-out for Dim.
For now, the alleged murderer of Bea – an innocent Phuket beautician, beloved sister and family member – remains at large, most probably in Greece.
If anyone has any information about Dimitrios 'Dim' Chairopoulo's whereabouts or information that may lead police to arrest him, please send a confidential message to The Thaiger.