Swedes cycling to Phuket for post-tsunami orphanage cross halfway point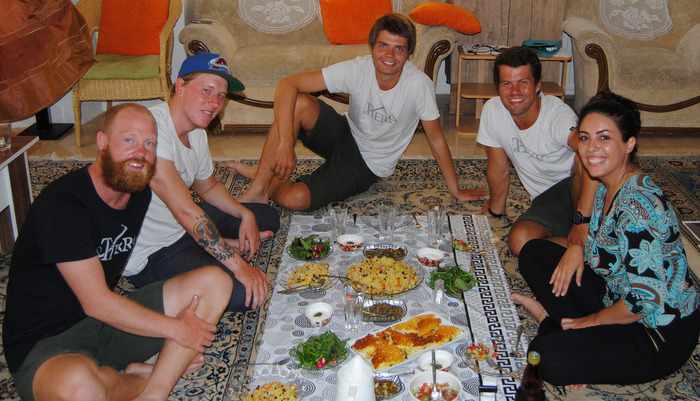 PHUKET: With a five-day sprint across Turkmenistan behind them, a group of cyclists who departed Sweden in April for the fair shores of Phuket to raise money for a local post-tsunami orphanage have now crossed the halfway point – on target to arrive well in time for the 10th tsunami anniversary.
"The desert race through Turkmenistan was incredibly hot and dry. We had 500km to cover and could only get a five-day transit visa," one of the cyclists, Calle Wollgard, told the Phuket Gazette. "Before that, we had done Iran quite quickly – our bodies were a bit worn out, but we managed."
With more than 8,000 kilometers under their belts, and about 8,000km more to tackle before crossing the bridge to Phuket, morale is high for Calle, Fredrik Jessen, Tomi Blumen and Christofer Johansson (story here).
"Right now, we are in the city of Buchara, Uzbekistan. A couple of days ago we reached a milestone when the meter showed 8,0000km, which means halfway!" Calle said.
"Morale is good, I think. Of course there are days when you don't want to cycle, and of course there are days when we don't love each other. But we are starting to see the end of this journey, even if we have a lot of kilometers left to cover."
The positive attitude of the group, which has been quintessential to the team's outlook from the start, continues despite Tomi and Fredrick suffering from serious stomach problems.
"To be honest, I also don't feel 100 per cent either," Calle said. "But just give us a day or two and we'll all be fine."
Once they have recovered, the team's next big challenge is China.
"It's the biggest country on our route. We'll have to cover about 5,800km of desert, mountains, small villages and big cities – it's going to be awesome."
With regular updates rolling in, the children of the post-tsunami orphanage Barnhem Muang Mai are keeping tabs on the team.
The orphanage, which will be the benefactor of the charity ride, is run by Susanne Janson and Hans Forssell, who have set up a room to allow the children to follow the cyclists' epic journey.
"We have a special room at Barnhem that we call 'The Happy Tour Room' where the children can follow them [the cyclists] on the map, paint the flag of each country they enter and learn a little bit about all the countries. And the children love to watch the small movies they are posting online," Susanne told the Gazette this week.
Before the trip got underway, Susanne explained that she and Hans would be following the journey with a mixture of horror and joy, as Calle had become a kind of little brother to them.
"He came down here as a volunteer, and we just connected. He got very close to Thailand and the children and the Thai staff here," Susanne said.
"He is the volunteer that we have gotten closest to over the years – and not just us. It would be the same if we were to ask a lot of the staff and the kids," Hans said in March.
Now, both Hans and Susanne follow Calle and his team's journey with pride.
"I guess I should say that it has been a little bit scary – but it hasn't, as we have kept close contact via email, Skype and by following them on Instagram, Facebook and their blog. They seem to have such a great time out there on their bikes – meeting all these wonderful people on their way, and doing all this crazy stuff when they are not biking," Susan said this week.
"I feel proud, relieved and happy… I am relieved that they have come this far without any big problems and that all of them are still feeling healthy and strong – apart for some stomach-issues now and then.
"I am filled with happiness from all of their stories about how helpful and kind the people they meet on their way have been – opening up their homes, giving them food – and so on. And I am happy that they now are 50 per cent closer to us than they were when they started.
"All of us at Barnhem are so looking forward to the day we can meet them at Sarasin Bridge."
Hans explained that he isn't worried about the team.
"Honestly, I have no concerns whatsoever. I trust in their abilities and the goodness of humanity. You talk to them, and it's silly to hear how kind people are to them," said Hans.
"Being a westerner you hear about Serbia or Iran and you hear about those places in a geopolitical context. The average person, 'the-man-in-the-street', in these places is just so amazingly kind," Hans said.
When Calle was recently asked about the most extraordinary portion of the trip – since last speaking to the Gazette (story here) – it was the kindness of the Iranian people that bubbled to the surface.
"Before the trip, I read a lot about cyclists going to Iran and they all loved it – mostly because of the Iranian people I think," Calle said. "And they were so right. The people are just amazing: they invite you to have food and shelter almost every day; they are cheering for you all the time; and if you need any kind of help, they are always there for you – we just loved it."
In addition to the outpouring of hospitality, morale continues to be bolstered by knowing that every 10km peddled brings the team closer to raising at least 1.5 million baht. The funds will go to support Barnhem Muang Mai (here), which prides itself, not only on the loving care and importance of education for the children, but also financial transparency (financial records here).
The money comes from individuals and companies making pledges for every Swedish mile (10km) the team rides.
"If someone wants to donate, they just email us [callewollgard@gmail.com] and tell us their name and how much they want to donate for each Swedish mile… that's one way to push us to cycle the whole way. We will feel that with every mile we are bringing money to the orphanage," Calle said.
— Isaac Stone Simonelli

Join the conversation and have your say on Thailand news published on The Thaiger.
Thaiger Talk is our new Thaiger Community where you can join the discussion on everything happening in Thailand right now.
Please note that articles are not posted to the forum instantly and can take up to 20 min before being visible. Click for more information and the Thaiger Talk Guidelines.