Special Report: A nation at the crossroads
Special Report

PHUKET: As Thailand begins a new year, the country finds itself at a crossroads. What seems to be at stake is not only the future shape of democracy in this country, but whether it will even remain a democracy at all. This should worry all those who care about the future of Thailand and its people.
The People's Democratic Reform Committee (PDRC) is determined to bring down Yingluck Shinawatra's government. They want to uproot the Thaksin regime and replace it with a "People's Government". They want a People's Assembly to serve as the legislative branch of this brave new administration, and to draft legislation that would reform Thailand's political system.
They insist that they are not anti-democracy, but support a cleaner democracy – one not corrupted by capital.
The group, led by former deputy PM Suthep Thaugsuban and several old faces from the People's Alliance for Democracy, claim the Constitution allows them to do this. Article 3 of the charter says sovereignty of the country "belongs to the people".
The government, they add, has violated Article 68 of the Constitution, which says that no one should try to overthrow the system of constitutional democracy with HM The King as head of state. Because the current government says it will not heed the judgment of the Constitutional Court, which struck down its recent Senate amendment, the administration is no longer respecting the Constitution, and has thus lost legitimacy, the PRDC claims.
Once Ms Yingluck has resigned, an eventuality the PDRC is plainly aiming to achieve, there will be a power vacuum. The PDRC then wants to invoke Article 7 of the charter, which says that when no part of the document seems to apply to the situation, the country should follow conventional democratic practice.
Since the country has been ruled by appointed prime ministers before, this would allow the head of the Senate to appoint a new premier, who would in turn bring in a new government of technocrats – "good people", using the protesters' term of choice.
A new People's Assembly would then replace the Parliament. Its 400-strong membership would comprise 300 representatives from professional organizations, and 100 appointed by the PDRC. This assembly would then set about "reforming" Thailand's corrupted political system.
The PDRC is right to say the system is in need of reform. Politics remains deeply corrupt. Vote buying, as the protesters claim, is indeed rife. But to claim that Pheu Thai buys elections entirely through the purchasing of votes, as the PDRC has claimed, is to grossly oversimplify the situation. The reality is that – for all his serious flaws – Thaksin Shinawatra and his proxies are the party of choice for millions of Thais.
A further oversimplification is the suggestion that only one party engages in vote buying. All the parties play the votes for notes game. Studies have shown that some voters take money only from the party they intend to support, while others take money from every party, then vote for their preferred candidate anyway. Paying for votes is the price you pay to play the game, as academics Chris Baker and Pasuk Phongphaichit have argued. It does not guarantee victory.
One further cause for caution is the leader of the protests himself. Those who have lived in Phuket long enough may remember a little of Suthep Thaugsuban's questionable record. In 1995, as Agriculture Minister, he was responsible for the SorPorKor 4-01 land reform scheme, in which the deeds to plots of empty land were supposed to be distributed to poor farmers around the country.
In Phuket, an investigation revealed that 11 of the island's richest families were among the recipients of this property. The accusations had enough credibility – and seriousness – to bring down Chuan Leekpai's Democrat government. This fact should serve as a strong signal that this conflict is driven by a lot more than just revulsion to corruption.
To lose faith in democracy at this point in Thailand's development would be a mistake. The system is highly flawed. But one has to wonder what kind of reforms the PDRC might carry out that could somehow ensure that when democracy is restored – within about 18 months – it is suddenly, miraculously clean.
The PDRC claims to be a peaceful movement, and so far the protests have been relatively free from violence. But those observers who support the principles of human rights and free speech have good cause to wonder what kind of reforms Mr Suthep and his fellow leaders have in mind – reforms that we are led to believe will succeed in cleaning up Thai politics where others have failed.
A nation does not make a better democracy by abandoning democracy.
Keep in contact with The Thaiger by following our
Facebook page
.
Phuket's new cases (Tuesday), all originating from Bangla Road area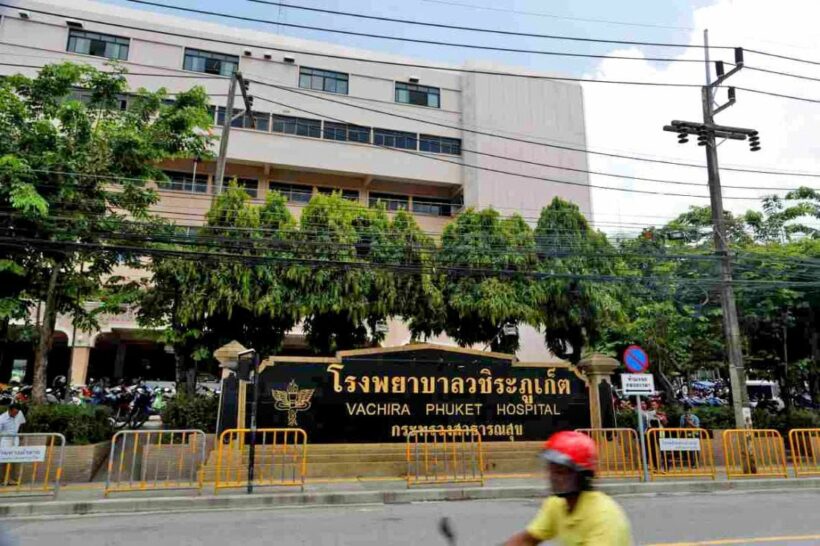 Numbers are out for new cases in Phuket over the past 24 hours.
Case 124: 23 year old Russian women
Case 125: 26 year old Kazakhstan women
Case 126: 28 year old Russian women
All 3 new cases in Phuket had a history of visiting or staying in the Bangla Road entertainment zone for up to a month, and having close contact with tourists. All 3 women were also staying together in an apartment in Patong. All 3 women had shown no symptoms of having the virus and put another 3 people at risk.
There was also another death yesterday – a 25 year old Hungarian man who was in an accident, rushed to Chalong Hospital, and then to Vachira Phuket for surgery, and then doctors finding out that he had been infected with the virus.
In Phuket there are now a total of 126 cases, 1,756 people awaiting test results and considered 'high risk', 1,557 people sent back home after testing or treatment and 110 awaiting blood tests.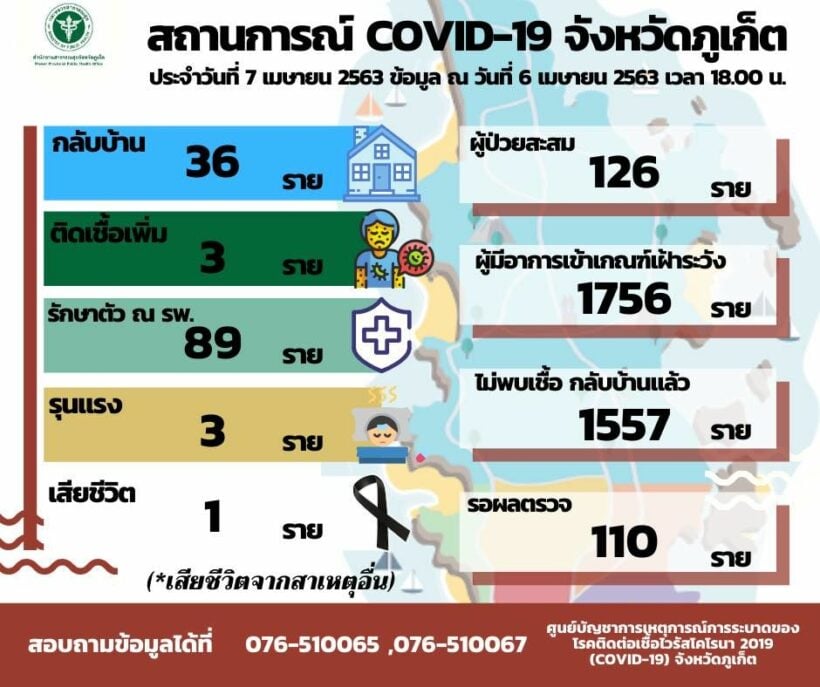 Keep in contact with The Thaiger by following our
Facebook page
.
Hungarian tourist dies in Phuket after failing to reveal Bangla Road visits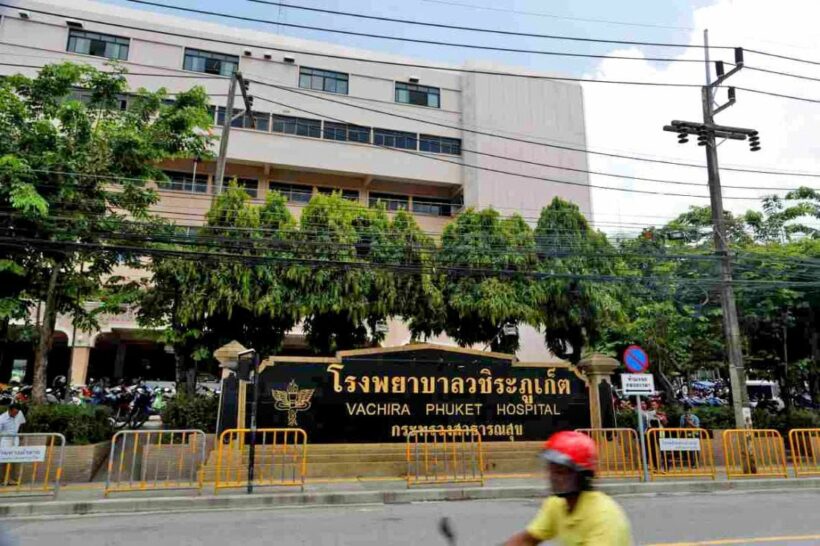 Dr Chalermpong Sukhonthapol, the director of Phuket's Vachira Hospital, has revealed details of a Hungarian tourist who recently died of Covid-19, but had earlier withheld details of his visits to the island's red light district in Bangla Road, Patong.
Bangla Road has been the island's hotzone for new cases of the Covid-19 coronavirus.
The case has resulted in more than 100 medical staff being suspended and placed in quarantine as a precaution. Originally the Hungarian man arrived from Malaysia.
Dr Chalermpong reports that the Hungarian man was involved in a traffic incident on March 25 and was admitted to the Chalong Hospital, then later transferred to Vachira Hospital in Phuket Town.
"The patient had numbness and weakness in all limbs. He could talk, but did not mention his activities had put him at risk of Covid-19 infection though being asked."
He firstly had an operation on his broken neck and spine. He the regained consciousness and was responding well and talking to attending staff.
Then, on March 29, he had a visit from a friend he'd met whilst visiting Bangla Road in Patong.
After some further scrutiny hospital staff found out that the Hungarian had visited Bangla Road and stayed in the area for two weeks. The hospital conducted tests and found the man was infected with the coronavirus.
The Hungarian tourist developed a high fever and breathing difficulties soon after. He died on Friday morning.
"The death of the Hungarian tourist is a shock because he did not report the Covid-19 infection risk in the first place. One hundred and twelve medical personnel who had done their best to save were put at risk because of their contact with him," Dr Chalermpong told Bangkok Post.
112 at-risk staff are now confined to quarantine for 14 days, some are in home quarantine. 94 have tested negative for the disease, 18 were awaiting test results.
SOURCE: Bangkok Post
Keep in contact with The Thaiger by following our
Facebook page
.
10 new coronavirus cases in Phuket today (Sunday)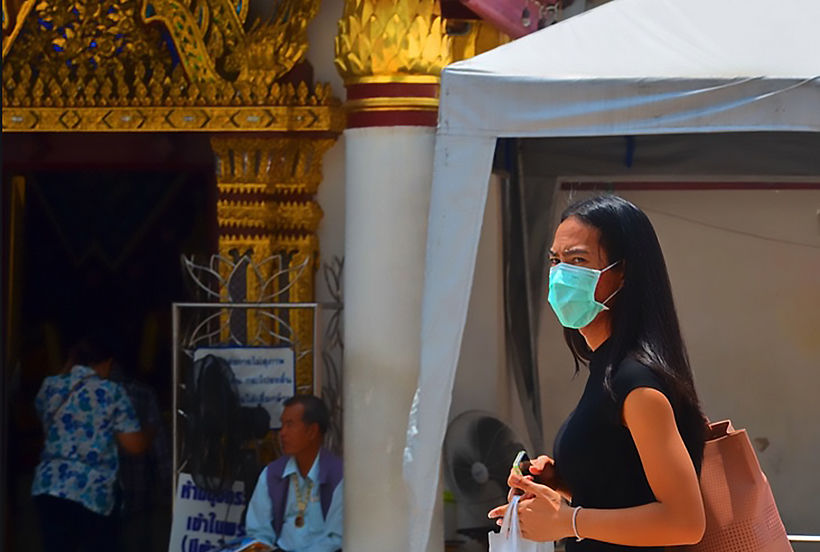 The island of Phuket in Thailand's south has reported 10 new Covid-19 coronavirus cases today (Sunday), bringing the total to 119. Today's new cases aren't all in Patong, as has been the trend over the past week, with new cases being reported in Bang Tao, just north of Surin Beach area.
Among the confirmed cases announced today are six members of the same family that live in the Bang Tao area.
Due to the high number of cases originating in the island's Patong entertainment district, the whole seaside town has now been officially locked down as of today, with checkpoints on all roads going in or out (more info below).
Details of the new case…
Case 110: A 40 year old Swedish man, arrived in Phuket on March 13 with his wife, who was confirmed as case 77 on April 1. 7 people are considered at at high risk and are being sought by authorities (NOTE: There are conflicting reports on this case's age and gender).
Case 111: A 29 year old Thai woman, a maid, the wife of confirmed case 41, an Italian who works in Bangla. She fell sick on April 2, 2 people are considered at high risk.
Case 112: A 55 year old Thai woman, also a maid, the wife of case 94. 2 contacts at high risk.
Case 113: A 29 year old Thai man who works at a Patong hotel, the same hotel where Case 58 was confirmed. He became sick on March 22, 6 people are at high risk.
Case 114: A 23 year old Thai woman who works in the same restaurant as case 92. She fell sick on March 29, 5 are considered at risk.
Case 115: A 38 year old Thai man who works at a Patong shopping mall. He had close contact with case 48, and fell sick on March 25. 9 are at high risk.
Case 116: A 27 year old Thai man, a welder in Bang Tao in Thalang, the son of case 94, also a welder. They work and live together. Though he shows no symptoms, 2 people are considered at high risk.
Case 117: A 32 year old Thai woman who works at a local shop, also in Bang Tao. She's the daughter of case 94, who lives nearby. She became sick on March 30, 4 people are at high risk.
Case 118: A 28 year old Thai woman, a maid, another daughter in law of case 94, with whom she lives. She too shows no symptoms, but 2 people are considered at high risk.
Case 119: A 74 year old Thai woman who works in a local Bang Tao shop, the grandmother of case 94, who also lives nearby. She became sick on April 3, 8 people are considered at high risk.
The current Patong 'lockdown' has been imposed to to control the spread of the Covid-19 virus, according to the directive.
"Therefore we will prohibit people from entering or leaving the area, except for the transportation of essential goods, LPG gas, medical supplies, emergency response teams and ambulances, public servants, parcel deliveries and publications."
The directive is in place from April 5 until notified.
Speaking to a couple of locals this morning they said they hadn't been advised by anyone and were confused about the news. One told us he'd been walking his dogs on the beach this morning and didn't run into any police. A local policeman in the town says he has been lining up for testing at Patong Hospital and that the streets are mostly deserted. Another expat said that they'd heard yesterday there might be a closure of the roads on Tuesday and was surprised to wake up this morning to see the town was in official 'lockdown'.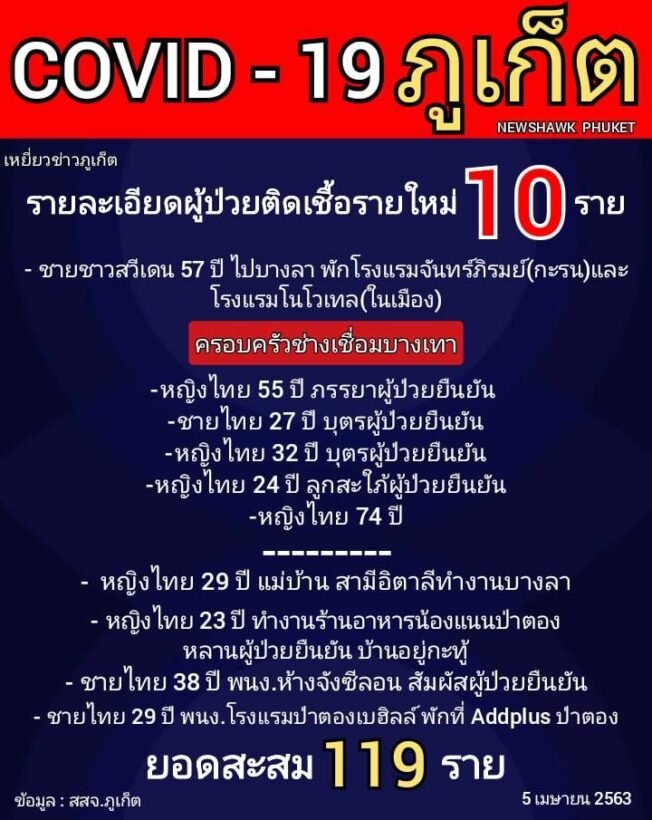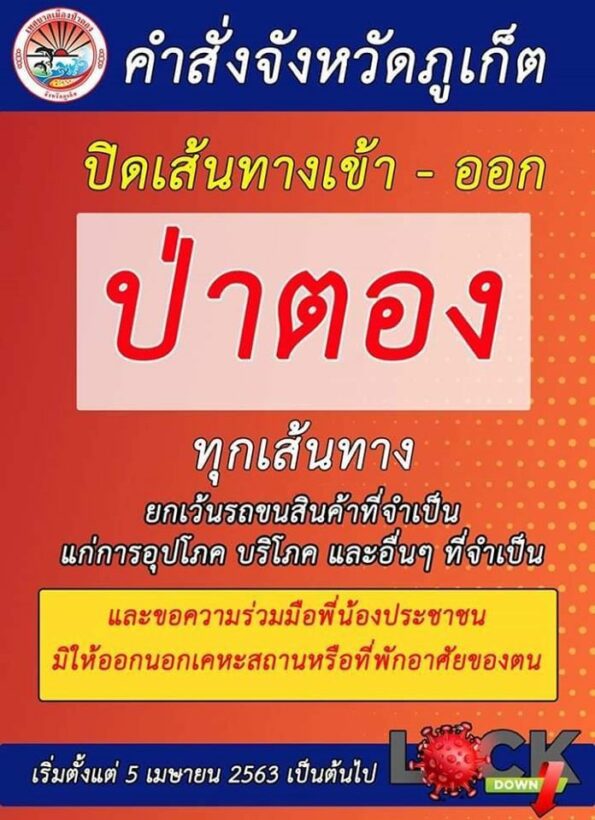 Keep in contact with The Thaiger by following our
Facebook page
.