Special Report: The gangs of Phuket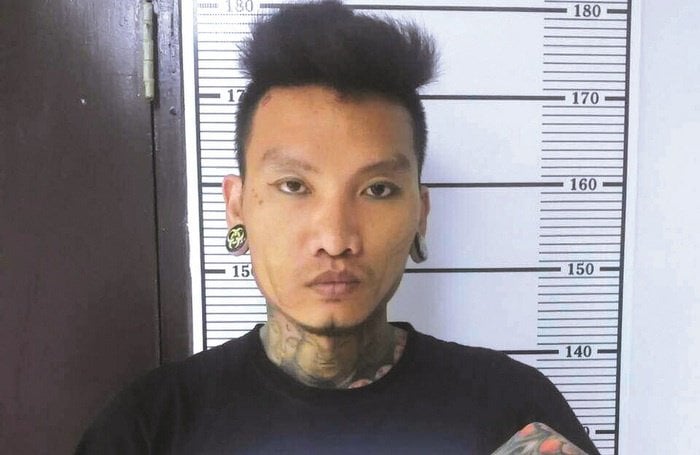 PHUKET: The justice system's soft handling of criminal youth is at the core of the island's growing drug-powered gang violence, which led to a 15-year-old bystander being gunned down during the final hours of the Phuket Vegetarian Festival, explained Phuket City Police Deputy Superintendent Khunnadet Nanongkhai.
Five suspects have already been charged for the murder of Thanakij Sawirum, 15, and the attempted murders of three 14-year-old bystanders, who were injured by stray bullets as members of rival gangs Wan Wai and Mac Tim Villa 3 exchanged gunfire.
"Shootings, thefts, drug dealing and violent crimes committed by youth associated with gangs on the island has been steadily on the rise," said Col Khunnadet.
"Fundamentally, the issue is that the courts don't deal out harsh enough punishments to minors, so these criminals get a slap on the wrist and are back out there causing problems. However, the recent increase is also due to social media. Gangs are able to quickly recruit members, set up drug deals, organize times to fight with other gangs and gain fame by boasting about it."
Col Khunnadet explained that his station was making about two gang-related arrests per month. Prior to the widespread use of social media, his officers were rarely having to deal with gang activity at all.
"Now these teens are able to easily purchase homemade firearms online. When they are on drugs with a gun in their hand, they will do whatever they want – this is an incredible risk for society as a whole."
GANG DEMOGRAPHICS
More than 30 gangs, with memberships ranging from 30 to 150 people, have sliced up the island into 'home turfs'.
"There is a gang for nearly every village in Phuket. However, there are eight gangs that are known to be very criminally active," Col Khunnadet said.
Gangs are usually identified by their Facebook group name or their home base location, Col Khunnadet explained.
The eight major gangs on the island are: Baan Don (Thalang); Wan Wai (Patong); Sab Soon Mafia Phuket (Wichit); Harm Chaow Lol Kheng (Koh Kaew); Adoi Soi King Kaew, also known as KingKaew (Rassada); Sai Lang Sapan Hin (Sapan Hin, Phuket Town); La Taem (Talad Yai, Phuket Town); and Soom Thai Look (Sapan Ruam, Phuket Town).
Though these eight gangs are best-known to police for their criminal activity, others – such as Mac Tim Villa 3, which was allegedly part of the Vegetarian Festival shooting – are also criminally active.
The gangs are mostly composed of 15 to 18 year olds, with about 40 per cent of them being female.
GANG ACTIVITY
Police records show that 80 to 90 per cent of the gangs operating on the island are involved with drugs on a daily basis.
Asking to be referred to only as 'Mr Fresh', a 27-year-old former leader of the KingKaew gang in Rassada – who has served nine months in prison for his involvement in a gun battle three years ago – confessed to the Phuket Gazette that he supported himself as a member of the gang through selling ya ice (crystal methamphetamine) and ya ba (methamphetamine) to younger members.
However, drug and gun dealing is not the primary source of income for most members, explained Col Khunnadet. The most popular way for the teens to get money is by asking their parents for it. Many also turn to theft or even pull guns on secondary students, demanding that they give them money.
"Most members of the groups are still students. They believe that we can take care of them. They feel safe with us," explained Mr Fresh. "To get into the gang, the new members have to respect us. Sometimes they will pay for our food, as they believe that we will help them fight members of other gangs."
Conflicts are usually about girls or being disrespectful, Mr Fresh explained.
"Some gangs are our enemies and some are our friends. As the leader of the gang, I had to sort out the problems created by our members," Mr Fresh said. "If a younger member had a problem, I would talk to the leader of the other group first. If we couldn't solve the problem, we would let them have a fist fight. However, if the problem was still not resolved, we would revert to swords and guns."
Local gang leaders are revered for their bravery by fellow members. They develop strong reputations for their ability to fight, Mr Fresh explained.
Gang members usually spend their time hanging around their base – Saphan Hin is a very popular area for Phuket's gangs – drinking and waiting for the opportunity to start a fight, Mr Fresh said. Some fights are prearranged on either LINE or Facebook.
"Under the influence of drugs, gang members will zip around the island in packs, usually stirring up trouble with other gangs," Col Khunnadet said. "Drugs are the main reason they get together. Kratom is particularly popular because it's cheap."
No matter how a fight goes, each conflict between rival gangs feeds into a never-ending cycle of members seeking revenge, Col Khunnadet said.
"We were never afraid of the police because we believed we could always escape," Mr Fresh said. However, like the five men arrested for the slaying of Mr Thanakij, the law eventually caught up with Mr Fresh.
"During my nine months in jail, not one member of the gang came to visit me," he said. "After I was released, I quit the gang. I'm now trying to educate a new generation about staying away from drugs and weapons. I'm not saying they can't still be part of a gang. But they must talk with reason first, and then, if that fails, they can fight it out like men – no guns, no swords."

GANG FLOOD GATES OPEN
Police are struggling to rein in gang activity on the island, as they are usually limited to arresting the youths when they are caught in a criminal act.
"Because they are teenagers, it is very difficult for us to secure a search or arrest warrant, despite knowing that they have drugs or weapons in their home," Col Khunnadet said.
"We know the gangs' Facebook pages and other information about their members. They even post videos showing them threatening people with guns, but we cannot do anything until the court gives us permission."
Even when the teens are arrested, the cases against them are sometimes dismissed or they are only given a small fine before being taken to the Juvenile Observation and Protection Center, where their parents can pick them up, Col Khunnadet said.
"The teenagers are never afraid of being arrested because they know the penalties won't be severe. There are many cases where we have to deal with repeat offenders. They don't realize that the law is designed to give them another chance to be good people."
Deputy Phuket Court Chief Judge Boonjuan Panich confirmed to the Gazette that it was rare for a judge to sentence a teenager to serve prison time.
"Thai law is designed to protect youth. We believe that they are too young to fully realize the consequences of their actions. Yes, they did something wrong, but we want them to have a chance to change," Judge Boonjuan said. "Police also have to be careful and ensure that they have enough evidence when they arrest the teens. They can't use handcuffs on them and must inform the legal guardians."
Judge Boonjuan noted that despite the good work being done by police, the real burden of responsibility falls on the shoulders of the parents and educational institutions.
CLAMPDOWN
The slaying of Mr Thanakij, who was not involved with any of the gangs on the island, set off alarm bells for officers.
A number of measures are being taken to clamp down on gang violence on the island, explained Phuket Provincial Police Deputy Commander Peerayuth Karajedee.
"Starting next month, the Phuket City Municipality will close Leab Khlong Road at 10pm and Saphan Hin Circle from 12am to 5am to prevent teenagers from gathering at those locations," said Col Peerayuth. "We will also continue setting up daily checkpoints to create a police presence at popular gang locations, as well as check motorbike plate numbers and to see if there are any arrest warrants out for the driver."
Additionally, the Phuket Provincial Police have ordered all local police stations to launch investigations into gangs operating in their areas and to crosscheck their records with other local stations.
Phuket City Police, which has three of the eight most criminally active gangs in its jurisdiction, will begin calling in members of influential gangs, whether or not the youth have committed a crime, to establish a database, explained Col Peerayuth.
"By having their names and addresses, it will be much easier to track them down if they are wanted for criminal activity," he said.
— Kongleaphy Keam

Join the conversation and have your say on Thailand news published on The Thaiger.
Thaiger Talk is our new Thaiger Community where you can join the discussion on everything happening in Thailand right now.
Please note that articles are not posted to the forum instantly and can take up to 20 min before being visible. Click for more information and the Thaiger Talk Guidelines.