She said YES! Tsunami victim to wed doctor who looked after him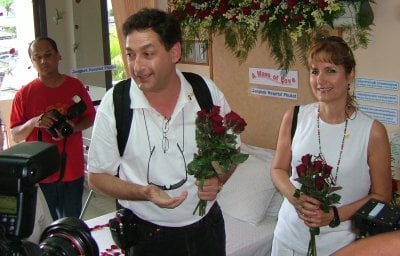 PHUKET CITY: In a year when it seemed that almost every story concerning Phuket was relating bad news – with perhaps the exception of Hannes Bergstrom, the "unidentified" Swedish toddler reunited with his uncle and grandmother two days after the tsunami – ending these 12 months with a story of hope is a newspaper's dream.

December 26, 2004 saw Ron Bombiger, a former Israeli Army officer, and three other members of his family injured by the tsunami on Kamala Beach. Tired, battered and confused by the devastating events, they were rescued and taken to Bangkok Phuket Hospital for treatment.

December 27 saw Dr Dorit Nitzan, part of a rescue and recovery team dispatched by the Israeli Government, visiting Mr Bombiger at the same hospital.

But this was not the first time the pair had been in the same place at the same time.

Mr Bombiger and Dr Nitzan were born in the same town – Ramat Gan, near Tel Aviv – and went to the same primary school. "Our homes [in Ramat Gan] are hardly any distance from each other, and Dorit's father was the General in charge of the army base where I was stationed," Mr Bombiger told the Gazette, "but we had never met before."

Since their paths crossed a year ago on Phuket, Mr Bombiger and Dr Nitzan kept in touch, and this afternoon they decided to return to the hospital together. This time, the only thing on Mr Bombiger's mind was made clear in a hushed aside to his cousin – "Did you remember the ring?"

"The first time I met her was when I was lying on this bed in this room – number 432. We met, she cared for me, and we fell in love," said Mr Bombiger to a round of applause.

"So it's kind of appropriate that we're here again today, not only for this [his proposal of marriage], but for the first anniversary of the tsunami, too."

Mr Bombiger had special words of thanks for the Thai people who saved his life on Kamala Beach, and for Dr Pongsakorn Eamtanaporn of Bangkok Phuket Hospital. There was also a heartfelt reunion between him and Kennerth Carlsson, one of the hospital's international coordinators.

Perhaps surprised by the media interest in their story, Dr Nitzan took time to thank everyone involved in caring for Mr Bombiger, ending with a simple, "You are in our hearts forever."

Although Ron and Dorit have not yet set a date for their marriage – "We'll know in a couple of weeks," said Mr Bombiger, what is certain is where they will live.

Dr Nitzan is due to take up a position with the World Health Organization in Belgrade, and they will make their home there.

And no, the ring had not been forgotten.

The Gazette wishes them every happiness.
Keep in contact with The Thaiger by following our Facebook page.
Never miss out on future posts by following The Thaiger.
Phuket's nightlife. Yes, bars and clubs are still open | VIDEO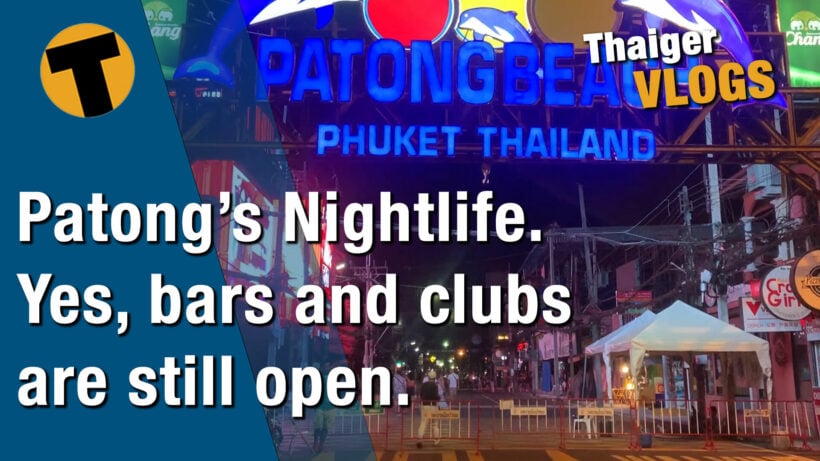 There was the original Covid-19 outbreak and lockdowns back in April and May in 2020, then again just before Christmas and New Year when the new clusters emerged in Samut Sakhon and the eastern coastal provinces, Patong's nightlife was quiet enough, almost non-existent.
Now when the restrictions are lifted, Nimz will take you through Phuket's famous nightlife spot Bangla Road, Patong Beach and Phuket Town. It's quiet, but there are still clubs open and operating and ready to welcome you.
Keep in contact with The Thaiger by following our Facebook page.
Never miss out on future posts by following The Thaiger.
Deceased Phuket expat's body stuck in hospital due to passport mix-up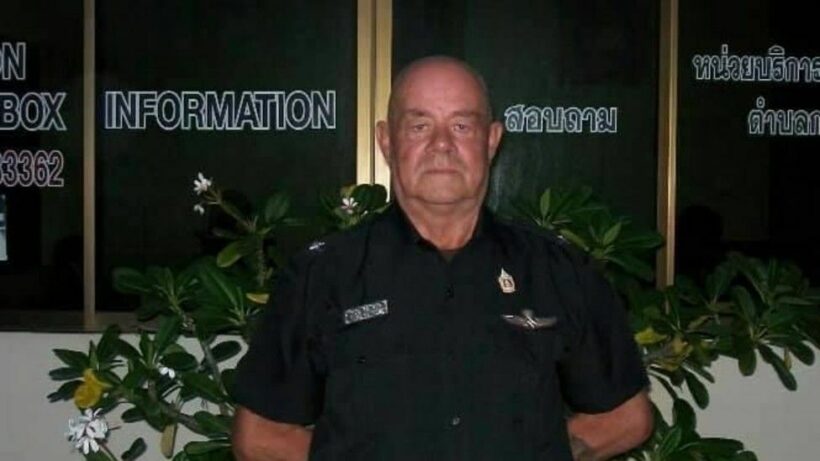 In a nightmarish scenario, a deceased Phuket expat's body is stuck in a Thai hospital as his step‐daughter claims hospital administrators won't release the body due to a passport mix‐up.
Gemma Swift, the step‐daughter of 75 year old David Donoghue, who died 2 weeks ago, says she is pleading with embassy staff in Thailand to resolve, what she says, is purely an administrative issue after Donoghue's passport number at the hospital was from that of an expired one.
Donoghue's current passport was on file with the British Embassy, but because it did not match what the hospital had, his body has remained at the hospital. Swift says it was something that could easily be corrected and the situation was "horrendous" for the family.
"The British Embassy over in Bangkok, they said that because [the number] was from his current passport, they were unable to change the letter. They have said that they won't reissue a letter with the passport number that he's got in the hospital with him."
She said her family planned to arrange a funeral for him in Thailand, then bring his ashes back to the UK. As he retired to Phuket 15 years ago, her family would then take his ashes back to Thailand, as per his wishes, to scatter them.
However, none of his family members were able to travel to Thailand to be with Donoghue in his final days, as the mandatory 14 day quarantine period upon entering Thailand, would not have allowed them to see him.
"I thought this was a basic human right to be able to give somebody a funeral and I accept that there is always going to be red tape…but please just issue a letter and let us bring him home."
She said before Covid-19, family members travelled often to Phuket to visit Donoghue, who once worked for the Thai tourist police. She says the entire ordeal has been heartbreaking as her family was unable to say goodbye.
"That on its own was heart breaking, and now to get this two weeks later, to find out we can't give him a funeral, or get his ashes back, it's just horrendous."
"It's like being on autopilot… once we know we have done everything we can, we can start the grieving process, but at the minute we can't."
A Foreign, Commonwealth and Development Office spokesperson said they are assisting Donoghue's family during the difficult time.
"Our staff are in contact with the local hospital and funeral director to help his family obtain the necessary paperwork to ensure his body is treated in line with their wishes."
If the situation isn't fixed, Donoghue's body will join a mass cremation at the hospital.
SOURCE: BBC News
Keep in contact with The Thaiger by following our Facebook page.
Never miss out on future posts by following The Thaiger.
Thailand News Today | Covid passport talks, Thai Airways heads to court | March 2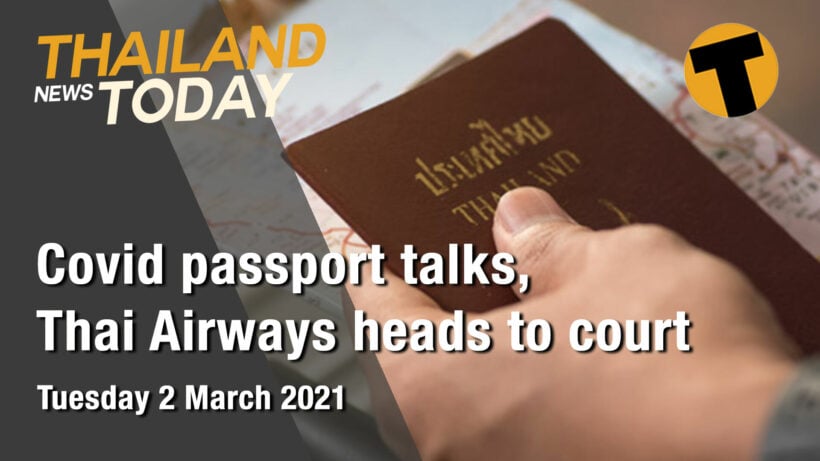 In today's Thailand News Today…. The island of Phuket has a firm plan to get its residents vaccinated leading up to an October opening for tourists, the Thai PM backs up his police over last Sunday's protest violence and Thai Airway's employee union criticises the changes to employee contracts.
But the plan must be approved by the national government by April, if the province wants to open tourism by October 1. Phuket has a resident population of around 300- 400,000 people.
Before you go rushing off to book your plane tickets we'd stress that this is another in a long list of proposals that have not come to fruition and we'd urge patience until the Government approves the plans.
Meanwhile the island has taken delivery of 4,000 doses of the Chinese Sinovac Covid-19 vaccine. Vaccinations started yesterday, with priority given to 1,500 healthcare workers and 500 "at-risk" officials exposed to Covid-19 patients.
On a broader note… Thailand's Tourism Minister says he has asked the Public Health Ministry to approve a vaccine passport scheme aimed at reviving Thailand's devastated tourism sector. According to the Minister, the government is looking to the World Health Organisation to issue a statement on vaccine passports before it makes a final decision on the matter.
The Thai PM, Prayut Chan-o-cha has defended police action against protesters taking part in Sunday's anti-government rally in Bangkok. Officers from the Metropolitan Police Bureau used tear gas, a water cannon and rubber bullets in an effort to drive protesters back from the PM's residence. The PM insists the actions were in line with international standards. He says that police did not violate the protesters' rights.
Thai researchers are claiming that horseshoe bats are not responsible for transmitting the Covid virus to humans. A researcher with the Thai Red Cross Emerging Infectious Diseases-Health Science Centre, says that even though the bats have tested positive for a coronavirus, it is not the strain that is transmissible to humans, and it's certainly not the virus that causes Covid-19.
As Thai Airways tries to sell new contracts and conditions to its remaining workforce, the labour union of the national carrier is challenging changes to the employment contracts, where Thai Airways employees are being asked to agree to changes as part of the bigger financial rehabilitation program.
But a union representative says the new contracts are unfair because it includes fewer leave days and shorter holidays. The union has filed a complaint with the Department of Labour Protection and Welfare.
Keep in contact with The Thaiger by following our Facebook page.
Never miss out on future posts by following The Thaiger.