Phuket teens concoct 'legal high' using pharmacy drugs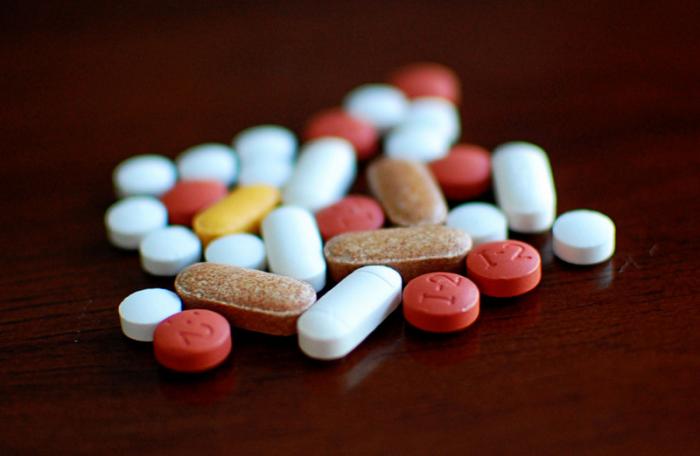 PHUKET: A dangerous new drug mixture known as 'gas' is gaining popularity among Phuket teenagers and others in the southern region. The drug – prepared by mixing cough medicine, allergy medicine, pain killers, or muscle relaxants with a soft drink or other mixer – has yet to be declared illegal.
Currently, pharmacists are allowed to sell these drugs to walk-in customers, making them easier to access. This is one of the main reasons for its popularity among teenagers.
Officers are now trying to restrict the sale of these drugs to hospitals only, in order to stem the increase in consumption of the drink.
"We do not have an exact number of teenage consumers, but we can say that it is increasing, because the number of pharmacies charged with faking their sales records is increasing," Somsuk Sumparnprateep, head of the consumer protection division of the Phuket Provincial Health Office (PPHO), told the Phuket Gazette.
WHAT IS GAS?
"The mixture was first produced and consumed many years ago, but our officers only came to know about it in 2013. It originated from the South and is a variation of 4×100, which is a mixture of kratom and cough syrup. It is mostly popular among 15 to 18 year olds," Sithisak Kallyanapradit, director of the Narcotics Control Board (NCB), told the Gazette.
Three of the most common drugs used to produce gas are Procodyl, Tramadol and Dextromethorphan. Prodycol is used to treat allergy symptoms such as itching, runny nose and sneezing. Tramadol is a pain reliever used to treat moderate to severe pain. Dextromethorphan is a cough suppressant, which affects the signals in the brain that trigger cough reflexes.
A 22-year-old from Kathu, who declined to be named, said that his group of six friends consumes about two to three batches per night.
"We feel relaxed and happy when drinking gas. It helps us forget about any kind of stress and puts us in a half-awake, half-asleep state. Gas makes your body feels like it's weightless and floating and eventually puts you into a deep and peaceful sleep. It's even better than drinking alcohol," he said. "Also, we rarely catch the flu or a cold."
HOW DANGEROUS IS IT?
"When mixed together, the different medicines used to make gas have a very potent effect on the nervous system. In some rare cases, if the user overdoses, he or she might even experience heart failure or mental illness. However, it varies from individual to individual and depends on the user's health and drug history," Mr Somsuk said.
Preparing one batch of gas requires a 100cc bottle of Procodyl and 10 pills of Tramadol.
The vast range of side effects include severe drowsiness, dizziness, weakness, hallucinations, double vision, anxiety, palpitations, facial tics, fever, sweating, tremors, constipation, diarrhea, nausea, vomiting, itching, stomach pain, swelling, and several others. Continuous overdose and over-consumption may result in fainting, seizures and cardiac arrest.
A 20-year-old girl, who also declined to be named, told the Gazette about her usage.
"We usually stay up drinking gas all night and sometimes sleep all day afterward. It makes us slower when we go to school the next day and reduces our appetite," she said.
"One of our friends, who drank too much, went to sleep and never woke up. It scared us at the time, but not anymore, as we don't consume as much as they did," she added.
She also said that another friend went 'crazy' after consuming gas.
"I believe that they partly went crazy because of gas, but they might have had some preexisting health problems or consumed more than we thought. I still don't think gas is that harmful, otherwise we would all have stopped drinking it," she said.
A 21-year-old Muslim teenager told the Gazette that he feels less guilty when drinking gas, as his religion prohibits him from drinking alcohol.
"I was introduced to it through friends of friends. I was quite scared when trying it for the first time, but it made me feel relaxed and peaceful. Then, I joined their group and drank almost every night. We have fun without fear of being arrested," he said.
"I keep drinking it, because if I don't, I won't be allowed to be a part of the group anymore."
WHY ISN'T IT ILLEGAL?
"As there is no kratom involvement, we cannot take any action until the Ministry of Public Health declares it to be illegal," said Phuket City Police Deputy Superintendent Khunnadet Nanongkhai.
According to the Drug Act, BE 2510, gas ingredients are categorized as 'dangerous medicines' that can only be sold by licenced pharmacists.
"This is the only law we can use to control the spread and usage of this medicine," Mr Somsuk said.
"We have been requested to keep an eye on pharmacies, but we don't have the skills to check their records. Therefore, the raids have to be made together with PPHO."
HOW TO CONTROL IT
"We have been doing our best so far to work with the Public Health Office and the Food and Drug Administration (FDA) to control the actions of pharmacies. If we restrict the source of the supply, teenagers will have no choice but to stop consuming it," Mr Suthisak said.
"We cannot stop pharmacies from selling these drugs to customers, but we can control their sales," he added.
"Some pharmacists use the demand from teenagers as a way to earn more money. They don't care about the possibly disastrous consequences on the customers' health. All they want is more profit," Mr Somsuk said.
"A small fine is not enough of a deterrent. Unfortunately, the PPHO has no right to shut down their businesses or suspend their licences. That authority only lies with the governor."
Even though the PPHO has limited the amount of drugs they can sell, pharmacists will always find a way of buying more, he added.
"Gas is very popular in the south, so pharmacies here contact other pharmacies from different regions and collect the drugs from them," Mr Somsuk said.
SUGGESTIONS
The NCB has urged police, the FDA and the pharmacy club of Thailand to keep an eye out for gas abuse, and help each other to solve the problem.
"I requested the Ministry of Public Health to upgrade these medicines to 'psychotropic substances' so they can only be bought at hospitals, with a doctor's prescription," said Mr Sithisak.
"It is still under consideration, as it will make the process cumbersome for legitimate consumers, who will have to waste their time and money going to the hospital for something they could easily get at the pharmacy before."
Mr Somsuk also asked the community to step up and get proactive about the issue.
"As teenagers are the main consumers of this, parents have to keep a strict eye on their children. Community members must also report suspicious activities by any pharmacies," he said.
— Kongleaphy Keam
Keep in contact with The Thaiger by following our
Facebook page
.
Phuket police arrest meth dealer, discover drugs valued at 15 million baht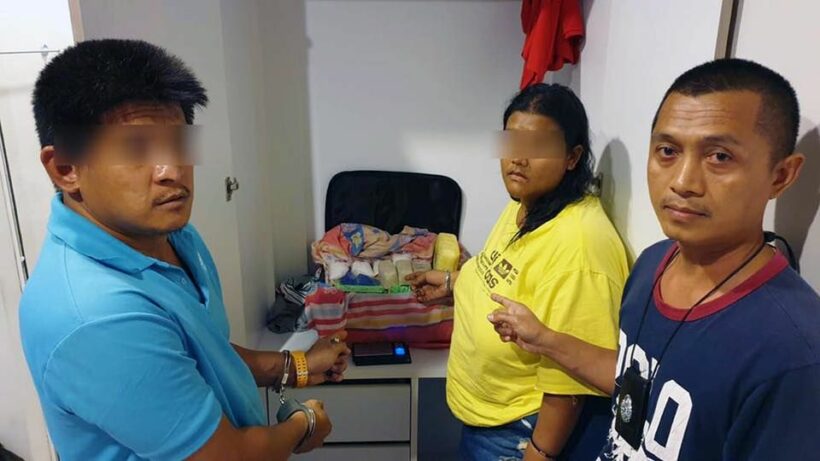 PHOTO: Newshawk Phuket
Drugs valued at 15 million baht have been seized in a drug crackdown in Phuket. On October 22, Phuket police, along with Phuket Governor Pakkapong Tawipat, reported to the media about a drug crackdown that ended up with a total seizure valued around 15 million baht.
Earlier, the police received a report from an undercover agent that a woman named 'Ying' or 'Suthicha Thirawut' was a local drug dealer trading drugs in Phuket area, so police planned to purchase drugs from the woman. They contacted Ying through another woman named 'Noina', Ying's close friend. Around 10pm on October 20, police bought 1 gram of crystal methamphetamine from Noina before arresting Ying and another man, Thanet Thongtan, at the Naka Condominium.
The two confessed that they receive the drug from a man who they weren't able to name, in order to sell in Phuket. They were paid 40,000 – 50,000 baht per time and admitted to police that they have done this for the man three times already. This time, the drugs hadn't been sold to customers as they were arrested before being able to make a sale.
Apart from 2.4 kilograms of crystal methamphetamine, valued around 4.8 million baht, the police also discovered 76,800 methamphetamine pills, worth around 11 million baht.
The three are now assisting Phuket police with their enquires related to the case.
SOURCE: Newshawk Phuket
Keep in contact with The Thaiger by following our
Facebook page
.
30 dolphins greet visitors to Similan Islands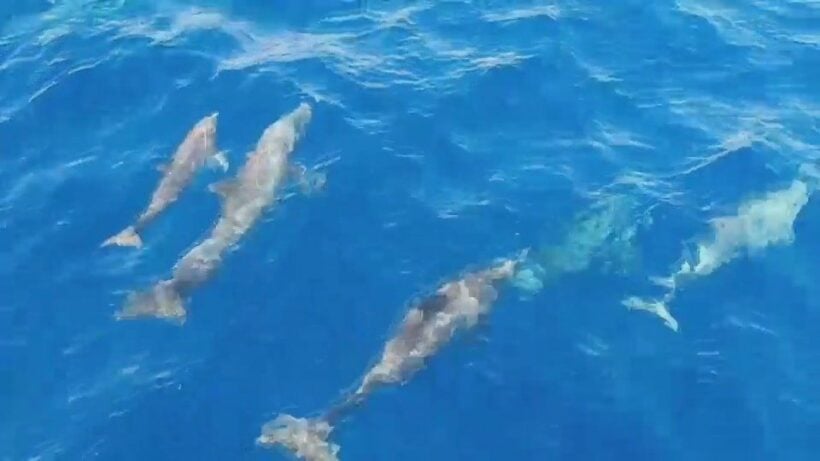 Tourists were treated to the sight of a school of dolphins in the Similan Islands off the Phang Nga coast on Sunday.
Tour organisers said that around 30 dolphins swam close to the boat six or seven miles offshore, creating excitement for passengers. It was the first time dolphins had been seen in the vicinity since October 15.
The Similan Islands National Park director said they were bottlenose dolphins and were among several species now returning to the area following a five-year closure of the park for environmental rehabilitation. Food is again plentiful there for them, he said.
Tourists are forbidden to feed wildlife lest the free handouts alter the animals' natural behaviour, and the park's waters are also very sensitive to contamination from human disease and marine debris, according to the director.
SOURCE: nationthailand.com
Keep in contact with The Thaiger by following our
Facebook page
.
Phuket hotels slashing the price of rooms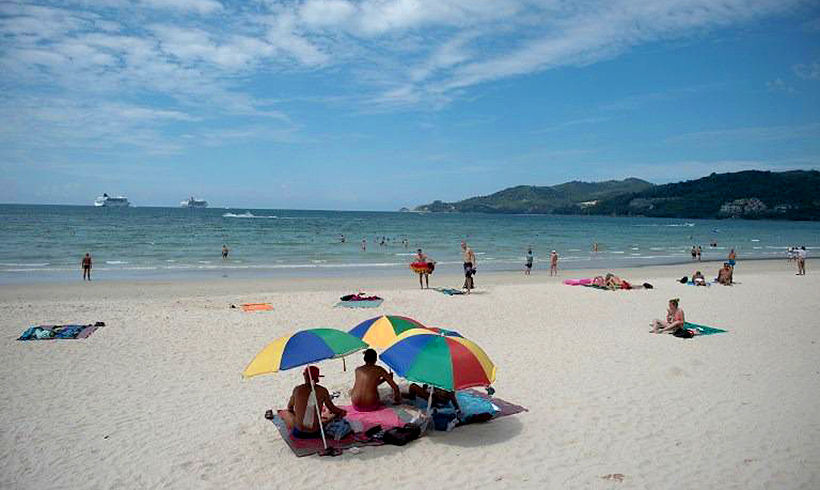 by Sophie Deviller
Hotels on Thailand's most popular holiday island are being forced to slash prices, with rooms left vacant and beaches sparse as Thailand's tourism chiefs struggle with a plunge in Chinese visitors caused by the US trade war and a stronger baht. Phuket was the most visited destination in the country last year, after Bangkok, and a good gauge of the state of its crucial travel industry.
Tourism accounts for 18% of Thailand's gross domestic product and Chinese holidaymakers make up more than a quarter of total arrivals. But while 2.2 million people from the country visited in 2018, according to official figures, the numbers for January-September were down almost 20% year on year.
Claude de Crissey, the French Honorary Consul in Phuket and owner of about 40 rooms in the Patong Beach area, says Chinese tourists are usually present even during the current low season.
"That was not the case this year," he said, adding he had to lower his prices by as much as 50%.
The problem is not only in Phuket, with hotels also struggling to fill rooms in the seaside resort of Pattaya on the mainland and on Koh Samui.
Trade tensions with the US have already made some Chinese reluctant to take holidays owing to uncertainty back home, while the Thai baht has risen about 10% against the yuan this year.
A boating disaster off Phuket's coast that killed 47 Chinese holidaymakers in July 2018 also scared some off.
"We are worried," said an industry insider, declining to be named due to the sensitivity of the topic in a country where tourism provides tens of thousands of jobs. Adding to the headache is the fact that more than 3,000 new hotel rooms are being constructed on the island, raising the question of who will fill them.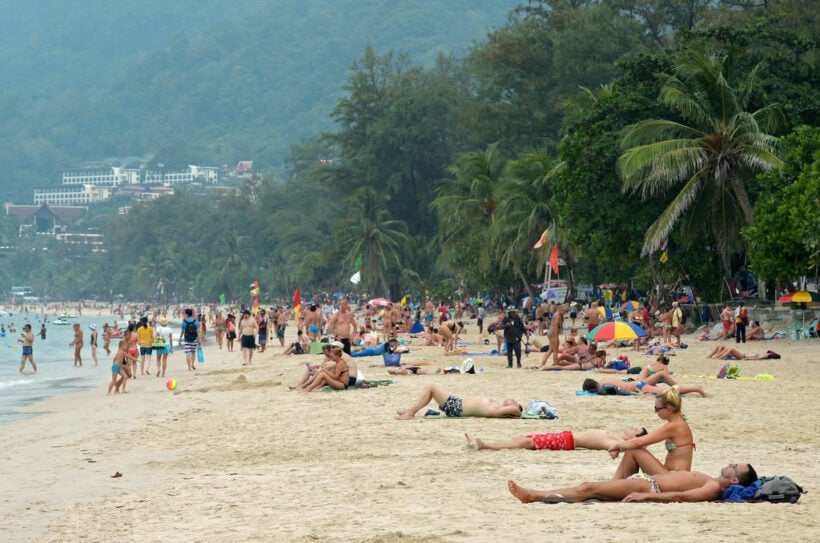 "In terms of business, it's not good," said Kongsak Khoopongsakorn, vice-president of the association of hotels in Thailand and director of Vijitt Resort.
"Because … we have more hotels, more rooms to sell, we have more restaurants, more coffee shops."
Still, tourism authority chairman Yuthasak Supasorn said he remained "optimistic."
"We should reach our goal of 39.8 million foreign visitors."
However, that is only up from 38.2 million in 2018, much less than the jump seen from the previous year's total of 35.6 million.
Counting on India
Now hoteliers and tour package operators are targeting visitors from elsewhere, particularly India, which experts see as a huge untapped market.
"We are counting on the Indians to revive the sector," Kongsak said.
A rapid expansion of the middle class in India, increased direct flights and visa-free travel have prompted Thailand to revise forecasts upwards.
It now expects two million Indian tourists this year, after an increase of nearly 25% on-year in the first seven months. But for now, the lower arrivals is evident on the streets of Phuket.
"I've never seen anything as bad as what it is at the moment," said Paul Scott from Australia, who said he has been coming to Thailand for 15 years.
He mainly blamed the stronger baht for the drop-off but also the fact that Thailand wasn't the untouched vacation paradise it once was. "Now it's not so new … and it's not cheap," he said.
SOURCE: AFP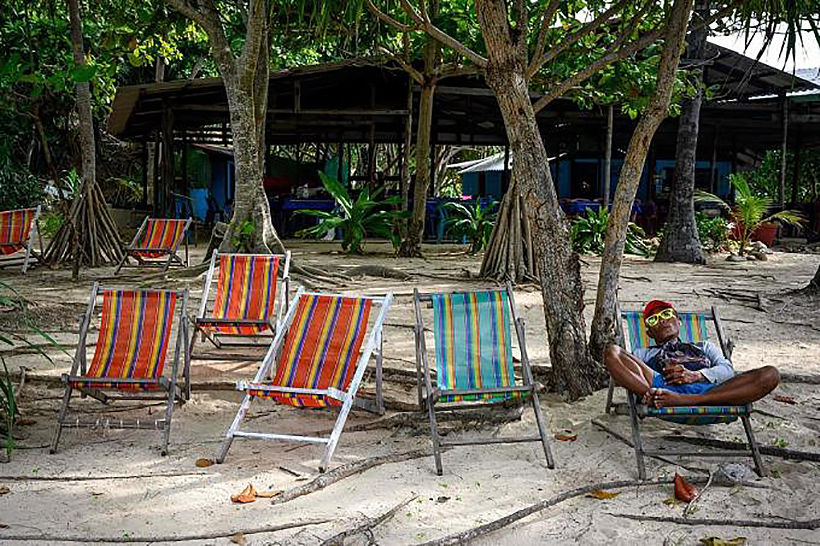 Keep in contact with The Thaiger by following our
Facebook page
.