Phuket Sports: Boots, boredom and bluster – F1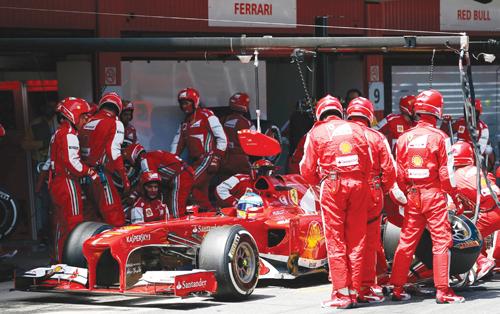 PHUKET: What a boring race! The second drag reduction system (DRS) did not enliven Catalunya. Pirelli caved-in to pressure and supplied 2012-style hard tyres. They degraded anyway. Pirelli's intention is to create two and three stop strategy options for each race; four stops is too many. The race became a shambles that even drivers could not follow. Pirelli has said it will address the situation by Silverstone. I hope they will not bow to vested interests and take us back to easy wins.
It seems Red Bull would like a return to the dark days when Formula 1 started the cars in order of speed on indestructible tyres, and finished the same way.
In 1995 Michael Schumacher won 53% of GPs. In 1996 Damon Hill won 50%. In 1997 Schumie was disqualified for cheating. In 1998, Mika Häkkinen won 50%, and 1999 was similar.
In 2000 and 2001, Schumie reconquered with 53%, in 2002 he raised and took 65%. He won again in 2003, and in 2004 won 72% of races including seven consecutive wins. It was seven races each for Alonso and Räikkönen in 2005, and Alonso and Schumacher in 2006.
2007 to 2010 saw Räikkönen, Hamilton, Button and Vettel each win with five or six races. Then, in 2011 Vettel got 15 poles from 19 races, won 58% of GPs, equaled Schumie's 2002 record of 17 podium finishes, and took 83% of all possible points.
Despondency returned. Schumacher had the best car designer, was the best driver, and cheated. Red Bull has the best car designer, and Vettel could believe himself heir-apparent to Schumie's vacant throne. But it is a way for F1 to lose fans.
2012 saw seven winners in the first seven races, and the bleak days looked banished. Pirelli's made-to-degrade tyres produced the most exciting racing in years.
Today's teams do not try to head the grid at the expense of a good race set-up, and the drivers have to manage more than speed.
This displeases Red Bull, whose drivers cannot push their car to the limit without destroying their tyres. Patriarch Dietrich Mateschitz has weighed into the debate, arguing that the sport is no longer about racing, but about tyre management. So it is clear that Red Bull is rattled.
The tyres need a bit of tweaking. Let Pirelli manage that and keep vested interests away. I said last week that traditionally teams bring upgrades to Catalunya (click here for article). Clearly Ferrari pulled out all the stops to give Fernando Alonso a winning package for his home GP. Alonso, one of the very best drivers, capitalized on it. Massa, the oldest F1 driver, also did well. Ferrari has changed the championship dynamics, and it now looks as if Alonso and the Iceman will slug it out.
McLaren brought more upgrades to Catalunya than any other team; they needed to. Unhappily, they did not pay-off, and I fear their championship hopes are over.
As forecast Kimi Räikkönen did well, and Grosjean might have done something too if his suspension had not failed. That cost Lotus constructor points, and they need more upgrades to beat Ferrari.
Mercedes and Sauber did not have competitive cars. It seems Mercedes is focusing on 2014. But Hamilton was out driven by Rosberg which will make for interesting Silver Arrows watching from now on. Nico Hulkenburg is a good driver, but the silly pit lane incident with Toro Rosso lost Sauber their chance of points.
Red Bull looked underwhelming. Vettel lost championship points, but in the Constructors' Championship, Webber's continual contribution has kept Red Bull nicely ahead. Adrian Newey will even now be plotting to catch Ferrari and Lotus.
The field is dividing into three. In the Yellow Jersey is Vettel on 89, together with the breakaway group Räikkönen 85, and Alonso 72. A second group has Hamilton 50, Massa 45, and Webber 42. The peloton is headed by Grosjean and Paul di Resta on 26 and Rosberg 22. Max Chilton is the Lanterne Rouge with null points. The main battle order seems set now.
In the Constructors' Championship, Red Bull is on 131, Ferrari 117, and Lotus 111. The rest are unlikely to challenge them. But Force India is unlucky not to have more points. If Lotus could overtake Mercedes, that would be dramatic.
Monaco on May 26 is one of the highlights of the year. But more of that next time.
Keep checking our online Phuket Sports pages or join our Facebook fan page for the latest local, national and international sporting news.
— The Digby
Keep in contact with The Thaiger by following our
Facebook page
.
82 year old Frenchman killed in motorbike crash with ATV in Phuket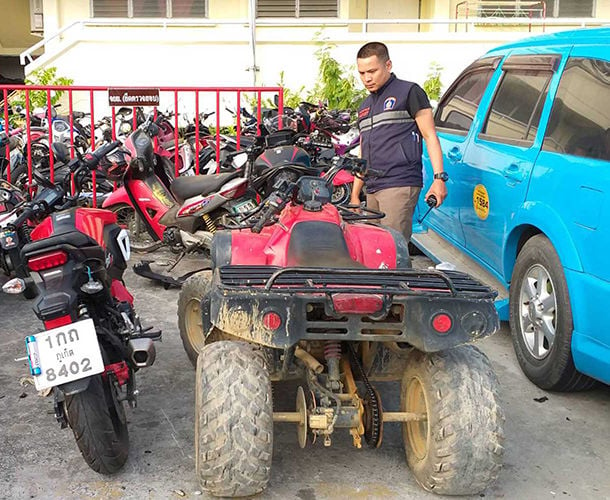 An elderly French man has died after an American woman lost control of her all-terrain vehicle (ATV) and crashed into his motorcycle in Chalong, southern Phuket. The woman was seriously injured. Police say the incident occurred on Soi Klum Yang in Chalong around 4pm on Thursday.
The crash involved a red ATV, and a black motorcycle ridden by the 82 year old Frenchman Robert Geoffray.
The woman, identified as 39 year old American Onome Alero Adeosun, suffered a broken right arm, leg and collarbone. Emergency workers found the elderly Frenchman lying unconscious on the road with serious head injuries. Medics performed CPR before sending both to Chalong Hospital, where the man was later pronounced dead.
His body was taken to Vachira Phuket Hospital for autopsy. The woman was transferred to Siriroj Hospital and is currently helping police with their investigation.
SOURCE: Bangkok Post
Keep in contact with The Thaiger by following our
Facebook page
.
Salty tap water and dirty air – Bangkok's environmental woes continue today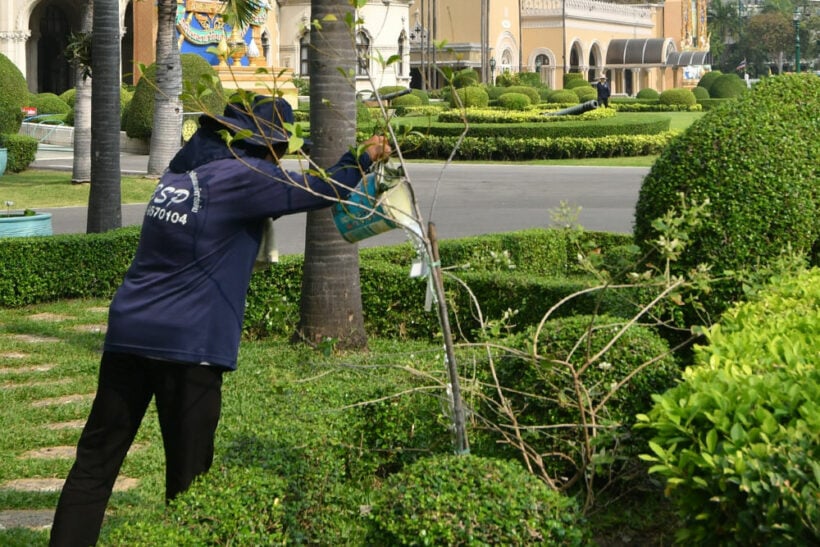 Brackish tap water, with increased salinity caused by seawater back-flowing into the Chao Phraya River, is threatening the gardens in and around the Government House compound. Government House officials are seeking assistance from the Agriculture Department.
Several small tree species – Lamduan, Chor Sumalee, Rachavadi, Nom Maew and Hom Muenlee – are more vulnerable to brackish tap water. The gardens are watered from a supply pumped in from the Chao Phraya.
It's been noted tha the saline level was around 400 milligrams per litre, still within the 1,000 mg/litre standard, but some of the species were already intolerant to the rising salinity.
Officials are seeking advice from the Agriculture Department about long-term measures to replant with species which would be more tolerant to the rising salinity of the water – situation they acknowledge will need to be managed in the short to medium term.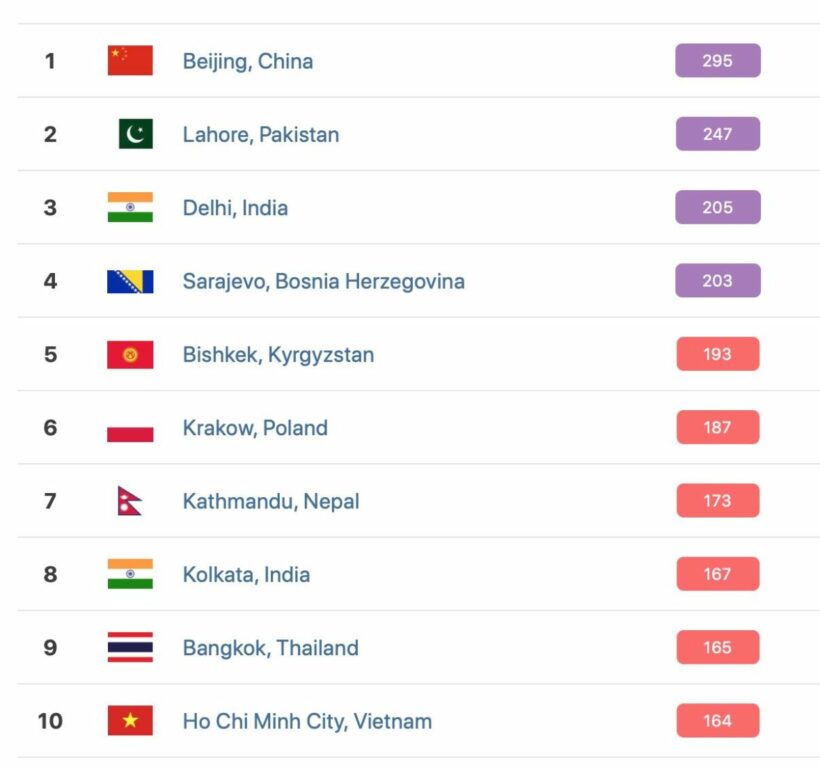 SCREENGRAB: Air Visual
Meanwhile, air around the capital today continues to be universally poor to very poor with readings as high as 187 near Suvarnabhumi Airport. Light airs, dust problems from northern-easter provinces and hot continental air flowing across the capital, continue to haunt Bangkok. Even with many factories closed today, and traffic lighter than weekdays, Bangkok's air has been recorded as the ninth worst city in the world for air pollution.
Right across the city the air quality readings are into the 'unhealthy' zone.
Chiang Mai, Lampang and Central Thailand are fairing no better – all with readings at least 3 times the Thai upper safe limit of 50 microns of 2.5micron particulate per cubic metre. The World Health Organisation sets its limit even lower at 25.
Pattaya has air quality readings today of 162, whilst even Phuket, in the south, is registering readings between 100 and 145 with reduced visibility today.
SOURCE: Thai PBS World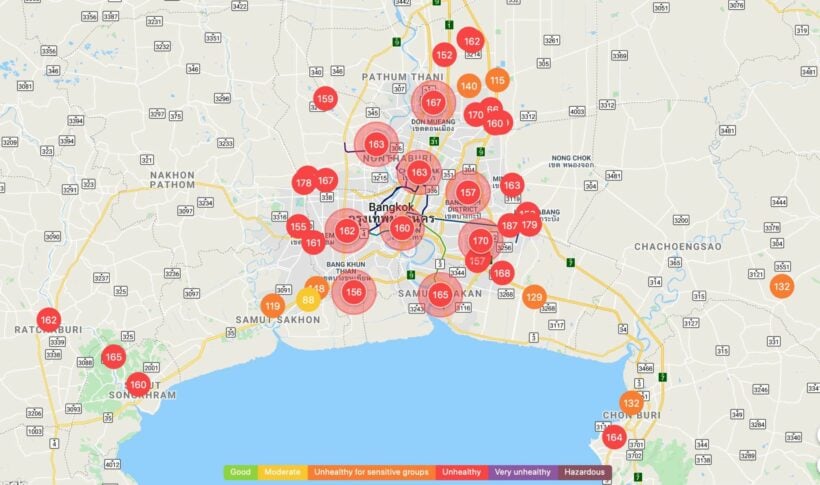 Keep in contact with The Thaiger by following our
Facebook page
.
Three massive condo developments along Phuket's up-market Layan Beach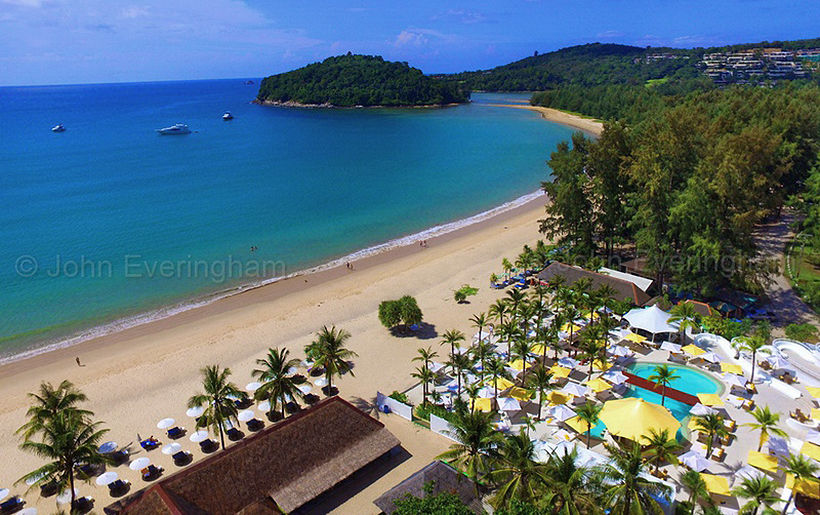 by Bill Barnett – c9hotelworks.com
Two new condo developments are going ahead in the Layan Beach area of Phuket's up-market west-coast beach strip. And there's another one underway next to the Dream Beach Club at the northern end of the Layan beach strip. All in all, another 1,200+ keys added to the available rooms along the Bang Tao/Layan Beach area.
On the northern side of Bangtao Beach, next to Maan Tawan and nearby Banyan Tree Phuket is the upcoming Sunshine Beach development. With a plan for 771 hotel and residences units on 12.6 rai, the high-density project is targeting Mainland Chinese buyers with pricing points reportedly starting from 4 million baht. Construction is expected to start in June of this year and complete in 2022.
From our discussion with sales staff the developer has claimed they have reached an agreement with the government for beach fronting facilities in the National Park strip in front of the project.
While in Layan next to Lotus Gardens is the upcoming 400 unit Layan Green Park. Pricing points run from 2.5 million baht. Unit configurations will range from studio, to one, two and three bedrooms. Guaranteed returns of 10% for a period of 10 years are being promoted.
Phuket's Layan area is seeing a surge in new real estate led projects and rising land values. At the same time as these two projects are underway, next to the Dream Beach is an oceanfront luxury project promoting sales of Grand Beach Villa and Ocean View Suites tagged as 'N5'. The developer of the project is VIP Thailand who have another project in Rawai.
Based on our research the primary source market tragets of these three projects are mainland Chinese and Russian buyers. Local concerns in the Cherngtalay area over mounting traffic, water shortages and strain on municipal infrastructure are becoming issues.
Traffic in and around the central Cherngtalay shopping district is becoming increasingly clogged with little hope for respite other than improved traffic management.
SOURCE: C9Hotelworks.com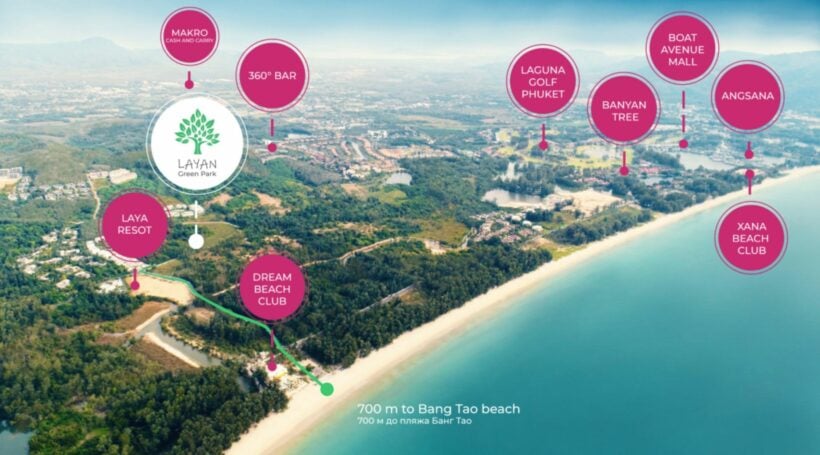 Keep in contact with The Thaiger by following our
Facebook page
.