Phuket Court dismisses sex case against PIA teacher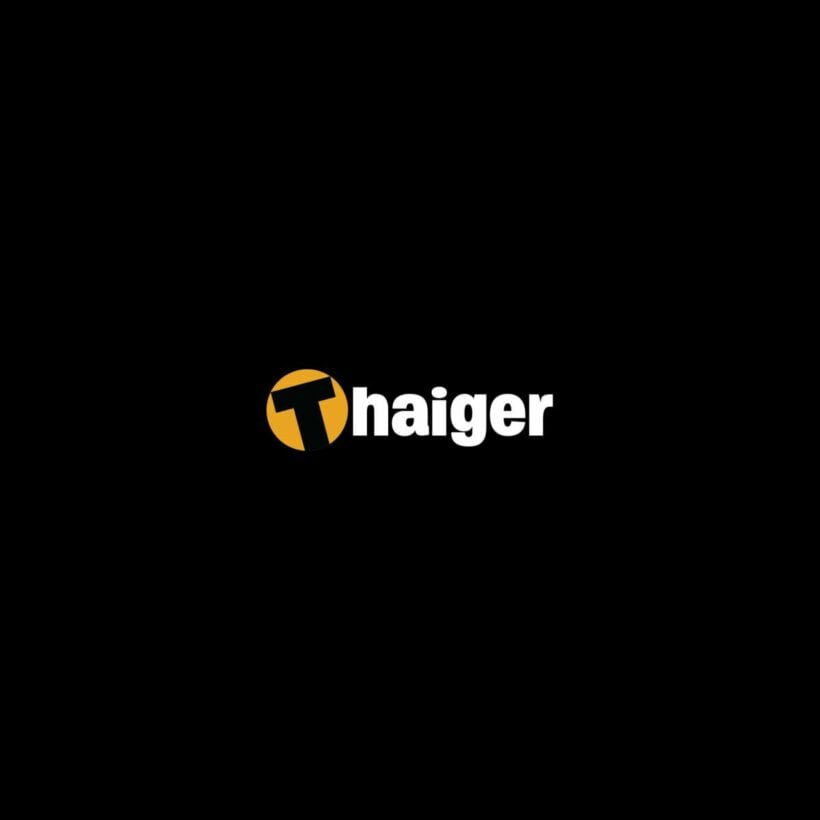 Phuket NEWS Hound
– A daily digest of news from around the world compiled by Gazette editors for Phuket's international community. World Cup? Get instantaneous scores and news updates right here on the Gazette Online (fed directly from FIFA).
PHUKET: ABC News reports that child sexual assault charges against a Tasmanian teacher working in Phuket have been dropped.
Andrew Clements, 51, was arrested in March for the alleged assault on a four-year-old boy.
The teacher strongly denied having committed the offence, alleged to have taken place while he was employed at the prestigious Phuket International Academy (PIA).
He had been dismissed from the school in December 2009, but the school told the Phuket Gazette on March 30 this year that there was "absolutely no connection between his dismissal from the school and the criminal charge which he now faces."
When Mr Clements appeared in Phuket Provincial Court for a hearing on Monday (June 14), he was simply told that the charge against him had lapsed due to lack of evidence.
Yesterday, ABC News reported that Mr Clements had been inundated with calls from the media, and that he was no longer commenting because he was sick of the attention.
The Advocate newspaper in Australia had in March reported that Mr Clements was a former professional basketball player who represented his country, and that a former Tasmanian teammate had told the paper he was "shocked, just shocked, to hear the allegations."
"There will be a lot of people in basketball that know Clemo that would be thinking that would not be true," he said.
Phuket eco-complex now friendly
Property Report
Construction has finished on the new Häfele Design Centre in Phuket. With 16,000 square metres of space on five levels, the centre is promoting itself as the first "sustainable and European-infused alfresco lifestyle shopping village" in Phuket.
The building of the Häfele Design Centre was a collaboration between OIA (general planner, architects and interior designers), DCM (general contractor), Comcon (project management and quantity surveying services), Warnes (structural engineering) and EEC Lincolne Scott (mechanical and electrical engineering, lighting design).
Häfele is the 'marquee tenant', with other retailers oriented towards home and interior design, property, and construction.
The building, already a landmark on Phuket's bypass road, features a 4,200 square metre "floating" roof which provides shade and – when heated from the sun – spurs airflow, reducing the need for air conditioning usage.
The official grand opening date is tentatively scheduled for October or November.


Thais surprise the world
The Korea Herald
Thailand's economy surprised economists and policymakers by growing 12 percent year on year in the first quarter of 2010. It was the nation's highest growth rate in 15 years and one of the worlds' fastest rates registered to date this year.
"Exports were particularly brisk due to continued recovery of Thailand's major trading partners, including China, the ASEAN countries and the United States," Thai finance minister Korn Chatikavanij said.
However, he said the recent political unrest that started in March has considerably weakened the strong growth momentum. He estimated the second quarter growth rate to come in at 6 percent year-on-year, still high when compared with most countries around the world.
Thai downgrade for human trafficking
Business Week
Singapore, Thailand and Vietnam all regressed last year in their efforts to battle trafficking of men, women and children for labor or commercial sex, according to the U.S. State Department.
The department's 10th annual report grades 175 nations on their efforts to fight this modern form of slavery. The U.S. is listed for the first time, placed among those countries that are doing their best to comply with the Trafficking Victims Protection Act, the American law against human trade.
Thailand "has expressed its disappointment" with the report, foreign ministry spokesman Thani Thongphakdi said by telephone. "We believe that the report did not give due recognition to Thailand's efforts to address the trafficking problem," he said.
— Gazette Editors
Want more from the Thaiger family?
📱 Download our app on Android or iOS for instant updates on your mobile
📧 Subscribe to our daily email newsletter
👍 Like/Follow us on Facebook
🔔 Subscribe to or Join our YouTube channel for daily video updates
12 Covid-19 violators busted drinking on Patong Beach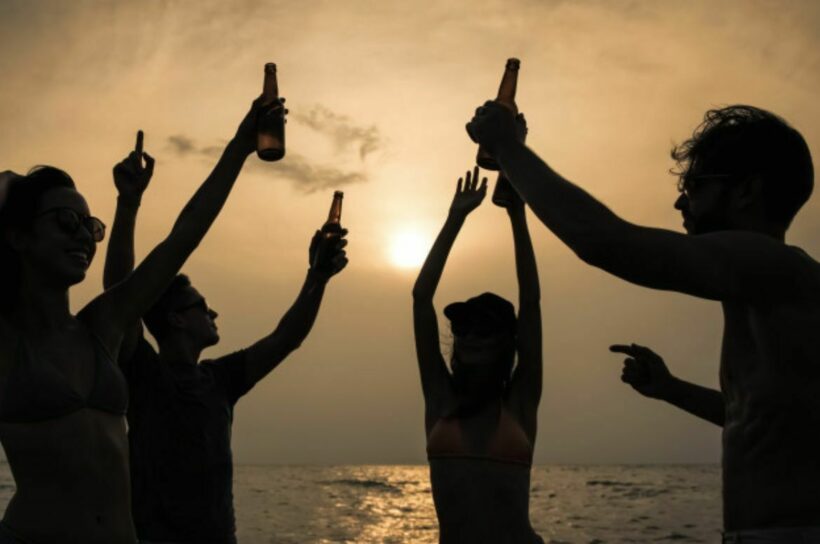 12 violators of Covid-19 restrictions, of Thai and foreign origin, have been arrested and taken into custody by police for gathering and drinking in public on Patong Beach. The Covid-19 measures currently in place in Phuket ban all get-togethers involving alcohol, limiting the number that can drink together to just 2 people. The group were arrested for violating this order and for drinking in public.
According to the police the group had 3 foreign men in it along with 5 Thai women and 3 Thai ladyboys, so for those keen at maths the details of the 12th person were not revealed. The Covid-19 rule violators were arrested Friday night in Patong on the walkway along the beach on Thaweewong Road, the popular beachfront road.
Police noted the specifics of their liquor stash, confirming that the group had 2 bottles and 8 cans of Thai beer, 2 imported beers, 4 wine coolers, 4 soda waters, and 2 bottles of Thai liquor. The stash was confiscated by the police.
The perpetrators were brought to Phuket town to the Phuket City Police Station. There they were met by the Phuket Vice governors and medical personnel from Vachira Phuket Hospital. The medics administered swab sample Covid-19 test to each member of the group of restriction violators.
The Vice Governor reminded people that these restrictions were put in place after more than 20 people tested positive for Covid-19 from a small group of people drinking together. That is why the regulations allow just two people together when alcohol is involved. He stressed that police and government officials have been instructed to crack down on violators to try to quickly curb the spread of Covid-19 for a chance at reopening to international tourism July 1st.
Officials asked the public to work together to attempt to eliminate the spread of Covid-19 in Phuket and instructed anybody who sees violators of the Covid-19 restrictions to contact the police immediately. Sentence and fine details were not yet available for the group of 12.
SOURCE: The Phuket News
Want more from the Thaiger family?
📱 Download our app on Android or iOS for instant updates on your mobile
📧 Subscribe to our daily email newsletter
👍 Like/Follow us on Facebook
🔔 Subscribe to or Join our YouTube channel for daily video updates
Covid-19 mask violators in Phuket forced to exercise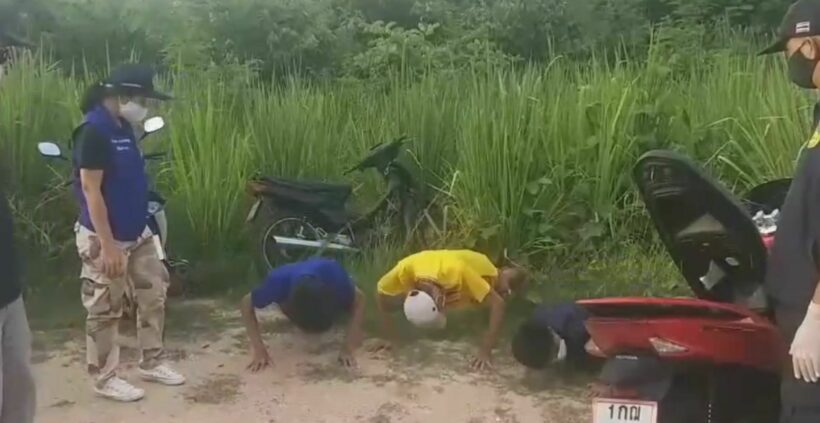 For those who have more pounds on their body than pounds in their pocket, exercise punishment seen in Phuket yesterday for mask violators may or may not be welcome. Officials have walked back the strict 6,000 baht punishment for the first warning against someone not wearing a mask and were spotted forcing those who have gone out without a mask to do exercise on the street.
The people forced to exercise were at a Covid-19 checkpoint in the Rawai subdistrict, where the Chalong Police along with local medical workers were checking people yesterday. The checkpoint was set up in an effort to push one hundred per cent mask compliance to stop the spread of Covid-19 on Phuket.
Not only were they checking everyone who passed by to make sure they had their masks, but also to correct those who were wearing their masks improperly. We've all seen the people who seem to think that a mask on their chin or underneath their nose is somehow just as effective as a properly worn mask, or at least that they can get away with "wearing a mask" while limiting their personal inconvenience.
Officials were quick to point out that the overwhelming majority of people passing through the checkpoint, both foreigners and Thai, did have their masks with them and were wearing them properly. But they did catch more than 10 people not wearing their face mask or not using them correctly.
Authorities decided to let them off with a first soft warning by moving bodies instead of moving baht. Police made violators do exercise right there on the street in hopes of shaming them into making better decisions next time. All violators did have their names and details taken down with a promise that if they were caught again proper traditional fines would be handed down.
No word yet on any plans to make this punishment into a Tik-Tok Channel.
SOURCE: The Pattaya News
Want more from the Thaiger family?
📱 Download our app on Android or iOS for instant updates on your mobile
📧 Subscribe to our daily email newsletter
👍 Like/Follow us on Facebook
🔔 Subscribe to or Join our YouTube channel for daily video updates
Thai public health and tourism ministers on Phuket to push the July 1 Sandbox reopening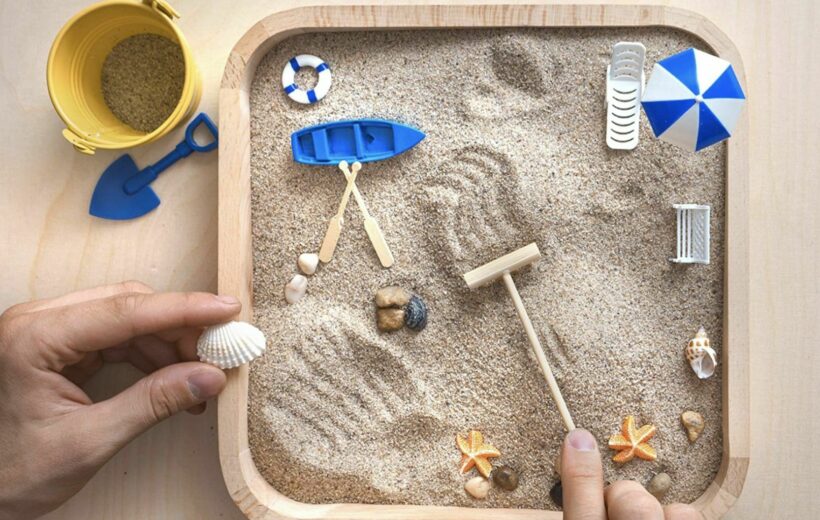 Bangkok has sent a couple of ministerial heavyweights to Phuket today to keep pushing the July 1 'Sandbox' bandwagon, insisting that Phuket will open to fully vaccinated tourists from July 1.
The Deputy PM and Public Health Minister Anutin Charnvirakul ,along with the Sports and Tourism Minister Phiphat Ratchakitprakarn, are doing the island PR tour today delivering a message from the PM Prayut Chan-o-cha who is confirming that Phuket will open to fully vaccinated international tourists from the start of July.
Phuket has continued to rack up between 10-20 new Covid infections each day over the past week and still has hundreds of people listed as 'active cases'. As of today 22% of the island has been vaccinated.
The original Phuket Sandbox model was intended to be quarantine-free. That issue was not made clear during today's PR trip from the 2 ministers. The full details of how Phuket will open to international tourists, how those tourists might get to Phuket, or where they will visit on an island with its tourist infrastructure shutdown, have not been provided at this stage. It has also not been discussed how long the international tourists will have to remain on Phuket before travelling to other parts of the country.
The Phuket Governor welcomed the prime ministerial delegation to Provincial Hall at lunchtime saying that Phuket would progress with its plans to launch the Phuket Sandbox from July 1.
"All stakeholders who are frontline warriors working to solve the problem of the Covid epidemic situation have earned the goodwill and concern from Prayut Chan-o-cha, who also believes that Phuket is ready to prepare for the opening of the Phuket Tourism Sandbox on July 1 for sure."
Phuket Province generated several hundreds of billions of baht of income for the country per year and Thailand relies heavily on tourism income. Indeed, second to Bangkok, Phuket was the government's golden goose delivering decades of high tourism receipt returns.
Speaking to The Phuket News, Anutin said…
"The government is ready to act as soon as possible. This has been clearly proved, such as by the large number of vaccine doses that Phuket has been allocated to vaccinate the people in the area to cover all groups and be as safe as possible as the 'Phuket Model'.
"When the economy is good, everyone gets better, so use patience to believe that good things will follow".
Another 100,000 Sinovac vaccines arrived on the island to be formerly handed over today by Minister Anutin. An additional 100,000 doses will arrive on Tuesday.
AstraZeneca vaccines are also due to arrive from June, daily reserved for people over 60 years old or people who have other health conditions which require the AZ vaccine instead of the Chinese manufactured Sinovac.
SOURCE: The Phuket News
Want more from the Thaiger family?
📱 Download our app on Android or iOS for instant updates on your mobile
📧 Subscribe to our daily email newsletter
👍 Like/Follow us on Facebook
🔔 Subscribe to or Join our YouTube channel for daily video updates