Parliament joins Phuket national park fray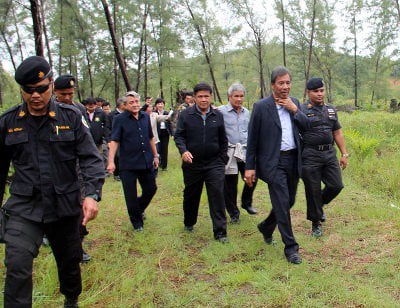 PHUKET: Narit Khamnurak, Chairman of the House of Representatives Standing Committee on Land, Natural Resources and Environment (CNRE), this week led a parliamentary inquiry to follow up the investigation into resorts accused of encroaching on national park land on Phuket's west coast.
At Sirinath Marine National Park headquarters, Mr Narit together with nine officers on Friday reviewed the investigation reports compiled by Royal Forest Department (RFD) officers who raided the 10 Phuket resorts on August 15 under orders by National Parks, Wildlife and Plant Conservation Department (DNP) Director-General Damrong Phidet.
After reviewing the progress made, Mr Narit ordered the teams investigating the four "new" cases to be investigated, including the home of French businessman Bernard Gautier, to complete their work as soon as possible.
The original deadline for completing their investigations was September 25, Mr Narit reminded them.
However, Sirinath National Park chief Cheewapap Cheewatham pointed out his officers learned of Mr Gautier's house only at the end of August and that the two Malaiwana projects and the Istana projects now under investigation were added to their "to be probed" list only last week.
"Hopefully, we will be finished surveying the sites by the end of next week, but we will still have to send our surveys to the DNP to concur our surveys with aerial photographs of the area.
"We all know that will take time, so I don't know when they will finish," he said.
Mr Cheewapap added that his office had encountered problems, specifically what he called "communication difficulties" with investigating Mr Gautier's house.
"The man will not let my officers inspect the area around his house although they have presented him with a search warrant," said Mr Cheewapap.
Mr Narit, a Democrat Party MP for Phattalung, told park chief Cheewapap, "The investigation teams should have their work completed within a month. After that the DNP teams will start to examine the land ownership documents of all 379 plots along the national park border."
"I want every National Park chief in Thailand to review their park boundaries and clearly mark them, so that when any developers try to encroach on national park land, it will be obviously noticed and easier for the officers to inspect and take legal action against them," he added.
DNP Director-General Damrong announced during an inspection visit to Phuket on Wednesday that he will assign hundreds officers to investigate 379 plots suspected of encroaching on more than 3,000 rai of land in Phuket's Sirinath Marine National Park.
A total of 366 DNP officers, split into teams of six, will investigate suspect plots along the border of the national park.
His officers will be tasked with investigating their assigned plots, coordinating with the Public Sector Anti-Corruption Commission (PACC) investigation also currently ongoing in Phuket, filing complaints with police and presenting their cases in court, Mr Damrong said.
"Any land document issued after 1964 will be considered illegal. Landowners will have to fight in court if they want to prove that they legally own the land in question," warned Mr Damrong.
He added that the officers to be assigned the Phuket blitz will also be used in crackdowns elsewhere in Thailand.
"I will start with Sirinath National Park, which I believe we can start investigating by mid-October. However, I will have to train those officers about investigation procedures and educate them on the relevant aspects of the law," he said.
Directing his vision to after his impending retirement, Mr Damrong said, "I hope the new DNP Director General will continue my work, otherwise that person will have a lot of explaining to do to the public."
— Kritsada Mueanhawong


Read more headlines, reports & breaking news in Phuket. Or catch up on your Thailand news.
Top Five things to consider if you're buying a condo in Thailand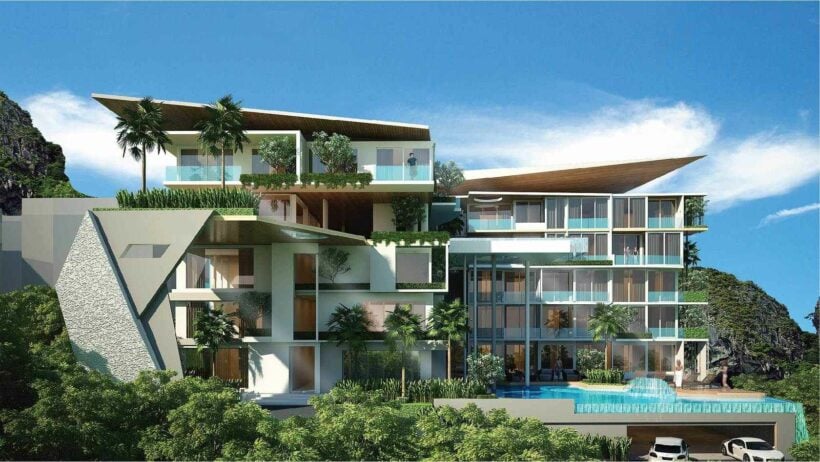 Not quite a Top Ten but some good straight-talking about buying condominiums in Thailand from Desmond Hughes from Hughes Krupica…
One of the most commonly read or spoken summary of foreign ownership of property in Thailand is along the lines of
"Foreigners can buy a foreign freehold condominium in their name".
At this sentence, many foreign investors switch off, and assume that the rest of the detail provided by the author may be legal mumbo jumbo or a thinly veiled attempt to win their business.
In fact, there is quite a lot you should know about Thai condominiums, before you start property hunting. As my clients don't generally spend their time reading legal journals and legislation unless they have to, I have set out a mixture of legal and practical matters below without much distinction:
1. Only 49% of the Registrable Area of a condominium can be sold to foreigners.
In Bangkok, this is not likely to have any impact on you. Most of the buyers and owners of condominiums in Bangkok are Thai nationals. Even in condominiums popular with foreigners, it is an uncommon phenomena that foreigners would ever outnumber Thais as owners in a building. You might ask why the rule even exists, but there is a fear and protectionism in many Asian countries, not just Thailand, to try and keep foreigners 'controlled' through numbers and perecentages.
In other places – Phuket; Pattaya; Koh Samui; Chiang Mai and Hua Hin particularly you should apply caution to ensuring that the correct 'quota' of foreign units is available to be sold to you on a freehold basis.
2. Banks often advertise they will give finance, even potentially to foreigners, but in the end – don't
I speak from personal experience and from that of my clients. For my first condo investment in Bangkok, I had to take out a loan with HSBC which was then taken over by a Thai bank. My loan had to be in foreign currency, because in order to buy a foreign freehold condominium – you have to send foreign currency into Thailand from overseas to generate 'foreign exchange transaction forms' to register the title to a foreigner at the land office. This means a lot of hoops for a bank to jump through simply to provide a mortgage. Foreigners are also viewed as flight risks by Thai banks and they do not wish to spend their time chasing foreign assets. This all means that a very high percentage of the foreign buyer market is cash based, which is good for the stability of that part of the condo market.
If you are tempted to try and take out finance applications to banks, be aware that the banks are looking for you to have some business in Thailand; perhaps to be married to a Thai national who preferable from the bank's perspective will have some degree of wealth for self-support; and that you have other assets in Thailand with a history of using and paying off credit such as credit cards.
3. There is an oversupply of condominiums in Bangkok at the moment and rental yields are traditionally low in terms of % compared to more expensive Asian neighbors – Hong Kong and Singapore, and further afield
A condo in a prime rentable area at a high investment price can remain rentable due to its extremely useful location and amenities. If such condo has a 24 hour supermarket in the basement of the retail area and dozens of restaurants, as a condo building I am thinking of does have such amenities, then it will remain rentable for some time if the property is maintained. However, another condo at the end of the same 'Soi' and post building and delivery could remain unrented after many months and even if the rent is cut to 50% of the market price. Don't just take my word for the state of the market for condo rentals in Bangkok, ask the agents.
In addition to this, the authorities are taking a closer eye at tax declarations and 'cracking down' on undeclared taxes – not just personal income tax, but the 'business tax' of 12.5% for renting units out. This all adds to the costs of investing and renting in a condo, and you must calculate this into your budget and forecasts to avoid living in fantasy land about dream returns.
3. You won't have any say in how the condominium is managed
Unless you buy up over half of the voting rights attached to units in the entire building, you will be a minority voice on issues like the raising of the common area fees; use of the 'sinking fund' – the fund to make capital repairs, changes to the rules and regulations and general maintenance decisions, even of some significance. Don't imagine standing up at an co-owners meeting voicing your opinions and somehow making headway in 'changing' the direction of the management of a building. The way in which a building is managed boils down to how the developer has structured ownership, whether the developer retains many units and a large % of the voting rights or not, and whether the developer plans to self-manage or outsource management of the asset to a reputable or not-so-reputable management company.
If you don't check the management plan then I can reference lots of analogous situations where you would take more care – if you buy a car, you should think if there are any decent repair centres nearby and at a reasonable price – Ferraris in Phuket aren't currently easy to maintain, I would imagine, as a non-Ferrari owner and observer of the state and condition of the roads in that Province. You also wouldn't, I hope, buy a smart phone without knowing you could have the phone service, fixed and various parts replaced on reasonably short notice. As a property is a far higher value of investment, a lot of investigation into the management plan is necessary.
4. Don't Believe the Hype – It's a Sequel
False Media, we don't need it do we? If you see a glossy marketing brochure and are told that the developer 'has to deliver on its promises by law' – be wary. To take one example, I bought a condo under which a 'private wine cellar area with personal secure wine bottle storage space' would be provided to every buyer. Amazingly, without any shame at all, the famous developer constructed an unchilled cheap wooden cabinet with glass doors, no locks next to 4 sofa chairs in the open space corridor between a swimming pool and the gym. If you wanted to fry an egg on the 'wine cabinet' then that was highly likely to have been possible.
These kind of things are not all 'horror stories' – I actually got a decent condo notwithstanding the missing items. However, you will often have to compromise when in more highly regulated and supervised jurisdictions, you would not. Compromise is a very common work in Thai society and it applies to business and consumer purchases too.
5. Set up your ownership for easy re-sale
If you are buying a condo as a 'foreigner' and paying cash, then you can buy your condo through a foreign company, and sell the company later. This is only worth doing if the cost of setting up and maintaining the foreign company is reasonable and the company you set up is 'saleable' and attractive to others. You should not carry out this kind of structuring to 'avoid tax'. However, you can set up this kind of structure, pay tax on the purchase, and subsequently deal with your company as you see fit, provided a buyer is willing to buy it. If such a company receives rental income, then even if it is foreign it is till liable to taxes as the use of the 'immoveable property' for generating revenue isn't deemed to be 'outside' of Thailand, and that applies even if the company tries to contract for and receive the rent outside of Thailand.
Desmond Hughes has operated and owned 2 law firms in Asia in 14 years spanning Thailand; Vietnam; Indonesia with clients in all of Asia and other markets investing inwards into the region with his existing firm Hughes Krupica possessing a large market shares in its fields of expertise. 
Motorbike driver smashes through glass window after accelerator malfunctions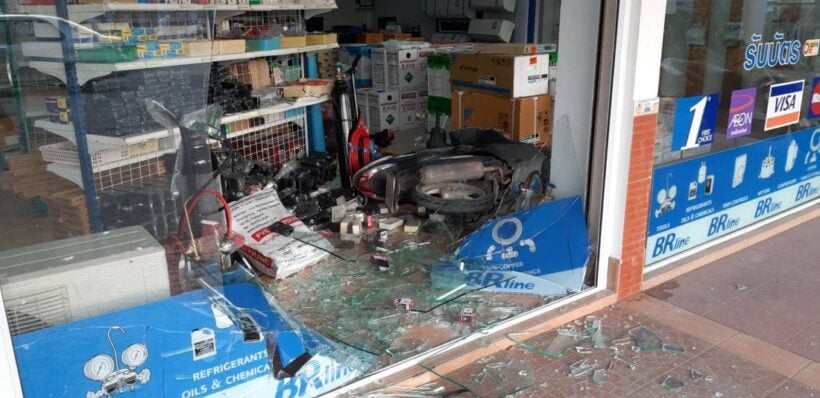 A female motorbike driver has sustained injuries after her motorbike's hand grip malfunctioned and she collided with a glass wall. Chalong Police were notified of the incident at an air conditioning shop at 6pm yesterday on Chao Fa West Road in Chalong.
Police and emergency responders arrived and found the shattered glass wall and a damaged motorbike. The injured 40 year old Naowarat Jankarn had already been taken to Chalong Hospital. She sustained injuries from cuts from the broken glass. Pools of blood were found on the floor.
Ms Naowarat told police that she had parked her motorbike in front of the shop since Wednesday . The motorbike was undrivable because the hand grip accelerator was malfunctioning.
Yesterday she started the motorbike, claiming she had forgotten about the broken accelerator.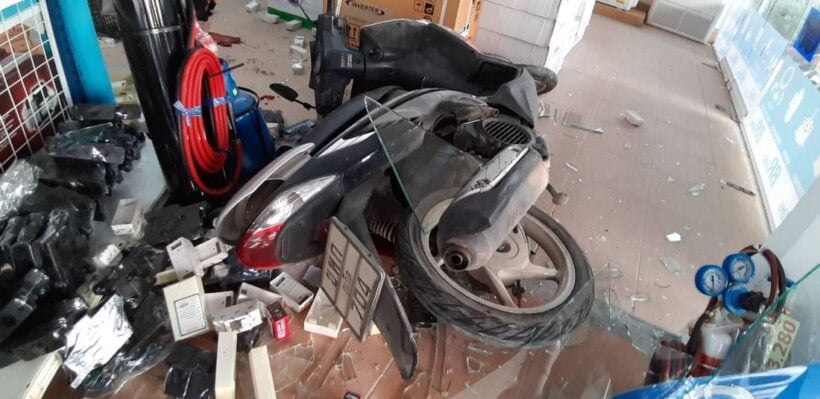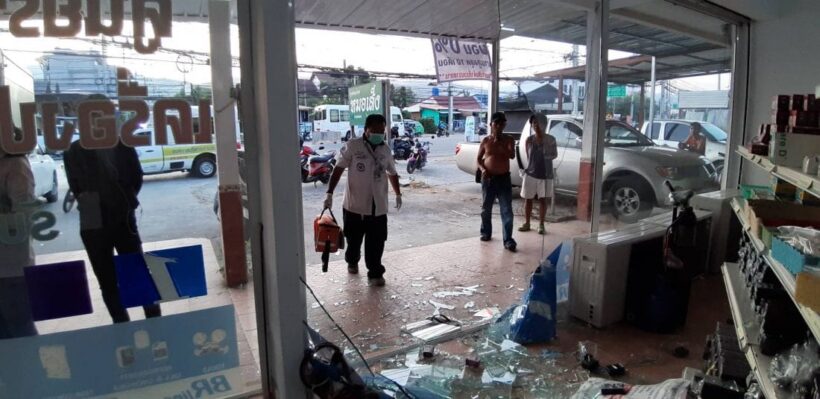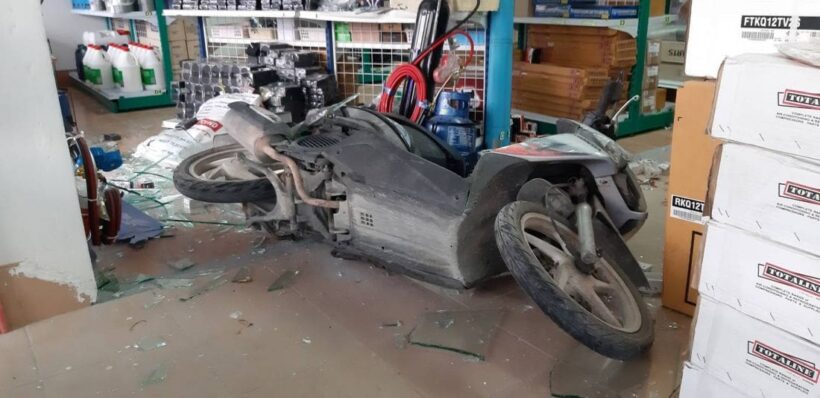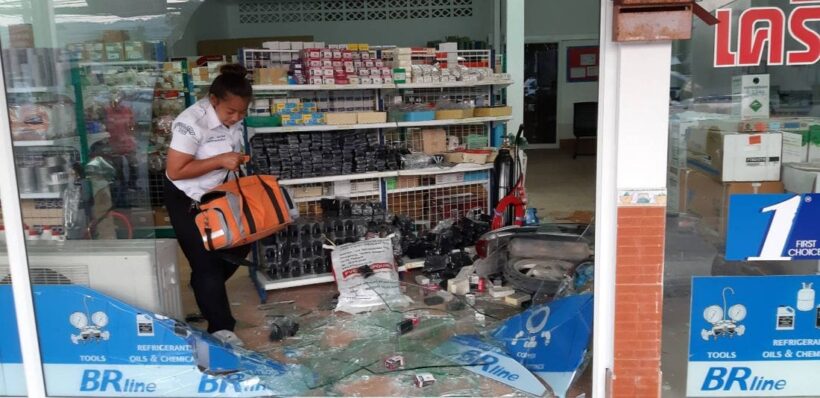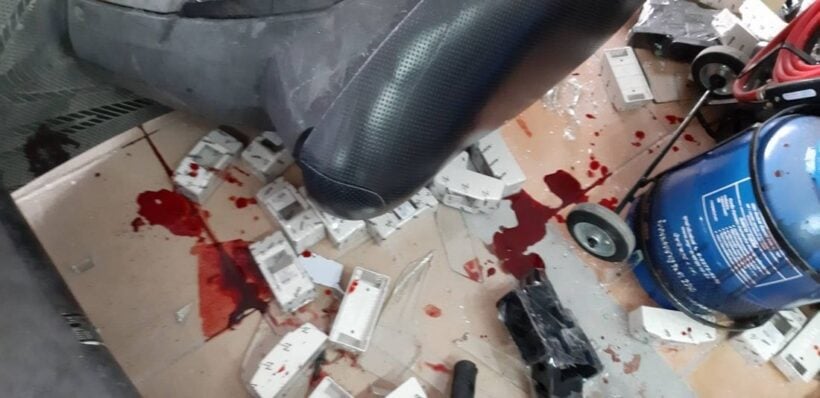 Police hunting for driver who threatened others with a gun on Phuket road – VIDEO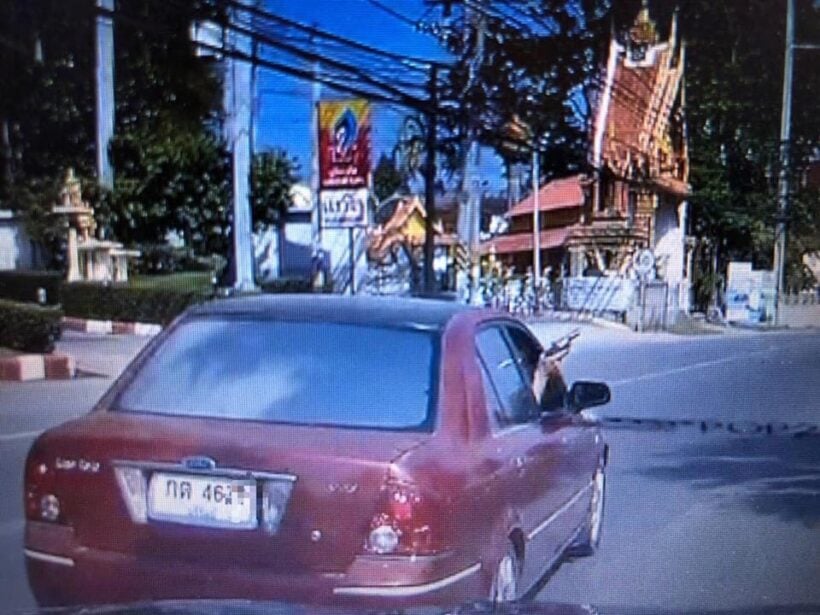 PHOTO: Tiw Tiw
The Thalang Police are hunting for the driver who was threatening other motorists on Thepkrasattri Road by waving a gun around out of the driver's window of his red sedan in Thalang this morning.
A Facebook user 'Tiw Tiw' has posted the video with a message reading "where are the police, please follow him. The incident happened this morning in Thalang."
The video shows a car switching from one lane to another.  The driver shows a gun in his car window and then appears to throw it out (at least he used his indicator).
The Thalang Police are investigating the incident and want to find the car driver for questioning.