Lots of tourists in Phuket, but they aren't spending much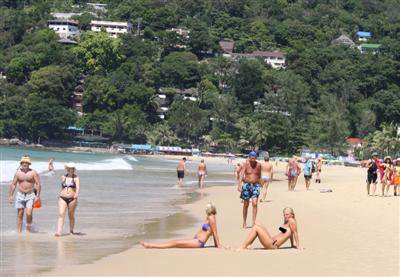 PHUKET TOWN: Arrival figures during this high season remain high, but tourists visiting Phuket seem to be spending less, industry insiders say.
Bhuritt Maswongsa, vice-president of the Phuket Tourist Association (PTA), said that 'per head' expenditure seems to be much lower than in the 2007-2008 high season, the last time Phuket enjoyed a normal high season – the 2008-2009 high season was largely negated by crippling airport closures.
Australia and Europe continue to be key source countries during the high season, with the Russian market also performing well, he said.
The industry has also benefited from new direct charter flights from the Chinese cities of Guangzhou and Shanghai, while there are also 24 direct flights to Phuket from Hong Kong every week, he said.
Mr Bhuritt said the overall composition of inbound tourist figures has shifted, with regional tourists now making up about 50 percent of arrivals, many on package tours.
Europe, once the 'bread-and-butter' market, has also seen a shift towards more package tourists and independent visitors with limited budgets, he said.
"More tourists who fly in from Europe are now arriving on package tours. Because of the economic situation there, they are spending much less than they used to," he said.
Hotel occupancy rates are currently about 90 percent overall, based on combined statistics from the PTA and Thai Hotel Association Southern Chapter from over 700 accommodation establishments on the island, he said.
Advance bookings indicate occupancy rates should remain high through to the end of February, but all bets are off after that, Mr Bhuritt said.
"It is difficult to know what will happen from March onwards, but it doesn't look good."
People tend to book less far in advance and reservations are coming in very slowly after February, he said.
Individual bar owners in Patong are in general agreement that tourists are watching their purse strings more than in years past.
Vichien Plachumpan, who runs the Crows Nest bar on Soi Sea Dragon said, "There are a lot of customers, but they aren't spending nearly as much."
Income at his bar is down about 40 percent year-on-year, he said.
Somphet Moosophon, who runs a pub on Soi Crocodile and is a former president of the Phuket Entertainment Business Association, estimated his revenue was down about 30 to 40 percent year-on-year.
He said there are more tourists from Arab speaking countries and the subcontinent visiting Soi Crocodile, which is well known for its scores of go-go dancing ladyboys.
Ajin 'Joy' Kingkaew, who runs the One More bar on Soi Easy, said this high season has been "very good", but it is her first high season running the business.
"It's much better than the low season, that's for sure," she said.
Lindsay Turpin, proprietor of the Piccadilly Bar on Soi Kebsup, said, "Everybody is saying that there are a lot of different people here now. That may be so, but they are not the big-spending guys in the bars. I think there are more Koreans and Japanese about, but the bars aren't really their scene."
"If you walk down Soi Bangla it may look like there are a lot of people about, but honestly it is not as many as in years past," he added.
— Stephen Michael Fein
Want more from the Thaiger family?
📱 Download our app on Android or iOS for instant updates on your mobile
📧 Subscribe to our daily email newsletter
👍 Like/Follow us on Facebook
🔔 Subscribe to or Join our YouTube channel for daily video updates
Phuket woman impaled by steel rod in motorbike accident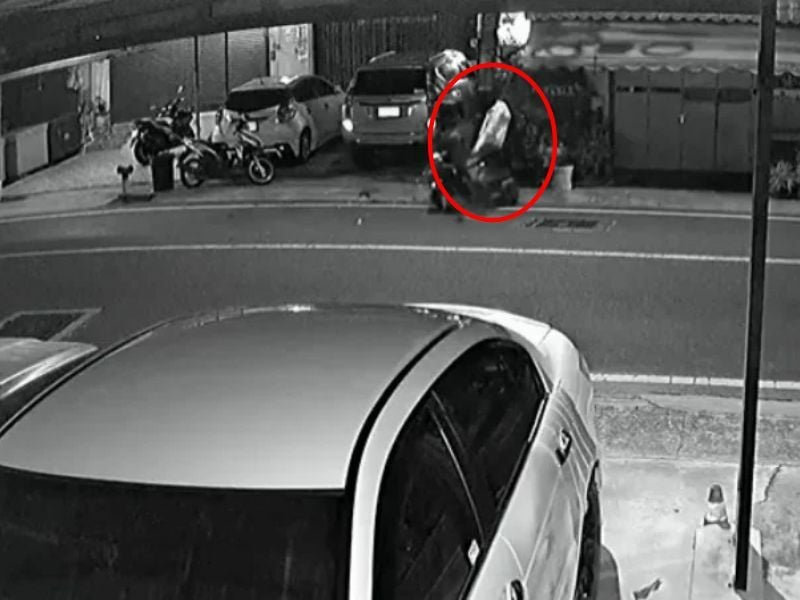 Police were called to the scene of a gruesome motorbike accident just after midnight in the Kathu area of Phuket, where a woman was impaled by a steel rod. The 34 year old woman crashed her motorbike into a concrete power pole on Wichit Songkram Rd between the Kathu Shrine and Kathu Municipality. rescue workers responded, and together with police, they arrived to find the woman still hanging from the power pole.
Khanuengnit Onoaun was driving a black and pink Honda Click motorbike and may have been speeding just before being impaled by the rod on the electric pole. Her motorbike was lying nearby the pole with significant damage to the front of the bike and the front wheel.
CCTV footage recovered from the scene suggest that the woman may have fallen asleep and crashed into the power pole. The pole had steel rods protruding from its side that utility workers use to climb when service or repairs are needed to the electrical lines, which is what impaled her when her motorbike hit the pole.
The metal rod pierced the woman's upper chest and went all the way through her body with about 2 inches exposed on the other side of her as she hung from the pole. Rescue workers could not remove her from the steel rod at the scene of the accident safely and instead chose to cut the rod to take her off the electric pole and into an ambulance. Cutting through the steel took about 5 minutes for the rescuers.
She arrived and was admitted into Vachira Phuket Hospital with the metal rod still impaled through her chest. The hospital had no updates about the woman's condition after her motorbike crash other than that she is alive and receiving treatment currently. The police plan on questioning her once she has had time to recover and investigating the incident further if necessary.
SOURCE: The Phuket News
Want more from the Thaiger family?
📱 Download our app on Android or iOS for instant updates on your mobile
📧 Subscribe to our daily email newsletter
👍 Like/Follow us on Facebook
🔔 Subscribe to or Join our YouTube channel for daily video updates
TAT looks forward to welcoming 129,000 foreign tourists to Phuket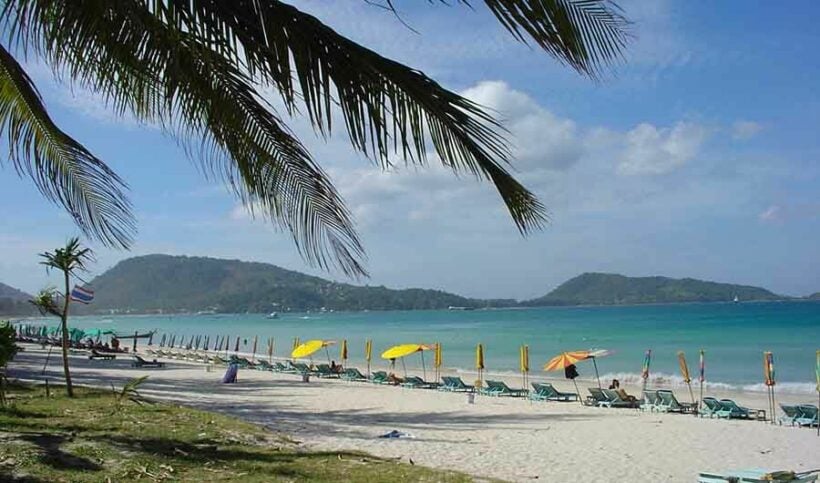 The Tourism Authority of Thailand says it expects 129,000 tourists to arrive on the southern island of Phuket in the first 3 months of its re-opening. Officials still insist the island will re-open for quarantine-free travel for vaccinated foreign tourists from July 1. And according to the Bangkok Post, the TAT also plans to team up with airlines to offer 100,000 subsidised one-way domestic air tickets.
The association is in talks with Thai Airways and Thai Smile Airways about offering a 1,000 – 2,000 baht subsidy towards domestic air fares for tourists participating in Phuket's sandbox scheme. The scheme will also be expanded to include all local carriers.
TAT governor Yuthasak Supasorn expects around 30,000 – 40,000 tourists a month, through Phuket's sandbox model, with the primary target being long-haul markets. According to Yuthasak, 7-day packages in Phuket will be on offer for a somewhat eye-watering 150,000 – 200,000 baht per visitor, a significant increase on the 50,000 baht average spending per trip prior to the pandemic.
The Bangkok Post reports that most tourists will be required to arrive via a direct flight to Phuket. However, in the event of there being no available time slots at the airport, tourists will be permitted to transfer via Bangkok's Suvarnabhumi Airport using a dedicated sealed terminal.
Once the other 9 sandbox areas join the re-opening, Yuthasak expects between 3 and 4 million tourists in the last quarter of the year. He says standard operating procedures to govern the entry of foreign tourists, including Covid-19 testing and guidelines for sealed routes, will be submitted to the Centre for Economic Situation Administration this month. Once approved and published in the Royal Gazette, tourism operators can launch their sales and marketing plans.
Yuthasak adds that work is needed on the supply and administration of vaccines, pointing out that new clusters in places like Bangkok could affect vaccine administration in Phuket.
"The new outbreak in Thailand didn't affect tourism sentiment in foreign markets as the media in each country turned their focus towards the situation in India and domestic cases in their own countries. However, travel agents expressed concern that the virus situation may affect the reopening timeline which prompted TAT to confirm that everything is running as scheduled."
He said travel agents are waiting for clear entry regulations, so they can offer packages to their customers.
SOURCE: Bangkok Post
Want more from the Thaiger family?
📱 Download our app on Android or iOS for instant updates on your mobile
📧 Subscribe to our daily email newsletter
👍 Like/Follow us on Facebook
🔔 Subscribe to or Join our YouTube channel for daily video updates
UPDATE: Phuket restrictions and bans extended, new 'party' clause added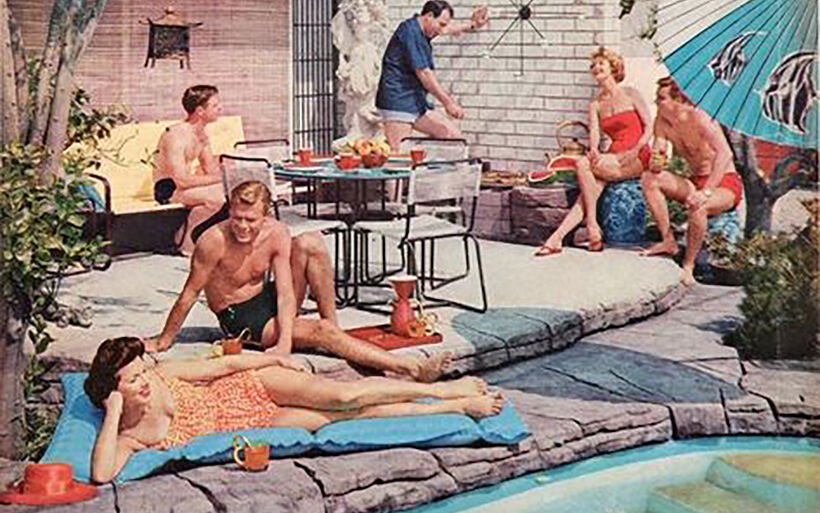 UPDATE: Including a new clause…
"5.2 Participating in eating or drinking of alcohol, in the family home or in any other place of residence, must not be attended by outsiders. In addition, gathering together or the organising of any other activities is prohibited. If the person who violates or commits this offence is a foreigner, the permission to remain living in Thailand under the Immigration Act could be revoked."
The new clause added to the extension of the restrictions includes a specific paragraph aimed at banning gatherings of people at their homes. Obviously with THIS in mind.
ORIGINAL STORY:
Phuket's list of current 'Covid' restrictions have been extended until at least May 31. All the current levels of restrictions will remain until the end of the month after the Phuket Governor announced the continuation of restrictions this afternoon.
Daily new infection numbers continue to add to the island's total of 556 since the start of April. The island's latest wave started after a series of events, mostly Bangkok partygoers flying down for parties at Café Del Mar in Kamala, Illusion and Shelter, both in Bangla Road. The parties were organised by a Thong Lor based events company called Kolour. The daily numbers, whilst relatively stable, have not been going down as officials were hoping.
The announcement also puts any hope of a July 1 'quarantine free' tourism opening in severe doubt. The island's vaccine roll out has also slowed since the initial flurry of enthusiasm. Only 22% of Phuket's population has currently been vaccinated (a long way ahead of the rest of the country) whilst the minimum vaccination level has to reach 70% according to the Government before they will entertain the 'Sandbox' opening proposal.
Entry to the island, by road or air, will remain restricted and anyone without proof of vaccination or a current PCR Covid test (within 72 hours) will have to do a full 14 day quarantine period (after May 15). The rapid Covid tests that were being conducted at the airport and Tha Chatchai Checkpoint are being stopped from this Saturday.
Notably, following the story of foreigners in Cherngtalay being fined 6,000 baht each for hosting a party at their home on Sunday night, the ban on gatherings and parties will continue.
Meanwhile, the island has reported its first death during the third wave of cases since the start of April, and a new cluster of infections in the Phoon Pon district in Phuket Town. The man that died was a 71 year old man who died yesterday morning.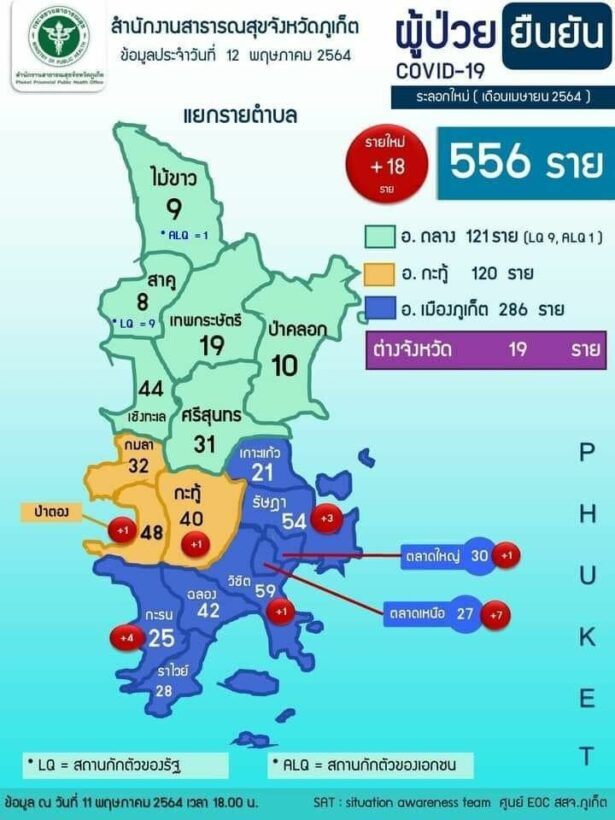 Want more from the Thaiger family?
📱 Download our app on Android or iOS for instant updates on your mobile
📧 Subscribe to our daily email newsletter
👍 Like/Follow us on Facebook
🔔 Subscribe to or Join our YouTube channel for daily video updates