Phuket
Just 3 days to deadline for Phuket's yellow pages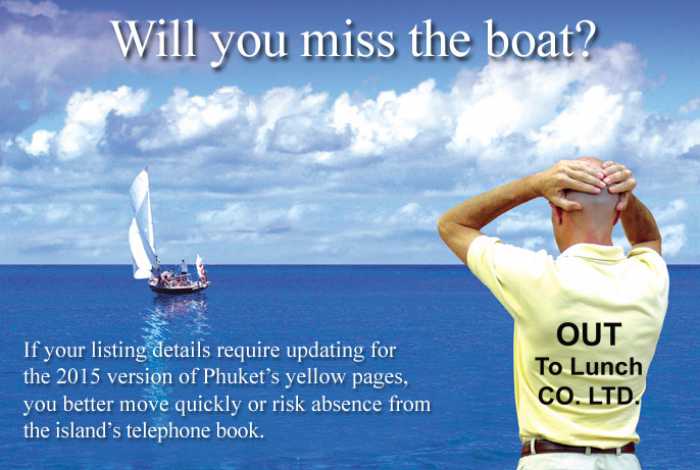 /PHUKET: Businesses wishing to appear in the 2015 Gazette Guide Business Directory, Phuket's "yellow pages", have until noon on Wednesday, December 10, to enter (or update) their listings.
Businesses not listed by that date will not appear in the directory until 2016.
The book for 2015, with details of about 2,500 businesses serving the international community on Phuket, will be released on January 15.
Listings – which are for Phuket, Phang Nga, Krabi and Samui only – can be entered (or updated) here in the Gazette Online, which has long enjoyed Google's top page popularity ranking for Phuket.
To ensure that all listings are correct in every detail, Phuket Gazette staff do not have access to the database and are therefore unable to act on telephone or email instructions to enter or alter listings in any way.
"Stale" listings, those which have not been updated for a period of 24 months, will be deleted automatically from the directory database at 2pm on December 11, after which the database will be closed for any additions or amendments until the end of this month.
All basic listings are free of charge, both on line and in the hard-copy book. Premium features, such as multiple business categories, bold typefaces, web links and maps, are available at a nominal charge, which can be paid on line.
All listings are in English and, as always, the book will be available throughout Phuket and its neighboring provinces, as well as in the guest rooms of Phuket's leading hotels.
The price of the directory, on sale at retailers all over the island, remains unchanged for 2015 at 50 baht.
For bulk delivery discounts (for hotels, clubs, associations and so on), contact anna@phuketgazette.net.