Phuket
Island Ironman calls for charity sponsorship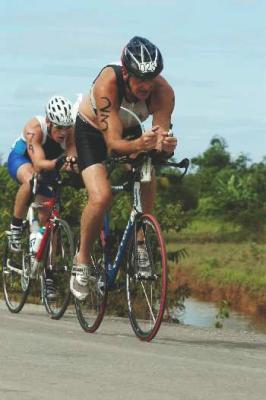 PHUKET: Les Bird, Phuket's resident ironman athlete, who is competing in this year's Ironman Australia Triathlon, at Port Macquarie in New South Wales on April 2, has issued a plea for sponsors to back him to raise money for charity.
All sponsor donations will go to the Maesai Childlife Foundation in Chiang Rai, he explained.
Mr Bird hopes to complete the grueling race, comprising a 3.8-kilometer swim, a 180-km cycle race and a 42.2-km run, in less than 14 hours.
"I hope to raise 500,000 baht, and I am working closely with Childlife on how this would be allocated. Any money donated will go to support Childlife," said Mr Bird.
"The Maesai Childlife Foundation is a Thai non-government organization that helps children who have been subjected to, or who are at risk of child labor, human trafficking or commercial sexual exploitation. It cares for all children in need, regardless of ethnicity, nationality or religion.
"Most of the children receiving care from Childlife have been displaced from their homes in northern Thailand as a result of Thai-Burmese cross-border conflicts. They have been subjected to, or are in danger of, human rights abuses, forced labor, and other physical abuse as a result of the fighting," he explained.
Mr Bird said that he will be paying all costs associated with taking part in the Ironman Australia competition. "When you make a contribution, please indicate that you are doing so in support of 'Ironman Triathlon'," he added. "That way we can track your donation and can inform you later of the results."
Mr Bird has a solid record of using sporting events as fund-raisers. In 2004, running in the Gold Coast Marathon, also in Australia, he raised 450,000 baht for Phuket's Life Home Foundation, which cares for children and mothers affected by Aids, and last year he raised a significant amount for the Phuket Tsunami Recovery Fund by taking part in the New Zealand Ironman Triathlon.
To make a sponsor pledge, email Mr Bird at: lesbird@loxinfo.co.th. For more information on the Maesai Childlife Foundation or to make a direct donation, click here. For more information about the Ironman Australia Triathlon, click here.