Phuket
International Sports: Assumptions that cricket has largely eradicated corruption are challenged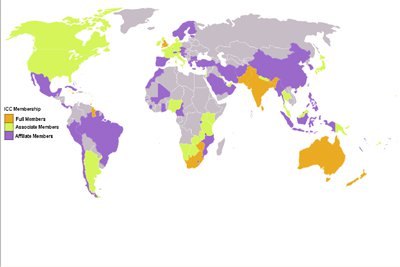 Spot fixing threatens integrity of modern game
Reuters / Phuket Gazette
PHUKET: Any comfortable assumptions that world cricket has largely eradicated corruption after the shock of the Hansie Cronje match-fixing scandal are challenged in a disturbing new book investigating India's illegal bookmaking underworld.
In "Bookie Gambler Fixer Spy; A Journey to the Heart of Cricket's Underworld", English author and cricket betting tipster Ed Hawkins says his confidence in the sport has been eroded "on the long trip to cricket's corrupt core".
Early in the book, Hawkins describes a bookmaker's message sent to him during last year's World Cup semi-final between India and Pakistan, accurately predicting the course of the match. He watches, with a friend, "in a daze" as the match won by India, unfolds as outlined in the script.
Hawkins says during the course of his investigations he was given the names of 45 former and current internationals and domestic cricketers alleged to have been involved in corrupt activities. None of them are named for legal reasons.
Finally, he says, English county one-day matches, broadcast live on television in India, are now being targeted by bookmakers and fixers.
Hawkins's three-year journey started at the site of a London shop owned by the bookmaker recorded by Delhi police fixing matches with former South Africa captain Cronje in 1999.
It continued in India where he met bookmakers, punters and fixers and included lengthy interviews with Paul Condon, the first director of the International Cricket Council's Anti-Corruption and Security Unit (ACSU), and Lalit Modi, the man behind the Indian Premier League who said his life had been threatened three times by mobsters.
Cronje, who died in a plane crash 10 years ago, and two other international captains Mohammad Azharuddin (India) and Salim Malik (Pakistan) were banned for life for fixing the results of matches.
Insidious crime
Spot-fixing, the manipulation of individual incidents within a match which may not affect the result, is a more insidious crime and one which can be impossible to detect.
It hit the international headlines when Pakistan players Salman Butt, Mohammad Asif and Mohammad Amir were jailed after arranging for deliberate no-balls to be delivered in the 2010 Lord's test against England.
Hawkins learned that Indian bookmakers had four markets in all forms of cricket: the innings' scores, the match outcome, the favourites at an interval and the bracket scores – for example the number of runs scored in a 10-over segment in a 50-overs match or a six-over segment in a Twenty20 match.
Brackets are alarmingly easy to manipulate by the illegal syndicates who set the odds, if they can bribe a corrupt player.
"Spot-fixing is not what people think it is. So, for example, a corrupter might say to a captain 'move your gully fielder five yards to the left or the right and instruct your bowler to bowl just outside off-stump'," Hawkins told Reuters in an interview.
"So the batsman cuts and up goes the run tally. And people think wrongly the market is for there to be no gully fielder, or for a fielder to be positioned in a particular place. But what is actually happening is that they are manipulating the session's runs or the bracket because they want runs to be scored.
"If you a corrupter and you know that you've got your captain on side and he is going to make sure runs are scored then they are able to manipulate the odds in their favour. So the syndicate can send out fake odds tempting gamblers, and as you know there are thousands in India, to bet a certain way, to bet on not many runs being scored when they know lots of runs are going to be scored because the captain is in their pocket.
"It is just like insider trading and the alarming thing about it is that it is such a subtle art so you have the potential for almost every game to be manipulated. Just for one ball you've got fixing."
Whereas match-fixing requires the connivance of at least one of the captains, spot-fixing needs only one corrupt player who agrees to under-perform with either bat or ball at a certain stage of the match to influence the number of runs scored. For that reason, Hawkins said, the emphasis had shifted from match-fixing to spot-fixing.
County treadmill
Hawkins said the 45 players whose names he had been given came from each of the test-playing nations apart from Bangladesh.
"Included in that are players who have retired and players who have not played international cricket," he said.
He said there was "huge potential" for corruption in county cricket.
"County cricket is so vulnerable because it's a little bit of a treadmill, there are a lot of games and players don't get paid a lot of money," he said.
"For someone earning 40 grand (pounds) a year, if he could earn a fair chunk of that by just batting out a maiden over…he's not affecting the result, he's not really getting found out, why wouldn't that player do it?
"It's an enticing option for a cricketer. So county cricket has to face up to it, there are going to be lots of approaches to players, lots of attempts to corrupt them, to try out spot-fixing, maybe less so match-fixing because obviously that's a lot harder."
Hawkins, who has shared his information with the cricketing authorities, said he not included a lot of the information he had received in the book for legal reasons.
"I didn't expect to find all this stuff and I certainly didn't seek it out. I didn't expect to get all the information like I did for the semi-final," he said.
"I can't watch a game again in the same way, when you've got as close to the illegal market as I have, heard all the things that I have."
— Reuters

Join the conversation and have your say on Thailand news published on The Thaiger.
Thaiger Talk is our new Thaiger Community where you can join the discussion on everything happening in Thailand right now.
Please note that articles are not posted to the forum instantly and can take up to 20 min before being visible. Click for more information and the Thaiger Talk Guidelines.