International Sports: Assumptions that cricket has largely eradicated corruption are challenged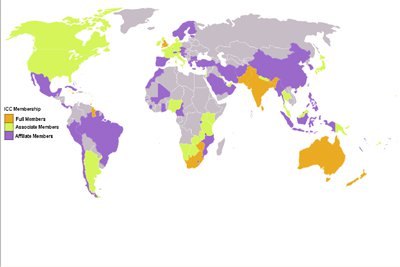 Spot fixing threatens integrity of modern game
Reuters / Phuket Gazette
PHUKET: Any comfortable assumptions that world cricket has largely eradicated corruption after the shock of the Hansie Cronje match-fixing scandal are challenged in a disturbing new book investigating India's illegal bookmaking underworld.
In "Bookie Gambler Fixer Spy; A Journey to the Heart of Cricket's Underworld", English author and cricket betting tipster Ed Hawkins says his confidence in the sport has been eroded "on the long trip to cricket's corrupt core".
Early in the book, Hawkins describes a bookmaker's message sent to him during last year's World Cup semi-final between India and Pakistan, accurately predicting the course of the match. He watches, with a friend, "in a daze" as the match won by India, unfolds as outlined in the script.
Hawkins says during the course of his investigations he was given the names of 45 former and current internationals and domestic cricketers alleged to have been involved in corrupt activities. None of them are named for legal reasons.
Finally, he says, English county one-day matches, broadcast live on television in India, are now being targeted by bookmakers and fixers.
Hawkins's three-year journey started at the site of a London shop owned by the bookmaker recorded by Delhi police fixing matches with former South Africa captain Cronje in 1999.
It continued in India where he met bookmakers, punters and fixers and included lengthy interviews with Paul Condon, the first director of the International Cricket Council's Anti-Corruption and Security Unit (ACSU), and Lalit Modi, the man behind the Indian Premier League who said his life had been threatened three times by mobsters.
Cronje, who died in a plane crash 10 years ago, and two other international captains Mohammad Azharuddin (India) and Salim Malik (Pakistan) were banned for life for fixing the results of matches.
Insidious crime
Spot-fixing, the manipulation of individual incidents within a match which may not affect the result, is a more insidious crime and one which can be impossible to detect.
It hit the international headlines when Pakistan players Salman Butt, Mohammad Asif and Mohammad Amir were jailed after arranging for deliberate no-balls to be delivered in the 2010 Lord's test against England.
Hawkins learned that Indian bookmakers had four markets in all forms of cricket: the innings' scores, the match outcome, the favourites at an interval and the bracket scores – for example the number of runs scored in a 10-over segment in a 50-overs match or a six-over segment in a Twenty20 match.
Brackets are alarmingly easy to manipulate by the illegal syndicates who set the odds, if they can bribe a corrupt player.
"Spot-fixing is not what people think it is. So, for example, a corrupter might say to a captain 'move your gully fielder five yards to the left or the right and instruct your bowler to bowl just outside off-stump'," Hawkins told Reuters in an interview.
"So the batsman cuts and up goes the run tally. And people think wrongly the market is for there to be no gully fielder, or for a fielder to be positioned in a particular place. But what is actually happening is that they are manipulating the session's runs or the bracket because they want runs to be scored.
"If you a corrupter and you know that you've got your captain on side and he is going to make sure runs are scored then they are able to manipulate the odds in their favour. So the syndicate can send out fake odds tempting gamblers, and as you know there are thousands in India, to bet a certain way, to bet on not many runs being scored when they know lots of runs are going to be scored because the captain is in their pocket.
"It is just like insider trading and the alarming thing about it is that it is such a subtle art so you have the potential for almost every game to be manipulated. Just for one ball you've got fixing."
Whereas match-fixing requires the connivance of at least one of the captains, spot-fixing needs only one corrupt player who agrees to under-perform with either bat or ball at a certain stage of the match to influence the number of runs scored. For that reason, Hawkins said, the emphasis had shifted from match-fixing to spot-fixing.
County treadmill
Hawkins said the 45 players whose names he had been given came from each of the test-playing nations apart from Bangladesh.
"Included in that are players who have retired and players who have not played international cricket," he said.
He said there was "huge potential" for corruption in county cricket.
"County cricket is so vulnerable because it's a little bit of a treadmill, there are a lot of games and players don't get paid a lot of money," he said.
"For someone earning 40 grand (pounds) a year, if he could earn a fair chunk of that by just batting out a maiden over…he's not affecting the result, he's not really getting found out, why wouldn't that player do it?
"It's an enticing option for a cricketer. So county cricket has to face up to it, there are going to be lots of approaches to players, lots of attempts to corrupt them, to try out spot-fixing, maybe less so match-fixing because obviously that's a lot harder."
Hawkins, who has shared his information with the cricketing authorities, said he not included a lot of the information he had received in the book for legal reasons.
"I didn't expect to find all this stuff and I certainly didn't seek it out. I didn't expect to get all the information like I did for the semi-final," he said.
"I can't watch a game again in the same way, when you've got as close to the illegal market as I have, heard all the things that I have."
— Reuters
Keep in contact with The Thaiger by following our
Facebook page
.
Never miss out on future posts by
following The Thaiger
.
Female prisoner on the run after escaping from Phuket Hospital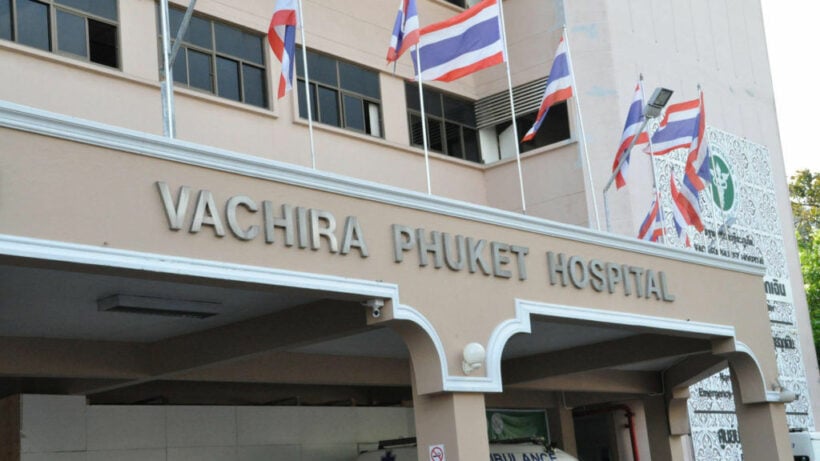 A female prisoner is on the run after escaping from Vachira Hospital in Phuket during a doctor's appointment. 58 year old Siri Phodam allegedly escaped after asking her prison escort officer to use the toilet. But she took a long time to come back, and was found to have escaped. CCTV cameras caught her dressed in a blue hospital patient shirt and a sarong leaving the hospital quickly. A Phuket prison officer says the woman is 158 centimetres tall and has dark skin.
"Some of our own officers are searching for her, and we have also sent the prisoner's description to all Phuket police stations. However, at this stage we have not found any clues."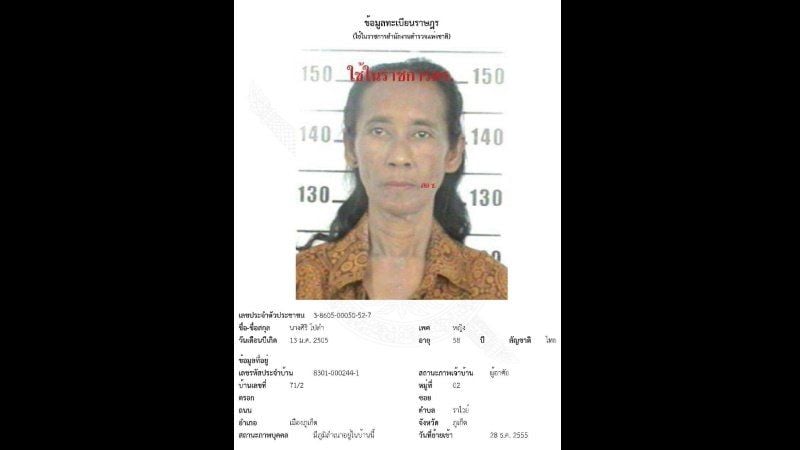 "If anyone finds a person matching the prisoner's appearance, please inform us by calling 076 212 104."
Siri was imprisoned after being charged with posessing illegal drugs and lived in Moo 2, Rawai.
SOURCE: The Phuket News
Keep in contact with The Thaiger by following our
Facebook page
.
Never miss out on future posts by
following The Thaiger
.
Phuket's annual vegetarian festival gets the green light – VIDEO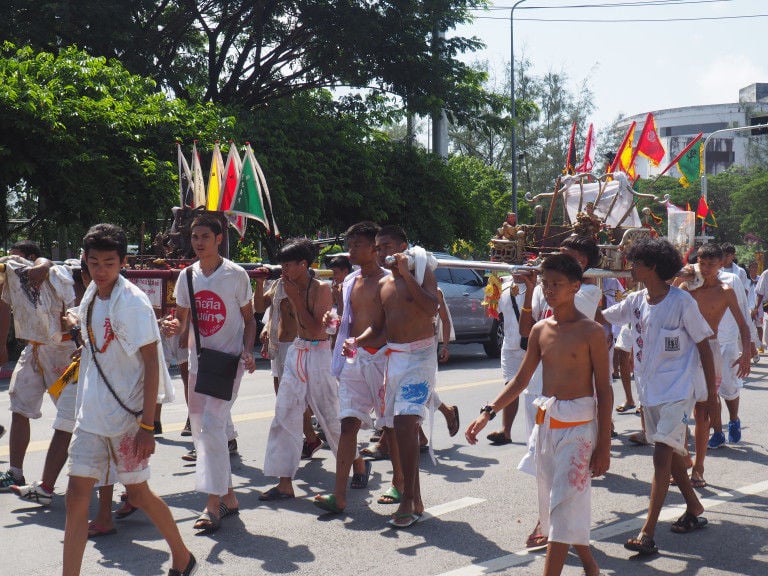 WARNING: The content below contains photos and videos of self-mutilation that some may find disturbing.
Somehow Phuket's annual vegetarian festival is to go ahead next month, but officials say they will ask participants to strictly observe social distancing. Good luck with that! For those who don't know, the festival isn't exactly known for the food. It's known for blood, body mutilation and more blood.
During street processions for the weeklong event, also known as the Nine Gods Festival, so called "mah songs" are known to practice self-mutilation and are said to enter a trance-like state, channeling spirits through their body. "Mah" means horse in Thai, and many suggest the mah song acts like a horse for the spirit to ride.
Many mah songs pierce their checks, ears and lips, some with large swords and thick needles. Some slice their tongues continuously for hours, blood dripping down on the street. Others appear to be in a trace walk barefoot as firecrackers explode on the ground.
Mah songs march down Phuket's streets for hours with a team of devotees to help tend to their wounds, adjust the piercings, wipe away drool and blood, and keep them hydrated. It's understood that devotees wear white as a symbol of purity. It's also reported that they abstain from eating meat, drinking alcohol and having sex during the weeklong festival.
It seems gruesome, but it's actually very spiritual. Business owners and locals line the street, some setting up altars. Mah songs stop at each one and do a quick ritual. Some mah songs carry a black flag, waving it over onlookers who bow their heads and place their hands in the "wai" position. Some spend time blessing the elderly and handing out bracelets to children. During a procession last year, a woman held up a bracelet as said "the 'Spirit' gave this to my mother."
This year, the festival will have to be a little different to abide by coronavirus prevention measures. The Bangkok Post says it's the first festival since the outbreak. The head festival organiser Prasert Fukthongphol says "we will seriously enforce social distancing measures and require all participants to wear face masks."
The grotesque piercings, noisy parades and visits to the shrine, are good news for Phuket's tourism and bad news if you're a vegetable. Many adherents to the Chinese-heritage local festival will go without sex, alcohol and meat for the week of so of the festival. The week of events and ceremonies hopes to scare away the bad gods again but, especially this year, attract some extra visitors to the festival.
Another Vegetarian Festival in Chon Buri has also been given the green light. The event is planned for October 16 to the 26. This year's main event for the festival will be in Naklua at Sawangboriboon Thammasathan Foundation at the Sein Sua Chinese Temple, but many other events will be around the city throughout the week.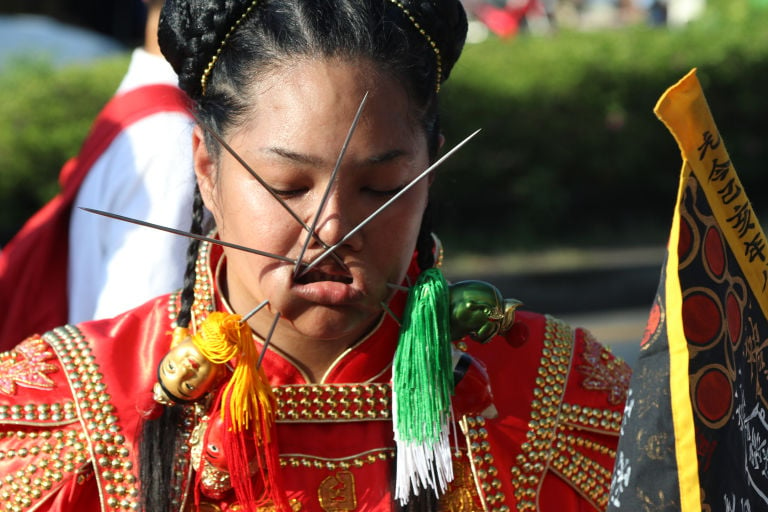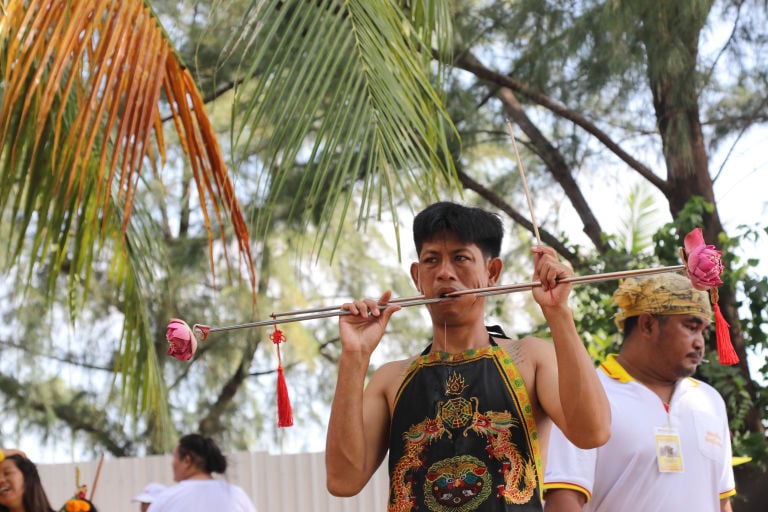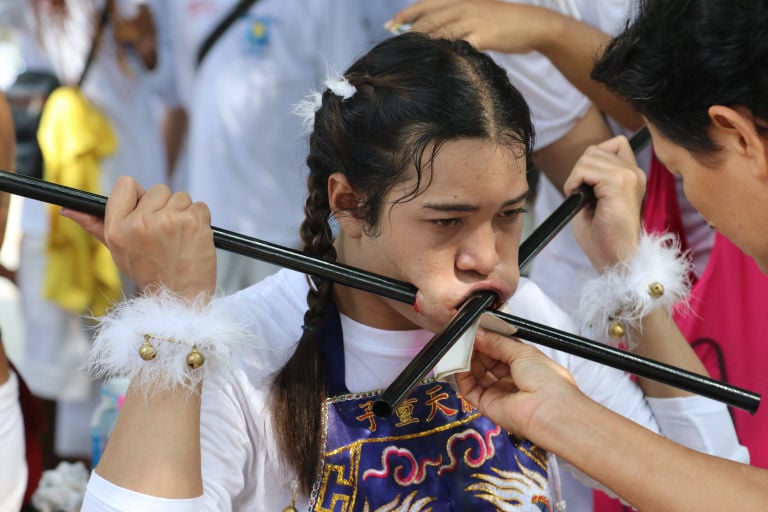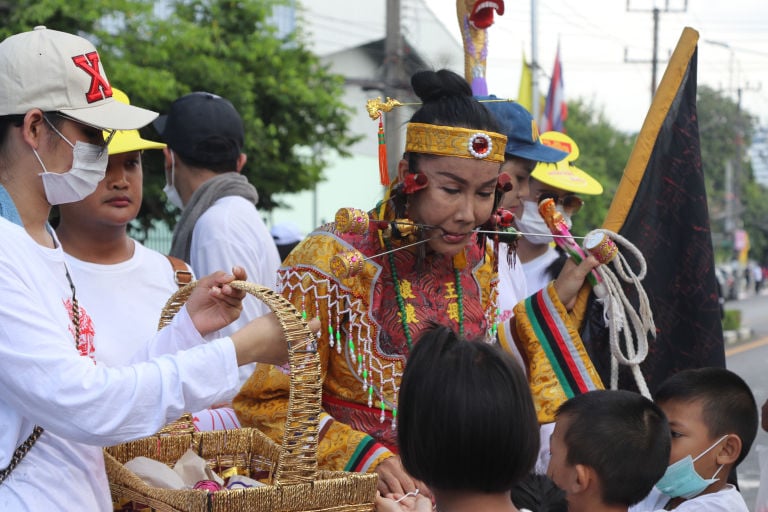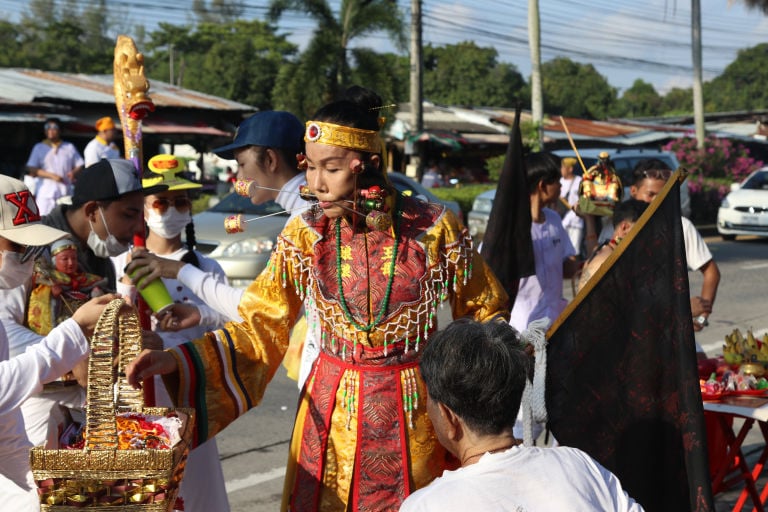 SOURCES: Bangkok Post | Pattaya News
Catch up with the latest daily "Thailand News Today" here on The Thaiger.
Keep in contact with The Thaiger by following our
Facebook page
.
Never miss out on future posts by
following The Thaiger
.
Officials says no illegal land encroachment at Phuket's Sri Panwa resort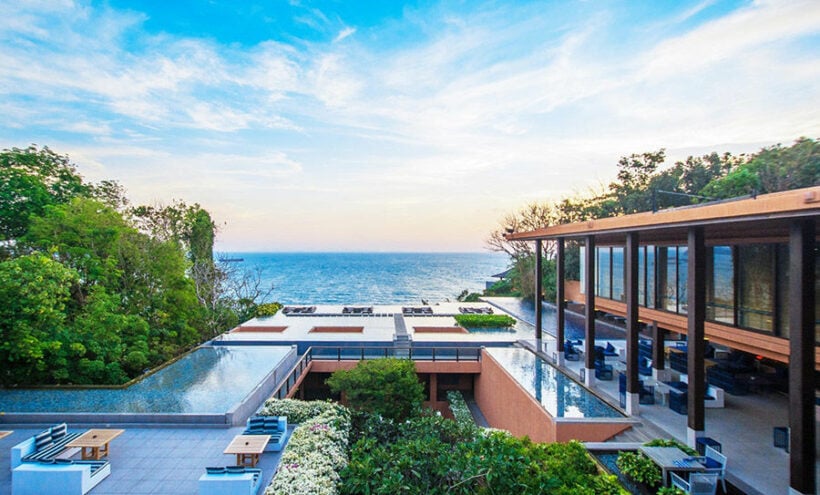 After coming in for some negative online attention recently, the land title deeds of the Sri Panwa Phuket resort have been investigated and found "to be in order". The 5-star hotel first attracted the attention of netizens when its owner, Vorasit Issara, publicly criticised anti-government activist Panusaya Sithijirawattanakul, calling for her arrest. He also claimed she wasn't Thai, a factually wrong and inflammatory statement.
His Instagram tirade prompted outrage from those who support the current protest movement, with netizens calling for a boycott of his property and leaving several negative comments on various review sites. Trip Advisor suspended the hotel's account due to the online attack.
Shortly after, the Civil Society for State Welfare called on the Social Security Office to clarify its investment in the resort's trust fund. This was echoed by at least one opposition MP and anti-corruption activists.
Responding to the land rights issue, the Phuket Land Office has issued a statement to say the hotel does not occupy state land. The resort stands on 56 rai of prime real estate, overlooking Phuket's south-eastern coast. The land office has confirmed its paperwork is all in order.
Meanwhile, it's understood Charn Issara Development, owners of the property, have threatened to sue the resort's critics for defamation.
SOURCE: Nation Thailand
Catch up with the latest daily "Thailand News Today" here on The Thaiger.
Keep in contact with The Thaiger by following our
Facebook page
.
Never miss out on future posts by
following The Thaiger
.