International Sports: Assumptions that cricket has largely eradicated corruption are challenged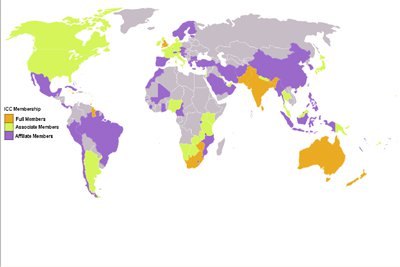 Spot fixing threatens integrity of modern game
Reuters / Phuket Gazette
PHUKET: Any comfortable assumptions that world cricket has largely eradicated corruption after the shock of the Hansie Cronje match-fixing scandal are challenged in a disturbing new book investigating India's illegal bookmaking underworld.
In "Bookie Gambler Fixer Spy; A Journey to the Heart of Cricket's Underworld", English author and cricket betting tipster Ed Hawkins says his confidence in the sport has been eroded "on the long trip to cricket's corrupt core".
Early in the book, Hawkins describes a bookmaker's message sent to him during last year's World Cup semi-final between India and Pakistan, accurately predicting the course of the match. He watches, with a friend, "in a daze" as the match won by India, unfolds as outlined in the script.
Hawkins says during the course of his investigations he was given the names of 45 former and current internationals and domestic cricketers alleged to have been involved in corrupt activities. None of them are named for legal reasons.
Finally, he says, English county one-day matches, broadcast live on television in India, are now being targeted by bookmakers and fixers.
Hawkins's three-year journey started at the site of a London shop owned by the bookmaker recorded by Delhi police fixing matches with former South Africa captain Cronje in 1999.
It continued in India where he met bookmakers, punters and fixers and included lengthy interviews with Paul Condon, the first director of the International Cricket Council's Anti-Corruption and Security Unit (ACSU), and Lalit Modi, the man behind the Indian Premier League who said his life had been threatened three times by mobsters.
Cronje, who died in a plane crash 10 years ago, and two other international captains Mohammad Azharuddin (India) and Salim Malik (Pakistan) were banned for life for fixing the results of matches.
Insidious crime
Spot-fixing, the manipulation of individual incidents within a match which may not affect the result, is a more insidious crime and one which can be impossible to detect.
It hit the international headlines when Pakistan players Salman Butt, Mohammad Asif and Mohammad Amir were jailed after arranging for deliberate no-balls to be delivered in the 2010 Lord's test against England.
Hawkins learned that Indian bookmakers had four markets in all forms of cricket: the innings' scores, the match outcome, the favourites at an interval and the bracket scores – for example the number of runs scored in a 10-over segment in a 50-overs match or a six-over segment in a Twenty20 match.
Brackets are alarmingly easy to manipulate by the illegal syndicates who set the odds, if they can bribe a corrupt player.
"Spot-fixing is not what people think it is. So, for example, a corrupter might say to a captain 'move your gully fielder five yards to the left or the right and instruct your bowler to bowl just outside off-stump'," Hawkins told Reuters in an interview.
"So the batsman cuts and up goes the run tally. And people think wrongly the market is for there to be no gully fielder, or for a fielder to be positioned in a particular place. But what is actually happening is that they are manipulating the session's runs or the bracket because they want runs to be scored.
"If you a corrupter and you know that you've got your captain on side and he is going to make sure runs are scored then they are able to manipulate the odds in their favour. So the syndicate can send out fake odds tempting gamblers, and as you know there are thousands in India, to bet a certain way, to bet on not many runs being scored when they know lots of runs are going to be scored because the captain is in their pocket.
"It is just like insider trading and the alarming thing about it is that it is such a subtle art so you have the potential for almost every game to be manipulated. Just for one ball you've got fixing."
Whereas match-fixing requires the connivance of at least one of the captains, spot-fixing needs only one corrupt player who agrees to under-perform with either bat or ball at a certain stage of the match to influence the number of runs scored. For that reason, Hawkins said, the emphasis had shifted from match-fixing to spot-fixing.
County treadmill
Hawkins said the 45 players whose names he had been given came from each of the test-playing nations apart from Bangladesh.
"Included in that are players who have retired and players who have not played international cricket," he said.
He said there was "huge potential" for corruption in county cricket.
"County cricket is so vulnerable because it's a little bit of a treadmill, there are a lot of games and players don't get paid a lot of money," he said.
"For someone earning 40 grand (pounds) a year, if he could earn a fair chunk of that by just batting out a maiden over…he's not affecting the result, he's not really getting found out, why wouldn't that player do it?
"It's an enticing option for a cricketer. So county cricket has to face up to it, there are going to be lots of approaches to players, lots of attempts to corrupt them, to try out spot-fixing, maybe less so match-fixing because obviously that's a lot harder."
Hawkins, who has shared his information with the cricketing authorities, said he not included a lot of the information he had received in the book for legal reasons.
"I didn't expect to find all this stuff and I certainly didn't seek it out. I didn't expect to get all the information like I did for the semi-final," he said.
"I can't watch a game again in the same way, when you've got as close to the illegal market as I have, heard all the things that I have."
— Reuters
Keep in contact with Thaiger by following our Facebook page.
Never miss out on future posts by following Thaiger.
Hotel blog suggests Phuket should push ahead with July reopening despite Covid surge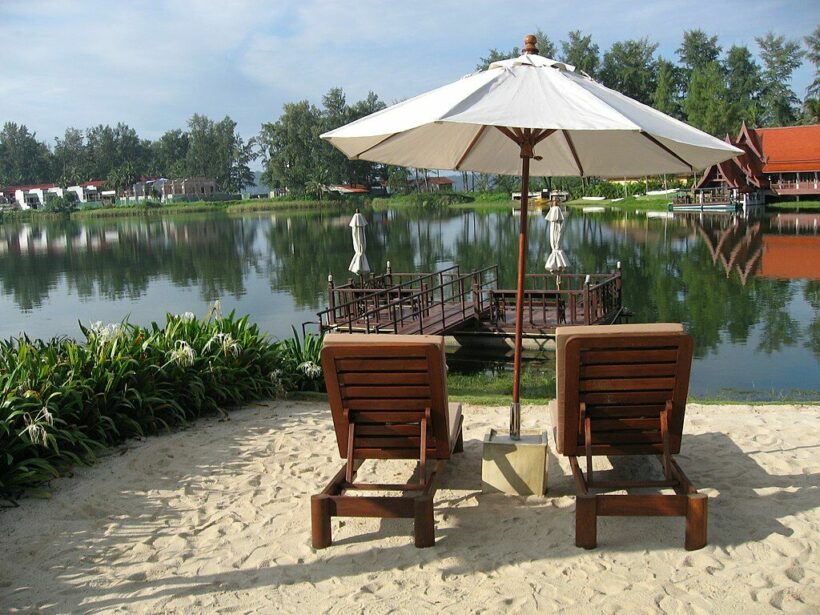 A hotel information blog is claiming that, despite growing Covid-19 numbers, Phuket should stick to its schedule in reopening to travellers without quarantine in July. That's only 2 and a half months away.
In an interview with the Director of Travel and Tourism Consulting at GlobalData, they stressed that while it is crucial to reign in the spread of Covid-19 and the B117 strain now manacing Thailand, the risk must not overshadow the need teo push forward with vaccinations and the march towards eliminating the quarantine by July in order to save the tourism industry and all those dependent on it.
"The Phuket pilot program is essential in creating a path towards economic recovery for Thailand, a country heavily dependent on tourism. More than 17% of Thailand's gross domestic product is attributed to tourism and the Covid-19 pandemic has lead to the worst economic free-fall in over 20 years"
The blog acknowledges the inherent risk and possible appearance of foolishness to prioritise the plans to reopen and carry on with the same rollout schedule. But they urge Thai authorities to consider that July 1 is still 2 and a half months away, leaving ample time to recover and make progress towards the approaching Phuket reopening. A vital aspect of the reopening plan lies in vaccinating over 70% of Phuket's provincial residents, a sizable task, but one that brings great benefit with or without the scheduled reopening.
"Pushing ahead to achieve this goal puts Phuket on track to welcome back tourists, perhaps in a "bio-bubble", and restart the economy. The economy is desperate with household debt growing, pushing the government to enact emergency decrees to provide relief. These households need the return of tourism and the influx of cash international tourists will bring."
The blog hopes that Thai authorities can balance the necessary Covid-19 safety measures in Phuket to protect the Thai population with the economic need to bring back tourism. They believe that with sufficient measures in place, vaccinated locals could welcome vaccinated international tourists back to Phuket reopening safely in July.
SOURCE: Hotel News Resource
Keep in contact with Thaiger by following our Facebook page.
Never miss out on future posts by following Thaiger.
UPDATE: Field hospitals being established in Covid hot zones around Thailand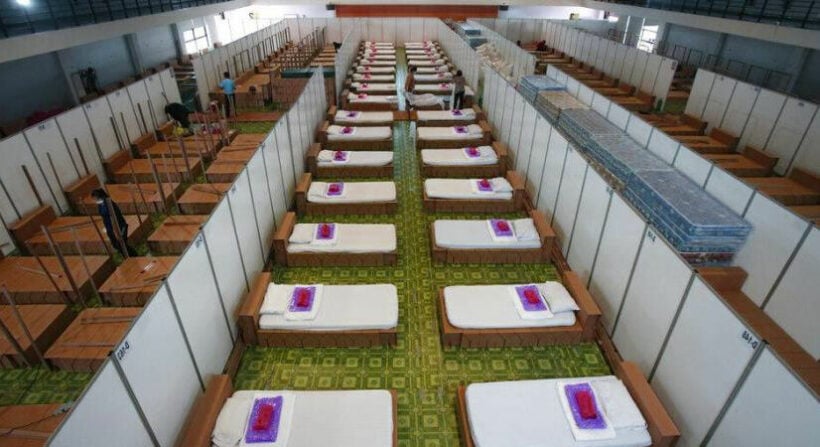 UPDATE: The field hospital in Bangkok's Bang Bon district, west of the Chao Phraya river, had its first 10 Covid patients today. The director of the medical services office of the Bangkok Metropolitan Administration says that the 10 patients into the makeshift hospital, located at the Chalerm Phra Kiat Stadium, will enable assessment of the performance by the medical team, before more patients arrive – Thai PBS World
ORIGINAL STORY: Despite the confident posture and Songkran going ahead, amid restrictions, there is a lot of background activity which suggest the authorities are getting ready for a surge of new infections at the end of the Songkran break, officially this Thursday (but in reality, next Sunday at the end of the weekend when most people who travelled home will return for a resumption of work).
The Thai lunar new year celebrations – Songkran – are the largest mass movement of Thais each year, a source for a huge leap in road deaths and accidents. And, this year, a potential super-spreader event.
Quietly, at least 3,000 extra beds have been prepared in 10 field hospitals around Bangkok. The government has also confirmed that additional field hospitals are being set up in other potential 'hot zones', including Phuket, Chiang Mai, Chonburi and Hua Hin. Some of them were set up last year, and since closed, and now being prepared for new positive infections.
One Thai person who had been in one of the field hospitals put together a check-list of things to take IF you end up as an invited 'guest' HERE.
The CCSA say they are looking for additional beds in hotels and previous state quarantine facilities (where repatriating Thais were housed for their free quarantine) to be used if needed.
This year's Songkran had bad timing, coming just a week after a number of major clusters were identified around some of Bangkok's popular nightlife areas in 3 key inner city districts. Even before Songkran these isolated clusters had already spread into the provinces. In the weekend before Songkran the government had already listed 37 provinces which had instigated some form of paperwork or restrictions for people who had been in any of the 3 Bangkok districts.
The government also leapt on the source of the new outbreaks – bars, clubs and entertainment venues – and promptly shut them down for at least 2 weeks. At this stage it looks likely that that ban will be extended beyond the 2 weeks and, depending on the extent of new infections following the Songkran holiday, additional restrictions will also be added.
Even today the Civil Aviation Authority published a number of new in-flight restrictions for passengers – another blow to the hard-hit domestic aviation sector.
Keep in contact with Thaiger by following our Facebook page.
Never miss out on future posts by following Thaiger.
Tourism officials slash Songkran travel expectations by half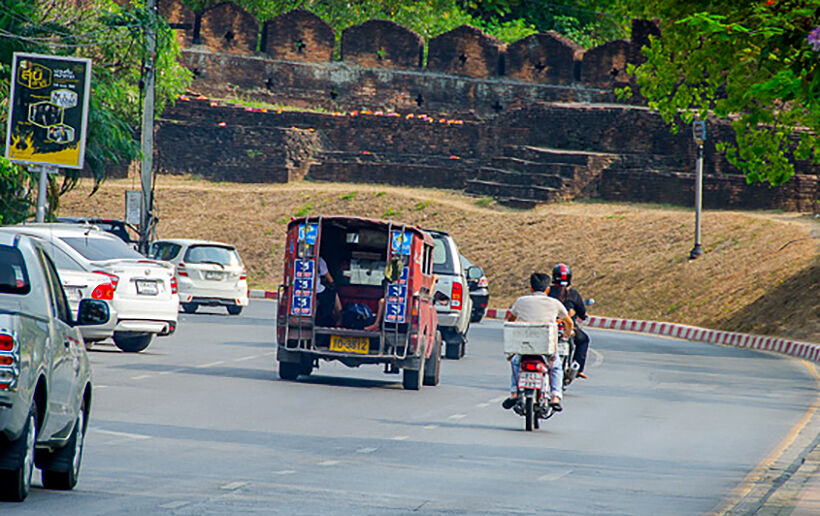 The TAT, ever the optimists regarding anything tourism related, even domestic tourism, predict that the Bangkok clusters that have emerged in the week before the Songkran break could reduce traffic and spending by up to half.
Today the CCSA is reporting 789 new infections and one additional death. 522 were local infections, mostly walk-ins to Bangkok hospitals, 259 were discovered through track and tracing. The remaining 8 were found in quarantine from overseas arrivals. In Phuket, another 17 cases have been reported today, taking the island's week total to 43.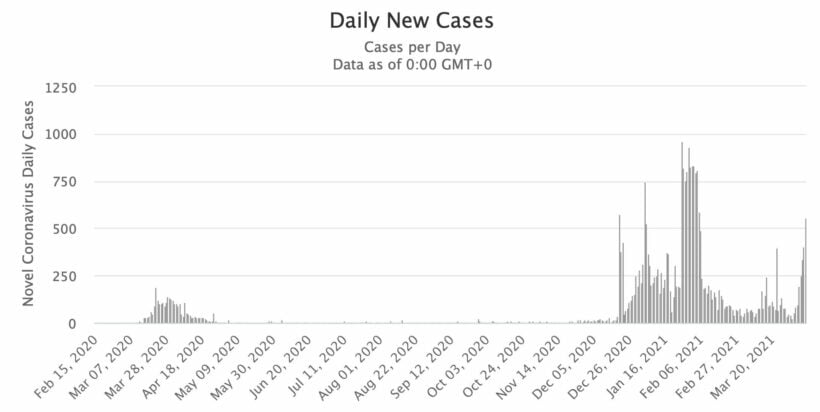 GRAPH: Worldometer figures for Thailand, up to April 9
A 68 year old man from Nakhon Pathom province died on April 4 but wasn't reported until today. The CCSA report that he died from Covid and "complications". 33 other former patients have recovered and been discharged.
Last week the TAT estimated 3.2 million domestic trips would circulate 12 billion baht for the Thai economy. But the Tourism Authority has now slashed their estimates by half after hotels, airlines and bus companies reported mass cancellations in the last few days. Other provinces are reporting less than 20% cancellations. Although this weekend will see a lot of travel, Songkran doesn't formally start until next Tuesday and the TAT expect there could be additional fallout as travellers decide to have a staycation for Songkran instead heading home.
Bangkok Post reports that 70% of travellers to Prachuap Khiri Khan and Hua Hin have already cancelled hotel bookings. Similar cancellations have been reported in Pattaya, Phuket and Chiang Mai. Many other provinces, particularly in the north east and north, are also enforcing quarantine on arrivals or additional paperwork to try and protect their provinces from any of the Bangkok clusters.
8 north eastern provinces rare now requiring 10 or 14 day quarantine periods for anyone arriving from areas where new clusters have been reported. Chiang Mai provincial officials say that tourists from Samut Prakan, Nakhon Pathom, Bangkok, Pathum Thani and Nonthaburi – basically Bangkok and surrounding provinces – must complete a 14 day mandatory quarantine or conduct a test for Covid when they arrive.
The reality is that the travel and quarantine changes are outstripping the ability to communicate them all. Anyone crossing into other provinces in the next few day, especially if you're travelling from Bangkok and surrounding provincial 'red zones' can expect some additional paperwork or a Covid test. Or even quarantine.
Keep in contact with Thaiger by following our Facebook page.
Never miss out on future posts by following Thaiger.