Phuket
Dog shelter begging for attention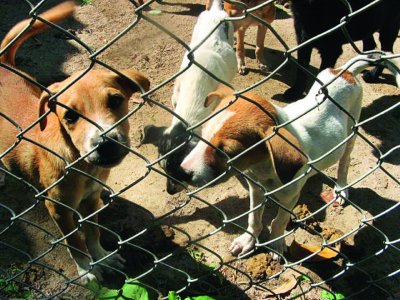 THALANG: Phuket's uncared-for canines are last in line for handouts as funding dries up and food supplies dwindle at the Mid Road Dog Shelter in Baan Kanoon, Thalang.

The shelter – managed by the Phuket Provincial Livestock Office (PPLO) and where registered animal welfare charity Soi Dog Foundation (SDF) have operated from since January – is currently home to more than 400 of the island's neglected canines.

Due to concerns of overcrowding at the shelter, Udomsak Uswarangkura during his term as Phuket Governor imposed a 500-dog limit at the shelter.

However, more dogs continue to arrive at the shelter and many are still suffering from sicknesses, malnutrition and injuries.

The SDF brought in additional staff, volunteers and the promise of more funding to help improve conditions and treatment of the animals at the shelter with the goal to house, vaccinate and sterilize dogs brought there so they may later be adopted.

Despite the SDF recording an income of just over 5.5 million baht from January 1 to December 31 2006, that money has already run out with the foundation spending more than eight million baht last year on facilities at the shelter and providing food and medical treatment for dogs.

According to PPLO Chief Dr Sunart Wongvorachart, "Before the SDF stepped in to help, the shelter used to house around 500 dogs at a cost of 1.6 million baht a year, including food and medicines for the dogs and salaries for four staff.

"The dog shelter usually receives 800,000 to 900,000 baht a year in municipal funding with the rest made up from donations, but this year some OrBorTor [Tambon Administration Organizations] have not budgeted to deal with the dogs in their areas," he said.

The number of dogs brought to the shelter has continued to rise, putting more pressure on the organizations.

"We have already accepted around 100 extra dogs this year from various municipalities but no additional funding has been forthcoming to help feed and treat them," explained SDF Vice-President, John Dalley.

"Altogether, the foundation costs 400,000 baht a month to operate, including food and medicines for the dogs, plus salaries and utility bills for the shelter but we currently receive only about 200,000 baht a month in donations and funding," he added.

"Feeding them is a big expense but not the greatest, we spend over 50,000 baht a month on food. We now pay for a full-time vet and nurse on site, and the treatment costs, and paying the minimum possible number of staff are crippling.

"The death rate from disease and injuries has fallen considerably but is still unacceptably high. Vaccinating the dogs is out of the question.

"With no budget the PPLO have been unable to provide drugs or treatment. Therefore unless we provide treatment many dogs suffer terribly before dying," Mr Dalley said.

Dr Sunart has written to Phuket Governor Niran Kalayanamit requesting a review of the budget allocations for the shelter, but has yet to receive a reply.

In the meantime, residents and local businesses, especially restaurants and resorts, are encouraged to help with donations of food and money.

For more information or to make a donation call the SDF at call 087-0508688 or visit www. soidog.org.