Coconut shortage hurting Phuket retailers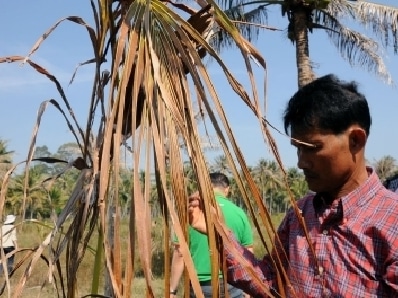 PHUKET: Phuket grocers are struggling to keep coconut products on their shelves amid a nationwide shortage due to drought and an insect infestation in the heart of Thailand's coconut country.
Supermarket giants Tesco Lotus and Big C both told the Phuket Gazette that their orders for coconut milk – a main ingredient in many Thai foods, especially desserts – are not being filled.
Ittipol Klasuk, dried food manager at Big C Phuket said, "We order coconut milk from Amphol Food Processing [distributors of Chao Koh and Roi Thai products] every three days, but they often cut our order. For example, we order 100 and get 25. And when we do get product on the shelves, people come and buy it up quickly, in bulk."
The price of coconut milk in supermarkets has yet to reflect the increase in wholesale prices, both Tesco Lotus and Big C report.
This has not been true for small vendors in public markets that rely on fresh coconuts to make products. The price of these coconuts has skyrocketed from seven baht in July 2010 to 20.5 baht late last month.
Narunat Mongkol, head of public relations and marketing at Amphol, told the Gazette that they are currently unable to source enough coconuts domestically to fill orders and have begun importing from Indonesia.
"We have had to increase the price four baht per 50ml box of coconut milk since November 2010 and I can say that the price will go up again, as there is a shortage in Thailand and we are having to import from Indonesia – I just don't know how much the price will go up or when," he said.
The source of Thailand's coconut woes is the meager Brontispa longissima, commonly known as the coconut hispine beetle.
The tiny stature of the insect, however, speaks nothing of its ability, in numbers, to devastate an entire industry.
Making its appearance in the middle of a two-year drought, the beetle has managed to severely damage or destroy more than 150,000 rai (about 35 per cent) of coconut plantations in Thailand's southern Prachuap Khiri Khan province, according to Samri Chankird, a researcher with the provincial Agriculture Extension Office.
Prachuap Khiri Khan is known as the "coconut basket" of Thailand as it is by far the largest producer of coconuts in the country. The Ministry of Agriculture estimates last year's coconut production for the province at over 425,000 tonnes, nearly double that of Chumphon province, Thailand's number two producer.
This year's figures are expected to be much lower.
According to the Food and Agriculture Organization (FAO), Brontispa longissima is native to Indonesia and was spread throughout the Southeast Asia-Pacific region in ornamental palm shipments.
The pest attacks more than 20 species of palm, with coconut being "the most favored host", the FAO says. The beetle feeds on seedlings and the young leaves of mature coconut palms and can quickly destroy an adult tree.
At the forefront of the fight against the infestation is a research team from Kasetsart University in Bangkok working together with Amphol and the Ministry of Agriculture. Team leader Assistant Professor Kosol Charernsom has been testing a number of biological methods to combat the infestation over the past two months.
One such method is the use of Beauveria bassiana, a fungus that has proven effective as an insecticide. When the beetle comes into contact with its spores, they germinate and grow inside the insect, killing it within days. The fungus then emerges and spreads from the carcass.
Another weapon in the assault is Eocanthecona furcellata, a predatory "stink bug" being introduced by Prof Kosol's team in "nurseries" throughout Prachuap's coconut plantations to kill off the beetle.
A third method being used by the team is the parasitic Asecodes hispinarum insect, which is a natural enemy of the beetle, attacking it in the larval stage.
The team is having success in the testing phase and they are confident that the methods being used will eliminate the pest, enabling trees to recover and farmers to plant the new Coconut Sawi Number 1 hybrid, which is more resistant to drought and infestations, Prof Kosol said.
The hybrid, however, does nothing for the short term. "We could plant this new hybrid, but each tree takes five to eight years to mature. It's more drought and insect resistant, and has better yields, but that will not help us now. We need to get rid of the beetle first and have adequate rainfall or the new trees will experience the same fate as the ones now," he said.
The fight is a personal one, Prof Kosol says: "Thailand is a factory for food production. If we have to order raw material from producers in other countries, that is a shame. I'm a coconut farmer. I have farmers' blood, so I must find the best way to treat these trees so they can survive."
— N. Altstadt & S. Janyanon
Keep in contact with The Thaiger by following our
Facebook page
.
Daytime closure looms for Patong beach road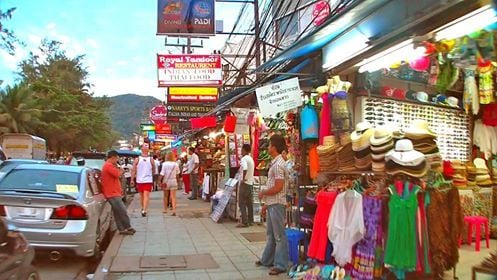 The mayor of Patong, Chalermluck Kebsup, has announced that from August 25, Thaweewong Road, better known as the Patong beach road, will be closed during the day while power and communication cables are installed.
Apologising for the inconvenience, Mayor Chalermluck explains that the closures will be between 6.00am and 4.00pm and expected to last until September 30. She says the work will take place during low season and will be paused for the busy high season.
A 400 metre section of road will be affected, from Bangla Road to Sawatdirak Road, with vehicles prohibited from accessing the area until 4.00pm. However, the restriction does not apply to pedestrians, with footpaths remaining open.
The Thaiger understands that certain vehicles will still be granted access, including those of business owners who need to reach their premises. Such vehicles will need to have permission granted by Patong Municipality. Taxis and tuk-tuks dropping off or picking up customers at these businesses will also be given access.
In total, the 228 million baht joint venture project will see the installation of communications cables, power lines and fibre-optic mains, along a 3 kilometre stretch of the beach road.
It has a completion date of March 5, 2020.
SOURCE: Provincial Electricity Authority
Keep in contact with The Thaiger by following our
Facebook page
.
Palang Pracharath MP chastises Karon Police for not offering protection during condo visit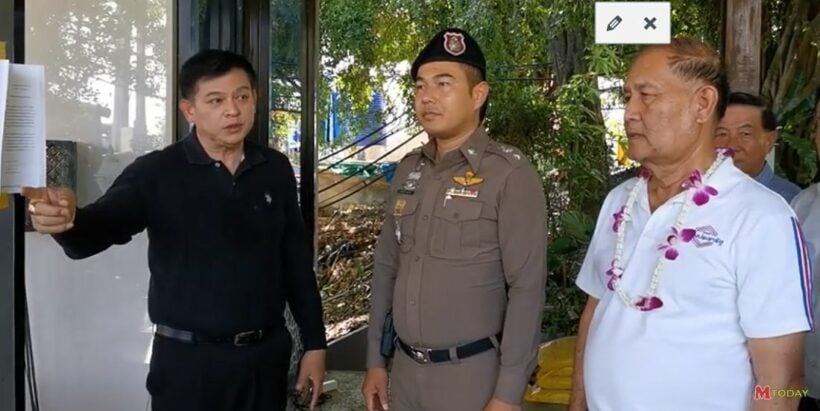 VIDEO & SCREENGRAB: M Today
The Palang Pracharath member of parliament from Bangkok, Sira Jenjaka, had an argument with Lt Col Pratuang Polmana, Deputy Superintendent of Karon Police during his inspection to the controversial Peak Condominium in the Karon area of Phuket.
MP Sira was surveying the construction site of the project and the sales office, which also serves as a coffee shop, where he saw Lt Col Pratuang inside.
He stopped there and asked why the Deputy Superintendent didn't send any officer from Karon Police Station to provide security for him, a standard protocol when parliament members visit a specific area.
The MP had publicly stated he had received death threats for revealing 'problems' with the 'paperwork' for the Phuket condo project that he claims has been built on land without the proper documentation.
Lt Col Pratuang said that he already prepared a team of officers to provide security for the MP but they were waiting for a confirmation. Then the MP asked his team to record a video of the conversation and said that, while he was not threatening anyone, he believed the police must respect and offer protection for a government MP who comes to work in the area, which was then followed by an argument.
There was a "middleman" who eventually separated the Deputy Superintendent and pulled him aside to calm him down. The 'police whisperer' then came back to apologise to the MP before they went inside the coffee shop for further private talks.
Read the original article about the allegations against Peak Condominiums in Karon HERE.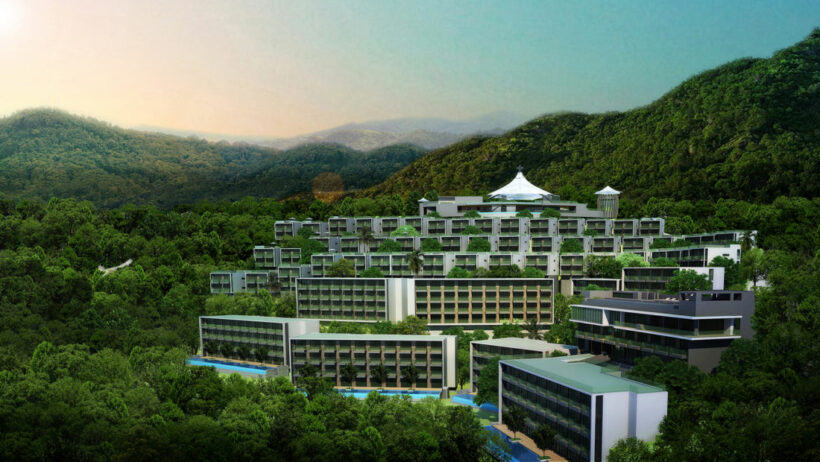 The Peak Condominiums in Karon, currently under investigation after allegations made by Government MP Sira Jenjaka, who claims death threats have been made against him over the matter.
Keep in contact with The Thaiger by following our
Facebook page
.
How to be charged 2,600 baht for having a flat battery in the Jungceylon car park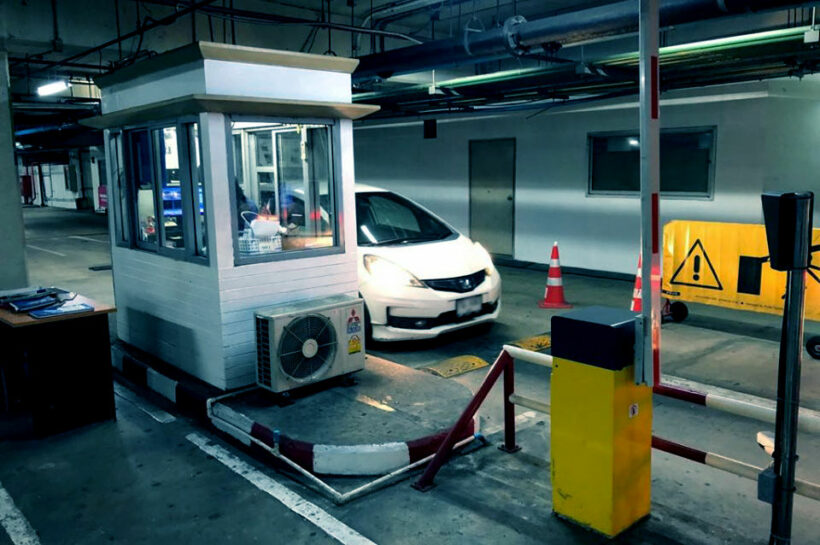 A rant…
Started off with trying to exit the Jungceylon carpark in Patong, Phuket, late on a Sunday night. After watching a film in their tawdry cinemas, I was assured by ticket sales staff that I should present my ticket stub with the car park card for free exit.
Getting to the exit gate and I was told I had to go to an 'elevator' to get my ticket stamped. As there were already three other cars behind me (it was around 9.30pm at this stage), it caused quite a kerfuffle and tempers (mine included) were starting to fray.
The poor woman at the exit booth (whose key work skill must be 'patience'), kept yelling 'elevator, elevator', doing little to inform us what we were actually meant to do. (I wanted to leave a car park, not go on an elevator?!?).
Anyway, minor 'misunderstanding' sorted out soon enough, and returned to my car to exit the car park (about 10 minutes later).
A Russian man had had his own adventures with the Jungceylon car park the night before. Firstly he was stuck there on the Saturday night with a flat battery in his white sedan. As it was very late, and wanting to get home, he left the car in the space and took a taxi.
As I was sorting out my own car park 'misunderstanding', other car park staff assisted him with his flat battery by jump starting his car. The assisting staff were given a gratuity, I don't know how much.
But on reaching the exit gate he was told he had to pay 1,800 baht. (Presumably for around 24 hours of car parking).
With his fist full of receipts, around 3,300 baht worth, he was also told 'elevator, elevator'. He got out of his car, there were another three cars backed up behind him at this stage, and went to find the 'elevator'. Upon returning he was now told he had to pay 2,600 baht! How the amount had magically inflated to 2,600 baht remains a mystery but the cark park 'gatekeeper' was not to be messed with.
By this stage about eight young Thai gentlemen, with name tags, keys hanging from their belts and hand-held radios, had turned up to 'assist' in addressing my complaints and ensuring that the Russian man was not able to leave the car park before paying the 2,600 baht. The only common language among the Russians and the Thais in the situation was English and it was not going well.
Google Translate was getting a fine workout but wasn't really helping.
During the extended 'negotiations' the cars behind were detoured around and allowed free exit.
Given the man's travails in having a flat battery, having to come back to the steamy car park late on a Sunday night, the cars piling up behind him and the loss of face for just about everyone at this stage, the 'smart', good PR thing to do would have been to thank him for spending 3,300 baht at their expensive shopping centre, lifted the boom gate and waved him on his way.
But no, these young Thai car park staff wanted their pound of flesh and there was no way in the world that barrier was going to be lifted until the man had paid every baht he 'owed'. Three police turned up to try and sort things out but all departed in exasperation, knowing the car park staff were being pig-headed but unable to intervene because they would have caused their fellow Thais a loss of face.
At this stage the Thai car park staff were already starting to utter things under their breath and spitting out 'farang' in their deliberations.
During the entire two hour drama many other cars had the same issue of not understanding that they needed to report to the bottom of one of the 'elevators' to have their receipts stamped. There didn't appear to be any signage or understanding of the procedure (until, of course, you go through this rather drawn out lesson in Jungceylon car park procedure). There was a sign outside the elusive 'elevator' but given there are seven other exits from the car park you're unlikely to see them.
Apart from Jungceylon losing the patronage of at least two, or more, customers over their overly-officious and unprofessional behaviour, the system will surely remain unfixed waiting for the next stupid 'farang' to stroll innocently into the underground farrago.
The only bright light in the dingy car park fiasco was the pleasant young gentlemen sitting at the 'elevator' with his stamps and gracious smile, wearing full eye make up and blissfully unaware of the surly car park Nazis. He profusely apologised but I am fairly sure he was none-the-wiser about my lengthy explanation of the situation.
Give the man a pay rise!
For Jungceylon, I would urge better signage, in a few languages (it IS a tourist town), to inform us about their rather opaque car park procedures.
I did ask for a statement to include in this story from some of the 'people with hand radios' or a comment from the Manager. But there was none forthcoming. Our forum remains wide open for a response from management.
Keep in contact with The Thaiger by following our
Facebook page
.