Article 17 enforced: DMCR to arrest tourists, guides for disturbing marine life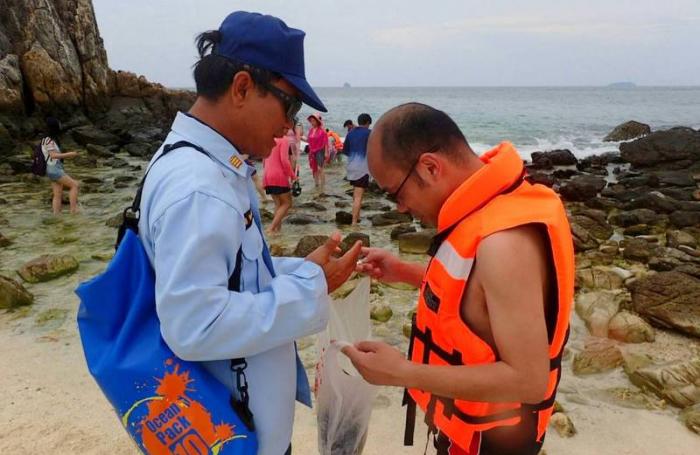 PHUKET: Department of Marine and Coastal Resources (DMCR) officials are adopting tougher rules in an attempt to rescue three islands off Phuket's coast from man-made environmental damage.
A committee assembled by members of the DMCR's Region 6 has agreed to expand the powers of DMCR officers and to level harsher punishments for tourists and boat operators who disturb wildlife.
The new punishments, which include up to one year in prison, a 100,000-baht fine, or both, went into effect on Tuesday.
In deploying the new regulations, the committee cited Article 17 of the DMCR regulations, allowing the establishment of any regulations in an area deemed under threat of environmental degradation.
The deteriorating environmental situation of Koh Kai Nok, Kai Nai and Kai Nui, located halfway between Phuket and Koh Yao, came to public attention after pictures posted on social media showing tourists proudly displaying captured fish in plastic bags went viral.
Researchers working with the DMCR said the percentage of living coral surrounding the islands has plummeted, from 80 per cent of the coral recorded as living there in 1991, to less than 10 per cent this year.
DMCR officers were expected to begin patrolling the island with their expanded authority yesterday, May 27. DMCR Region 6 Chief Watcharin Thintalang said the current patrol implementation involves 12 officers on a rotating daily watch.
"With this new law, we will have the right to immediately arrest tourists, tour guides and boat operators for disturbing or damaging marine life, or being complicit in its destruction, said Mr Watcharin.
Mr Watcharin said the special nature of the islands, which are not technically national parks and are therefore not afforded the same level of protection, compelled the committee to expand the DMCR's protective powers.
Previous legislation allowed DMCR officers to use the Wildlife Preservation and Protection Act BE 2535 (1992), in which coral is considered a protected animal, to catch and turn over to the police anyone suspected of harming marine life.
Under that act, officers could not arrest people for harming any marine life other than coral. The punishment under that law was a fine of up to 40,000 baht, up to four years in prison, or both.
However, under Article 17, Mr Watcharin said DMCR officers may now detain tourists for harming any marine life, not just coral.
Tourists no longer immune
Mr Watcharin said that previously, officers' willingness to detain and hand suspects over to the police was hampered by a fear of harming tourism. Those fears, he said, have since been addressed by the DMCR committee.
Mr Watcharin said he sees the impunity of boat operators and their tourists changing dramatically with the new law in effect.
"The new law will make them scared," he said. "It requires us to take them to the police station right away, where they'll be charged with violating the Wildlife Preservation and Protection Act BE 2535 (1992) and the Marine and Coastal Resources Management Act BE 2558 (2015).
"We have the power now. Let's see if they do get scared," Mr Watcharin told the Phuket Gazette. "For example, if a tourist is found torturing fish, he or she will have to face the legal process," he said.
"They will be taken to a police station and their case will have to go to court," he said. "That means they'll not be allowed to leave Thailand until the case is decided."
Thon Thamrongnawasawat, a member of the National Reform Council (NRC), said that the new regulations will have no effect on the island's tourism industry.
"Some have asked me, 'Will we dare to actually arrest tourists, because of the adverse effects it could have on the tourism economy?'. To this I've responded, 'If tourists do something illegal, are we to just ignore it because they are tourists?'," Mr Thon said.
"I think it only takes a few cases of arresting lawbreakers before others will get scared and never do anything like that. Instead of enjoying their time in Phuket, they'll spend their holiday in court. No one will choose that.
"We are not closing the islands or limiting the number of tourists that can visit them, like the Department of National Parks and Wildlife Preservation has done with Tai Chai.
"Tourists can enjoy the islands as usual; they just have to obey our laws or face the consequences. Officers from the Tourism Department were involved in the committee and if it really does end up affecting tourism, we'll address it," he added.
On May 23, tour operators were called in for a meeting about the new rules with DMCR officials. Boat operators and tour guides said that, for the most part, they were cautiously supportive of the new measures.
"I totally agree with the new regulations, said Gembira Travel & Trading manager Sommit Plookpuet. "Yes, tourism is our livelihood, but if it destroys our marine life, it simply means we'll have no way of making money. If there's no more coral and no more fish, they'll stop coming, so we plan to cooperate completely with the new regulations," Mr Sommit said.
"While I agree that taking those who disobey the law immediately to the police station is harsh, I do think it will work.
"Honestly, the fines at places like national parks don't really work," he added. "No one really cares about a few hundred baht. This new rule will take those who disobey the law to the police station. That wastes their time and it affects their whole day. For sure, folks aren't going to take those chances."
Mr Sommit's comments were echoed by Wichai Ruengjongwattana, a representative of Sunshine Tours Andaman.
"I think the main reason that tourists and operators end up damaging marine life is that there are no clear regulations set up," Mr Wichai said. "Now, there are. Print the 12 regulations on posters and put them up on the three islands in English, Thai, Chinese and Russian, and let's see if anyone dares to disobey the law."
More regulations to come?
Mr Watcharin said the DMCR Region 6 committee sees the implementation of Article 17 as potentially useful to other islands, not just Koh Kai Nok, Kai Nai and Kai Nui.
"Sure, Article 17 could be expanded to include other at-risk islands and increase powers of enforcement for our officers, but enforcing the law is not easy," he said. "We need officers for that. For example, when we arrest a tourist, we have to take him or her to the police station on the shore by boat. If we use this law for many islands, we will not have enough officers for every possible detention. Right now, we're just focusing on these islands."
"The real purpose of this regulation is not to have our officers arresting people across the whole sea, but to protect the natural environment around these islands by discouraging their degradation, Mr Watcharin said. "We never want to arrest people; we only want them to obey the law and appreciate the natural beauty of these islands."
— Kongleaphy Keam
Palang Pracharath MP chastises Karon Police for not offering protection during condo visit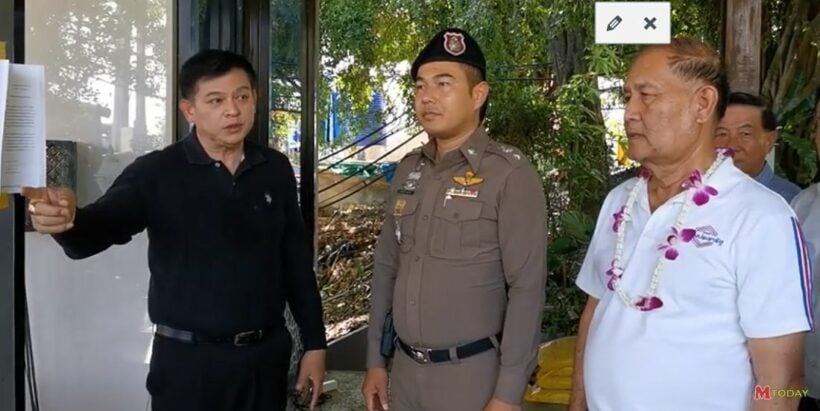 VIDEO & SCREENGRAB: M Today
The Palang Pracharath member of parliament from Bangkok, Sira Jenjaka, had an argument with Lt Col Pratuang Polmana, Deputy Superintendent of Karon Police during his inspection to the controversial Peak Condominium in the Karon area of Phuket.
MP Sira was surveying the construction site of the project and the sales office, which also serves as a coffee shop, where he saw Lt Col Pratuang inside.
He stopped there and asked why the Deputy Superintendent didn't send any officer from Karon Police Station to provide security for him, a standard protocol when parliament members visit a specific area.
The MP had publicly stated he had received death threats for revealing 'problems' with the 'paperwork' for the Phuket condo project that he claims has been built on land without the proper documentation.
Lt Col Pratuang said that he already prepared a team of officers to provide security for the MP but they were waiting for a confirmation. Then the MP asked his team to record a video of the conversation and said that, while he was not threatening anyone, he believed the police must respect and offer protection for a government MP who comes to work in the area, which was then followed by an argument.
There was a "middleman" who eventually separated the Deputy Superintendent and pulled him aside to calm him down. The 'police whisperer' then came back to apologise to the MP before they went inside the coffee shop for further private talks.
Read the original article about the allegations against Peak Condominiums in Karon HERE.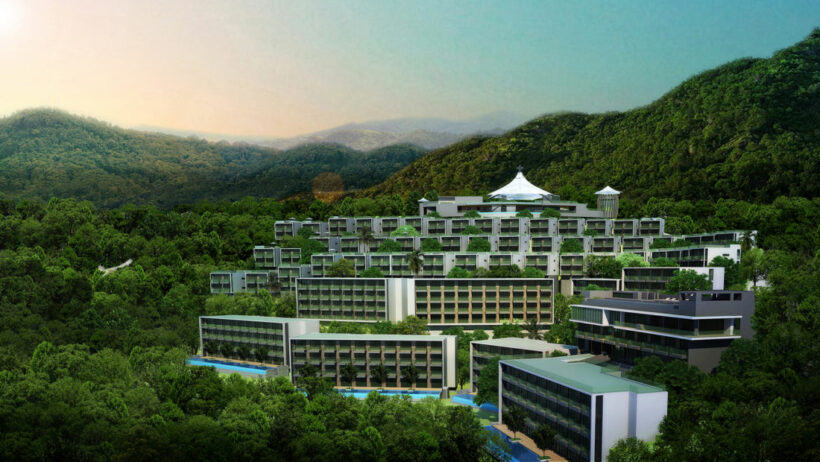 The Peak Condominiums in Karon, currently under investigation after allegations made by Government MP Sira Jenjaka, who claims death threats have been made against him over the matter.
How to be charged 2,600 baht for having a flat battery in the Jungceylon car park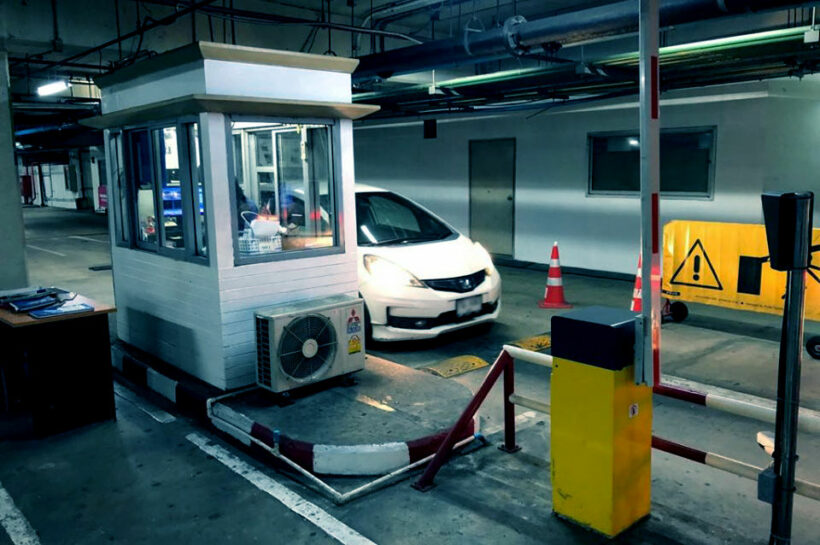 A rant…
Started off with trying to exit the Jungceylon carpark in Patong, Phuket, late on a Sunday night. After watching a film in their tawdry cinemas, I was assured by ticket sales staff that I should present my ticket stub with the car park card for free exit.
Getting to the exit gate and I was told I had to go to an 'elevator' to get my ticket stamped. As there were already three other cars behind me (it was around 9.30pm at this stage), it caused quite a kerfuffle and tempers (mine included) were starting to fray.
The poor woman at the exit booth (whose key work skill must be 'patience'), kept yelling 'elevator, elevator', doing little to inform us what we were actually meant to do. (I wanted to leave a car park, not go on an elevator?!?).
Anyway, minor 'misunderstanding' sorted out soon enough, and returned to my car to exit the car park (about 10 minutes later).
A Russian man had had his own adventures with the Jungceylon car park the night before. Firstly he was stuck there on the Saturday night with a flat battery in his white sedan. As it was very late, and wanting to get home, he left the car in the space and took a taxi.
As I was sorting out my own car park 'misunderstanding', other car park staff assisted him with his flat battery by jump starting his car. The assisting staff were given a gratuity, I don't know how much.
But on reaching the exit gate he was told he had to pay 1,800 baht. (Presumably for around 24 hours of car parking).
With his fist full of receipts, around 3,300 baht worth, he was also told 'elevator, elevator'. He got out of his car, there were another three cars backed up behind him at this stage, and went to find the 'elevator'. Upon returning he was now told he had to pay 2,600 baht! How the amount had magically inflated to 2,600 baht remains a mystery but the cark park 'gatekeeper' was not to be messed with.
By this stage about eight young Thai gentlemen, with name tags, keys hanging from their belts and hand-held radios, had turned up to 'assist' in addressing my complaints and ensuring that the Russian man was not able to leave the car park before paying the 2,600 baht. The only common language among the Russians and the Thais in the situation was English and it was not going well.
Google Translate was getting a fine workout but wasn't really helping.
During the extended 'negotiations' the cars behind were detoured around and allowed free exit.
Given the man's travails in having a flat battery, having to come back to the steamy car park late on a Sunday night, the cars piling up behind him and the loss of face for just about everyone at this stage, the 'smart', good PR thing to do would have been to thank him for spending 3,300 baht at their expensive shopping centre, lifted the boom gate and waved him on his way.
But no, these young Thai car park staff wanted their pound of flesh and there was no way in the world that barrier was going to be lifted until the man had paid every baht he 'owed'. Three police turned up to try and sort things out but all departed in exasperation, knowing the car park staff were being pig-headed but unable to intervene because they would have caused their fellow Thais a loss of face.
At this stage the Thai car park staff were already starting to utter things under their breath and spitting out 'farang' in their deliberations.
During the entire two hour drama many other cars had the same issue of not understanding that they needed to report to the bottom of one of the 'elevators' to have their receipts stamped. There didn't appear to be any signage or understanding of the procedure (until, of course, you go through this rather drawn out lesson in Jungceylon car park procedure). There was a sign outside the elusive 'elevator' but given there are seven other exits from the car park you're unlikely to see them.
Apart from Jungceylon losing the patronage of at least two, or more, customers over their overly-officious and unprofessional behaviour, the system will surely remain unfixed waiting for the next stupid 'farang' to stroll innocently into the underground farrago.
The only bright light in the dingy car park fiasco was the pleasant young gentlemen sitting at the 'elevator' with his stamps and gracious smile, wearing full eye make up and blissfully unaware of the surly car park Nazis. He profusely apologised but I am fairly sure he was none-the-wiser about my lengthy explanation of the situation.
Give the man a pay rise!
For Jungceylon, I would urge better signage, in a few languages (it IS a tourist town), to inform us about their rather opaque car park procedures.
I did ask for a statement to include in this story from some of the 'people with hand radios' or a comment from the Manager. But there was none forthcoming. Our forum remains wide open for a response from management.
Phuket's lifeguards say goodbye to a champion of local beach safety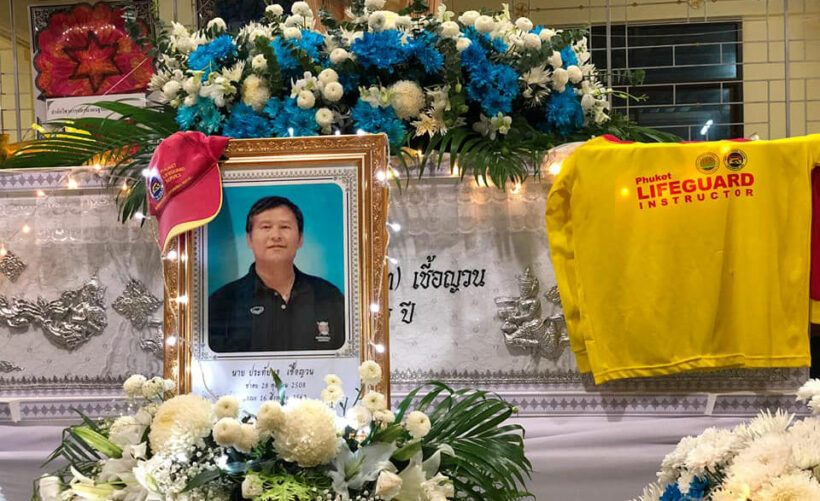 PHOTOS: Phuket Lifeguard Service
A commemoration ceremony has been held for Prathaiyuth Chuayuan, a local Phuketian who helped drive Phuket's first beach lifeguard services. He passed away on Friday morning after a heart attack.
He first experienced chest pains whilst delivering his daughter to school in Phuket Town on Friday morning, drove himself immediately to the Vachira Hospital nearby but succumbed to cardiac arrest around 9am.
He was 57 years old.
He worked with Australian lifesavers to help train local lifeguards and improve the skills of the Phuket's beach enthusiasts, and finally sought international accreditation for the growing body of competent Phuket lifeguards.
The Phuket Lifeguards Service, founded and run by Prathaiyuth and his wife Witanya, saved innumerable lives each year whilst battling Provincial Hall and local government for increased funding in annual contract negotiations.
Daren Jenner, a FOT (Friend of The Thaiger) and local safety officer for the International Surf Lifesaving Association, sent a message to us expressing his deepest condolences to Prathaiyuth's wife, family and friends.
"I had many good conversations with him over the years. He was a good-hearted man who did his best in difficult and changing circumstances. A very big loss for Phuket and the lifesaving community here. ISLA sends our deepest respect for his long commitment to ocean safety in SE Asia."