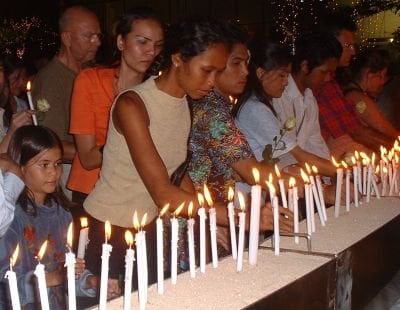 PHUKET: About 500 people gathered at Central Festival on the outskirts of Phuket City last night in a somber and emotional candlelit gathering to remember those killed by last Sunday's tsunami.

Interior Minister Bhokin Bhalakula, Phuket Governor Udomsak Usawarangkura and government officers also attended the memorial gathering.

Each person received a candle and a white rose. Songs, both in Thai and English, were sung to encourage survivors and to commemorate those who lost their lives.

At midnight the candles were lit and there was a moment of silence for the victims.

In Patong, a couple of dozen people assembled on the beach to light candles. Couples hugged tearfully as they looked out at the sea from which the destruction had thundered in just six days earlier.

The numbers might have been greater had it not been for the heavy police and private security presence along nearby roads, with cars being prevented from driving into the area as part of measures to stamp out looting.

A strained atmosphere pervaded nearby Soi Bangla where hundreds jammed the bars, trying hard to put the horror of 2004 behind them and celebrate life in 2005, not always successfully.

Many watering holes have reopened after rapid repairs. Jum, a waitress at a bar in Soi Katoey, told the Gazette that most bars along Soi Bangla and the side-sois had suffered only light damage, and many were open again three days ago.

"On the first night we reopened there were only a few tourists who came to drink," she said, "but tonight there are lots of them."

Her words were almost drowned out by the racket of firecrackers as bar owners sought to drive out evil spirits and bring in good luck.

At midnight, fireworks were let off by a number of hotels along the waterfront in Patong and Kalim. Reflected in the calm sea, their beauty was eerily sad.