40 year old man injured in Phuket shophouse explosion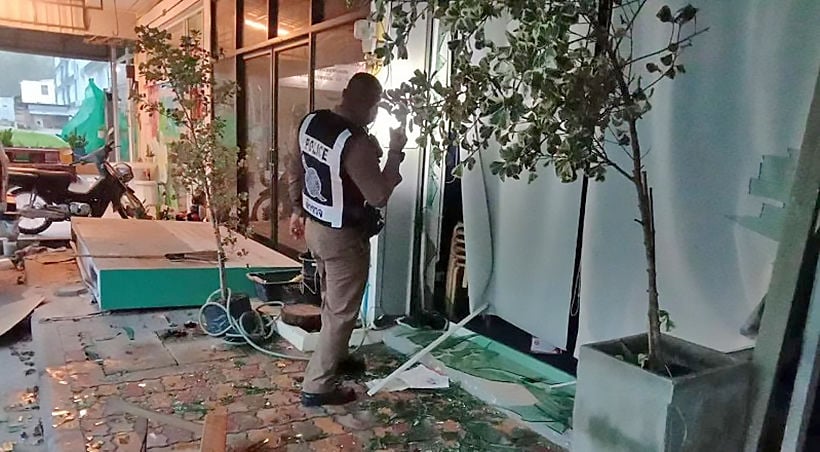 Police in Phuket are blaming a gas leak causing an explosion that injured a man when he switched on the kitchen light at his shophouse home in the island's east coast Rassada subdistrict early this morning. The blast blew out the shopfront windows, brought down ceiling panels and tore off roofing tiles.
Police were was called to the shophouse at 5am. When they arrived they found glass and debris scattered across the ground, and the sign above the door destroyed. The kitchen was littered with appliances and damaged furniture, ceiling panels all over the floor and even roofing sheets displaced by the blast.
The 40 year old resident, Chiewchan Kornsawat, had already been rushed to hospital by the time police arrived.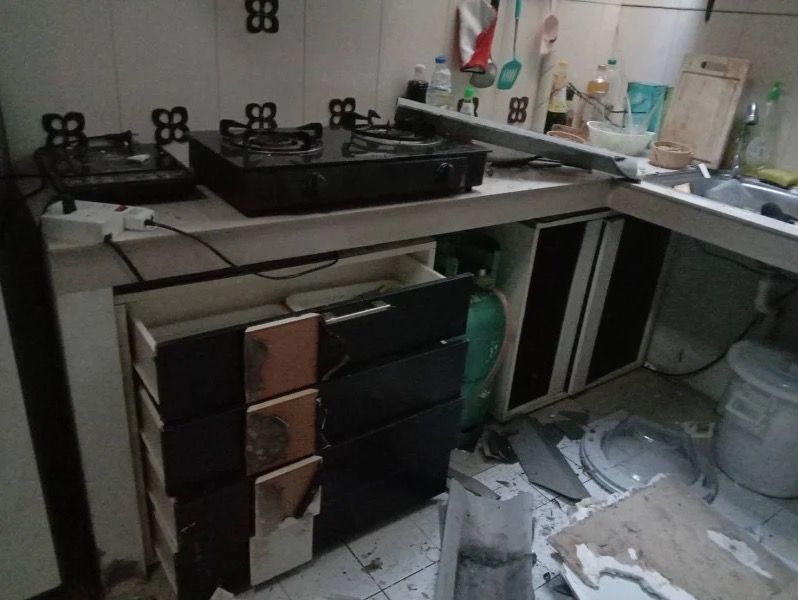 The next-door neighbour said he was awakened by the sound of an explosion and ran outside to see what had happened. He says he saw the man, who lived alone int he shophouse, walking out of his unit with burns on his body. He called the 191 police hotline.
Chiewchan was lucid enough to explain to police that that he had come downstairs to the kitchen to wash his clothes. He turned the light on, and there was an explosion. He said the ensuing fire in the kitchen was small and quickly went out by itself, so he didn't call for firefighters to come. He was rushed to Vachira Hospital.
Police say they haven't yet finished their investigation.
"At this stage, we believe that the explosion and fire was caused by a leaking gas cylinder. Mr Chiewchan may not have known that there was gas leaking in the kitchen, and by turning on the light he may have caused a spark that started the explosion. We have to wait for the forensic police to investigate the scene before we can conclude our investigation."
SOURCE: The Phuket News
Keep in contact with The Thaiger by following our
Facebook page
.
Mayor's statement sparks hope Chonburi beaches may reopen soon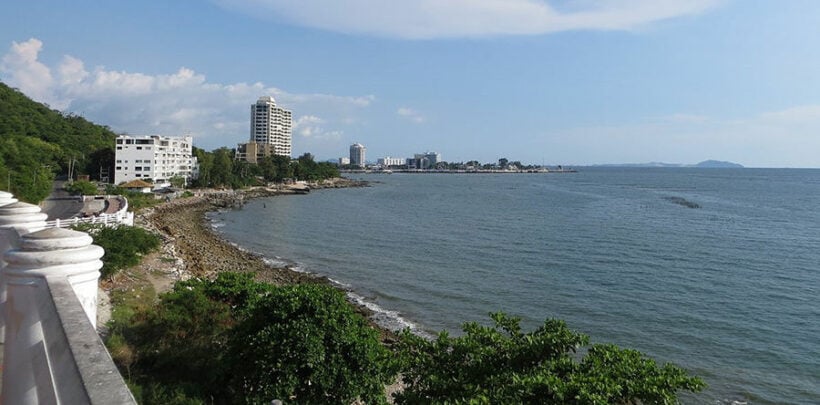 A Facebook post from the mayor of Saen Suk, home to the renowned Bangsaen beach, says beaches "may" reopen from June 1. (Before you ask, there is currently no official information on when Bangsaen, Pattaya or Phuket's beaches may actually reopen.)
Beaches in the eastern province of Chonburi were closed nearly two months ago as authorities enacted strict lockdown measures to control the spread of the Covid-19 virus. Chonburi has now had no new reported cases of the virus for more than 30 days and residents are getting antsy over the ongoing beach closures.
Authorities continue to state that the closures are to prevent unlawful gatherings and the risk of people travelling from nearby provinces, such as Bangkok, thereby causing a second wave of infections. Bangkok has the highest number of Covid-19 cases in the country. Despite this, local expats and Thais are demanding that Chonburi's beaches be reopened, particularly in light of this happening in other resort areas such as Hua Hin.
The Pattaya News reports that Bangsaen beach reopening does not necessarily mean Pattaya's beaches could also reopen as that decision lies with Pattaya's civic officials. Despite Pattaya not having any new reported cases of the virus for over 40 days now, Pattaya City Hall authorities remain concerned about mass gatherings, the consumption of alcohol and the risk that social distancing measures would not be adhered to were they to reopen the city's beaches.
SOURCE: The Pattaya News
Keep in contact with The Thaiger by following our
Facebook page
.
Bangkok mother, daughter swindled out of 1.8 million baht, suspect arrested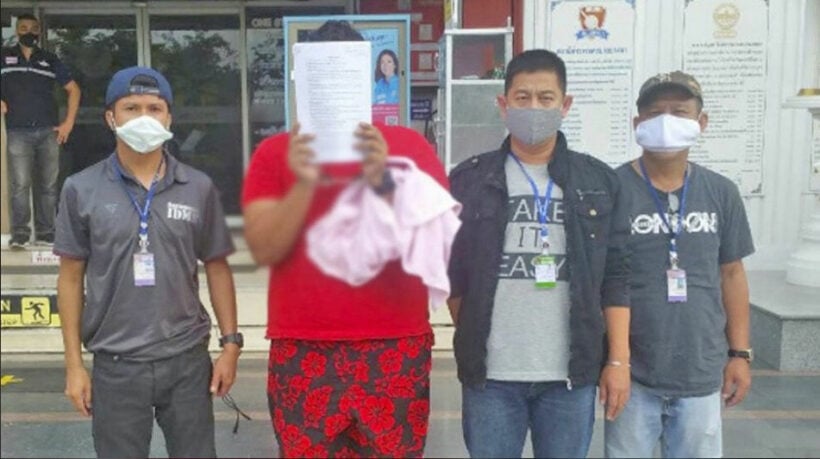 Authorities in the southern province of Phuket have arrested a man wanted in Bangkok for swindling a woman and her mother out of nearly 2 million baht. Police in the island's party town of Patong report that officers received a request from police in Bangkok to arrest 23 year old Narathip Sukprasert, originally from Lop Buri province, about 150 kilometres to Bangkok's northeast.
Narathip was wanted for fraud on an arrest warrant issued back on January 6. Patong Police managed to track him down, and together with officers from Bangkok, arrested him on Monday. Authorities say he used the names "Nook Tha Prachan" or "Wayu Tha Prachan" and dealt in Buddha amulets.
"He deceived his female victim by pretending to be romantically attracted to her. When the woman said she wanted things, he would buy them and pay by using his credit card. He later told the woman that he had problems with his credit card because he had spent too much, so his victim gave him cash to pay for his alleged credit card bill," according to the report in Phuket News.
The woman transferred money to Narathip's account many times, totalling nearly 250,000 baht. After swindling money out of the woman, Narathip deceived her mother as well, claiming that she too would be held legally responsible for the debt and that the bank would sue her.
"The victim's mother believed this, and gave him money several times. Altogether he deceived the women out of more than 1.8 million baht."
Narathip was taken to Bang Na Police Station in Bangkok.
SOURCE: Phuket News
Keep in contact with The Thaiger by following our
Facebook page
.
Phuket chef hands out over 2,000 free meals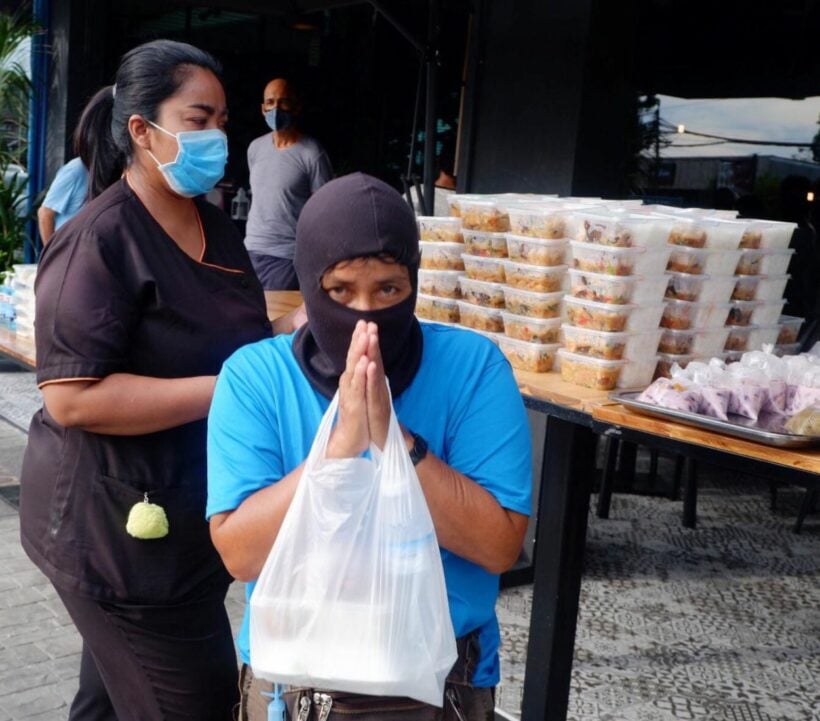 The Covid-19 pandemic has seen many heartwarming outpourings of charity, with a lot of businesses, both Thai and foreign, handing out free meals and essential goods to those affected by the crisis. The southern province of Phuket is no exception, with many pubs and restaurants joining in. But people in the island's Bang Tao district might be surprised to learn that their meals were prepared not only by a career chef, but a student and disciple of legendary Chef Paul Bocuse.
Pablo Blattman, owner of Dedos restaurant, and his crew hand out more than 160 free meals a day and have now donated well over 2,500 meals to the community. Blattmann, born and raised in La Paz, Bolivia, by a Swiss mother and Bolivian father, says the two cultures gave him insight in different universes of flavours.
At a time when most neighbouring restaurants are shuttered (or crippled by the ban on alcohol sales), Blattman says he wants to "give something back to the community which has given me so much."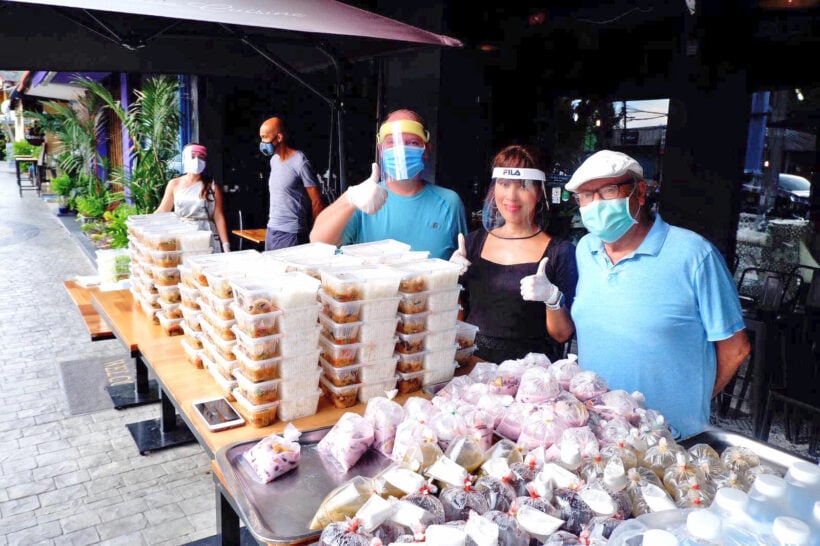 Although the crisis means Blattman must temporarily close the restaurant (again) at the end of May, he intends to go on giving back to the community.
"Our commitment to our community is still here, and we will keep our efforts up, but in a different way: dry food, going to workers' camps, going upcountry… be assured that every penny donated will reach people in need. We are keeping a strict accounting on all our expenses and any donor is welcome to check it."
Those wishing to support Dedos's charitable efforts may visit its Facebook page.
Keep in contact with The Thaiger by following our
Facebook page
.