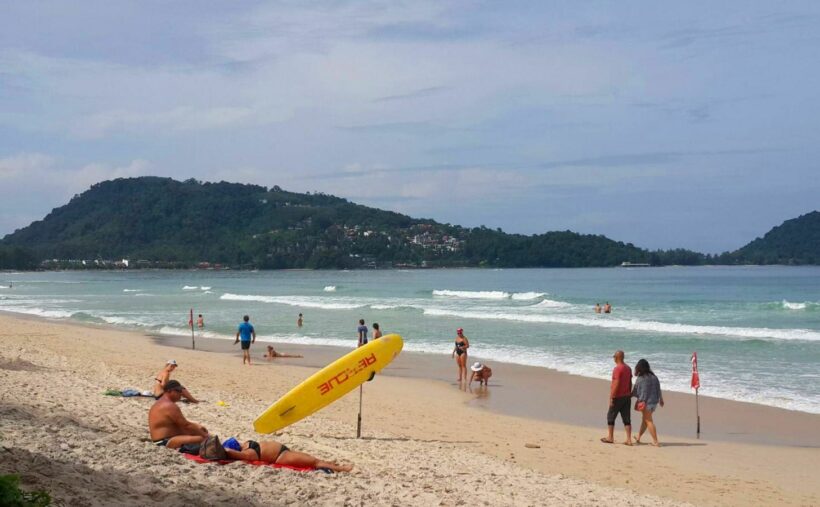 Today (October 1), Phuket's Governor visited the Marine Safety Centres in Patong and Karon to cheer up the temporary beach lifeguard teams whilst two tourists were saved from the waters off Nai Harn Beach thanks to volunteers this afternoon.
Following the end of the Phuket Lifeguard Company contract yesterday, Phuket Governor Norapat Plodthong visited the two locations which had gathered the support of volunteer lifeguards, defence volunteers, local administration staff, police and officers from Royal Thai Navy Area 3. He started at the Karon Marine Safety Centre where Tawee Thongcham, the Mayor of Karon, reported the readiness of the beach safety measure during the next two months. This was followed by the second location in Patong where Chalermluck Kebsup, Patong's Mayor, explained the safety plan from the perspective of the local municipality, cooperating with the private sector, including jet ski operators who allow the lifeguards to use their jet-ski in case of emergency. The first aid and safety equipment are all prepared and ready, as some of them were supplied from the Or Bor Jor before.
"A lot of Chinese tourists are expected to visit Phuket as it is their national holidays, so all departments involved need to be ready to handle the beach safety. If anybody sees a beachgoer that ignores the warning signs on the dangerous zone of the beach, you can report them to the police or navy officers stationed at the beach. The Or Bor Jor is hiring more independent lifeguards to support this," said the Governor.
Meanwhile, Rawai Mayor, Aroon Solos, also visited Nai Harn and Ya Nui Beaches with a team of municipality staff and representatives of the beach business operators, to create an understanding with the beachgoers that the lifeguard volunteers remain at the beach the same way as in the past with the Phuket Lifeguard service.
During the visit at the beach, two tourists nearly drowned at Nai Harn due to the strong waves. The team rushed to help the tourists and rescued from the surf before sending them to hospital to be checked out.