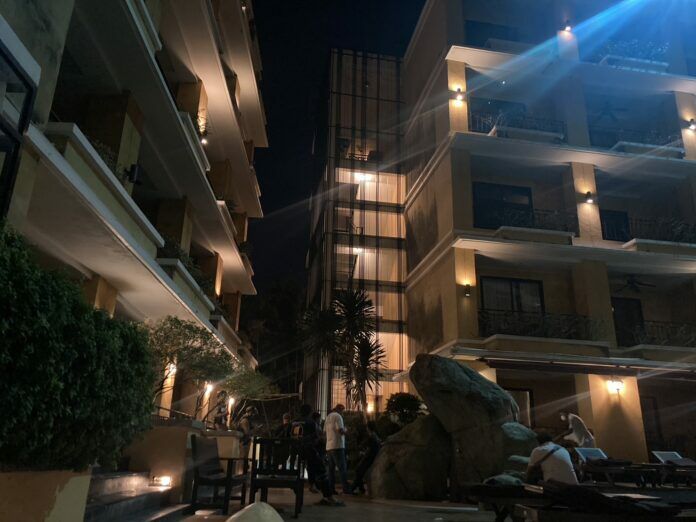 Tragedy struck Pattaya when a Chinese man fell to his death at a hotel late last night. Police and rescuers found the body of 33 year old tour agent Chen Pu Lin in a pool of blood on a walkway of the Mantra Pura Hotel in Bang Lamung district. Lin was dressed only in his underwear.
Investigators also found blood on the hotel's rooftop. In Lin's hotel room, they found traces of a forced entry through the door. However, the room had not been ransacked.
Investigators learned from tour guides that Lin was part of a group of four from a Chinese tour agency. The group arrived on January 13 to survey tourist spots, Bangkok Post reported.
Tour guides in the city said that Lin had not had problems or disputes with anyone.
Last night, Lin's three colleagues went out for a night tour, while Chen said he was sick and would stay in his room.
The Pattaya News reported that CCTV footage showed Lin pacing back and forth for some time, seemingly dazed and confused. Police said blood was dripping from his temple, but no one was seen with him.
While waiting for an autopsy result to determine the cause of Lin's death, forensic police would examine the room and review security footage at the hotel.
Last year, there were a number of heartbreaking incidents of tourists and foreigners falling to their deaths in Thailand.
Last month, a man from New Zealand fell to his death from a train in Kanchanaburi province in western Thailand.
In September, a Burmese construction worker fell to his death at the Chon Buri Grand Canyon.
Also in September, an American man fall to his death out of the ninth-floor window of a rental building in Nonthaburi.
In August, an Australian man fell to his death from the 17th floor of his hotel balcony in Pattaya.