Pattaya officials looking to limit pet ownership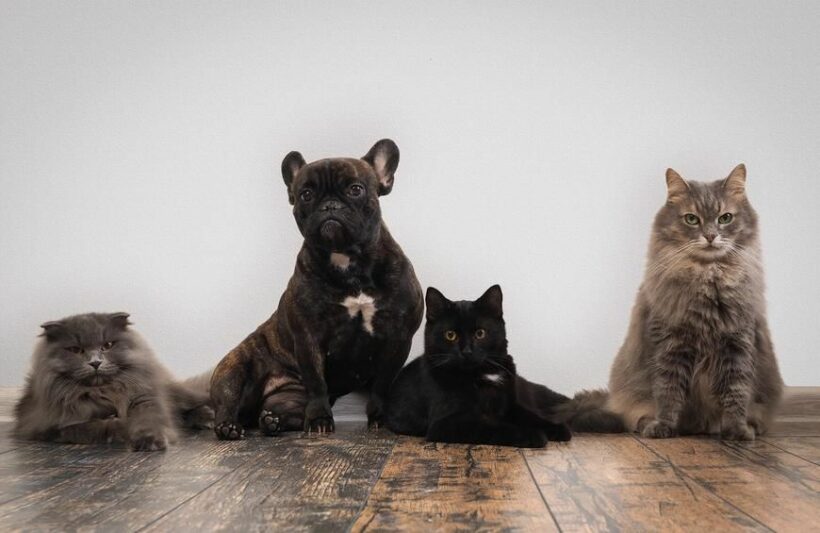 Pattaya Mail are reporting that there's been a renewed push to limit the number of pets residents can keep and make registration compulsory in Pattaya.
Pattaya's deputy mayor Manote Nongyai chaired a May 21 meeting on new regulations governing the keeping and registration of dogs and cats. The proposals are based on a Public Health Department memo from February 2016 that would limit owners of normal-sized homes to 2 dogs and 3 cats.
Pets would have to be registered at the sub-district office with allowances made for larger homes.
The proposal wouldn't include changes proposed by the Agriculture Ministry in 2018 that would have imposed payment of fees for registration. Other rules cover moving pets to new areas, signage and picking up after their messes in public areas.
SOURCE:Pattaya Mail


Read more headlines, reports & breaking news in Pattaya. Or catch up on your Thailand news.
Italy's 'Bonny & Clyde' arrested in Pattaya, Thailand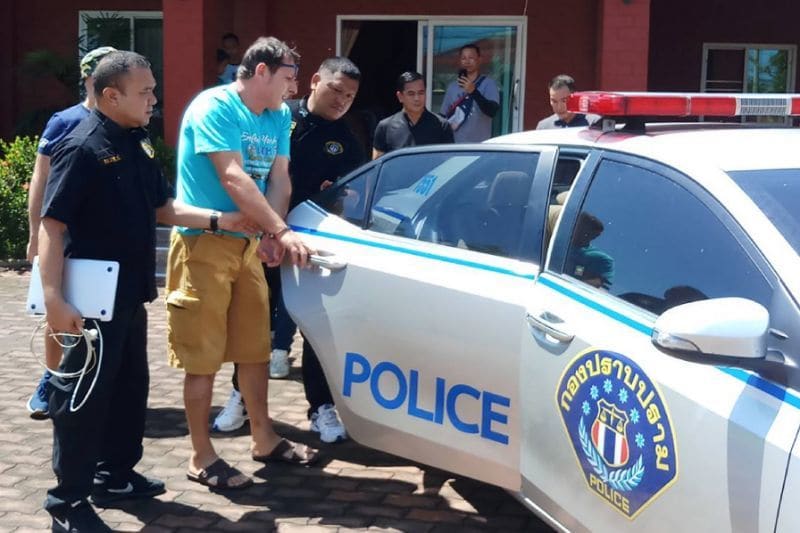 Local Chon Buri police have caught up with two Italians who have been on an Interpol red notice since 2012 after they fled Italy after being sentenced to eight years in jail for fraud.
58 year old Francesco Galdelli had been parading himself as George Clooney chewing investors into buying into his bogus clothes business. His wife, 45 year old Vanja Goffi was also arrested in the raid of a Pattaya luxury villa over the weekend.
The arrests follow authorities in Italy contacting Thailand's Crime Suppression Division who had the couple under surveillance. The couple, aka. 'The Italian Bonny & Clyde', had already been sued by the real George Clooney who told a Milan court in 2010 they had fraudulently used his name to promote their bogus clothing brand "GC Exclusive by George Clooney."
The couple, on the run, moved to Pattaya in 2014, and established themselves in the local expat community, donating money to local children's charities. Police say that Mr Galdelli was arrested at the Pattaya Dusit Thani hotel but escaped after allegedly paying a prison guard 20,00 baht.
The couple are currently in custody in Pattaya before their expected extradition back to Italy.
George Clooney says addio to Francesco and ciao bella to Vanja.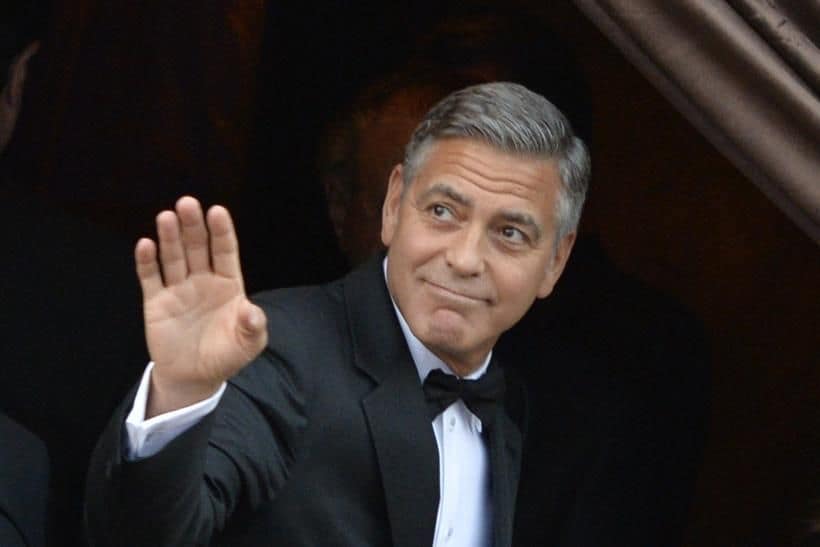 70 million baht set aside for planning and EIS for new light rail in Pattaya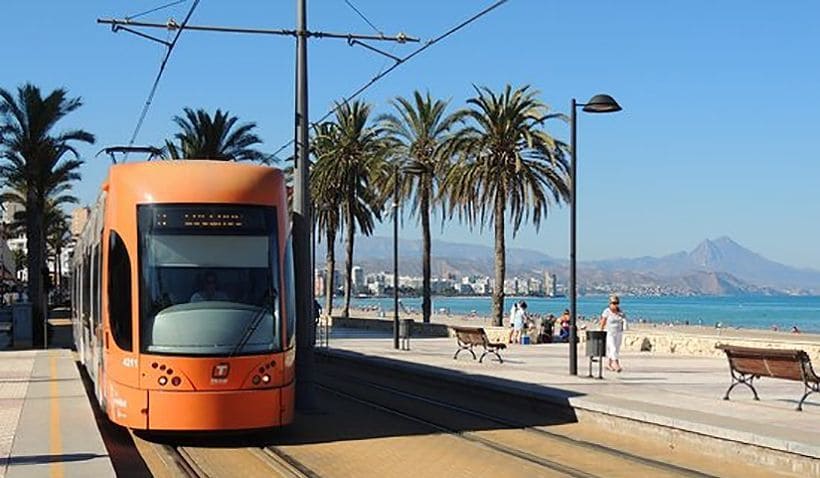 PHOTOS: Pattaya Watchdog
Pattaya City Hall has is putting aside 70 million baht for preliminary planning, design work and Environmental Impact Statements for a proposed tram (light rail) project. The trams are part of the Thai government's huge Eastern Economic Corridor (EEC) budgets to develop Pattaya and other areas along the Eastern Seaboard.
The first part of the proposed project, the Red Line, will service, specifically, the southern Pattaya beaches.
Two companies are in line for the tender to build the city's new light rail network, according to the Pattaya Watchdog article. The construction of the light rail around Pattaya is part of the Eastern Economic Corridor budget to develop the resort city and other populated sections of the Eastern Seaboard.
A source also insists that the services will be constructed at ground level and not as an elevated train system or monorail.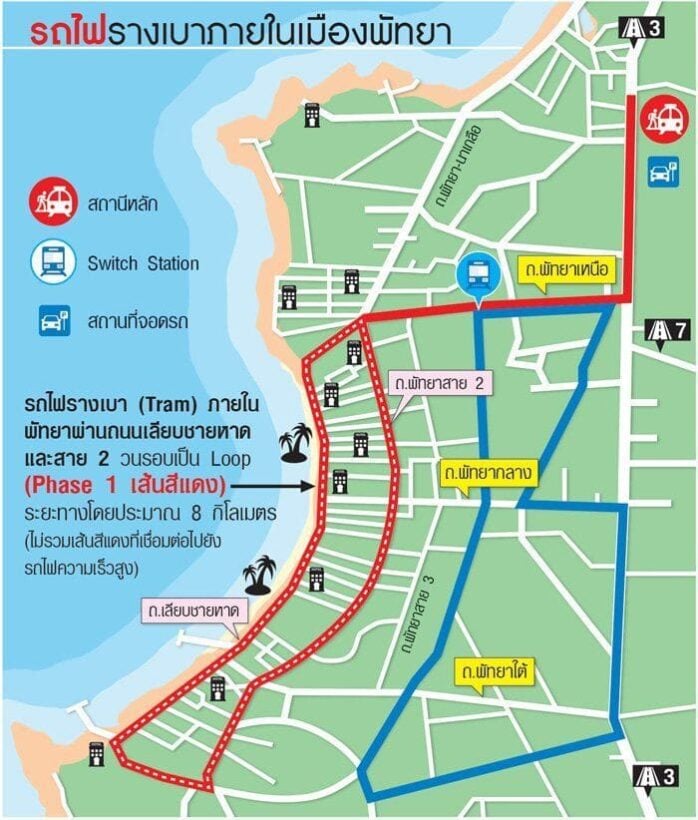 Pattaya Watchdog map of the proposed routes.
Pattaya Watchdog says that the initial 8 billion baht Red Line won't connect with the proposed high speed three-airport line which will link Don Mueang, Suvarnabhumi and U-Tapao airports.
The route would travel from South Pattaya pier, Sukhumvit Road, North Pattaya, City Hall, Terminal 21, Central, and Royal Garden. There is also a longer Blue line proposed which has forecast costs up to 12 billion baht.
SOURCE: Pattaya Watchdog
Reconstructed Pattaya Beach officially opened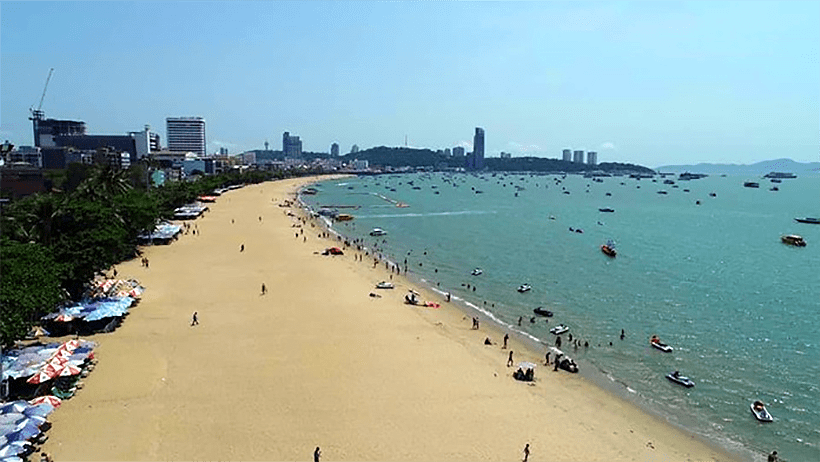 PHOTOS: Pattaya Unlimited | Pattaya Mail
The Thai Transport Minister and senior marine-management officials have hailed the rebuilding of Pattaya Beach as a great success at the official opening of the reclaimed beach and shoreline.
The reconstruction was completed early this year to muted applause from the locals, but the ceremony was the official recognition of Pattaya and Marine Department officials who spent nearly eight years trying to complete the project.
But between the rebuild and this week's ceremony, two storms damaged the underpinning structure and washed much of the new sand back into the Gulf of Thailand. It took another two months to repair the damage and return the beach back to its refurbished condition. For now, Pattaya tourists and locals can enjoy the much wider beach.
The 600 million baht project commenced in 2011 and followed warnings from environmentalists that the new sandy shoreline could be washed away within five years following its completion.
SOURCE: Pattaya Mail