HK 'celebrity' gets his stolen goods back, sort of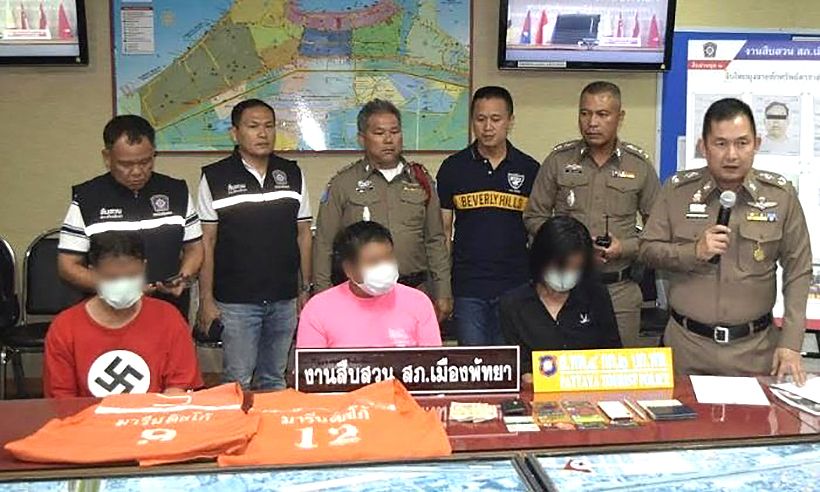 Police in Pattaya have announced the arrest of three people who took advantage of the confusion in a Walking Street fight to steal the property of a 'celebrity' from Hong Kong over the weekend. But evidence recovered was nothing like what the visitor had claimed was stolen and the man even failed to turn up at the police station yesterday to verify that the items were his.
Read The Thaiger weekend report about the matter HERE.
Sanook reports the the case follows a melee in Walking Street last week in which Vincent Chen or "Chenny" got involved in a 5am fight with four lady boys. He claimed a bag containing about a million baht in valuables had gone missing.
The lady boys were quickly exonerated and fined for fighting and released. But where was the bag and the reported valuables? Police said they knew and yesterday the missing items were found.
Chonburi police chief Pol Maj-Gen Nanthachart Suphamongkhon was at the resort to announce the arrest of two motorcycle taxi riders and a lady boy who took part in the theft while and after the fracas was proceeding. Many people were watching the melee as it unfolded in the famed red light area.
Sanook says that the people arrested were 52 year old Nopadon or "Tui" and 46 year old Bunliang or "Reuang", the 'win' riders and 29 year old  Anurak or "Pia", the lady boy.
Recovered were a diamond encrusted bracelet, an iPhone 10, 4,000 baht, nine Hong Kong bankcards, a driving license and some ID. According to police, Tui took the bag, Reuang picked up the bracelet and Pia snatched the phone. Tui said he dumped the bag after stealing the 4,000 baht. Reuang said he didn't know it the bracelet was fake or not and he had no intention of stealing it. He was just looking after it. He found it lying in the street, he claimed.
Nanthachart says that police will need to speak to Mr Chen again regarding the half million baht Rolex watch he claimed had gone missing.
The Hong Kong man – reported as working as a TV presenter – had also claimed earlier there was 120,000 baht and 5,000 HK dollars in the bag.
Maj Gen Nanthachart said there had been some communications problems with the victim but that ultimately good police work had resulted in the resolution of the case (except that it's not resolved, is it?)
"ผู้การกบ" แถลงจับไทยมุงฉวยลักทรัพย์ดาราฮ่องกง ยันตำรวจตามคดีเต็มที่ รวบแล้วไทยมุงฉวยลักทรัพย์ดาราฮ่องกงขณะมีเรื่องทะเลาะวิวาท ด้านผู้เสียหายหายตัวเงียบไร้ร่องรอย ขณะ ที่ผู้การเมืองชลระบุตำรวจตามคดีเต็มที่ ส่วนทรัพย์สินที่เหลือต้องขยายผลต่อจากกรณีที่ผู้สื่อข่าวได้รับการร้องเรียนจาก MR.VINCENT CHEN อายุ 32 ปี ที่ระบุว่าดาราชาวฮ่องกง ว่าทรัพย์สินมูลค่ากว่า 1 ล้านบาทสูญหายไปเป็นกระเป๋าถือซึ่งภายในมีทรัพย์สินเป็นเงินสดประมาณ 120,000 บาท เงินสกุลต่างประเทศอีก 5,000 ดอลลาร์ฮ่องกง นาฬิกายี่ห้อโรเล็กซ์ มูลค่า 520,000 บาท สร้อยข้อมือราคา 400,000 บาท โทรศัพท์มือถือ 3 เครื่อง มูลค่ารวมประมาณ 50,000 บาทไป หลังมีเรื่องทะเลาะวิวาทกับกลุ่มสาวประเภทสอง บริเวณถนนวอล์คกิ้งสตรีท พัทยาใต้ จ.ชลบุรี ซึ่งได้เข้าแจ้งความร้องทุกข์กับเจ้าหน้าที่ตำรวจแล้วแต่ผู้ก่อเหตุกลับถูกปล่อยตัวไป โดยที่ตนเองก็ไม่ได้ทรัพย์สินคืนจึงรู้สึกงงกับเหตุการณ์ดังกล่าวมากจึงมาร้องขอความเป็นธรรมนั้นล่าสุดวันนี้ (24 ก.ย.) พล.ต.ต.นันทชาติ ศุภมงคล ผบก.ภ.จว.ชลบุรี พร้อมด้วย พ.ต.อ.อภิชัย กรอบเพชร ผกก.สภ.เมืองพัทยา กำลังเจ้าหน้าที่ชุดสืบสวน สภ.เมืองพัทยา และตำรวจท่องเที่ยว ร่วมแถลงผลการจับกุมผู้ต้องหาจำนวน 3 ราย ประกอบด้วย นายนภดล หรือตุ๋ย มูลคำ อายุ 52 ปี คนขับรถ จยย.รับจ้าง นายบุญเลี้ยง หรือเรือง ไชยชิต อายุ 46 ปี คนขับรถ จยย.รับจ้าง และ นายอนุรักษ์ หรือเปีย ทองสุข อายุ 29 ปี สาวประเภทสอง พร้อมของกลางหลายรายการ ประกอบด้วย เงินสด 4,000 บาท กระเป๋าเงินขนาดเล็ก 1 ใบ บัตรธนาคารฮ่องกง 9 ใบ บัตรประชาชน ใบขับขี่ และหนังสือเดินทางประเทศฮ่องกง รวมไปถึงสร้อยข้อมือฝังเพชร 1 เส้น และโทรศัพท์มือถือ ไอโฟน เอ็กซ์ สีขาว 1 เครื่อง ซึ่งทั้งหมดเป็นของ MR.VINCENT CHEN อายุ 32 ปี ดาราชาวฮ่องกง ที่แจ้งสูญหายไว้หลังมีเรื่องทะเลาะวาทกับกลุ่มสาวประเภทสองบริเวณถนนวอล์คกิ้งสตรีท พัทยาใต้ ต.หนองปรือ อ.บางละมุง จ.ชลบุรี พล.ต.ต.นันทชาติ ระบุว่าเหตุการณ์นี้มีกระแสออกไปว่าเจ้าหน้าที่ตำรวจไม่ได้เร่งรัดติดตามคดี ซึ่งจริงๆแล้วไม่ใช่เพราะหลังรับแจ้งก็ดำเนินการอย่างเต็มที่ ทั้งการสอบสวน การตรวจค้นบ้านพักคู่กรณี การตรวจสอบที่เกิดเหตุ และวงจรปิด เพียงแต่อาจมีปัญหาในเรื่องการสื่อสารอยู่บ้างในวันเกิดเหตุ โดยเฉพาะคนเจ็บยังมีอาการมึนเมาด้วยจากการสอบสวนซึ่งทราบว่ากินเบียร์ไปถึง 6 ขวด อย่างไรก็ตามจากการระดมกำลังลงพื้นที่สืบหาเบาะแสก็ได้พยานปากเอกจนทราบว่าคนที่เอาทรัพย์สินผู้เสียหายไปเป็นกลุ่มไทยมุงที่อยู่ในวันเกิดเหตุด้วย หลังผู้เสียหายวางกระเป๋าทรัพย์สินไว้ที่พื้นก่อนวิวาทกัน ได้แก่ นายนภล คนขับ จยย.รับจ้าง ที่หยิบกระเป๋าไปจึงได้ติดตามไปจับกุมตัวที่ซอยวัดธรรมสามัคคี พัทยาใต้ พร้อมของกลางซึ่งเจ้าตัวระบุว่ามีเพียงเงินสด 4,000 บาท และเอกสารจำนวนหนึ่งเท่านั้น ขณะที่การขยายผลเพิ่มเติมก็สามารถจับกุมนายบุญเลี้ยง คนขับ จยย.รับจ้างอีกคนได้พร้อมสร้อยข้อมือฝังเพชร 1 เส้น รวมไปถึง นายอนุรักษ์ สาวประเภทสอง พร้อมโทรศัพท์มือถือไอโฟน เอ็กซ์ สีขาว ซึ่งทั้งหมดให้การรับสารภาพจึงแจ้งข้อกล่าวหา "ลักทรัพย์ในเวลากลางคืน"พล.ต.ต.นันทชาติ กล่าวถึงกรณีทรัพย์สินอื่นๆที่ทางผู้เสียหายระบุไว้ครั้งร้องเรียนสื่อมวลชน อาทิ นาฬิกาโรเล็กซ์ มูลค่า 520,000 บาท เงินสดไทย 120,000 บาท โทรศัพท์มือถือ 3 เครื่อง และเงินสกดุดอลลาร์ฮ่องกงอีก 5,000 นั้น กรณีนี้ทางเจ้าหน้าที่ยังตรวจไม่พบและผู้ต้องหาก็ให้การว่าไม่พบเห็นเช่นกัน ขณะที่วันนี้ได้เรียกผู้เสียหายมายืนยันทรัพย์สินและสอบปากคำเพิ่มเติมแต่กลับพบว่าหายตัวไปไม่สามารถติดต่อได้ จึงยังคงให้คำตอบเรื่องทรัพย์สินเหล่านี้ไม่ได้ว่ามีความเป็นมาอย่างไร แต่ก็จะทำการขยายผลสอบสวนเพื่อสืบหามาเพิ่มเติมให้ได้ในเร็ววันนี้..

Posted by PattayaupdateNews on Monday, September 24, 2018
SOURCE: Sanook


Read more headlines, reports & breaking news in Pattaya. Or catch up on your Thailand news.
Pattaya's LONG Songkran comes to an end today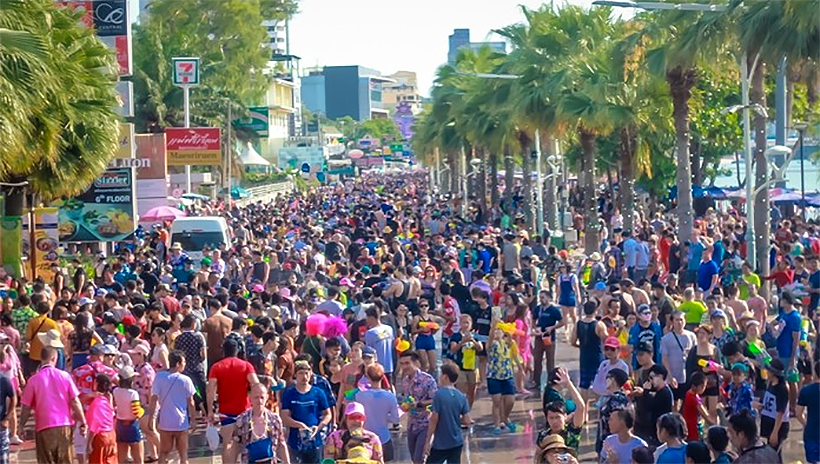 Whilst most of us have hung up our water pistols last Saturday or Sunday following Songkran revellry, punters in Pattaya have been hard at it all week.
But after 9 days of water wastage and Songkran celebrations, the annual festivities come to a close in parades and official festivities today and tomorrow.
Officially, according to the Pattaya Mail, April 19 is the final day of Pattaya's Songkran celebrations. Ceremonies are being held today at Chaimongkol Temple. Alms offerings and elderly blessing ceremony were held early this morning and cultural shows continuing during the day featuring dancing and traditional games.
Pattaya's Songkran parade started at noon along Second Road, Central Road and back along Beach Road to Bali Hai Pier before returning to the temple.
Pattaya officials reminded revellers that powder and chalk isn't permitted, along with high-power water guns. Water-throwing is 'meant' to stop at 6pm, but… well… Songkran!
Tomorrow, April 20, the Rice Festival in Naklua, with no water throwing, officially draws the mid-April events to a close.
SOURCE: Pattaya Mail
Severe localised storms predicted for central, north and north-east until April 16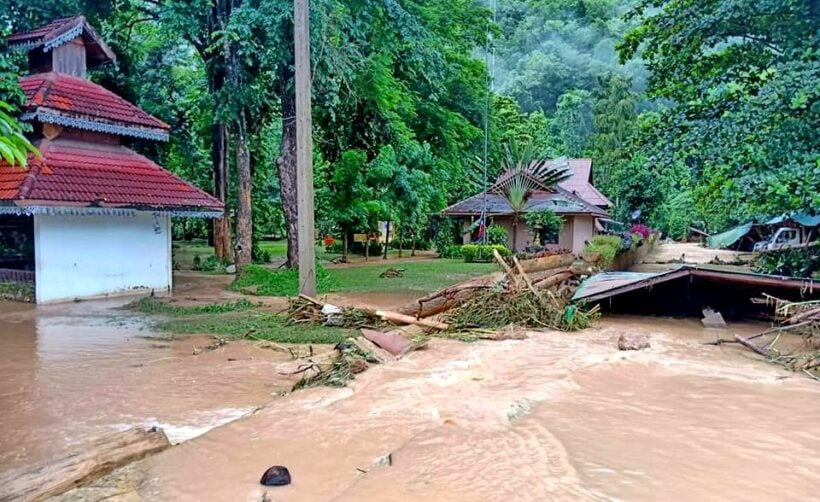 FILE PHOTO
The meteorological office (TMD) says there could be localised severe thunder storms for the entire upper area of the country until Tuesday.
The north, north-east, eastern seaboard and central regions, including Bangkok and surrounding areas could all be randomly hit by tropical thunderstorms.
The TMD office director Phuwiang Prakhammin has warned of rain storms, thunder and lightning, high winds and even hail.
"People were warned to avoid open spaces, not to stand under trees as it is a lightning strike hazard and be careful of unstable advertising hoardings."
Farmers have also been warned about protecting their livestock and crops in the agriculture-heavy northeastern provinces. Here are the provinces that may be affected…
Northeast: Bueng Kan, Sakon Nakhon, Nakhon Phanom, Mukdahan, Khon Kaen, Chaiyaphum, Kalasin, Maha Sarakham, Roi Et, Yasothon Loei, Nong Bua Lamphu, Khon Kaen, Chaiyaphum, Nakhon Ratchasima, Buri Ram, Surin, Si Sa Ket and Ubon Ratchathani
Northern region: Chiang Mai, Chiang Rai, Phayao, Phrae, Nan, Lampang, Tak, Sukhothai, Uttaradit, Phitsanulok, Kamphaeng Phet, Phichit and Phetchabun
Central: Nakhon Sawan, Uthai Thani, Chai Nat, Sing Buri, Ang Thong, Ayutthaya, Lop Buri, Saraburi, Suphanburi, Ratchaburi, Kanchanaburi, and Bangkok.
East: Prachin Buri, Sa Kaeo, Nakhon Nayok, Chachoengsao, Chon Buri, Rayong, Chanthaburi and Trat
SOURCE: Daily News
Foreigner hit and dragged under Chinese tour bus in Pattaya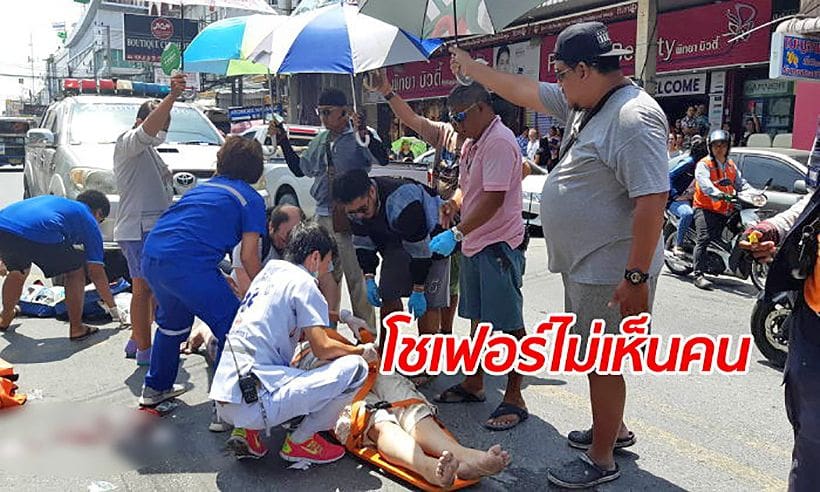 PHOTO: Sanook
A foreign man remains in a serious condition after being knocked down and dragged under a Chinese tour bus in South Pattaya on Friday.
Tourists on the bus were horrified as the tourist was pulled out from under the bus. The man's left arm was detached and he was unconscious, according to Sanook.
Sawang Boriboon foundation medics performed first aid at the scene by bystanders rushing to provide shade with their umbrellas.
The man was stabilised then rushed to Muang Pattaya Hospital. His identity and nationality have not been revealed.
The 47 year old tour bus driver, Parinya, claims he didn't see the pedestrian. He says he only became aware of the issue when a member of the public screamed that someone was being dragged under his bus.
The accident happened in the road leading to South Pattaya around 11.30 am Friday morning.
SOURCE: Sanook