Pattaya
HK 'celebrity' gets his stolen goods back, sort of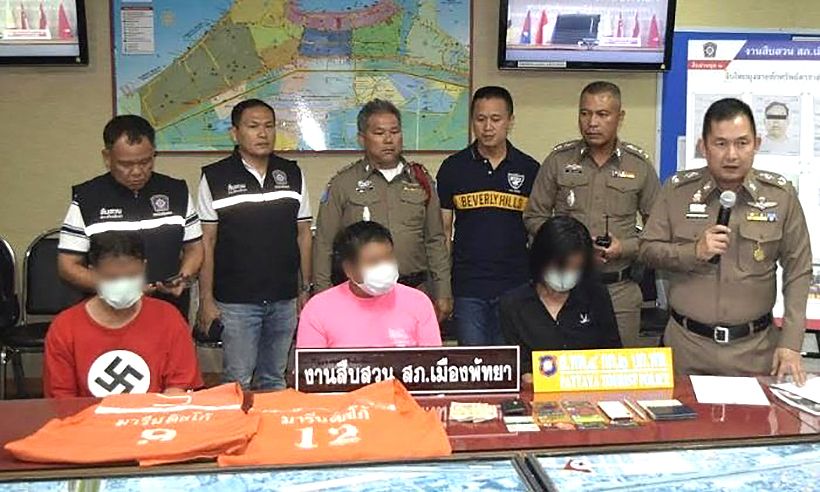 Police in Pattaya have announced the arrest of three people who took advantage of the confusion in a Walking Street fight to steal the property of a 'celebrity' from Hong Kong over the weekend. But evidence recovered was nothing like what the visitor had claimed was stolen and the man even failed to turn up at the police station yesterday to verify that the items were his.
Read The Thaiger weekend report about the matter HERE.
Sanook reports the the case follows a melee in Walking Street last week in which Vincent Chen or "Chenny" got involved in a 5am fight with four lady boys. He claimed a bag containing about a million baht in valuables had gone missing.
The lady boys were quickly exonerated and fined for fighting and released. But where was the bag and the reported valuables? Police said they knew and yesterday the missing items were found.
Chonburi police chief Pol Maj-Gen Nanthachart Suphamongkhon was at the resort to announce the arrest of two motorcycle taxi riders and a lady boy who took part in the theft while and after the fracas was proceeding. Many people were watching the melee as it unfolded in the famed red light area.
Sanook says that the people arrested were 52 year old Nopadon or "Tui" and 46 year old Bunliang or "Reuang", the 'win' riders and 29 year old Anurak or "Pia", the lady boy.
Recovered were a diamond encrusted bracelet, an iPhone 10, 4,000 baht, nine Hong Kong bankcards, a driving license and some ID. According to police, Tui took the bag, Reuang picked up the bracelet and Pia snatched the phone. Tui said he dumped the bag after stealing the 4,000 baht. Reuang said he didn't know it the bracelet was fake or not and he had no intention of stealing it. He was just looking after it. He found it lying in the street, he claimed.
Nanthachart says that police will need to speak to Mr Chen again regarding the half million baht Rolex watch he claimed had gone missing.
The Hong Kong man – reported as working as a TV presenter – had also claimed earlier there was 120,000 baht and 5,000 HK dollars in the bag.
Maj Gen Nanthachart said there had been some communications problems with the victim but that ultimately good police work had resulted in the resolution of the case (except that it's not resolved, is it?)
https://www.facebook.com/pattayaupdatenews/videos/482275222271452/
SOURCE: Sanook