36 suspected drug users nabbed in Pattaya club raid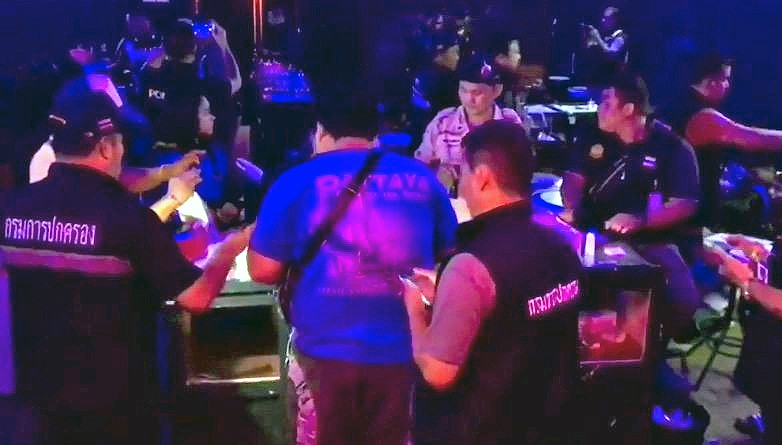 Police and Pattaya officials have raided a Pattaya club early this morning (Monday) and identified 36 customers who allegedly tested positive to illicit drug use.
The assistant Bang Lamung district chief led the raid on JT Club Karaoke in Tambon Nong Plue, Pattaya, at 3.30am. Officials are reported to have found 150 customers dancing, even though the legal closing time is 2am.
They also found that 70 of them were under the age of 20, the legal age for going to pubs and clubs in Thailand. Of those, seven were under the age of 16 – two boys and five girls. More than half of the patrons tested allegedly tested positive to drugs. A small bag of the drug ketamine was also found on the floor.
The Nation reports that the manager of JT Club Karaoke, Praewprao McCulloch, was arrested and charged with violating opening hours laws, selling alcohol after licensing hours, allowing underage people to enter an entertainment venue, selling alcohol to underage people, and allowing drugs to be used in a venue under her responsibility.
The 36 patrons were also arrested for abusing drugs and will be sent for mandatory rehabilitation.
ปกครอง ตำรวจ ลุยตรวจคาราโอเกะ อายุต่ำ 70 คน ฉี่ม่วงเพียบ ผงะพบเด็ก16 ปีเที่ยว ผงะสถานบันเทิงปล่อยเด็กเข้าเที่ยวผับ 70 คน เด็ก 16 ปี 7 คน ฉี่ม่วง36 คน เป็นเด็กอายุต่ำถึง 31 ราย ยังเจอยาตกที่พื้นเมื่อเวลา 03.30 น.วันที่ 23 กรกฎาคม 2561 นายพิเชษ ธรรมโหน ปลัดอำเภอบางละมุง นายรัฐดล ลิ่มหัน ปลัดอำเภอบางละมุง จ.ชลบุรี พร้อมด้วยเจ้าหน้าที่ตำรวจ เจ้าหน้าที่ฝ่ายปกครอง นำกำลังบุกเข้าตรวจสอบ เจที คลับ คาราโอเกะ แอนด์ผับ เลขที่ 564/38 ม.10 ต.หนองปรือ อ.บางละมุง จ.ชลบุรี หลังรับแจ้งว่ามีการลักลอกเปิดให้เยาวชนอายุต่ำเข้าใช้บริการ มั่วสุมเสพยาเสพติด และเปิดเกินเวลาที่กฎหมายกำหนด เมื่อบุกเจ้าตรวจสอบพบดีเจกำลังเปิดเพลง ให้นักเที้ยวเกือบ 150 คน เต้นกันตามจังหวะดนตรีอย่างเมามันส์ เจ้าหน้าที่จึงสั่งให้ปิดเพลงและปิดไฟ ก่อนจะแยกผู้ชายและผู้หญิง ทำการตรวจบัตรประจำตัวประชาชน และตรวจสารเสพติดในร่างกาย พบว่ามีเยาวชนอายุต่ำกว่า 20 ปีเข้าใช้บริการจำนวน 70 ราย เป็นผู้ชาย 37 คน ผู้หญิง 33 คน และผู้มีปัสสาวะสีม่วงจำนวน 36 ราย เป็นเยาวชนอายุต่ำถึง 31 คน นอกจากนี้ยังพบยาเสพติดประเภทยาเคตามีน 1 ถุง ตกอยู่ที่พื้นข้างโซฟาภายในร้าน แต่ไม่มีผู้ใดรับเป็นเจ้าของ จึงเก็บไว้เป็นหลักฐานเบื้องต้นได้ตรวจค้นยานพาหนะของนักเที่ยวทั้งหมดแต่ไม่พบสิ่งผิดกฎหมาย ก่อนจะควบคุมตัวน.ส.แพรวพราว แม็คคลูล็อท อายุ 24 ปี ผู้ดูแลร้าน แจ้งขอกล่าวหา เปิดสถานบริการเกินเวลาที่กฎหมายกำหนด จำหน่ายสุราเกินเวลาที่กฎหมายกำหนด ปล่อยปะละเลยให้เยาวชนอายุตำกว่าที่กฎหมายกำหนดเข้าใชบริการ จำหน่ายสุราให้เด็กอายุต่ำกว่าที่กำหมายกำหนด ปล่อยปะละเลยให้มียาเสพติดในสถานบันเทิง พร้อมส่งผู้ที่มีปัสสาวะสีม่วง ได้ส่งให้ดำเนินคดีตามกระบวนการทางกฎหมายต่อไปทั้งนี้ข่าวยังรายงานเพิ่มเติมอีกว่า ร้าน เจที คลับ คาราโอเกะ แอนด์ผับ แห่งนี้ เจ้าหน้าที่ต้องตกใจเมื่อพบว่ามีเด็กอายุต่ำเข้าใช้บริการที่มีอายุน้อยที่สุดคือ 16 ปี จำนวน 7 คน เป็นผู้ชาย 2 คน ผู้ชหญิง 5 คน เข้าใช้บริการ ทั้งยังตรวจเจอปัสสาวะสีม่วงในตัวเยาวชนอายุต่ำถึง 12 รายอีกด้วย

Posted by PattayaupdateNews on Sunday, July 22, 2018
Keep in contact with The Thaiger by following our
Facebook page
.
The body of an unidentified foreigner found floating south of Pattaya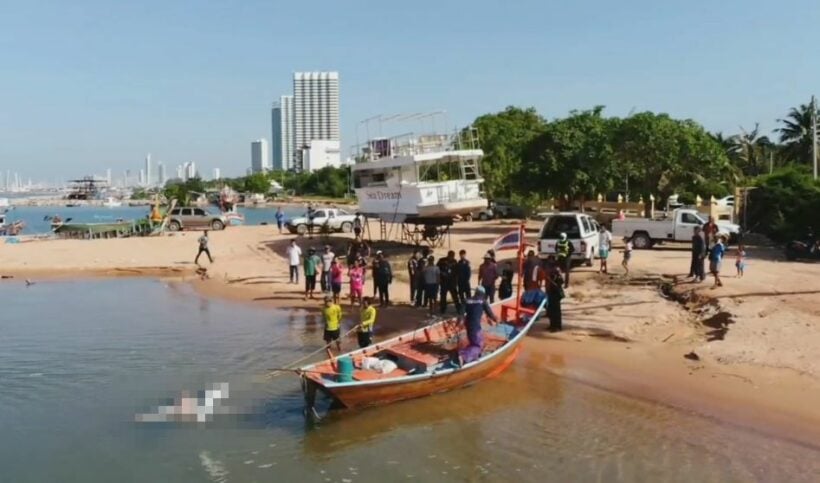 A fisherman has recovered a body, thought to be a foreigner, from the Gulf of Thailand off Sattahip.
Na Jomtien Police were notified of the body by 24 year old Teerapong Boonwat, a fishing boat captain plying the waters around Sattahip, south of Pattaya.
Mr. Boonwat had recovered the body found floating near Koh Ped (Duck Island), about three nautical miles from the Sattahip shore. Police and emergency responders rushed to the scene near Amparam Temple.
Police report that the male body appears to be a foreigner aged around 40 years old with a beard and little head hair. He was wearing a white T-shirt, long jeans and black sneakers.
No identification was found on the man. It is believed that he had died at least 7 days before his body was found floating in the water. The police didn't state if there was any signs of foul play or the condition of the body.
Police are investigating the incident and reviewing missing person reports to establish identification.
SOURCE: The Pattaya News
Keep in contact with The Thaiger by following our
Facebook page
.
Pattaya City's Police Chief dies from sudden heart attack on way to Bangkok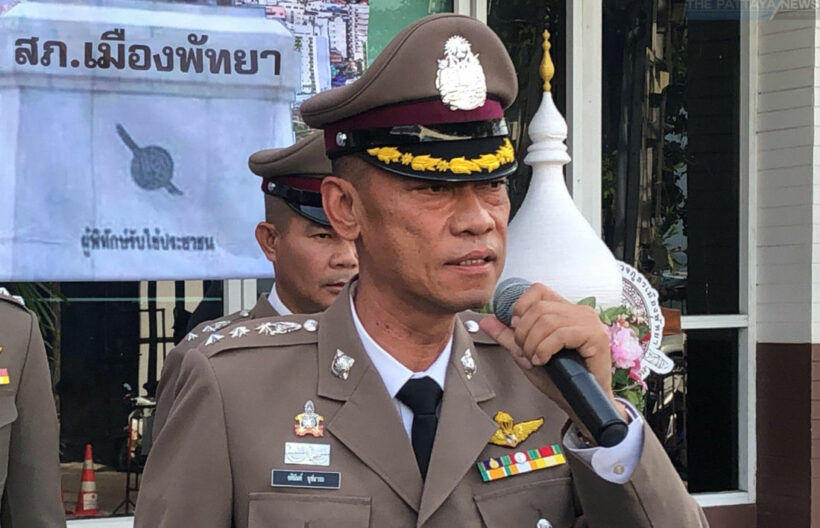 PHOTOS: The Pattaya News
The Pattaya City Police Chief Col. Atinan Nuchanart has died from a heart attack yesterday morning (Friday) while he was on the way to a meeting. 59 year old Col Atinan was the Pattaya City Police Acting Chief, new in the position, and died at the Chonburi Hospital from a heart attack.
Yesterday morning he and his team were heading to Bangkok from Chonburi for a meeting when he started complaining of chest pains before falling unconscious in the car. The Chief was rushed to the Chonburi Hospital by other officers in the vehicle. He was pronounced dead by doctors at 2pm.
Col Atinan was born in Lopburi and was the previous Police Chief of Mueang Chonburi Police Station. He was later transferred as the Pattaya City Police Acting Chief on September 2. He had only been in the top job for little over a month.
The previous Pattaya police Chief was removed from the position pending an investigation into large drug raids at local discos open after legal closing hours during this year.
A full funeral for the well respected veteran officer will take place in the near future but has not been announced at this time.
SOURCE: The Pattaya News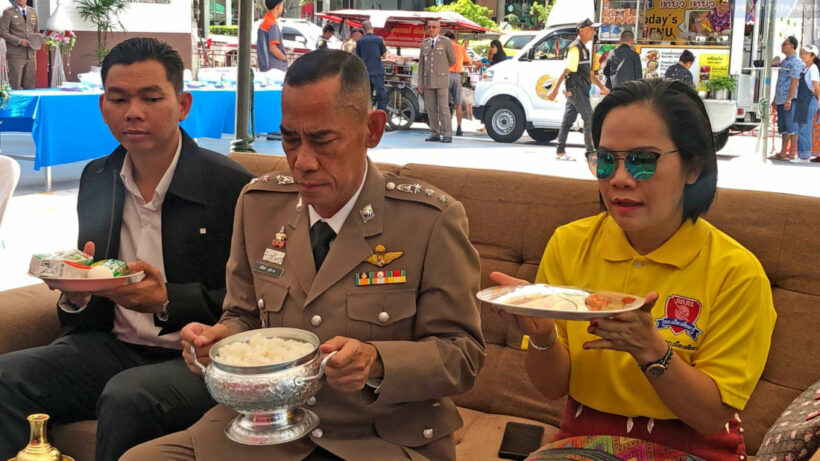 Keep in contact with The Thaiger by following our
Facebook page
.
Local residents and vendors demand action on Pattaya Beach erosion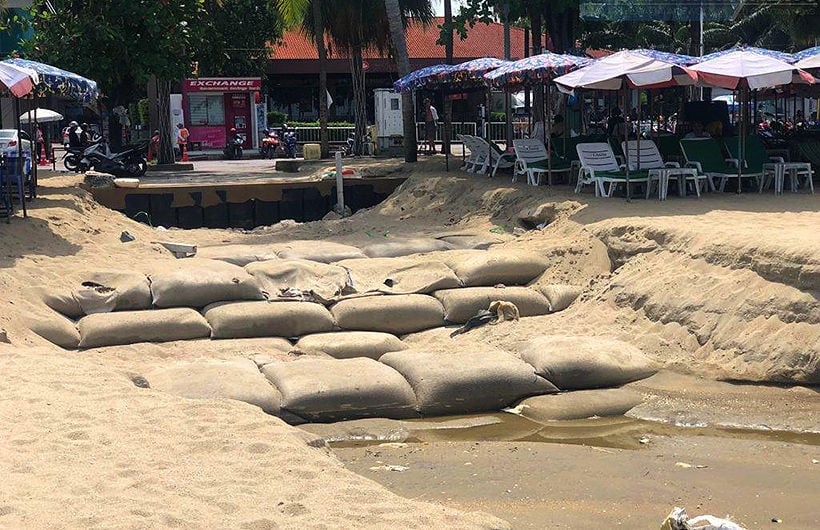 PHOTOS: The Pattaya News
Recent heavy rains over the past week in Pattaya have caused significant deep erosion and gaping holes on Pattaya Beach that have now been sitting in plain view for nearly a week. The situation is an unsightly embarrassment and a potential hazard for tourists, according to local residents and beach vendors.
The Pattaya News reports that, earlier this week, storm waters were flowing onto Pattaya beach into the Gulf after torrential rains, notably at the beach area near Central Festival Pattaya, and have been washed away.
The erosion is at least a metre deep in places, exposing some of the underpinning sand-bag foundations that were placed there doing the re-instatement works last year. Local vendors are complaining that tourists were avoiding the beach.
Beach vendors say this erosion has happened nearly a week ago and is very dangerous especially at night time. They are asking for city officials to speed up repair work and fix the problem.
Earlier this week residents were complaining about an unknown white sediment floating around some of the areas where the erosion had occurred. Last year some 400 million baht was spent re-building some of Pattaya's beaches which end up damaged and washed out to sea any time there are heavy rains.
SOURCE: The Pattaya News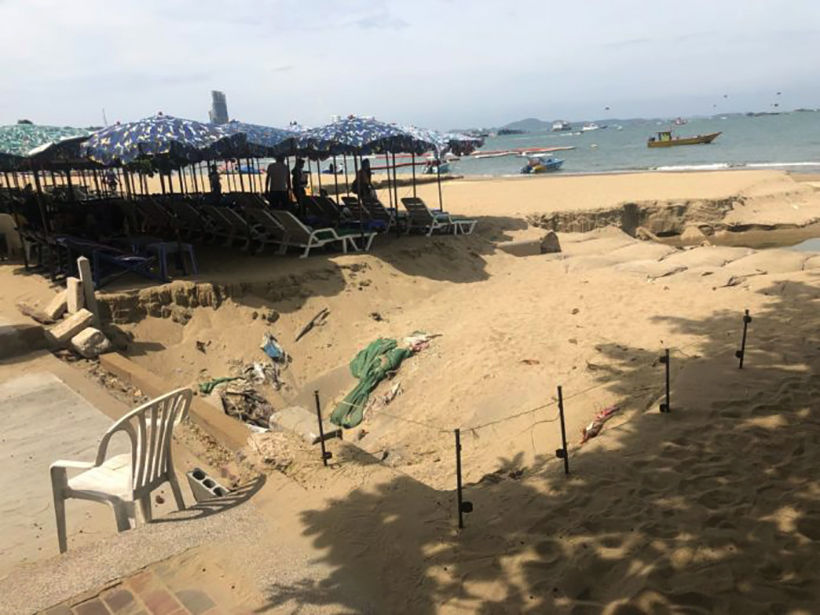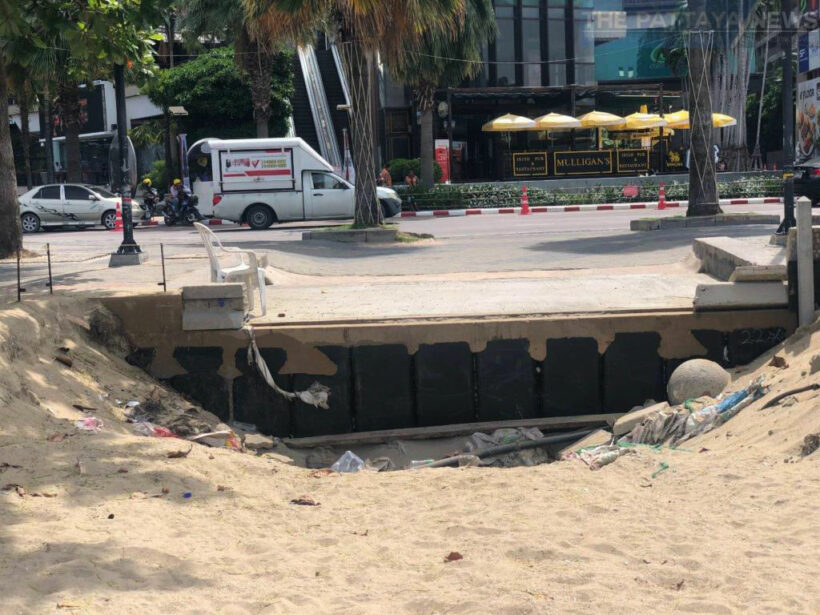 Keep in contact with The Thaiger by following our
Facebook page
.