Weird World News: Pushing buttons for strip searches, sharks and instant drama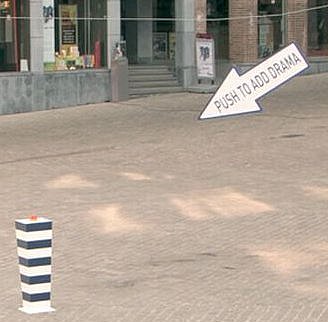 PHUKET: This week's Weird World News Round-up hits the "press" as button pushers get dramatic outcomes. Pushed too far, one man initiates his own airport strip search, a "shark-whisper" taps great whites sharks on the nose, and a "drama button" in the middle of your average Flemish square all made headlines this week.
'Harassed' man strips down to protest airport security
Apparently Phuket doesn't have the only airport that makes you want to tear your clothes off in frustration. A 50-year-old man halted the security line at Portland International Airport in the US after unbuttoning his trousers and stripping in protest of the screening procedure there, reported The Mirror.
John Brennan said that he felt "harassed" by staff as he attempted to pass through the security checkpoint for his flight to California.
"I heard 'Stop the line, stop the line,' and I looked up and there was this man completely nude,'" said Brian Reilly, a witness at the airport.
"He got pulled aside for extra security measures. He was clearly protesting it," he added.
"When interviewed about his actions, Mr Brennan stated he fly's [sic] a lot and had disrobed as a form of protest against TSA [Transport Security Administration] screeners who he felt were harassing him," a police incident report read.
Police made it clear that despite Brennan's disorderly behavior he had not been drinking or under the influence of drugs at the time. However, he refused to redress despite multiple requests, a spokesperson said.
"Do I have anything illegal? Am I good to go through now?" Mr Brennan reportedly asked as he stood in the buff.
John Brennan was charged with disorderly conduct and indecent exposure.
Shark-whisperer gets frisky with great whites
A South African diving guide has taken to calming the most iconic and feared shark in the world – the great white.
Andre Hartman greets great white sharks as the rise from the water, by placing his hands on the animals' snouts. In doing so, the South African is able to make the shark open its massive jaws and fall into a trance like state, The Telegraph reported.
Hartman had his first encounter with a great white over 30 years ago in 1977, according to an article by X-Ray Magazine.
"It tried to bite me! I was spearfishing at the time and carrying a lot of fish," he told the magazine. "It came in and tried to take me. I saw it coming, so I gave it the gun. It didn't like it, so it swam away."
Doug Perrine, an American photographer who shot photos of Hartman at work, explained the technique behind the shark-whispering to the Daily Mail.
"This part of the shark's body is loaded with nerve endings, and the creature's sensory system became overloaded from the stimulus. The shark seemed to enter a pleasant, but confused state where it was dreamily seeking the source of the stimulus. So there was no trigger for the shark to attack anything," Perrine explained.
Press to add drama
There are places in the world where it seems like nothing really happens, and in one such place a large red button was installed with a sign proclaiming "PUSH TO ADD DRAMA".
The button-pressing drama staged by the new TV channel TNT in Belgium went viral shortly after it landed on YouTube, with three million views in the first day, reported The Mirror.
At last report the video entitled "A Dramatic Surprise On a Quite Square" had over 26 million views.
Starting with a dramatic overture, the setting is established, "somewhere in a little town in Belgium, on a square where nothing really happens, we placed a button".
A large red button egging all passersby to start the action.
Within one minute and 46 seconds the quiet square erupts into chaos as a shirtless emergency medical technician (EMT) gets in a fist fight, a black SUV with gun touting thugs starts a street battle, a scantily clad woman arrives on a motorcycle and finally a team of American football players charges the square and removes the EMT's original patient. Got one minute and 46 seconds? Click here.
— Isaac Stone Simonelli

Join the conversation and have your say on Thailand news published on The Thaiger.
Thaiger Talk is our new Thaiger Community where you can join the discussion on everything happening in Thailand right now.
Please note that articles are not posted to the forum instantly and can take up to 20 min before being visible. Click for more information and the Thaiger Talk Guidelines.