Weird World News: Grrrrrrrrrreat escape in Ohio, monster mistake for giant slipper man and tears for loveable crocodile Pocho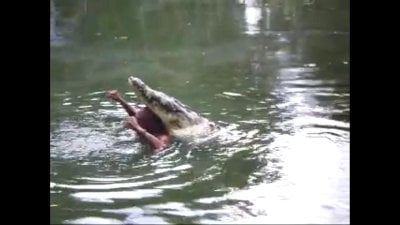 PHUKET: Animals leaped into the world's news headlines this week with scary, silly and sad stories to report.

The great Ohio escape: Monkey still AWOL, feared eaten by lion

A FUGITIVE monkey who has been on the run from Ohio police since Tuesday night is presumed dead, eaten by one his "big cat" accomplices.

One of the 18 tigers or 17 lions among the 58 animals who were set free from the Muskingum Exotic Animal Farm late Tuesday night by their owner are thought to have eaten the Macaque monkey.

Police have now officially ended their search for the monkey.

Sherrif's deputies shot and killed 48 of the animals after Terry Thompson, the owner of the farm, opened all the animals' cages before committing suicide, the Telegraph reports

His body was found close to the cages with bite marks to the head. They are believed to have been inflicted shortly after his death by one of his large cats.

With wolves, tigers, bears and lions on the loose, schools were closed in the Zanesville area on Wednesday and flashing signs along highways warned: "Caution exotic animals" and "Stay in vehicle".

Police officers were under orders to shoot to kill all animals when the alarm was first raised in the early hours of Wednesday morning due to fear the animals would evade capture under the cover of night.

Muskingum County Sheriff Matt Lutz said public safety was his primary concern and that his "suspects" were not everyday house cats or dogs, but "300 pound Bengal Tigers".

Animals rights activits have been voicing their outrage at the shootings.

HOAX of the week: Monster slipper fit for a giant delivered to man's home

A SLEW of British newspapers were caught up in an elaborate hoax this week about a man who mistakenly received a size 1,450 monster slipper – big enough for him to sleep in.

The Telegraph, Daily Mail, Mirror and other major newspapers reported that Londoner Tom Boddingham, 27, ordered a custom-fit size 14.5 monster slipper from Hong Kong, but the manufacturer misplaced the decimal point and sent him the giant slipper, measuring seven feet long.

The Guardian today reports the story to be an elaborate PR stunt from Monster Slippers, and the "real" Tom is actually a bloke called Jospeh Jennings, none other than the web manager for the slipper company.

Click here for the full story.

Tears for last act of Pocho the crocodile

ONE of the world's most famous crocodiles was given a heroe's funeral this week.

Pocho, a 14-foot-long crocodile, was a local legend in Siquirres, Costa Rica, a small banana farming town. Pocho and his owner Gilberto Shedden, 54, were a double act called Tarzon Tico.

Their weekly Sunday shows were a much-loved tradition in the town. They used to wrestle each other much to the delight of locals and thousands of internet fans around the world.

Hundreds of locals lined the streets to pay their respects to the 70-stone Pocho and Gilberto, wearing his trademark loincloth, sat alongside his beloved friend for the funeral procession.

Tarzan Tico performed for eight years, putting on shows that helped put the Caribbean town on the map.

Gilberto found the Pocho in a river badly injured from a gunshot wound to the head 20 years ago. Her nursed Pocho back to health and the two became best friends.

Pocho's body will be embalmed and put on display in a local museum.

Click here to see some of Tarzan Tico's amazing acts.

Remember to tune in next week for more of the Phuket Gazette's new Weird World News round-up.
Keep in contact with The Thaiger by following our
Facebook page
.
Man stung by scorpion hiding in bag of fruit
PHOTO: Wikiwand
A Bangkok man has taken to social media to warn fruit lovers to check fruit thoroughly before eating it, after he was stung by a baby scorpion hiding in a bag of langsat fruit.
Pennung Chaiyachit says he put his hand in the bag, which contained about 2 kilos of the fruit, when he felt a sharp pain as if his thumb had been cut.
Mr Pennung washed his thumb and poured some rubbing alcohol on it but, despite there being no visible wound or any bleeding, his pain began to get worse and he decided to drive to hospital.
While waiting to see a doctor, Mr Pennung did an internet search which revealed a breed of tiny scorpion that can live on langsat fruit and has particularly powerful venom.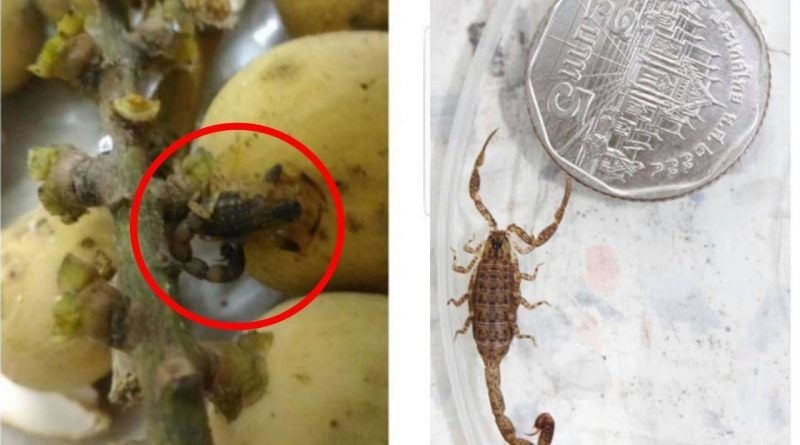 The doctor decided to keep Mr Pennung in overnight as a precaution, giving him antibiotics and administering pain relief through IV.
Mr Pennung documented his experience on Facebook as a warning to others, advising them to always check bags of fruit thoroughly and always wash fruit before peeling.
SOURCE: Thai Residents
Keep in contact with The Thaiger by following our
Facebook page
.
Pet leopard not a hit with neighbours in Chonburi, Thailand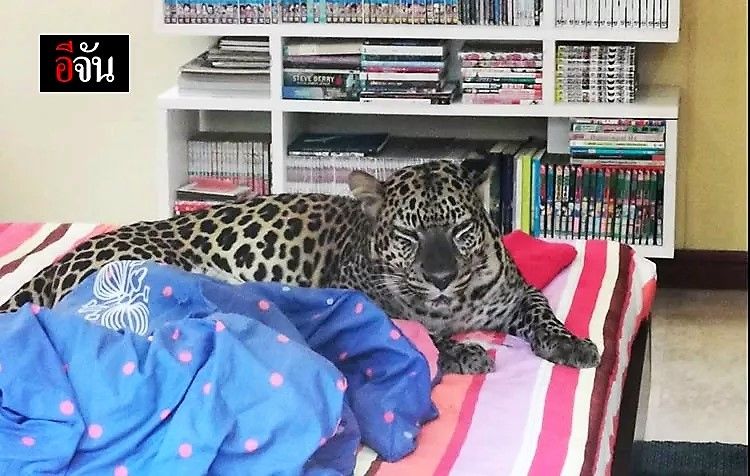 A couple in Chonburi, eastern Thailand, have not ingratiated themselves with neighbours after it was revealed they're keeping a pet leopard in their home.
It's understood that a Thai woman known as Nittiya, and her foreign husband, nationality unconfirmed, have just recently moved to the area from Chiang Mai, and news of their unusual pet has put neighbours very much on edge.
The couple have just had a visit from the Thailand Wildlife Enforcement Network (Thailand-WEN) after anxious villagers notified officials, saying they believed the leopard had been acquired illegally.
They added that the leopard was living in the couple's home and being treated as a pet, expressing concern that it could escape and attack people.
Yesterday, officials visited the home, which is surrounded by a 3-metre-high wall. Nittaya explained that the couple have had the leopard – named Typhoon – since it was born 4 years ago, producing the required documentation for inspection.
Officials agreed that the couple have the right to keep the leopard, but will need to apply for a new licence to keep it in its new location.
SOURCE: Thai Residents
Keep in contact with The Thaiger by following our
Facebook page
.
JetSki crashes into shop in Kamala, Phuket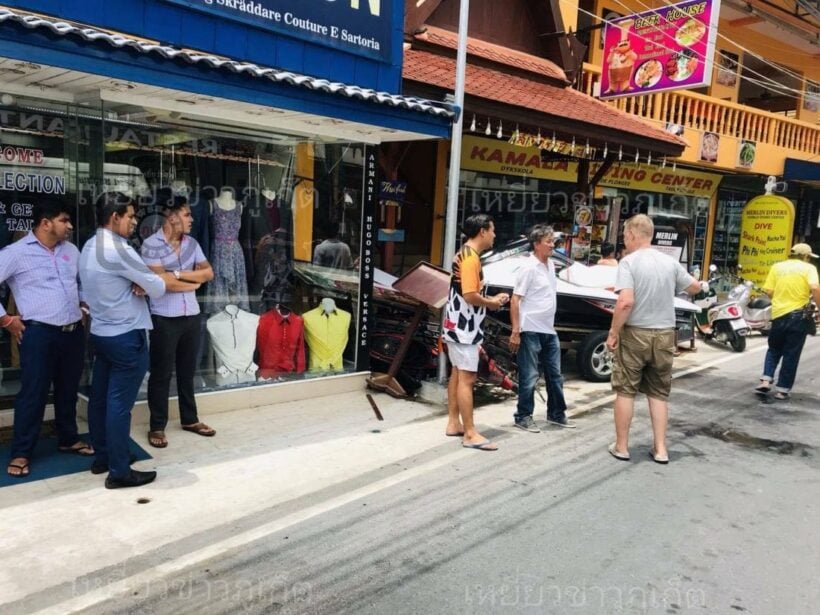 PHOTOS: Newshawk Phuket
Not often we get to write this headline… "JetSki crashes into shop in Kamala".
The jetski was being towed by a Saleng (motorcycle and side-car) through the streets of Kamala this afternoon when, for reasons we don't yet (probably brake failure), the whole shebang went AWOL and ended up running into the front window of some tourist shops.
The jetskis are a common sight going through the backroads of the various west-coast shopping areas at the start and end of each day, on their way to the beach to hire to tourists, usually in a convoy with the jetski staff riding shotgun on top.
This time it was a lone JetSki, being towed by a saleng, that somehow veered off the street and into the roadside Kamala shops.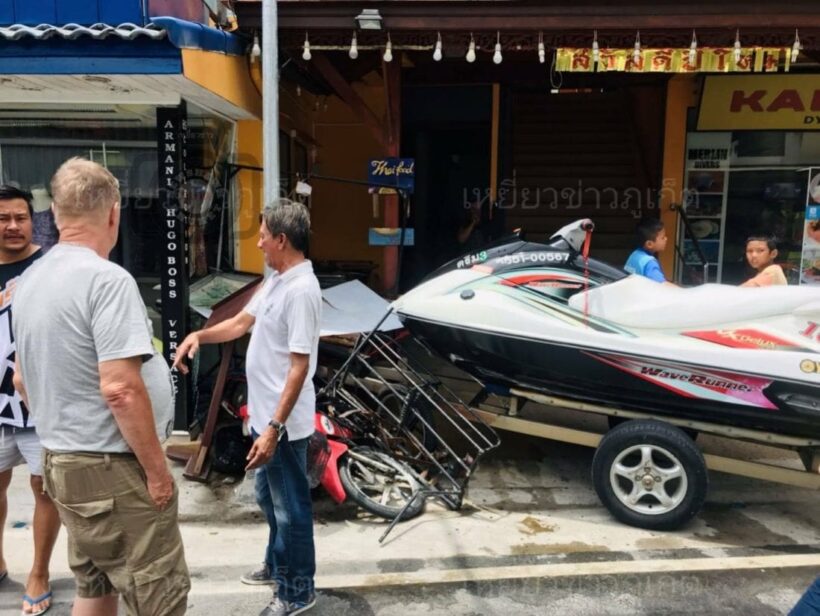 Keep in contact with The Thaiger by following our
Facebook page
.