Thailand: Paradise Lost? Part 1.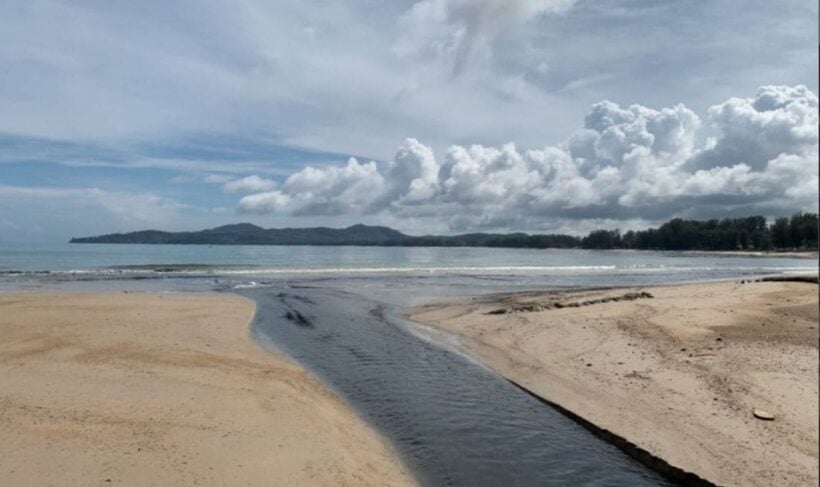 by guest blogger Kent Bowie
Thailand has seen rampant tourist development and expansion over the past 25+ years, but at what cost?
Is this sustainable or even ethical?
Social media has seen an explosive growth too over the last 15+ years, and one thing that annoys many governments worldwide is how the facts and figures delivered by their own agencies often bear no resemblance to the details posted 'live and online' by the worldwide army of grassroots commentators and locals on site.
In fact social media is having much sway that local governments and even global corporations are being shamed into scrambling to clarify, rectify or justify areas of concern.
Not just comments by the public are now on these web-mediums, but entire films and documentaries are now made, published and shared online.
Check out this DW report about the problems of rampant tourism…
Thai tourism has more than doubled in 8 years since 2011, with 34+ million visitors a year! It is worth remembering though that it is not just tourism numbers that are causing natural destruction, more education and awareness is needed by the Thai people too.
When tourists comes, they spend, they travel, they eat, they produce waste – and not just the wrappings, litter and disposable plastic drink bottles and food cases – tourists go to the toilet, and 34+ million extra people in Thailand is a lot of extra 'toilet'.
Currently Thailand, and particularly Phuket, are struggling with out-of-date and broken down waste disposal management. Current laws or regulations for sewage treatment and disposal are either woefully inadequate or more sadly, not even enforced. With the rampant and unabated development and construction of yet more and more condos, villas, tourist 'leisure' resorts and sites around Phuket, what happens to all that sewage?
Sadly, in most cases it is simply, cheaply and conveniently (for the developers) piped through to the local klongs, waterways and beaches – out of sight and out of mind maybe?
Not so much anymore though, as an army of tourists and locals are now taking photos and videos of the rampant health transgressions and are flocking in greater numbers to social media to highlight this slow and persistent poison that is killing the heart of Thai tourism.
#อย่าให้เรื่องนี้เงียบหายลงเล จากคลองบางเทาไหลลงสู่ทะเลเมื่อเช้านี้ (11/5/62) เป็นคลิปที่ชาวบ้านบางเทาบันทึกได้ ตามคลิปน้ำเสียสีดำสนิทและส่งกลิ่นเหม็นอย่างหนักจากคำบอกเล่าของนักท่องเที่ยว กำลังไหลลงทะเลตรงหน้าหาดบางเทา จังหวัดภูเก็ต งานนี้ไม่ต้องอายฝรั่งมังคุดหลอกครับ อายชาวบ้านเขาบ้าง เขาบอกว่าร้องมาหลายปีหลายครั้งแล้ว ก็ยังเฉยกันอยู่!! อย่าให้เรื่องนี้เงียบหายไหลลงทะเลไปอีกนะครับพระเดชพระคุณท่าน"เมื่อ 10 ปีที่แล้วผมเคยไปที่หน้าหาดบางเทา แล้วนั่งเรือของชาวบ้าน ไปเที่ยวเกาะแววใช้เวลาเดินทางประมาณ 15 นาทีซึ่งไม่ไกลจากฝั่งมาก เป็นเกาะเล็กๆที่มีทรัพยากรใต้ทะเลซึ่งอุดมสมบูรณ์เป็นอย่างมาก เราสามารถไปดำน้ำแบบสน็อคได้ น้ำใสเหมือนกระจก จนเห็นปลาสวยงามและปะการังกลากหลายสายพันธ์ุได้อย่างชัดเจน แต่ถ้าเล่นปลอยน้ำเสียลงทะเลแบบไม่บรรยะบรรยังแบบนี้ เกาะแววก็คงไม่เหลืออะไรแล้วแหละครับ!!"

Posted by จิตอาสา Go Eco Phuket on Friday, May 10, 2019
Would you or your family care to sit on a beach littered with plastic, bottle tops, sand soaked in raw, untreated sewage? Do you want to swim in a brown fetid slick sliding over the once pristine waves onto the beaches?
Recently posts regarding huge black pollution flowing onto Bang Tao beaches was shared via social media.
The President of Cherng Talay OrBorTor, Ma'ann Samran admitted that "90% of the businesses in the area did not treat their waste-water" which is being released into the Bang Tao canal and – you guessed it – flowing straight out to greet the tourists on the beaches.
That's just one area. The story repeats throughout Thailand. Similar posts have been shared recently for Krabi, Jomtien and Pattaya. And it's not just recently but over the past decade as the situation has become more common, worse and more people are posting pictures of the ugly situation.
Unless something is done, urgently, then Thailand, along with the southern tourist money-spinner, Phuket, will continue to lose tourists, especially when so many other countries are now going out of their way to welcome them.
We will look at where the tourists are now going in Part II of our article.
Keep in contact with The Thaiger by following our
Facebook page
.
Chiang Mai-Chiang Rai highway closed by flooding again – VIDEO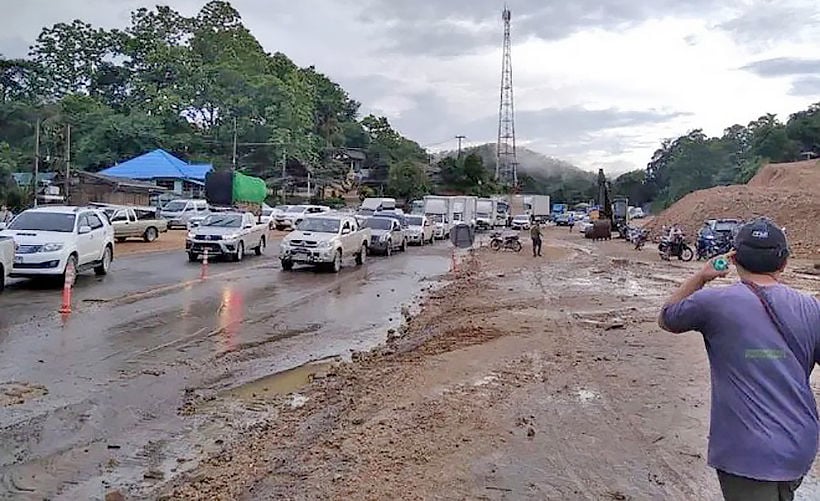 There seems no end in sight for the construction of the Chiang Mai-Chiang Rai highway as yet another night of severe rains caused massive flooding in the Doi Saket district. The bypass and the road were underwater, creating a traffic pandemonium. The police came to the scene and began suggesting alternative routes. As the waters subsided the road was opened again, but police urged motorists to drive carefully and stay alert to avoid accidents, as the road was covered with mud and "extremely slippery".
Less than 2 weeks ago, torrential rains washed away sections of the road and a bridge under construction in the same district, forcing drivers to find alternate routes. Police and officials inspected the damaged sections from kilometre markers 32 to 36 on the highway. An information post was established at the entrance to the Mae Kuang Udom Thara dam, where police and volunteers advised motorists travelling from Chiang Mai to use alternative routes via Phrao district in Chiang Mai and Wiang Pia Pao district in Chiang Rai.
Chiang Mai's governor says he's asked the Highway Department and its contractor to speed up repairs after the flooding as the route's bridge was damaged in 3 sections.
Motorists are greatly concerned about the road's paving-especially as the rainy season brings heavy traffic due to the many traffic incidents. Such travellers are demanding the road to be completed as soon as possible.
Authorities have yet to respond with any suggestions as to how to hasten the construction.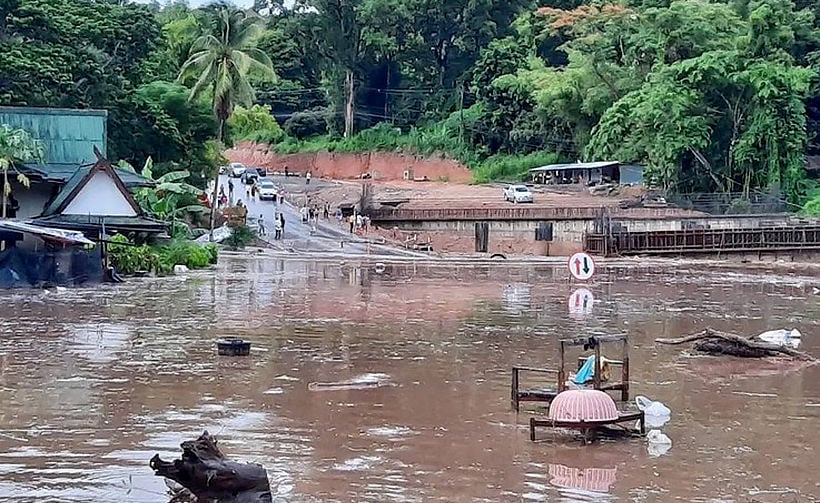 SOURCES: Chiang Rai Times | CityNews | TV5
Keep in contact with The Thaiger by following our
Facebook page
.
Government defends "monkey business" after PETA call for boycott on Thai coconut products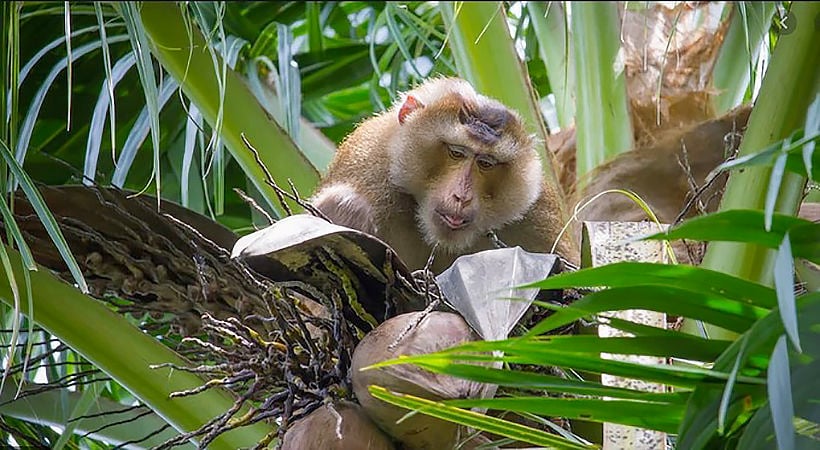 People for the Ethical Treatment of Animals, the US-based animal rights group, is no stranger to controversy and has been accused of double standards in the past. Now it faces accusations of "cultural racism" after its open call to ban all Thai coconut products because some of the coconuts may have been harvested by monkeys. In a statement issued this morning…

"PETA hopes that at today's meeting, Thai Minister of Commerce Jurin Laksanawisit and the coconut industry will stop lying to the public and acknowledge the industry's exploitation of monkeys. Our documentation is clear and unequivocal: Monkeys are kept chained, caged, and isolated for life simply because the industry won't expend funds to mechanise coconut picking as other countries have done.
"These animals, some of whom were seized from their natural habitat as babies, cannot play or be with their families: They are denied freedom and any semblance of a natural life, and the industry's training methods are harsh and psychologically damaging. Forcing monkeys to pick coconuts must be relegated to the history books, and now is the time for the government and the coconut industry in Thailand to realize that using and abusing monkeys is no longer an option."
But in a Facebook post today, the secretary-general of the Kla Party asked about the difference between using monkeys to pick coconuts in Thailand and the use of pigs to search for truffles in Europe. He said that the use of monkeys and pigs are two different cultures and both are respectable, and that in Thailand, monkeys and men work together to pick coconuts, with the animals properly trained at special schools. In the West, he said, pigs have been used for generations to find truffles, an expensive delicacy.
"PETA's concern over animal cruelty is understandable, but its campaign for countries to ban coconut products from Thailand is cruel and an insult to our culture. Nowadays, one should respect racial and cultural diversity."
TV celebrity Narakorn Tiyanont is calling on PETA to look at the way Western farmers raise geese to make foie gras, or goose liver, a delicacy in French cuisine. She says the geese are force-fed using metal tubes to fatten the liver. She also cited the brutal treatment of cows in the dairy industry.
A Former Prachuap Khiri Khan MP candidate says the accusation of monkey abuse might have an ulterior motive to ban Thai products…
"In the past, Thai rice farmers used water buffaloes in paddy fields and foreigners never banned Thai rice."
In a statement to Thai PBS World, PETA senior vice president Jason Baker confirmed their findings of cruel treatment of monkeys in the harvesting of coconuts in Thailand.
"When the government tries to explain away extreme cruelty to monkeys, it only makes the public angrier. The world doesn't want to see these animals being deprived of their natural lives and exploited by the coconut industry. The government can lead the industry to operate humanely, with an animal-free method, which the rest of the region has already adopted, or it can be responsible for the industry's downfall, because the writing is on the wall."
"Increasing numbers of consumers are speaking with their wallets, and retailers are listening. Our investigator was told repeatedly that these monkeys are taken from their families in nature, kept chained-up, abusively trained and forced to climb trees. They should be with their families, not enslaved."
SOURCE: Thai PBS World | Chiang Mai One
Keep in contact with The Thaiger by following our
Facebook page
.
Major international retailers banning monkey-picked coconuts – VIDEO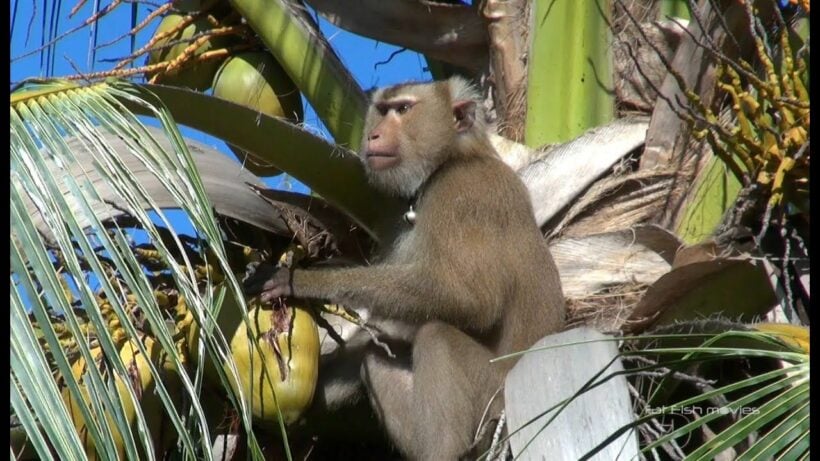 Allegations of animal abuse are prompting major Western retailers to pull Thai coconut products from their shelves, amid accusations that the coconuts are picked by monkeys treated inhumanely. People for the Ethical Treatment of Animals claim monkeys are snatched from the wild and trained to pick up to 1,000 coconuts a day. The animal rights group says pigtailed macaques are treated like "coconut-picking machines".
PETA claims monkeys are used by farms supplying 2 of Thailand's best known coconut milk brands: Aroy-D and Chaokoh, which are exported to many countries, including Europe and the US.
"Following PETA Asia's investigation, more than 15,000 stores will no longer purchase these brands' products, with the majority also no longer buying any coconut products sourced from Thailand monkey labour."
The BBC reports that in the UK, major retailers Waitrose, Ocado, Co-op and Boots are pledging to stop selling some coconut products from Thailand.
"Our own-brand coconut milk and coconut water does not use monkey labour in its production and we don't sell any of the branded products identified by Peta. We don't tolerate these practices and would remove any product from sale that is known to have used monkey labour during its production."
The Morrisons chain said it has already removed products made with monkey-picked coconuts from its shelves. Sainsbury's, the UK's second largest grocery chain, told the BBC…
"We are actively reviewing our ranges and investigating this complex issue with our suppliers."
A PETA statement says it has found 8 farms in Thailand where monkeys are forced to pick coconuts for export around the world. Male monkeys are reportedly able to pick up to 1,000 coconuts a day; it's thought that a human can pick about 80.
"Other coconut-growing regions, including Brazil, Colombia and Hawaii, harvest coconuts using humane methods such as tractor-mounted hydraulic elevators, willing human treeclimbers, rope or platform systems, ladders, or they simply plant dwarf coconut trees."
The group says it's also discovered "monkey schools," where the animals are trained to pick fruit, as well as ride bikes or play basketball to entertain tourists.
"The animals at these facilities, many of whom are illegally captured as babies, displayed stereotypic behaviour indicative of extreme stress. Monkeys were chained to old tyres or confined to cages that were barely large enough for them to turn around in."
"One monkey in a cage on a lorry (truck) bed was seen frantically shaking the cage bars in a futile attempt to escape, and a screaming monkey on a rope desperately tried to run away from a handler."
SOURCE: Bangkok Post
Keep in contact with The Thaiger by following our
Facebook page
.