Opinion
Phuket Opinion: SuperCheap inferno inevitable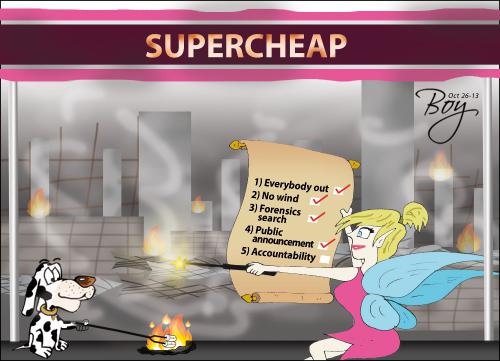 PHUKET: We find astonishing the surprising lack of reaction to the catastrophe that took place last week when the entire SuperCheap complex on Thepkrasattri Road in Rassada went up in a fireball more closely resembling a World War II bombing than a scene on a tropical resort island.
The fire was predicted in this space just 14 months ago (story here). Writing in the aftermath of the Tiger Disco blaze that claimed the lives of four people (story here), we commented on the inevitable "crackdown" on fire safety measures at other nightspots on the island that ensued.
Here is what we wrote: "However, there are far bigger firetraps in Phuket that have been accidents-in-waiting for more than a decade. One of the most obvious is a large retail outlet that appears to have been designed for maximum carnage should a fire ever break out there."
We did not feel it necessary to name the premises in question as no island resident with any knowledge of the "large retail outlet" options here could possibly mistake it.
Despite the obvious dangers, successive administrations of Rassada mayors did little if anything to ward off the looming disaster, one apparently more interested in fighting the opening of the new bus terminal nearby. The dangers must have been just as obvious to the officials at the Department of Disaster Prevention and Mitigation, as well as officers at other agencies with jurisdiction. Why didn't they do their jobs? Why doesn't the public hold them accountable for endangering lives? As a society we are remarkably fast to protest when our vested interests are at stake, but what interests could possibly be more valuable than our lives?
If indeed no lives were lost in this calamity, it was a miracle of timing (story here). The fire broke out near closing time, when most inside were employees who knew the fastest ways out of the confusing, ramshackle complex.
Equally fortuitous were atmospheric conditions on the night of the blaze. The weather was virtually cloudless and wind-free, very unusual at this time of year. This allowed smoke and toxic fumes to rise quickly and straight into the upper atmosphere.
Had strong winds prevailed, the fire could easily have spread to the neighboring gas station, the electricity sub-station and numerous other commercial ventures where even more toxic chemicals are stored. Had an inversion layer trapped smoke and toxic fumes near the ground, it could have been the worst fire tragedy in the island's history.
The Gazette gives credit to all the brave firefighters who managed to largely contain the blaze, but we look askance on the many elected leaders and appointed officials with jurisdiction who allowed the dangers at the site to persist for so many years until the inevitable hapened.