Monk attacked by a swarm of hornets in northern Thailand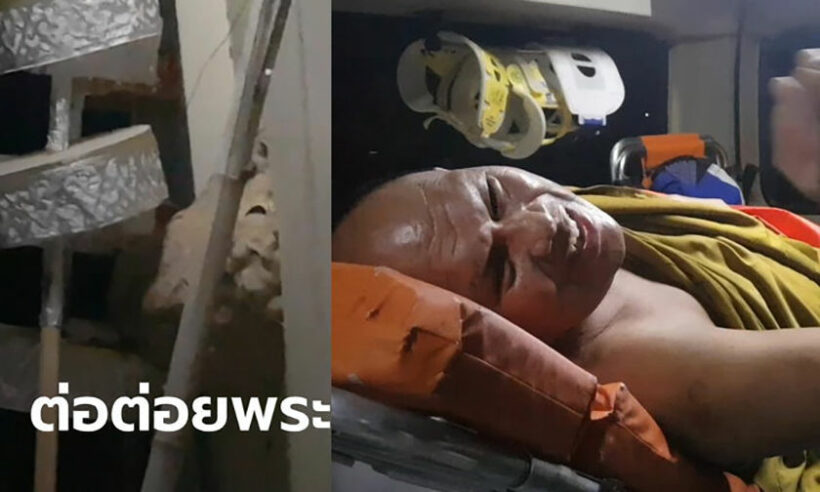 A monk at a temple in the northern province of Lampang, south of Chiang Mai, has been attacked by a swarm of hornets, resulting in him being stung at least 30 times on his face, lips and body. Thai Residents reports that the attack took place at night as the monk was feeding the temple dogs.
Rescue workers were dispatched to Mother Suchada Temple after receiving reports of the attack. They found the monk, named only as 65 year old 'Ekkachai', in a serious condition, extremely nauseous and showing signs of tachycardia, when the heart beats at over 100 beats a minute. He was given emergency first aid on the spot and then transferred to Lampang Hospital for further treatment. It's understood one or more of the dogs were also stung in the incident; their condition is not known.
The hornets are believed to be the species Vespa affinis, or lesser banded hornet, common in Asia. The abbot at the temple says they have been building a nest for around 2 months, with the nest growing by the day. He says he hopes someone who knows something about the insects could help with relocating the nest as he fears they may attack again.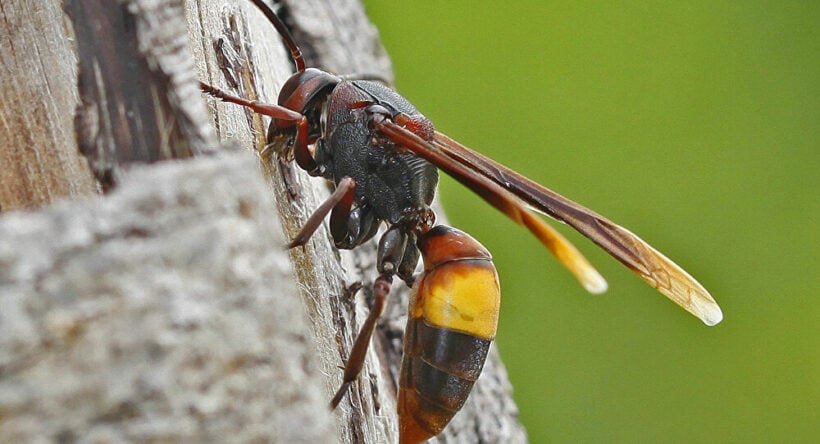 PHOTO: Vespa affinis
The "lesser banded hornet" is a small to medium-sized hornet, with queens reaching up to 30mm, males 26mm and workers averaging 22 to 25mm.
The head is brownish red or black, pubescent, with some red markings on frons and vertex, black temple; compound eyes and ocelli black; dark brown antennae and usually pale brown underneath; black clypeus, coarsely punctate, posterior side of clypeus with broadly rounded lobes; mandibles and tooth black. Thorax black with many punctures and some erected hairs, propodeum black. Legs dark brown. Wings dark fuscous brown, tegulae dark brown. Gaster with some fine punctures, dark brown segments except first and second segments yellowish orange. In some specimens, the yellowish orange on the first tergite may be reduced to two transverse spots and a narrow apical band.
There are many colour variants across the range of the species, originally considered subspecies but no longer recognised; while there is a history of recognising subspecies within many of the Vespa hornets, the most recent taxonomic revision of the genus treats all subspecific names in the genus Vespa as synonyms, effectively relegating them to no more than informal names for regional colour forms. In Hong Kong and South China the wasps are mainly black, with the first two abdominal segments being a deep yellow, forming a conspicuous band. The sides of the head and thorax display some reddish brown. In Southeast Asian regions such as Singapore they are fully black, without reddish brown markings, and the abdominal band is a brilliant orange – Wikipedia.
SOURCE: Thai Residents
📱 Download our app on Android or iOS for instant updates on your mobile
📧 Subscribe to our daily email newsletter
👍 Like/Follow us on Facebook
🔔 Subscribe to or Join our YouTube channel for daily video updates
Driver charged in bus fire that killed 5, injured 12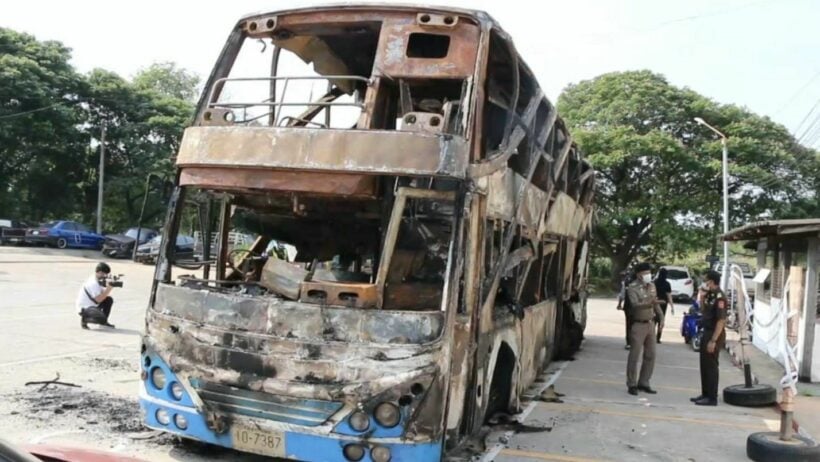 After yesterday's horrific bus fire left 5 dead and 12 injured, the driver is now charged with reckless driving causing deaths and injuries. The tour bus ended up in flames at 12:30 am, not long after leaving the Khon Kaen bus terminal heading to Bangkok with 33 passengers on board. The bus had originated in Bung Kan and stopped in Udon Thani to add more passengers before stopping in Khon Kaen. The driver reported hearing a sound he thought was a rear tyre exploding right before the wheel caught fire. The blaze reached the engine compartment and from there quickly spread to engulf the entire bus.
The 48 year old driver, Patsadee Kham-on from the Isan province of Maha Sarakham, was burned in the bus fire accident as well. He remains in custody today after being escorted to Khon Kaen Court for a judge to approve his detainment pending further investigation. Police are advocating that bail be refused for the driver.
Among the victims in this crash were a 21 year old man from Sakon Nakhon, as well as a 23 year old woman from Bung Kan and 2 women from Udon Thani. One woman was 28 years old while the younger woman, 23 years old, was travelling with her 6 year old daughter who was also killed in the crash. Police advised that relatives could collect the victim's bodies at Srinagarind Hospital's forensic medicine department. They also directed families of the victims to the Ban Haet police station to gather documentation for claiming compensation. Procedures have started by the Office of the Insurance Commission to examine the accident and charred bus and to determine compensation.
The cause of the bus fire has not been officially determined and experts from the Land Transport Department have a pending examination. While investigations continue, compensations from insurance is expected to be 1.5 million baht per death, plus an additional half a million baht as part of the Road Accident Victim Protection Act of 1992. The bus belongs to 407 Pattana Company, and was carrying insurance issued by Viriyah Insurance Plc.
SOURCE: Bangkok Post
📱 Download our app on Android or iOS for instant updates on your mobile
📧 Subscribe to our daily email newsletter
👍 Like/Follow us on Facebook
🔔 Subscribe to or Join our YouTube channel for daily video updates
Northern Thai provinces starting Covid restrictions as 3rd wave spreads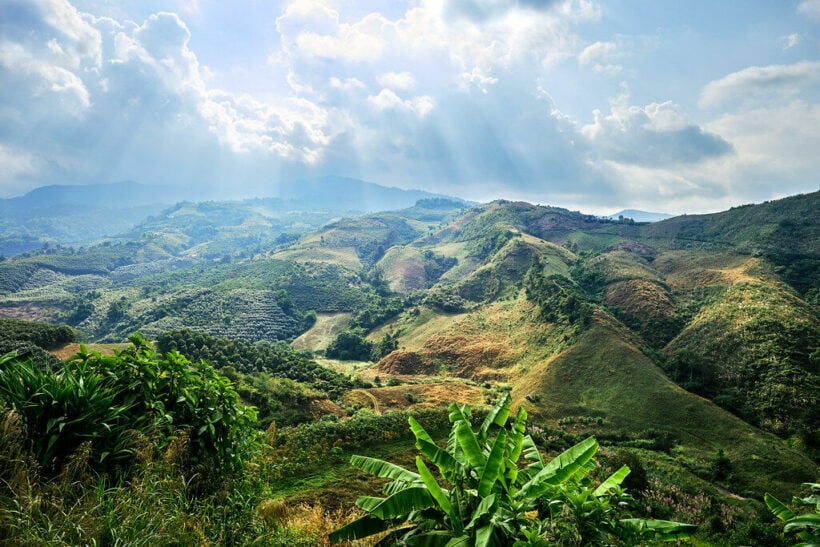 Thailand's northern provinces are starting to impose more self-quarantines or travel restrictions to combat the recent Covid-19 outbreak that has spread quickly throughout northern Thailand. Phichit and Lampang provinces are the latest in northern Thailand to impose a variety of covid-19 restrictions on people entering.
A Thailand Interior Ministry told Chiang Rai Times that the longer list emphasises the seriousness of the 3rd wave of the coronavirus. The new wave originated in nightlife venues in Bangkok and has spread to 74 out of Thailand's 77 provinces, as of yesterday. Health inspectors believe the new and more contagious UK strain of Covid-19, named B117, arrived in Thailand from Cambodia through migrants.
But as the CCSA has largely placed restrictions in the hands of each provincial government, many are confused about what guidelines they must follow upon entering certain provinces. Northern Thailand's Lampang province, for example, orders visitors from Bangkok, Nonthaburi, Pathum Thani, Samut Prakan, Nakhon Pathom and Chiang Mai to report immediately to local health authorities or officials, but it does not require them to undergo quarantine for 2 weeks if test results are negative.
Visitors are advised to check updated information at moicovid.com as the rules are different in each province. So far, 42 provinces have imposed self-quarantine. Phichit, Lampang and Ubon Ratchathani were the latest to join 39 other provinces imposing a variety of restrictions on people entering their provinces.
Visitors to the website posted multiple questions, mostly on whether they needed to be quarantined.
Provinces that impose self-quarantine or other requirements on travellers:
NORTH
Chiang Mai
Kamphaeng Phet
Lampang
Lamphun
Nan
Phayao
Phetchabun
Phichit
Phitsanulok
Phrae
Tak
Uttaradit
NORTHEAST
Amnat Charoen
Bung Kan
Buri Ram
Chaiyaphum
Khon Kaen
Maha Sarakham
Mukdahan
Nakhon Phanom
Nakhon Ratchasima
Nong Bua Lam Phu
Nong Khai
Sakon Nakhon
Ubon Ratchathani
Udon Thani
Yasothon
CENTAL AND EAST
Chai Nat
Lop Buri
Nakhon Sawan
Sa Kaeo
Saraburi
Sing Buri
Uthai Thani
SOUTH
Chumphon
Narathiwat
Pattani
Phangnga
Ranong
Satun
Songkhla
Trang
SOURCE: Chiang Rai Times
📱 Download our app on Android or iOS for instant updates on your mobile
📧 Subscribe to our daily email newsletter
👍 Like/Follow us on Facebook
🔔 Subscribe to or Join our YouTube channel for daily video updates
All new Covid-19 infections in Chiang Mai are linked to nightlife venues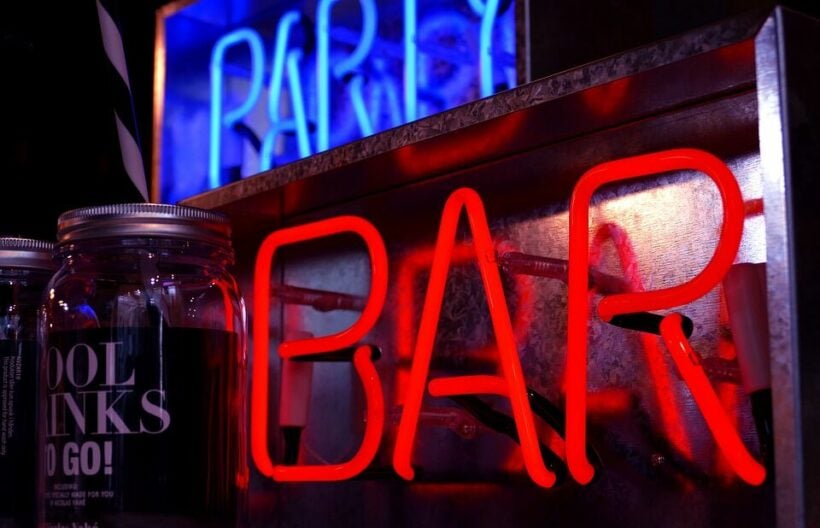 All of the new Covid-19 infections reported by health officials in Chiang Mai yesterday are linked to local nightlife venues. Over the past few days, 47 cases linked to bars and nightclubs have been confirmed, including the 36 new cases reported yesterday by the provincial communicable disease control panel.
With the rise of infections linked to entertainment venues, Chiang Mai authorities decided to close clubs, pubs, karaoke bars and other entertainment venues for the next week. Alcohol sales are also banned for the next 7 days. A field hospital has been set up at the Chiang Mai International Exhibition and Convention Centre to care for a potential influx of Covid-19 patients.
"Those travelling to Chiang Mai from provinces considered the highest risk of infection, including Bangkok, Nonthaburi, Samut Prakan, Pathum Thani and Nakhon Pathom, must self-isolate for 14 days."
The recent infections are linked to 7 venues in the area including Warm Up Cafe Chiang Mai, Tha Chang Café Chiang Mai, DC Chiang Mai, Infinity Club Chiang Mai, Ground, Living Machine and Consol's Garden.
"Those who visited the venues are asked to go to a local hospital for a Covid-19 test."
SOURCES: Bangkok Post | Nation Thailand
📱 Download our app on Android or iOS for instant updates on your mobile
📧 Subscribe to our daily email newsletter
👍 Like/Follow us on Facebook
🔔 Subscribe to or Join our YouTube channel for daily video updates