Kalasin drowning victim's body recovered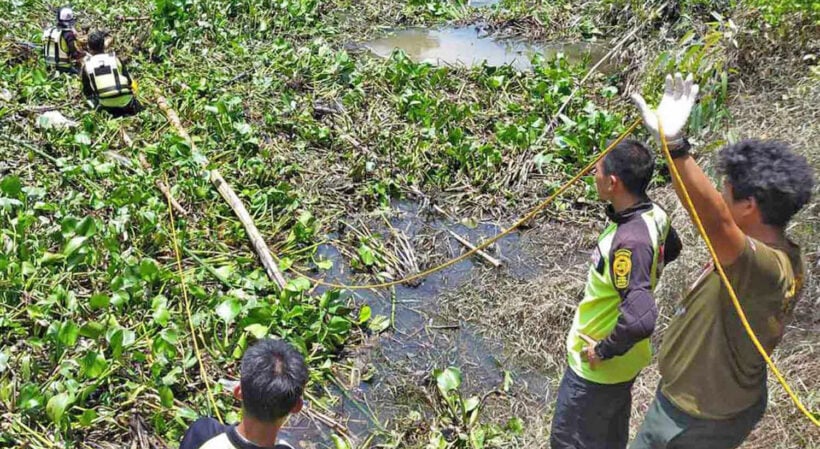 Police In Isaan's Kalasin province announced today that the body of an elderly woman, who fell into Lam Pao stream in the capital's central district and was believed drowned, was found.
On Friday, 76 year old Chan Phonpradit, and her 42 year old daughter Malaithip, went fishing on the bank of the Lam Pao stream near a low dam at Don Sanuan village.
Both women fell into the stream. Malaithip managed to swim to safety but couldn't help her mother, who disappeared into the swift current. She was believed drowned.
A search was launched the same day by a team of divers from a local rescue unit.
Chan's body was found at around noon today about, 2 kilometres downstream from the weir.
SOURCE: Bangkok Post
📱 Download our app on Android or iOS for instant updates on your mobile
📧 Subscribe to our daily email newsletter
👍 Like/Follow us on Facebook
🔔 Subscribe to or Join our YouTube channel for daily video updates
Hospital in north-east suspends non-urgent treatment after patient dies of Covid-19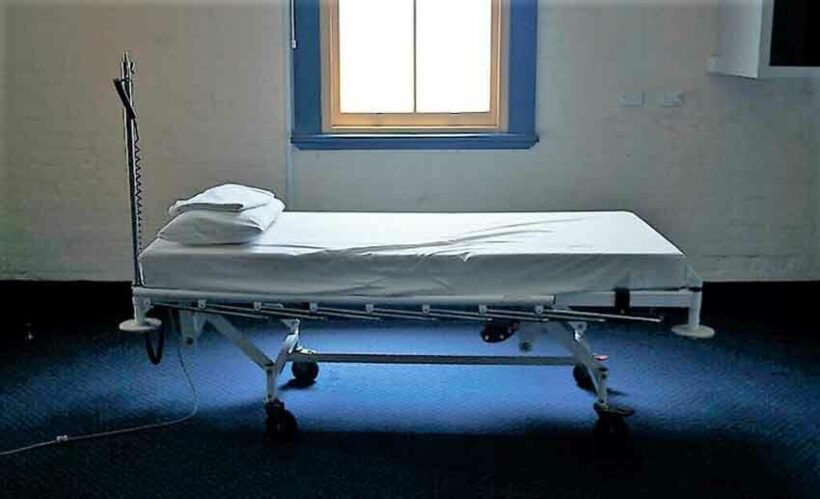 A hospital in the north-eastern province of Buriram has temporarily closed for non-urgent treatment after a patient died from complications arising from Covid-19. Prakhon Chai Hospital has announced the closure on its Facebook page, saying all non-urgent treatment is suspended for 2 days, to allow for deep cleaning and disinfecting of several wards. All medical staff who had contact with the deceased patient will also be tested, as will his wife and family.
The Bangkok Post reports that the 56 year old man worked at a bar in the Klong Toey district of Bangkok. On April 7, he travelled home with his wife, then developed a fever, which he reported to public health officials. He remained at home over the next few days, but developed a bad cough on April 13, which he tried to treat with cough mixture.
By Saturday, April 17, he was reporting exhaustion and was treated at a local clinic. That night, he took a turn for the worse and his wife called for an ambulance. On the way to Prakhon Chai Hospital, the man stopped breathing and medical staff performed CPR. A rapid Covid-19 test in the emergency room showed the man was infected. He died early on Sunday morning.
A disease control official has visited residents in the man's community, while a staff member at the hospital has urged people not to withhold information on their symptoms, thereby putting others at risk.
Thailand is in the grip of a third wave of Covid-19, with infections rising rapidly and concern about the highly-contagious UK variant, which has now arrived in the country. All provinces have been colour-coded either red or orange, based on their infection level. New restrictions have been implemented across the country, including the closure of all pubs, clubs and other nightlife venues, and a ban on the sale of alcohol in restaurants.
SOURCE: Bangkok Post
📱 Download our app on Android or iOS for instant updates on your mobile
📧 Subscribe to our daily email newsletter
👍 Like/Follow us on Facebook
🔔 Subscribe to or Join our YouTube channel for daily video updates
Khon Kaen University terminates well-known American scholar after he allegedly participates in decentralisation workshop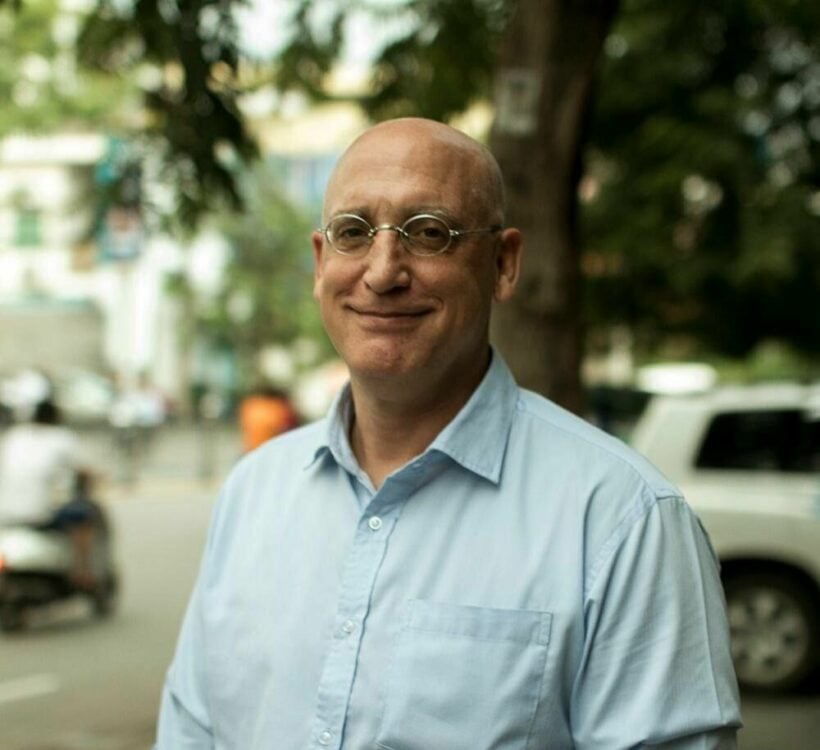 Khon Kaen University's famous American scholar, David Eirich Streckfuss, is now without a work permit after his participation in a workshop that partially involved decentralisation. The university terminated his work permit after immigration police paid him a vist, in what they say, was a routine interview for visa extensions.
Streckfuss is an independent academic who oversees the Council on International Educational Exchange Khon Kaen programme at the university, which was founded in 1994. He also founded The Isaan Record during his 30 years spent in the Kingdom.
Prachatai, released the termination letter that featured the KKU Faculty of Public Health citing an "inability to perform assigned duties" as the reason for ending his contract as project director before its August 15 renewal date. Streckfuss' contract at the Faculty of Public Health from 15 August 2020 to 15 August 2021, was cancelled on 19 March 2021, according to the university's announcement.
The decision reportedly came after police visited the University President and Faculty Dean, after Streckfuss participated in a workshop which partly involved decentralisation. Since the cancellation of his work permit, Streckfuss has been on a 30 day visa which will expire next Monday. Now, he is working on getting a work permit with the Buffalo Birds Production Co., a company that produces documentaries and organises events where he is currently working as a coordinator. The company is a registerd company of The Isaan Record, in which he founded.
Prachatai indicated that The Isaan Record is also trying to secure a work permit for Streckfuss, as he says this is the first time that his work permit has been cancelled in this manner. He says Immigration police came to interview him and Khon Kaen University for the 3rd time on 16 April. But the Immigration Division Commander says the interview is just a standard procedure to be carried out when foreigners submit an application for a visa extension.
Streckfuss has written for the Bangkok Post and he has also been published in The Wall Street Journal and The New York Times. He is also the author of Truth on Trial in Thailand: Defamation, Treason, and Lèse-Majesté, published by Routledge Press, in 2011. Streckfuss has a PhD in Southeast Asian history from the University of Wisconsin-Madison.
SOURCE: Chiang Rai Times
📱 Download our app on Android or iOS for instant updates on your mobile
📧 Subscribe to our daily email newsletter
👍 Like/Follow us on Facebook
🔔 Subscribe to or Join our YouTube channel for daily video updates
Brake system failure blamed for fatal incident in Khon Kaen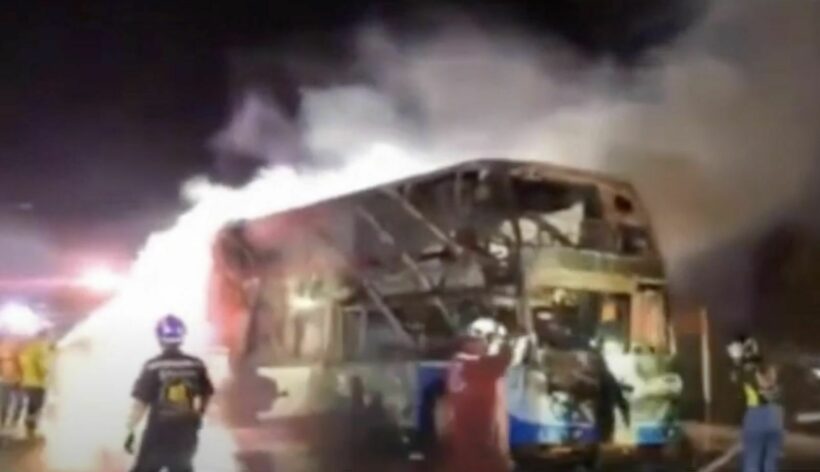 Checking your brakes regularly is something that could save you from a fatal accident, yet a lack of routine maintenance seems popular when it comes to accidents. The latest victims from a brake system failure, include 5 fatalities and 12 injuries after a bus in northeastern Thailand's Khon Kaen province crashed.
The horrible accident happened last Tuesday at about 12:30am on Mitraphap Highway near Nong Kham in tambon Non Sombun. A double-decker bus headed towards Bangkok, erupted in flames with survivors saying a back tyre burst and caught fire. The, the fire spread to the engine area which then saw the bus burst into flames.
A Department of Land Transport accident investigation report says the brake system failed, overheated and caused the tyre to explode. Hot rubber pieces then landed on the valve of an NGV cylinder causing a gas leak.
The bus' driver, 48 year old Patsadee Kham-on, is being charged with reckless driving causing death and injuries, for assumingly not checking the vehicle's brakes before setting off. The Khon Kaen governor says the provincial land transport office has also fined the bus owner, 407 Pattana Tou Co, for using a sub-standard bus.
In November of last year, a cement truck driver in Banglamung, blamed faulty brakes for not being able to stop the truck, resulting in it running off the road and flipping. The 61 year old driver, luckily, made it out with only minor injuries. Sadly, this type of accident is quite common and likely will grace the news again, if routine maintenance is ignored.
According to directasia.co.th website, "Checking your brakes at least every year will give you advanced warning on brake pad breakdown. Putting off the less costly pad change can lead to much more expensive brake rotor repairs and even failure when driving. A major component in the Thai driving test is gauging how quickly you can slam on your brakes….for good reason."
Thailand conducts routine checks on public transportation vehicles, with the news usually not being up to par with what one would expect when paying to be transported. The Department of Land Transport just 2 years ago, in one of its annual checks, revealed 1 in 7 public transport vehicles failed the inspection checks.
SOURCE: Bangkok Post
📱 Download our app on Android or iOS for instant updates on your mobile
📧 Subscribe to our daily email newsletter
👍 Like/Follow us on Facebook
🔔 Subscribe to or Join our YouTube channel for daily video updates