John Legend & Chrissy Teigen check out the tastes at a Korat Market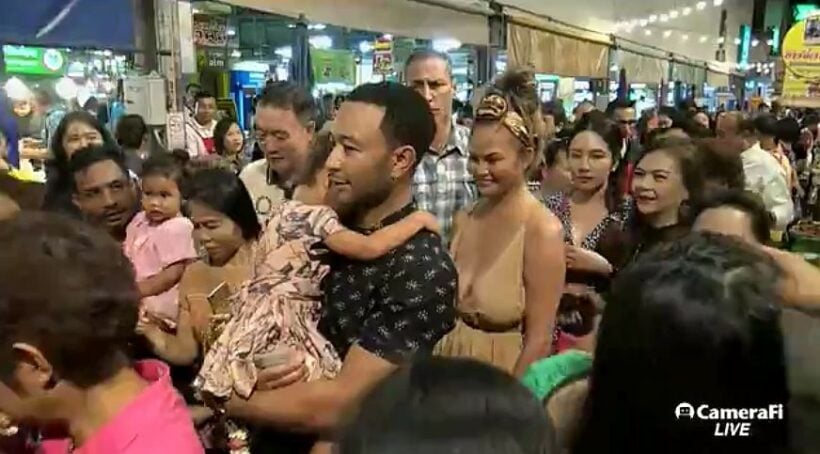 American music legend, John Legend, and his Thai-American wife Chrissy Teigen headed to a Nakhon Ratchasima food market only to be surrounded by locals trying to get a quick selfie.
The army of fans surround the musician, his wife and daughter to follow them around the market in the 25 minute Facebook post. It was smiles all around but as the video wears on so does the patience of the American singer whose only protection appears to be a plain-shirt body-guard who is at least 40 centimetres taller than everyone around him (he doesn't stand out at all).
A Thai policemen comes to their rescue and helps escort them somewhere a bit quieter.
Legend's model wife Chrissy Teigen is seen almost wearing her dress as any number of wardrobe malfunctions appear moments away from happening throughout the video.
The family were reported to have visited a number of famous Korat landmarks during their visit to the area.
Legend performed in Bangkok in March 2018 this year as part of his Darkness and Light tour.
📱 Download our app on Android or iOS for instant updates on your mobile
📧 Subscribe to our daily email newsletter
👍 Like/Follow us on Facebook
🔔 Subscribe to or Join our YouTube channel for daily video updates
10 new infections in Nakhon Phanom province linked to entertainment venues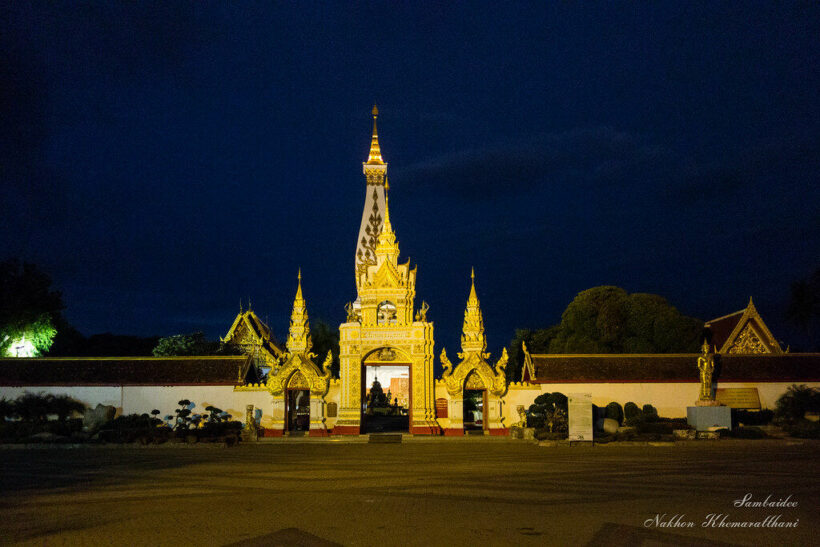 Thailand's northeastern Nakhon Phanom province is reporting 10 new infections today, with most being traced back to entertainment venues. The new infections raise the Covid-19 case number in the "red-zoned" province to 43. And, more than 1,500 customers of those entertainment venues have been tested for the virus, with results expected this week.
The customers were from an entertainment venue cluster in the Muang municipality, where an employee was infected from visitors who arrived from high-risk provinces. The local government is asking those who frequented the venues from April 4 to 12 to take a Covid test at the provincial hall, where a testing station is open until April 22.
As part of the nationwide measures that were implemented last Sunday, all entertainment venues in Muang district have been ordered to close for 2 weeks and be disinfected. Other popular tourist areas in 12 districts of the province have been temporarily shuttered. Those include: Lan Phaya Srisatta Nakharat, or the Naga monument in Muang district and Wat Phrathat Phanom Voramahaviharn in That Phanom district. Those arriving from any of the red zone provinces, must report to authorities and self-quarantine. The province's 12 districts have set up field hospitals, offering more than 300 beds to anyone infected.
The new, nationwide measures that came into effect on Sunday include:
• Closures of schools, all nightlife venues, pubs and clubs, karaoke bars and massage parlours
(except for international schools running exams)
• No events can have more than 50 people
Provincial red zones (listed below)…
• Dining-in allowed until 9pm (but can do takeaway until 11pm)
• Serving of alcohol banned
• Shopping centres and fitness centres to be closed by 9pm
(Sporting fields, exercise places, gyms and fitness clubs must close at 9pm)
• Convenience stores, markets, supermarkets must be closed by 11pm
Everywhere else…
• Dining-in allowed until 11pm
• Serving of alcohol banned
• Shopping centres to be closed by 9pm

Thailand's CCSA has reported a total of 1,390 new Covid infections today, tallied from Thailand's 77 provinces in the past 24 hours. The tally is a welcome drop in new case reports after the last 5 days' record levels of new infections. Yesterday there were 1,767 new infections reported by the CCSA.
SOURCE: Bangkok Post
📱 Download our app on Android or iOS for instant updates on your mobile
📧 Subscribe to our daily email newsletter
👍 Like/Follow us on Facebook
🔔 Subscribe to or Join our YouTube channel for daily video updates
Hospital in north-east suspends non-urgent treatment after patient dies of Covid-19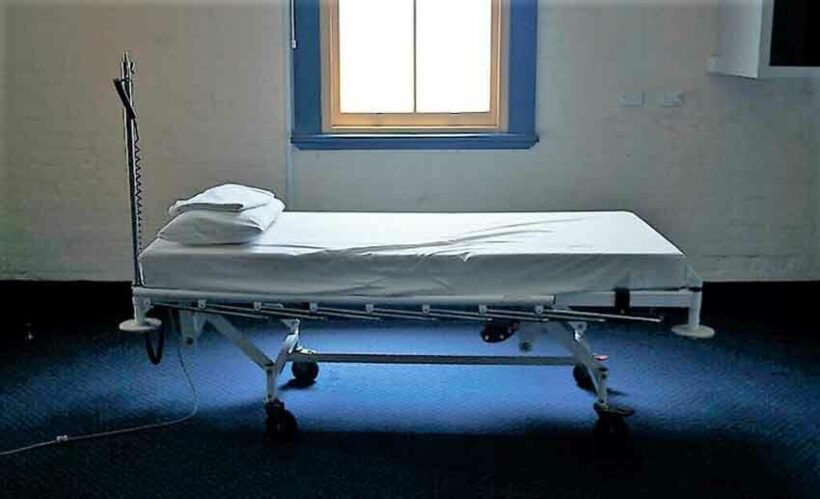 A hospital in the north-eastern province of Buriram has temporarily closed for non-urgent treatment after a patient died from complications arising from Covid-19. Prakhon Chai Hospital has announced the closure on its Facebook page, saying all non-urgent treatment is suspended for 2 days, to allow for deep cleaning and disinfecting of several wards. All medical staff who had contact with the deceased patient will also be tested, as will his wife and family.
The Bangkok Post reports that the 56 year old man worked at a bar in the Klong Toey district of Bangkok. On April 7, he travelled home with his wife, then developed a fever, which he reported to public health officials. He remained at home over the next few days, but developed a bad cough on April 13, which he tried to treat with cough mixture.
By Saturday, April 17, he was reporting exhaustion and was treated at a local clinic. That night, he took a turn for the worse and his wife called for an ambulance. On the way to Prakhon Chai Hospital, the man stopped breathing and medical staff performed CPR. A rapid Covid-19 test in the emergency room showed the man was infected. He died early on Sunday morning.
A disease control official has visited residents in the man's community, while a staff member at the hospital has urged people not to withhold information on their symptoms, thereby putting others at risk.
Thailand is in the grip of a third wave of Covid-19, with infections rising rapidly and concern about the highly-contagious UK variant, which has now arrived in the country. All provinces have been colour-coded either red or orange, based on their infection level. New restrictions have been implemented across the country, including the closure of all pubs, clubs and other nightlife venues, and a ban on the sale of alcohol in restaurants.
SOURCE: Bangkok Post
📱 Download our app on Android or iOS for instant updates on your mobile
📧 Subscribe to our daily email newsletter
👍 Like/Follow us on Facebook
🔔 Subscribe to or Join our YouTube channel for daily video updates
Khon Kaen University terminates well-known American scholar after he allegedly participates in decentralisation workshop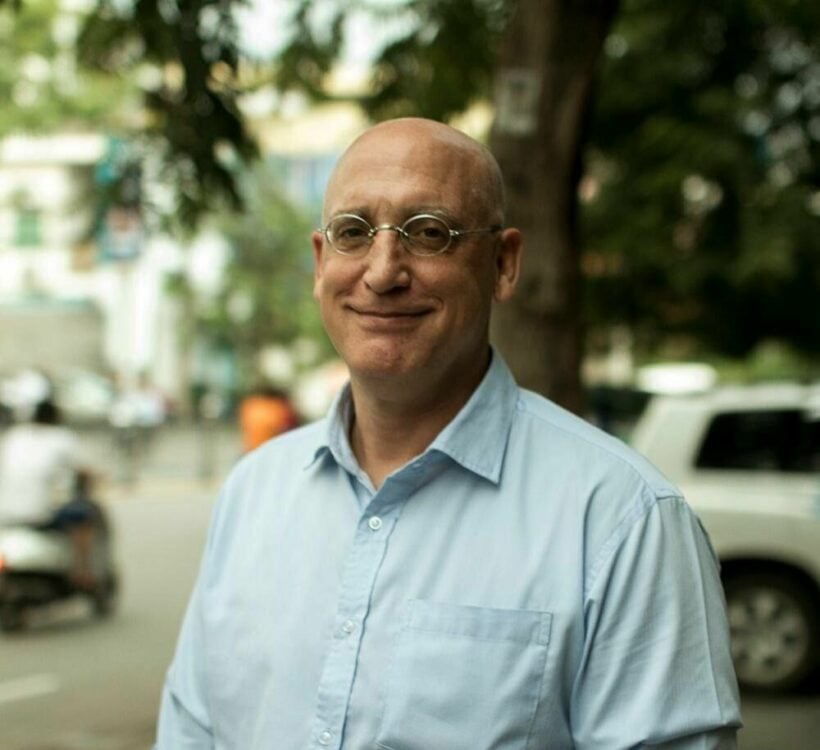 Khon Kaen University's famous American scholar, David Eirich Streckfuss, is now without a work permit after his participation in a workshop that partially involved decentralisation. The university terminated his work permit after immigration police paid him a vist, in what they say, was a routine interview for visa extensions.
Streckfuss is an independent academic who oversees the Council on International Educational Exchange Khon Kaen programme at the university, which was founded in 1994. He also founded The Isaan Record during his 30 years spent in the Kingdom.
Prachatai, released the termination letter that featured the KKU Faculty of Public Health citing an "inability to perform assigned duties" as the reason for ending his contract as project director before its August 15 renewal date. Streckfuss' contract at the Faculty of Public Health from 15 August 2020 to 15 August 2021, was cancelled on 19 March 2021, according to the university's announcement.
The decision reportedly came after police visited the University President and Faculty Dean, after Streckfuss participated in a workshop which partly involved decentralisation. Since the cancellation of his work permit, Streckfuss has been on a 30 day visa which will expire next Monday. Now, he is working on getting a work permit with the Buffalo Birds Production Co., a company that produces documentaries and organises events where he is currently working as a coordinator. The company is a registerd company of The Isaan Record, in which he founded.
Prachatai indicated that The Isaan Record is also trying to secure a work permit for Streckfuss, as he says this is the first time that his work permit has been cancelled in this manner. He says Immigration police came to interview him and Khon Kaen University for the 3rd time on 16 April. But the Immigration Division Commander says the interview is just a standard procedure to be carried out when foreigners submit an application for a visa extension.
Streckfuss has written for the Bangkok Post and he has also been published in The Wall Street Journal and The New York Times. He is also the author of Truth on Trial in Thailand: Defamation, Treason, and Lèse-Majesté, published by Routledge Press, in 2011. Streckfuss has a PhD in Southeast Asian history from the University of Wisconsin-Madison.
SOURCE: Chiang Rai Times
📱 Download our app on Android or iOS for instant updates on your mobile
📧 Subscribe to our daily email newsletter
👍 Like/Follow us on Facebook
🔔 Subscribe to or Join our YouTube channel for daily video updates