Dengue fever on the rise in Isaan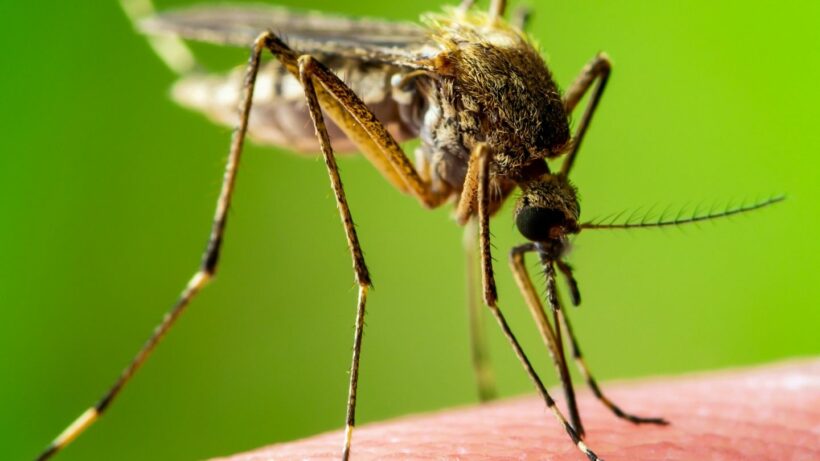 While the country is slowly getting a handle on containing the coronavirus pandemic, the Isaan region is tackling a bout of dengue fever. There's been a rise of the mosquito-borne illness in Nakhon Ratchasima with 737 cases. Local health volunteers have ramped up initiatives to prevent the further spread of the disease.
Abate sand granules are being used to kill mosquito larvae. The product is typically applied in ponds, lakes and any water where mosquitos lay their eggs. The sand granules inhibit an enzyme that is important to the normal function of the larvae's nervous system, killing the larvae, according to the company.
Known as "bone break fever," dengue can cause pain in the muscle, bones, joints and behind the eyes. A fever, nausea and a rash are common symptoms. Severe dengue can be life threatening, but most people recover in about a week, according to the US Centre of Disease Control.
Other northeastern provinces have also seen a rise in dengue. The Bangkok Post reports 223 cases in Chaiyaphum, 143 cases in Buri Ram and 96 cases in Surin. Last month, Nation Thailand reported the disease was on the rise with 8,147 people infected this year in Ang Thong, Rayong and Phichit.
SOURCES:Bangkok Post | Abate | US Centre of Disease Control| Nation Thailand
Keep in contact with The Thaiger by following our Facebook page.
Never miss out on future posts by following The Thaiger.
Lockdown may contribute to Thailand's rise in dengue fever cases, study suggests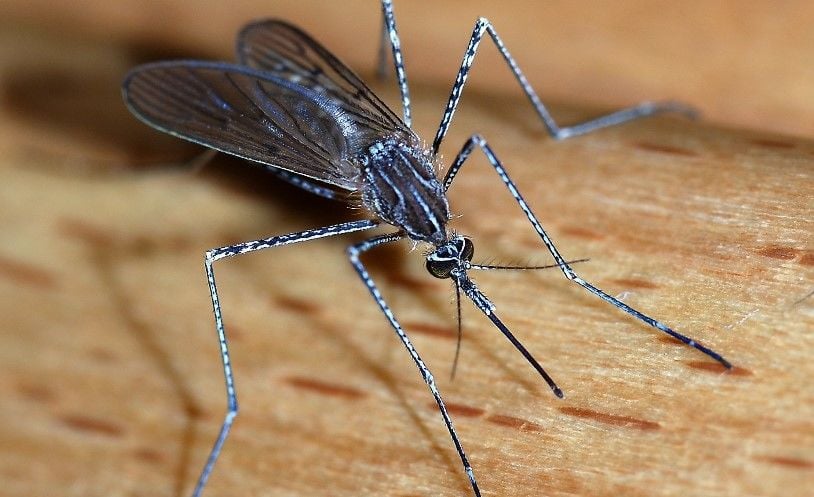 Social distancing and lockdown measures may have contributed to a rise in dengue fever in Thailand, according to a recent study funded by the Singapore Ministry of Health's National Medical Research Council.
Researchers, which included scientists from the University of Singapore, examined dengue fever cases in Malaysia, Singapore and Thailand. No impact on the dengue transmission was found in Malaysia or Singapore, but in Thailand, they found that social distancing may lead to an increase in the number of coronavirus cases. They say the largest impact is in Bangkok Researchers say social distancing is expected to lead to 4.32 additional dengue fever cases per 100,000 people in Thailand each month.
Many people in Thailand stayed at home during lockdown measures put in place to control the spread to the coronavirus, but the study found that people in Thailand are typically bitten by dengue-carrying mosquitos at home rather than at work. Some people even travelled back home to their home provinces to be with their families during the lockdown period.
"Although it is possible for dengue infections to occur in workplaces, it was found in one study that 60% of dengue cases live less than 200m apart came from the same transmission chain, revealing that residential areas are a focal point of transmission."
Reported dengue fever cases in 2019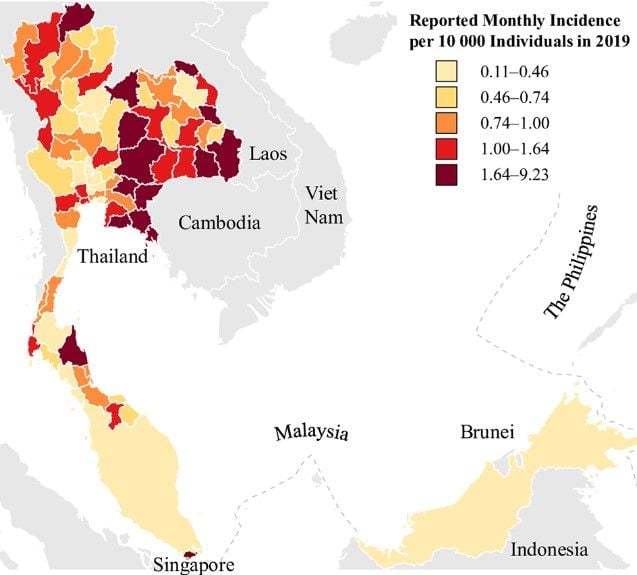 Reported dengue fever cases in 2020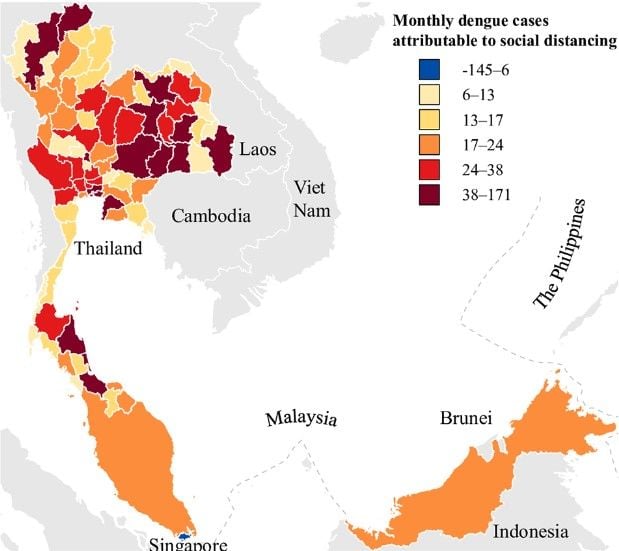 To read the full study click HERE.
Keep in contact with The Thaiger by following our Facebook page.
Never miss out on future posts by following The Thaiger.
Dengue fever surges 400% in Northern Thailand province compared to 2019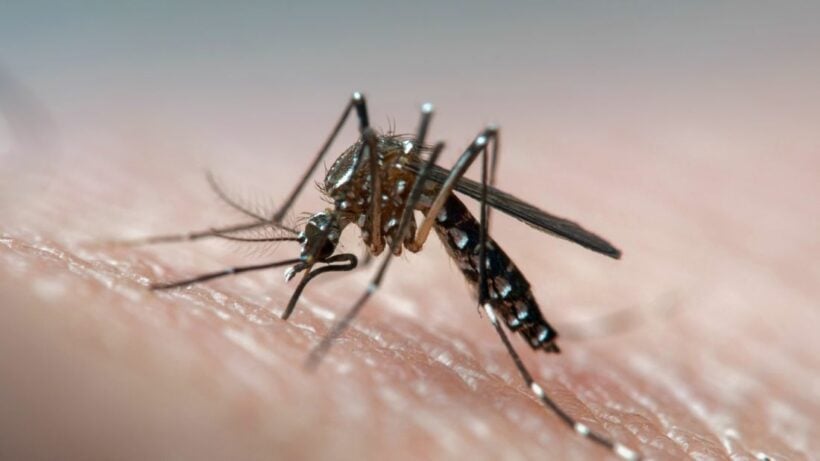 The northern province of Mae Hong Son has become a dengue fever hotspot as the number of cases more than quadruple compared to the case numbers of last year. The northern province currently has the Kingdom's highest number of cases of the mosquito-borne illness, recording nearly 1,400 infections and 1 death.
Mae Hong Son health chief, Supachai Boon-Amphan, says the current infection rate in the province is nearly 500 in every 100,000 people. Nation Thailand reports that the 10-14 year old age group has the most cases, followed by those aged 15 to 24. Most are farmers or students, with the sub-district of Mae Sariang having the highest number of cases in the province, at 863.
It's understood the recent heavy rains have left many areas waterlogged, creating the perfect breeding ground for mosquitoes.
Check out about some common ways to avoid getting a case of Dengue Fever.
SOURCE: Nation Thailand
Keep in contact with The Thaiger by following our Facebook page.
Never miss out on future posts by following The Thaiger.
Dengue fever antibodies might contribute to Thailand's low Covid-19 count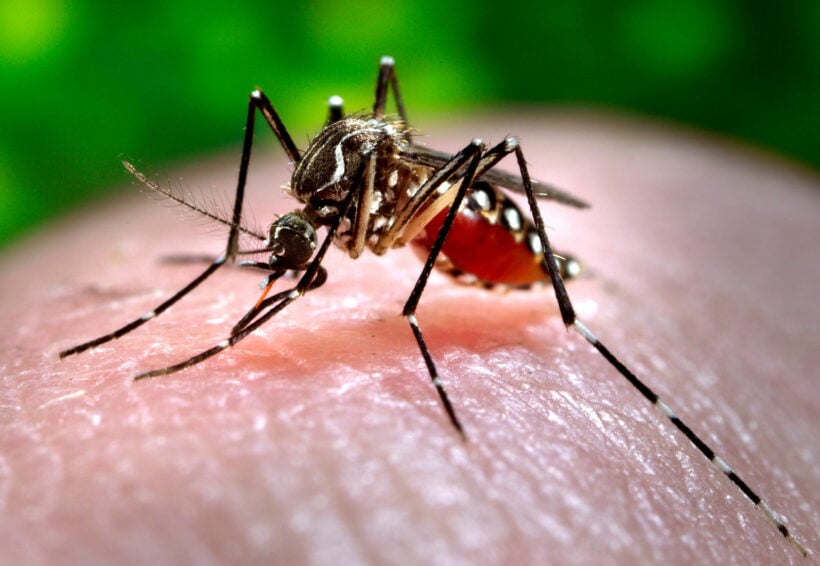 Antibodies from dengue fever might raise immunity against Covid-19, according to study done in Brazil. It suggests a correlation between the mosquito transmitted illness and the coronavirus, citing lower Covid-19 cases in areas with past dengue outbreaks, like south east Asia. Thai doctor Manoon Leechawengwongs says this might be why Thailand has significantly less Covid-19 cases than other countries around the world.
Since the start of the outbreak, many scientists have been confused by south east Asia's generally low infection rate and posited various theories about some local "immunity".
Thailand has more than 100,000 dengue patients every year, he says, adding that many locals take the BCG vaccine for tuberculosis to prevent dengue. There have been 3,545 Covid-19 cases in Thailand with 59 deaths and 3,369 recoveries.
Duke University professor Miguel Nicolelis led the study and recently spoke to Reuters reporters about his findings. He says the study first focused on the spread of Covid-19 in Brazil and they came across the correlation between dengue and the coronavirus by accident. The study says areas in Brazil with high numbers of dengue infections had a comparatively low number Covid-19 cases while areas with low numbers of dengue cases had a high number of Covid-19 cases.
"This striking finding raises the intriguing possibility of an immunological cross-reactivity between dengue's Flavivirus serotypes and SARS-CoV-2 … If proven correct, this hypothesis could mean that dengue infection or immunization with an efficacious and safe dengue vaccine could produce some level of immunological protection (against the coronavirus)."
Miguel adds past studies found that those with dengue antibodies can falsely test positive for Covid-19.
"This indicates that there is an immunological interaction between two viruses that nobody could have expected, because the two viruses are from completely different families."
The study was posted on MedRxiv, but has not yet been peer reviewed. Manoon warns that Thai people should still abide by coronavirus prevention measures to prevent a possible second wave.
Click HERE to read the study on how dengue fever may have influenced the spread of Covid-19 in Brazil.
SOURCES: Reuters | Nation Thailand|Worldometer
Catch up with the latest daily "Thailand News Today" here on The Thaiger.
Keep in contact with The Thaiger by following our Facebook page.
Never miss out on future posts by following The Thaiger.