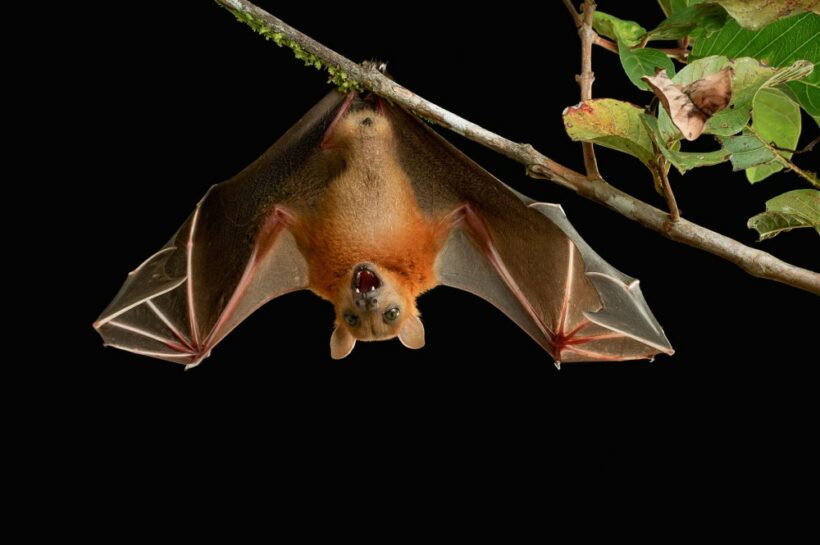 What is the Nipah virus and why do we need to know more about it? Whilst there are no recorded cases of the virus in Thailand but an outbreak in India has experts concerned.
Thailand is not safe from a Nipah virus outbreak, as fruit bats in Thailand are a natural host for the deadly infection that can cause encephalitis and has a mortality rate of up to 80 per cent, medical experts said.
Health officials across the world are keeping a close eye on the third and latest Nipah virus outbreak in India, where at least 16 cases have been confirmed in Kerala and Karnataka states and 14 people have died.
Dr Thiravat Hemachudha, head of the Emerging Infectious Disease Health Science Centre at Chulalongkorn University's Faculty of Medicine, said that there are no recorded cases of the infection yet in Thailand. However, he added that the risk of widespread infection remains as the country's fruit bats are a natural host of the Nipah virus.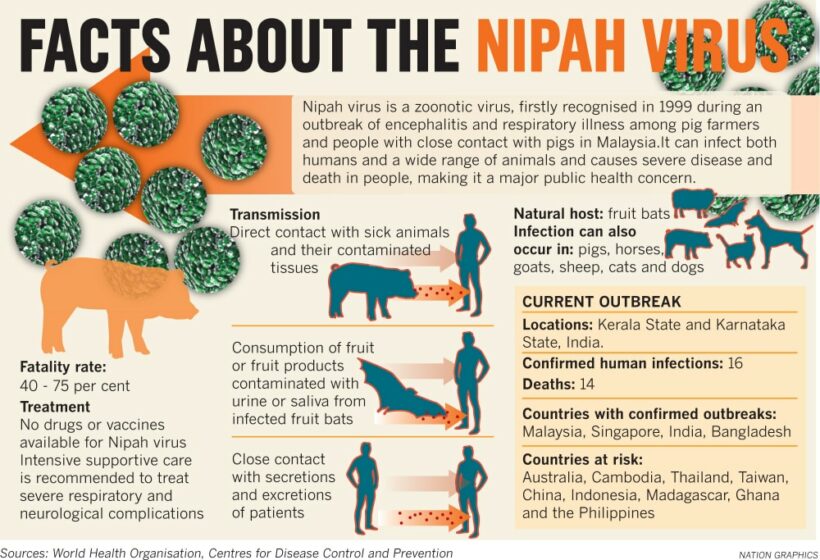 Thiravat said people should be alert but not panic about the virus as the disease is preventable.
"Nipah is a zoonotic virus that can spread from animals to humans through the contact of saliva or contaminated tissues.
"This virus has a natural host in fruit bats and can be transmitted to other domesticated animals such |as pigs and then to humans," he |said.
"Those infected with the Nipah virus will suffer acute brain inflammation, and even if the patients survive, the encephalitis from the virus can resume within two years, while patients who have pneumonia can also spread the virus through droplets from sneezing, allowing human-to-human transmission."
He said one infected patient can spread the disease quickly to more than 30 people.
The virus is also potentially lethal, as around 70 to 80 per cent of infected patients die from the disease, making it one of the most concerning pathogens in the world. Currently, there is no drug or vaccine for Nipah virus.
Thiravat said that Chulalongkorn University's Emerging Infectious Disease Health Science Centre has studied the Nipah virus since 2000. In 2005 the centre worked with the National Park, Wildlife and Plant Conservation Department and found that fruit bats in Thailand also contain the virus and have the ability to transmit the virus to domesticated animals and humans.
"Around 7 to 9 per cent of the fruit bat population in Thailand was found to host the Nipah virus, though they only spread the virus during a specific time of the year – from April to June. The virus in Thai bats has 99 per cent genetic resemblance to the strain causing the current outbreak in India," he said. He said that even though Thai bats hosted the virus, people should not be too concerned as the proportion of infected bats in Thailand was far lower than that in India and Bangladesh.
He also suggested that people refrain from close contact with fruit bats and avoid eating fruits that have bite marks. If anyone has symptoms of encephalitis they should seek medical advice immediately.
Meanwhile, Department of Disease Control (DDC) director-general Dr Suwanchai Wattanaying-charoen said they were cooperating with all related agencies to closely monitor the virus outbreak in India and assured that there is no confirmed case of the infection in Thailand.
"The Public Health Ministry has listed the Nipah virus as a dangerous infectious diseases as per the Communicable Diseases Act, so if any infection is found, officers need to report it to DDC within three hours in order to start disease quarantine immediately," Suwanchai said.
He also said that all communicable disease control offices nationwide were on high alert for the virus.
Although the World Health Organisation has not placed a travel ban to the states involved in the virus outbreak in India, Suwanchai suggested that Thai travellers should not visit the districts with confirmed cases, including Kozhikode, Malappuram, Wayanad and Kannur.
STORY: The Nation