Woman shocked by eight million baht monthly power bill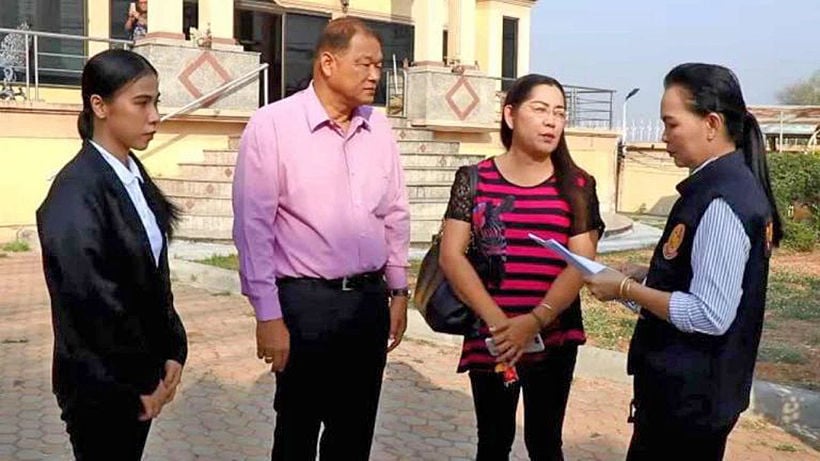 PHOTO: Thai Rath/Channel 33
A 55 year old Ayutthaya woman was surprised to receive a power bill for more than eight million baht. Ayutthaya is a few hours drive north of Bangkok.
Tanyanan Ketparn told Thai Rath that she was always punctual with monthly electricity bill payments, which is normally around 18,000 baht (which still sounds a lot unless Tanyanan is running a business of some sort).
"Last month, I paid 30,000 baht because my two sons came home for a summer break."
She says she was shocked to see a bill for 8,037,742.63 baht arrive in the mail and immediately called the power company.
"They apologised and issued a new bill for just 13,328.07 baht."
The Thaiger asks, when there are mistakes from power utilities, how come the mistakes are a higher power bill?!
SOURCE: Thai Residents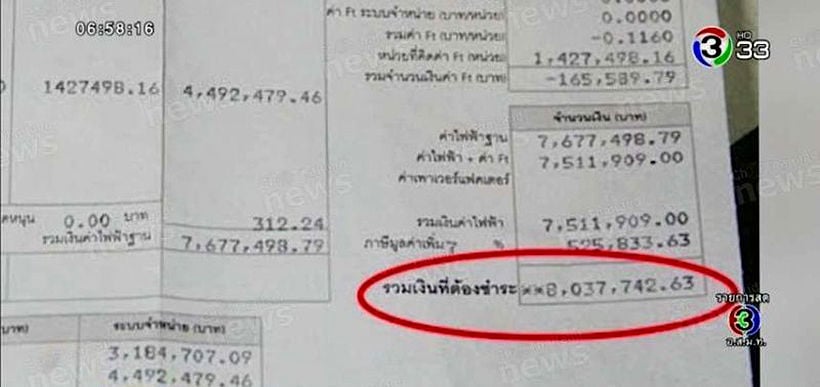 Keep in contact with The Thaiger by following our
Facebook page
.
Never miss out on future posts by
following The Thaiger
.
Thai Airways to resume flights from Bangkok to Chiang Mai and Phuket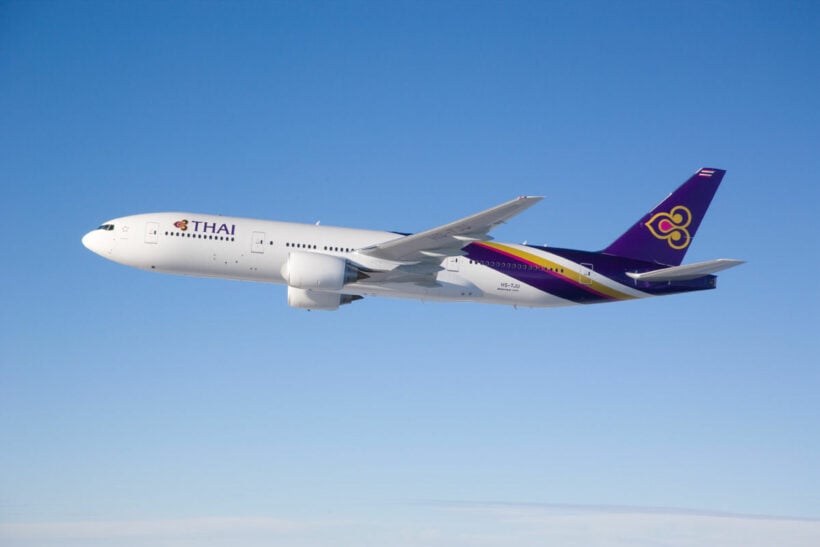 After nearly 9 months on the ground due to the coronavirus pandemic, along with problems balancing their accounts, Thai Airways will resume flights between Bangkok and Chiang Mai as well as Bangkok and Phuket later this month. The flights will start back up on Christmas day.
Flights from Bangkok to the 2 key tourist provinces have been grounded since April 1. Starting December 25, the airline will run 3 flights a week on both routes. A source told the Bangkok Post that the new schedules will run until at least February 28.
Thai Lion Air, Thai Air Asia, Nok Air, Thai Smile, VietJet Air and Bangkok Airways have returned to the domestic skies since July and slowly adding frequency to their routes.
In addition to resuming the domestic flights, the Thai Airways is relaunching some international flights from January 1 to March 27 including weekly flights to Frankfurt, London, Copenhagen, Sydney, Seoul, Manila, Taipei and Osaka. Flights from Bangkok to Tokyo will be available 3 times a week and flights from Bangkok to Hong Kong will be available every day.
Thai Airways has been tackling bankruptcy throughout the lockdown and trying to make up for more than 300 billion baht in losses. Since many flights were suspended due to travel restrictions, Thai Airways has tried to make money by business ventures on the ground, like a pop-up restaurant serving in-flight meals and selling off unwanted equipment from their warehouse. There also disposing of much of their older fleet, including all of their Boring 747-400s.
SOURCE: Bangkok Post
Catch up with the latest daily "Thailand News Today" here on The Thaiger.
Keep in contact with The Thaiger by following our
Facebook page
.
Never miss out on future posts by
following The Thaiger
.
97 police officers investigated for fiddling Covid-19 payments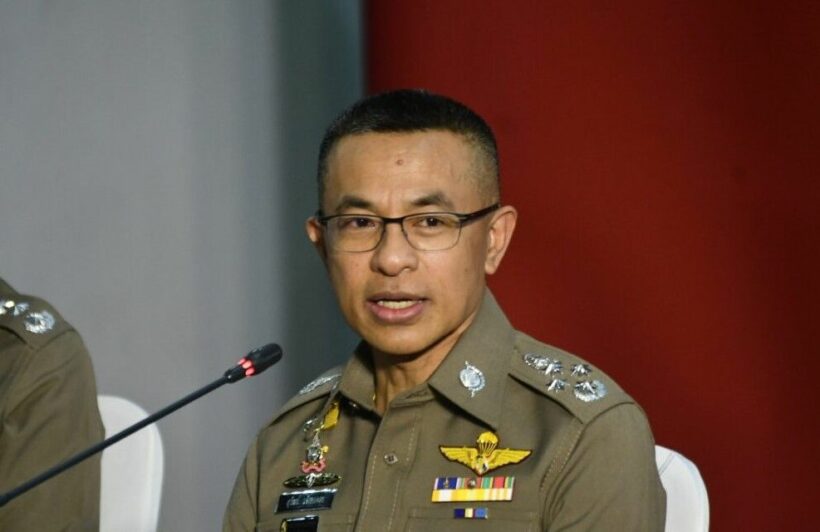 97 police officers, from 41 police stations, are currently being investigated for an alleged scam involving Covid-19 payments meant for officers who worked extra shifts during the crisis. The case was assigned by national police chief Suwat Jangyodsuk in November, when it came to light that some officers may have fraudulently claimed allowances meant for others.
In one incident, an officer responsible for transferring extra payments to police on the southern island of Phuket transferred the money to his own accountant instead. At the time, the transfer was dismissed as a mistake (in his favour), with the officer in question receiving a warning, and payments then made to the qualifying officers.
Wissanu Prasatthong-Osot from the National Internal Affairs Police says the investigation should reach a conclusion within the next 10 days.
"The result of the investigation should be ready in 10 days. Currently, 97 officers in 41 police stations ranging from non-commissioned to generals are under investigation for being involved in the swindle. The bureau aims to provide justice to all policemen involved. After the investigation concludes, the victims will receive their full allowance, while the offending officers will be punished under the law and disciplinary standards."
Nation Thailand reports that a full list of alleged offenders has been sent to Suwat, with Wissanu promising that none will escape prosecution.
"The National Police chief had also ordered the transfer of offending officers at the commander and sub-commander levels out of their areas as per the investigation procedures."
SOURCE: Nation Thailand
Keep in contact with The Thaiger by following our
Facebook page
.
Never miss out on future posts by
following The Thaiger
.
Speed limit on Thailand's highways to be increased to 120 kilometres an hour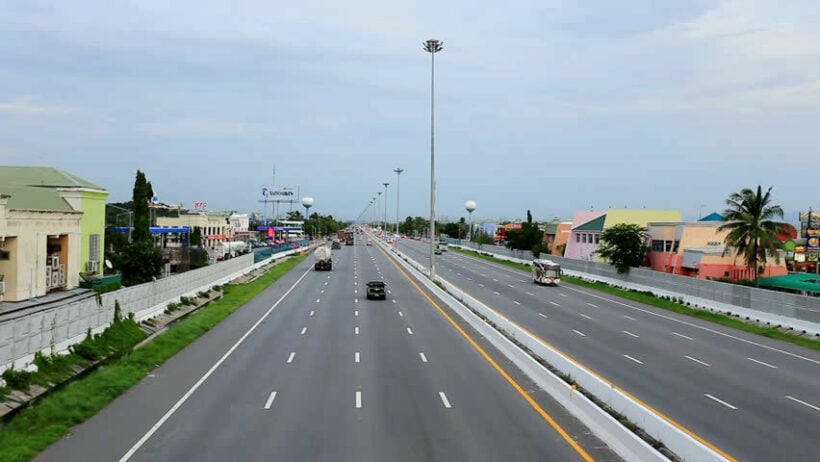 The government has approved an official increase in the upper speed limit on Thailand's national and rural highways, with the aim of improving traffic flow. The new maximum speed limit of 120 kilometres per hour has been confirmed by spokeswoman Traisuree Taisaranakul, after the Cabinet approved a draft regulation proposed by the Transport Ministry.
If you've ever driven on a Thai freeway or motorway you'd already know that much of the traffic drives in excess of 100 kilometres an hour and sometimes even more than the new 120 kph limit.
According to a Bangkok Post report, the new speed limit is applicable only to highways with at least 2 lanes travelling in the same direction and traffic islands that have barriers. It will not apply in the case of roads that have U-turns at ground level.
The upper speed limit will not apply in the case of all vehicles. Trucks that weigh over 2,200 kilograms, and buses carrying more than 15 passengers, cannot exceed 90 kilometres an hour. Buses with between 7 – 15 people on board can travel at speeds of up to 100 kilometres an hour. The exception is school buses, which cannot exceed 80 kilometres an hour (even if they wanted too!).
In the case of motorbikes, smaller bikes cannot go above 80 kilometres an hour. Bikes with 400cc engines, or 35-kilowatt (47hp) engines or above, cannot exceed 100 kilometres an hour. Meanwhile, vehicles in the furthest right-hand lane must maintain a speed of no less than 100 kilometres an hour.
SOURCE: Bangkok Post
Keep in contact with The Thaiger by following our
Facebook page
.
Never miss out on future posts by
following The Thaiger
.