Travelling to Thailand right now (April edition)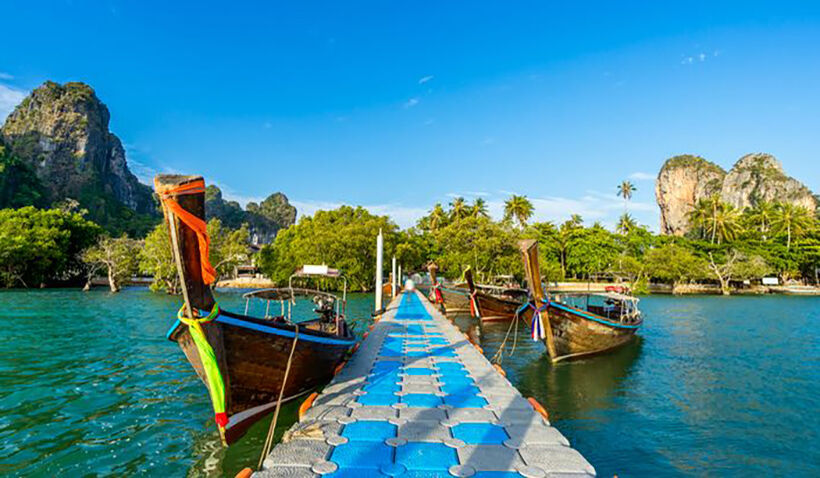 Finding information about traveling to Thailand at this time can be a bit confusing. Suddenly there's a lot more paperwork and the Thai government keep updating the situation. But the good news is that the Thai government have at least put out a 4-part plan to totally re-open the country by the end of 2021/start of 2022. You also need to work through the vagaries of individual embassies and staff who may sometimes have different interpretations of the latest guidelines. But everyone is trying their best to help you get back to Thailand… so your patience will be rewarded.
For now, you need to consider a few more things than in the past, including the situation in your own country and getting back home after your visit to the Land of Smiles. Currently there are many countries that require quarantine to get back in.
The Thai Government has now endorsed issuing a Covid-19 vaccination certificate in the kingdom (for people having the required doses of approved vaccines), while approving shorter quarantine periods for international arrivals. Both measures take effect from April 1 until further notice.
There is also a current variant of Covid-19 which is causing havoc in some countries and could potentially de-rail the best laid plans.
More re-entry information HERE.
Will I need a visa?
Here's a list of countries that, as of April 1, do not require a visa for a stay of up to 45 days in Thailand. They are part of the Visa exemption scheme.
Andora, Australia, Austria, Bahrain, Belgium, Brazil, Brunei Darussalam, Canada, Czech Republic, Denmark, Estonia, Finland, France, Germany, Greece, Hong Kong, Hungary, Iceland, Indonesia, Ireland, Israel, Italy, Japan, Korea, Kuwait, Latvia, Liechtenstein. Lithuania, Luxembourg, Malaysia, Maldives, Mauritius, Monaco, Netherlands, New Zealand, Norway, Oman, Peru, Philippines, Poland, Portugal, Qatar, San Marino, Singapore, Slovakia, Slovenia, Spain, South Africa, Sweden, Switzerland, Ukraine, Sweden, UAE, UK, USA, Vietnam.
Travellers from other countries – Laos, Macau, Mongolia and Russia – can also stay for 45 days under long-standing relationships whilst travellers from Argentina, Brazil, Chile, Korea and Peru can stay for up to 90 days.
If you're not on the list you can apply for a Special Tourist Visa. This allows travellers to enter for a maximum of 90 days, and can be extended for another 90 days, twice, but the STV plan finishes in September this year so you would need to apply before then. Any other visa type will need to be individually discussed with your embassy if your circumstances are exceptional.
The TAT has published this list of 11 different groups that can enter Thailand from April 1…
(1) Thai nationals.
(2) Persons with exemption or persons being considered, permitted or invited by the Prime Minister, or the head of responsible persons accountable for resolving state of emergency issues to enter the Kingdom, pertaining to necessity. Such consideration, permission, or invitation may be subject to specific conditions and time limits.
(3) Persons on diplomatic or consular missions or under International organisations, or representatives of foreign governments performing their duties in the Kingdom, or persons of other international agencies as permitted by the Ministry of Foreign Affairs pertaining to necessity, including their spouse, parents, or children.
(4) Carriers of necessary goods, subject to immediate return after completion.
(5) Crew members who are required to travel into the Kingdom on a mission, and have a specific date and time for return.
(6) Non-Thai nationals who are spouses, parents, or children of Thai nationals.
(7) Non-Thai nationals who hold a Certificate of Residence, including their spouses and children.
(8) Non-Thai nationals who have a work permit or have been granted permission to work in the Kingdom in accordance with the Thai laws, including their spouses and children, or foreign workers who have been granted exemption from the government to temporarily stay in the Kingdom and permitted to work through their employers or licensees who are permitted to bring in foreign workers to work in the Kingdom.
(9) Non-Thai nationals who are students of educational institutions approved by Thai authorities, including their parents or guardians, excluding students of non-formal educational institutions in accordance with the law on private schools, and of other similar private educational institutions.
(10) Non-Thai nationals who are in need of medical treatment in Thailand, and their accompanying persons. However, this shall not include medical treatment for Covid–19.
(11) Non-Thai nationals who have been granted permission to enter into the Kingdom under special arrangements between Thai government agencies and other countries, or persons or groups of persons who have been granted permission by the Prime Minister upon the submission for consider after the examination and review by the Ad Hoc Committee for the Consideration of the Relaxation of the Enforcement of Measures to Present and Suppress the Spread of the Communicable Disease Coronavirus 2019 (Covid-19), and shall comply with disease prevention measures determined by the Ad Hoc Committee.
Quarantine
From April 1 the quarantine time has been reduced. Unless you're arriving from a country where mutated strains of Covid are currently a problem.
"Quarantine will be reduced to 7 days for international arrivals who have been fully vaccinated against COVID-19 with a vaccine, approved, and registered with the MoPH or approved by the WHO, no less than 14 days before the travelling date. However, they must be from countries with no mutated strain of SAR-CoV-2 virus as announced and constantly updated by the MoPH."
Currently that includes many countries on the African continent. The Thai government will allow a quarantine of only 7 days for vaccinated travellers but only for people vaccinated within three months of travel.
In all cases you will need to have pre-booked and paid for your quarantine at a registered ASQ facility before you leave for Thailand. After July there are a couple of zones piloting a 'Sandbox' plan, including Phuket and Koh Samui, which won't require any quarantine for foreigners who carry a proof of vaccine (although the zones have to meet certain criteria regarding vaccination of local populations before the 'sandbox' is permitted).
Insurance
At this time there is still a requirement to purchase a special insurance against your catching Covid-19 with a value of at least US$ 100,000. Your embassy can provide you with a list of insurance companies providing this type of insurance at the moment. Your general travel insurance will not cover this.
Insurance information HERE.
Certificate of Entry
Anyone traveling to Thailand at this time must apply for a Certificate of Entry, including Thais. You can apply for the certificate online. Travellers will have to upload documents including a copy of your passport, a copy of you visa if required, and a copy of your insurance policy. Once pre-approved, you can buy your flights and then upload a copy of the flight tickets and ASQ booking confirmation with the hotel. Once your application in approved, you can download your Certificate of Entry.
Fit To Fly Certificate and Covid test
The fit to fly certificate from a doctor has been waived after April 1, although you should double check with your embassy if there is still a requirement for your country. You will also need a negative Covid-19 test result.
Check list
So, before you head for the airport, check that you have everything…. Your passport, certificate of entry, Covid insurance policy, your normal travel insurance (advised but not compulsory), a confirmed ASQ booking and a return flight booking, unless you intend to apply for a different visa when you arrive in Thailand.
Arrival
Once you arrive in Thailand you will undergo another Covid-19 test before being taken directly to your ASQ hotel for mandatory quarantine (sometimes this test happens at the ASQ facility). You will be tested twice during your quarantine period (but some travellers report different schedules to this), and then free travel around Thailand is allowed at the end of your quarantine period.
Re-opening Thailand
From July the government is trialling a pilot program where they will allow people to arrive without any quarantine – currently to Phuket and other hard-hit tourist areas. If all goes well, the intention is to have Thailand mostly re-opened by October. BUT we should also realise that there are still many variables at play and any of these plans and dates may change. We'd recommend you keep following thethaiger.com for all the latest information about travel to Thailand.
We'd also recommend contacting your embassy for any of the latest information about formalities if you wish to travel to Thailand right now before injuring expenses like booking flights or your ASQ.
Keep in contact with Thaiger by following our Facebook page.
Never miss out on future posts by following Thaiger.
UPDATE: Field hospitals being established in Covid hot zones around Thailand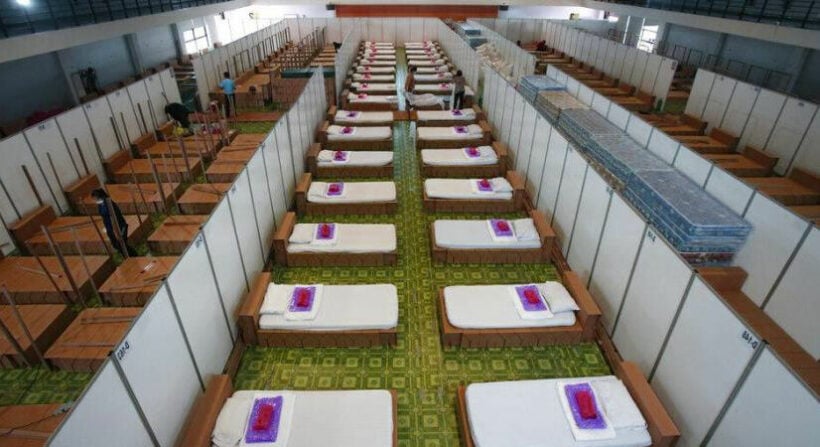 UPDATE: The field hospital in Bangkok's Bang Bon district, west of the Chao Phraya river, had its first 10 Covid patients today. The director of the medical services office of the Bangkok Metropolitan Administration says that the 10 patients into the makeshift hospital, located at the Chalerm Phra Kiat Stadium, will enable assessment of the performance by the medical team, before more patients arrive – Thai PBS World
ORIGINAL STORY: Despite the confident posture and Songkran going ahead, amid restrictions, there is a lot of background activity which suggest the authorities are getting ready for a surge of new infections at the end of the Songkran break, officially this Thursday (but in reality, next Sunday at the end of the weekend when most people who travelled home will return for a resumption of work).
The Thai lunar new year celebrations – Songkran – are the largest mass movement of Thais each year, a source for a huge leap in road deaths and accidents. And, this year, a potential super-spreader event.
Quietly, at least 3,000 extra beds have been prepared in 10 field hospitals around Bangkok. The government has also confirmed that additional field hospitals are being set up in other potential 'hot zones', including Phuket, Chiang Mai, Chonburi and Hua Hin. Some of them were set up last year, and since closed, and now being prepared for new positive infections.
One Thai person who had been in one of the field hospitals put together a check-list of things to take IF you end up as an invited 'guest' HERE.
The CCSA say they are looking for additional beds in hotels and previous state quarantine facilities (where repatriating Thais were housed for their free quarantine) to be used if needed.
This year's Songkran had bad timing, coming just a week after a number of major clusters were identified around some of Bangkok's popular nightlife areas in 3 key inner city districts. Even before Songkran these isolated clusters had already spread into the provinces. In the weekend before Songkran the government had already listed 37 provinces which had instigated some form of paperwork or restrictions for people who had been in any of the 3 Bangkok districts.
The government also leapt on the source of the new outbreaks – bars, clubs and entertainment venues – and promptly shut them down for at least 2 weeks. At this stage it looks likely that that ban will be extended beyond the 2 weeks and, depending on the extent of new infections following the Songkran holiday, additional restrictions will also be added.
Even today the Civil Aviation Authority published a number of new in-flight restrictions for passengers – another blow to the hard-hit domestic aviation sector.
Keep in contact with Thaiger by following our Facebook page.
Never miss out on future posts by following Thaiger.
Covid UPDATE: Daily infection number drops slightly on Tuesday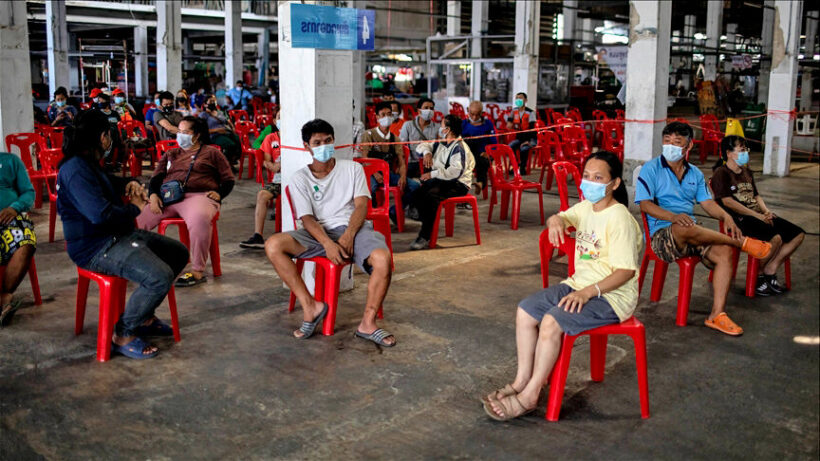 965 people have been detected as infected with Covid-19 in the past 24 hours. The daily total is the first drop in daily numbers for 13 days. 28,288 people have fully recovered. The total deaths remains at 97 people since the start of the pandemic in Thailand. 6,190 people remain under hospital care or are being monitored.
654 of today's cases are local community infections.
Out of today's infections, the CCSA announced that most were in the northern city of Chiang Mai (251) which has been hit particularly hard, followed by Bangkok (194), Chonburi (97), Prachuap Khiri Khan (73), Nakhon Ratchasima (67), Samut Prakan (49), Samut Sakhon (34), Rayong (25) and Pathum Thani (21). 8 new infections were officially reported in Phuket by the CCSA.
Regarding vaccinations, 578,532 people have now been vaccinated. Yesterday, 6,424 people received their first injection, 2,056 received their second Covid vaccine.
There's now a total of 34,575 people who have now been infected with the coronavirus in Thailand.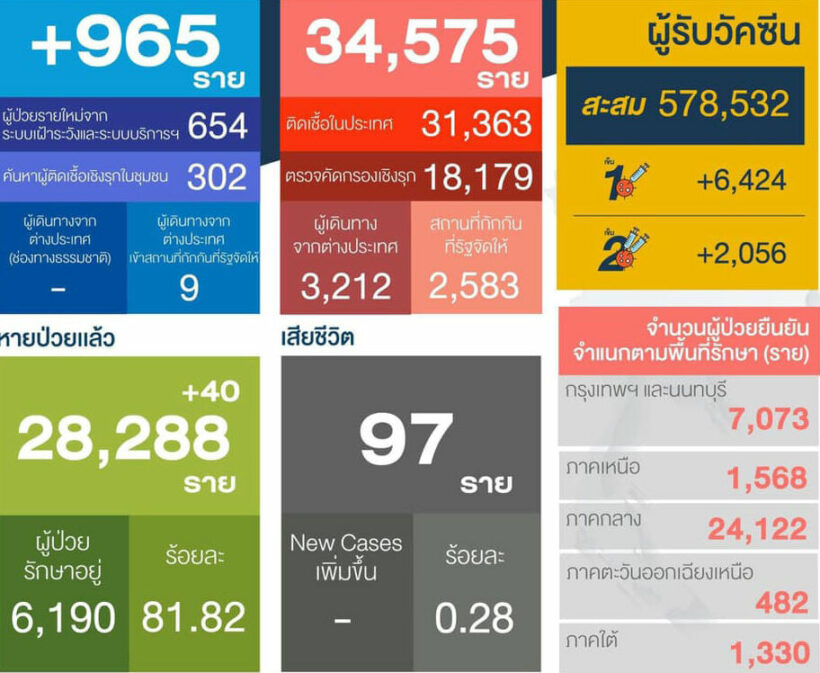 Keep in contact with Thaiger by following our Facebook page.
Never miss out on future posts by following Thaiger.
WHO says pandemic reaching critical levels in South Asia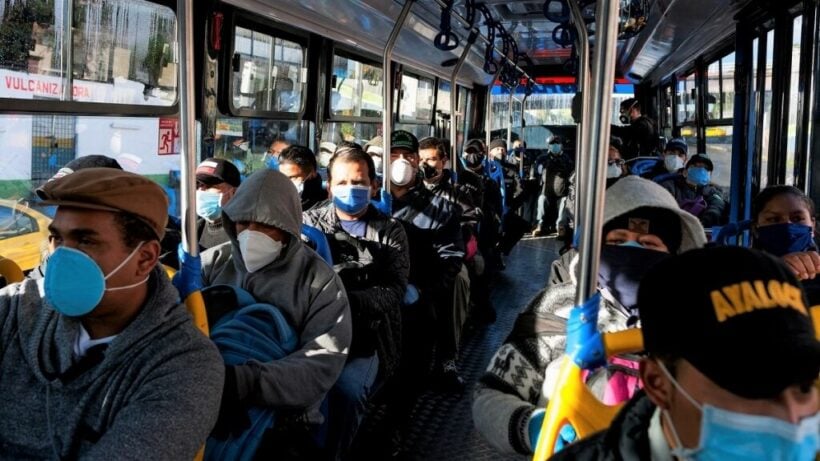 Despite vaccines being rolled out, the WHO is warning that the Covid-19 pandemic has reached a "critical level" in South Asia as infections keep rising. The virus has already taken 2.9 million lives, infecting 136 million worldwide and the WHO's technical lead on Covid-19, Maria Van Kerkhove, says the "trajectory of this pandemic is growing…exponentially."
"This is not the situation we want to be in 16 months into a pandemic when we have proven control measures. We are at a critical point of the pandemic right now."
The US is still the country with the most amount of infections, but India has recently taken the number 2 spot over Brazil, reporting 168,000 new cases in 1 day. India's total amount of infections is now at 13.5 million, edging Brazil's 13.48 million into the number 3 spot.
But a race among nations for Covid infections is not what the WHO – or anyone for that matter – is wanting. 28 year old Rohit, a waiter in Mumbai, seems to say that the race won't end if people continue to not listen to safety protocols.
"The solution is for everyone to stay home for two months and end this (pandemic) once and for all. But the public doesn't listen. Nobody follows the rules in the restaurant… If we tell customers to wear masks, they are rude and disrespectful to us."
Ignoring the social – distancing rules has experts up in arms as they warn that huge, mass gatherings are what we all thought they were: a super spreader event for Covid-19.
But the Indian government appears desperate to avoid a repeat of last year's nationwide March shutdown which saw some of the world's toughest measures causing misery all around. Thus, the balance between managing a country's overall health and financial situation is a tedious one.
Bangladesh has chosen health, for now, as it is shuttering both international and domestic airports from tomorrow. Its population of 160 million people, will be sealed off from the rest of the world.
And, in Thailand, a 3rd wave has hit, making plans for a full reopening by October, seem to be in vain. Social distancing and mass gatherings are, again, to blame, as entertainment venues sparked the recent spread. As normally tourism-heavy destinations, like the Andaman island of Phuket, are rapidly inoculating its residents to prepare for a July reopening, the new wave has dampened hopes of reviving the economy.
For now, the efforts to contain the Covid pandemic have been futile worldwide, but history has a habit of repeating itself, especially when safety protocols fall on deaf ears.
SOURCE: Thai PBS World
Keep in contact with Thaiger by following our Facebook page.
Never miss out on future posts by following Thaiger.