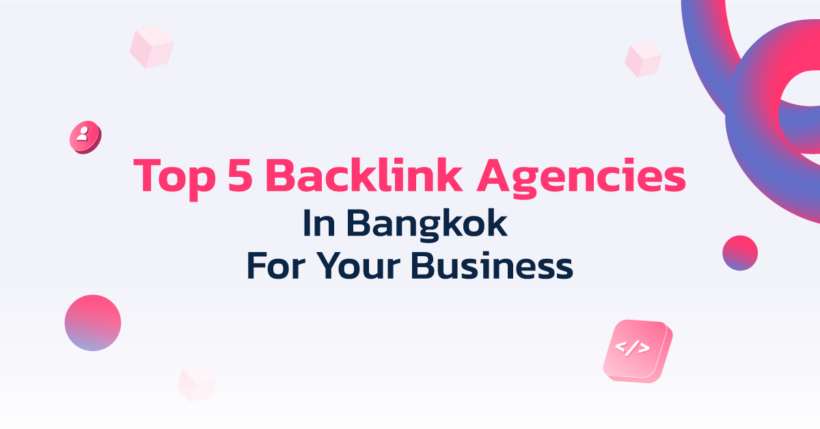 SPONSORED
Backlink is one of the most crucial parts that every marketer and business owner should be aware of. However, it is not that easy to go through all the process of backlink building alone. But don't worry, because we list the best backlink agency here for you. Let's explore what backlink is and how everything works to help your business grow sustainably.
What is a backlink?
Backlink, as known as inbound link and external link, is a link from other sites – a referral site, to your own site. It is recommended to be relevant to the context that is written on your page, normally known as a landing page. To be referred from other sites, it means your website is qualified to be cited about. And that is when Google recognizes it and starts to rate and rank your website higher.
How does backlink help SEO and ranking?
Backlink doesn't help your website grow in a blink of an eye, yet it does help passing authority from other referral websites, we call it link juice. The number of domain authority and page authority may not immediately change but in the long term they definitely will.
These numbers are important as they are ranking factors in SEO that Google recommends focusing on. However, there are many more elements to increase these numbers. For backlink, it works organically as favorable votes which search engines or especially Google counts and positively views our website through other websites. Therefore, the more backlinks our website earned, the easier and higher chance to be ranked on top of SERP (Search Engine Result Page).
What is a good backlink?
People may notice only that side of the backlink building and some may force many links into their website or even continuously generated from the same sites (manipulative backlink), mostly from PBN (Private Blog Network) websites. From experts and Google's viewpoint, it doesn't help and even worse, multiplies spam score or bad score to our website. The good backlink (from a referral site) should be crafted with professional details just like the original content on a landing page (your website) and most importantly, should be related to the product, service and business.
Many bad backlink buildings don't contain high quality and relevant contents. And sometimes, the backlinks are generated from low quality websites or unreliable sources such as websites without SSL Certificates (a provision of security for online communication) and that makes search engine detect the unusual or spammy backlinks and gradually filters out your website and views it as a spammy site as well.
Why do you need an SEO Agency to help with backlink?
As suggested above, more than generating good quality backlinks, backlink building techniques and affiliated website partners are also important for making good quality backlinks is to get backlinks from multiple sources or to be precise, different domains as much as possible. It can be a waste of time and money for your business just to go through making quality content, let alone the process of reaching out for other websites to share a space for your backlink contents. Therefore, it is better, safer and cheaper if the work is in the hands of the experts of the job.
We do recommend these Backlink Agencies based in Bangkok that provide a service to help you and your business go through the process of link-building with the higher level of efficiency and quality to save you time and money.
Top 5 Backlink Agencies Bangkok, Thailand for Your Business
1. Minimice Group

Minimice Group is a leading Digital Marketing and Backlink Agency in Bangkok that provides you and your business with a great number of quality websites for backlink building. There, you'll meet a team of experts with experiences in the field of backlink building to help you grow your website and business sustainably by pushing your website's contents into the top of the search result page.
More than backlink building, Minimice Group also provides you with many more digital marketing services such as SEO, SEO content, or even paid media services – such as Google Ads, Facebook Ads and all sorts of other social media ads. Guaranteed by potential clients and leading companies, Minimice Group will surely satisfy your business growth.
For more information and details, please contact via
Phone Call : 064-991-5549
Line Official Account : @minimicegroup
Email : info@minimicegroup.co.th
2. TBS Marketing

TBS Marketing is a Backlink Agency in Bangkok which is an expert in the field of backlink building for domestic and oversea clients for more than 10 years. TBS Marketing provides you with a reliable strategy, planning and overall services by professional SEO specialists to ensure you the higher traffic your website will get.
For more information and details, please contact via
Call : 02-717-8124 หรือ 02-007-5800
Line Official : –
Email : info@tbs-marketing.com
3. Move Ahead Media

Move Ahead Media is a Backlink Agency in Bangkok, Thailand that also provides you a full-loop of digital marketing such as SEO, Google Ads, Social Media Marketing and Website. With their own strategy, Move Ahead Media can satisfy you and your business growth under the expense your business requests.
For more information and details, please contact via
Call : 02-260-0422
Line Official : @moveaheadmedia
Email : info@moveaheadmedia.com
4. CSME Thailand

CSME Thailand is a Backlink Agency Bangkok with various services concerning backlinks, SEO, Social Media Ads, website design and other digital marketing aspects which makes your business known, leads sales and helps you plan for success easier.
For more information and details, please contact via
Call : 02-107-2505
Line Official : –
Email : sawadee@csmemarketing.co.th
5. Redsky Digital

Redsky Digital is a Backlink Agency in Bangkok with various services in online marketing such as SEO, SEM, Social Media Ads, Google Ads PPC including Content Marketing. Redsky Digital provides comprehensive techniques for all aspects to satisfy all you need.
For more information and details, please contact via
Phone Call : 082-280-1885
Line Official : –
Email : info@redskydigital.com
Backlink building requires a lot of knowledge, techniques and efforts to make it sustainably successful. Hiring Backlink Agency Bangkok is a recommended alternative for business owners and online marketers who are looking forward to increasing website's traffic. With the help of experts, there are more chances for a business to grow bigger and expand a larger group of customers.