Three of the Tham Luang cavers are stateless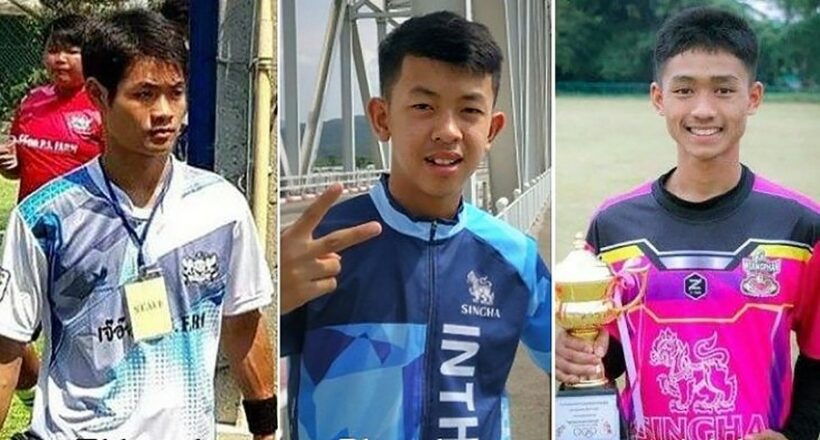 By Pratch Rujivanarom
When three of the Mu Pa footballers were rushed to the Chiang Rai hospital after their rescue, they couldn't check in as Thai citizens, or as citizens of any country for that matter. They are stateless – no passports, no 'home country', no ID.
The lack of Thai citizenship the three youth footballers highlights the hidden problems of stateless people.
The Interior Ministry and the Children and Youth Department have confirmed that three of the 13 survivors from the Chiang Rai cave are 'stateless'. Authorities have already promised to provide them legal assistance in the nationality verification process and if there were no complications in their documents all of them will have Thai nationality within six months. This follows extensive support from social media over the past week about the plight of the stateless members of the team.
Ekkapol Chantawong, Phonchai Khamluang, and Adul Sam-on are just 3 among 500,000 stateless persons in Thailand who have to endure limitations in many aspects of their life as they are denied some rights and opportunities – they can't legally work, get married, apply for a passport, buy a house, apply for insurance, a bank account, etc.
It was also disclosed that many stateless persons have to wait for a decade to get Thai citizenship because of the slow verification process.
Surapong Kongchantuk, a prominent activist on human rights and nationality issues, says that although the Thai government has provided basic rights to all persons in Thailand, ensuring compulsory education and healthcare, stateless persons still face many complications in their lives.
"Theoretically, all people must be under the care and protection of being a citizen of at least one state, but in reality there are more than 500,000 persons in Thailand who do not have any nationality, even though they are born and raised in Thailand," Surapong said.
He said the lack of citizenship means that stateless persons are denied access to many fundamental rights such as travelling abroad, getting higher education or employment in some careers, so they do not have many opportunities to improve their lives.
According to Surapong, stateless persons can ask for nationality verification at their local administrative organisation to acquire Thai citizenship. They must provide proof of their birth and lineage and that they were born to a Thai national parent. Ethnic minorities born in Thailand are eligible to get Thai nationality.
Otherwise, they can submit a bachelors degree or diploma or ask for a special grant from the Thai government to get Thai nationality, he said.
Nevertheless, he said the procedure to verify and seek Thai nationality is slow and complicated because local administrative organisations often do not have enough staff to deal with the overwhelming number of requests for nationality verification. Some people have to wait for more than 10 years to get Thai nationality and receive a Thai citizen ID card.
Legal Status Network Foundation chairman Santiphong Moonphong also said that due to the complications and the long period of time it takes to get Thai nationality, many youths who do not have citizenship lose opportunities.
Santiphong said he hoped that the nationality status of three survivors from the Tham Luang cave would bring the problems of stateless persons to public attention and get prompt solutions from the government.
STORY: The Nation
Keep in contact with The Thaiger by following our
Facebook page
.
New Robinsons Tower in Singapore reaches for the sky with a green thumb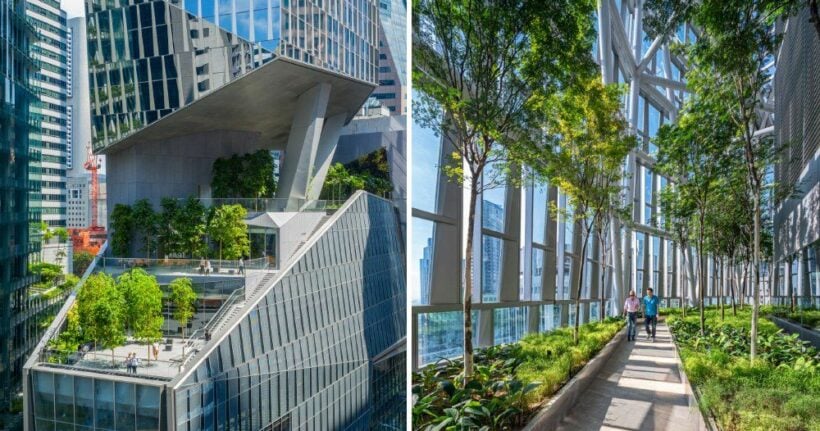 Thailand's capital could never be accused of having one of the world's most interesting skylines. Except for maybe the Mahanakorn 'lego building', there is little cutting edge skyline architecture in Bangkok.
It's a different case a few hours flight south in the Lion City, Singapore.
Pushing all sort of limits is the new Robinson Tower in the CBD. The first impression is of the upper section floating above the lower, with a leafy garden flowing between the two.
A closer inspection reveals a core that provides the backbone fo the entire structure. The twenty floors of offices also has a terraced rooftop garden.
Designed by New York's Kohn Pedersen Fox Associates, the tower is also home to retail and food outlets in the lower section of the building, all arranged around another greenspace in a central atrium.
The architects say the design was influenced by Singapore's Landscape Replacement Policy, which requires developers to incorporate publicly accessible green spaces equal in area to any greenery removed to develop the property.
"The dynamic tower frees itself from the canyon of stoic facades, integrating green space at unique vantage points and ultimately cultivating the public realm alongside a boutique, mixed-use program," said Bruce Fisher, design director at KPF.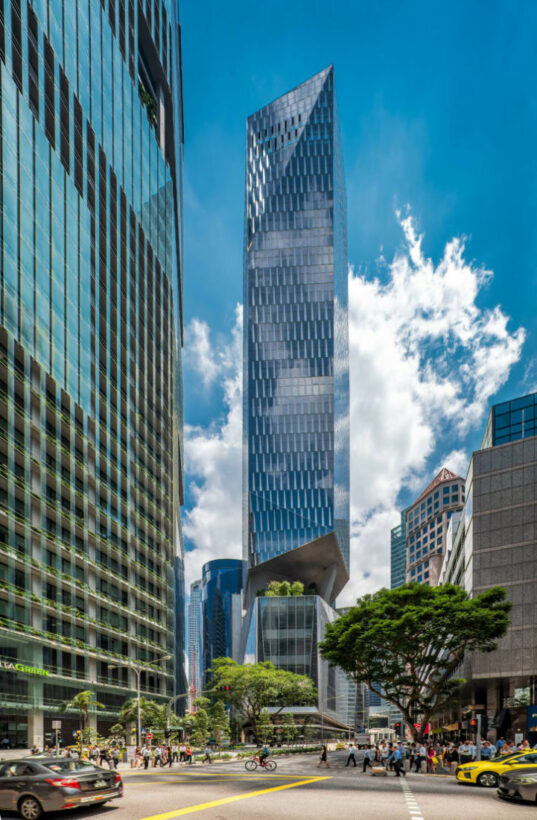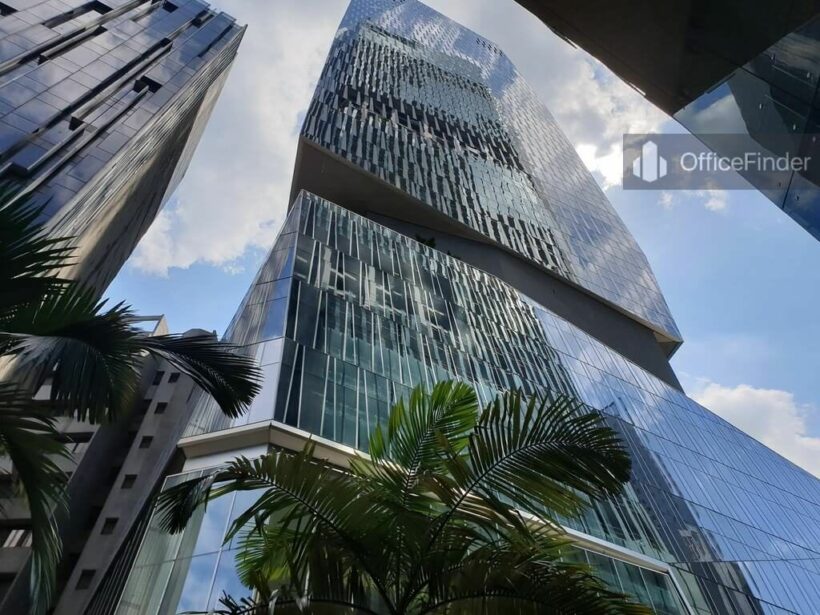 Keep in contact with The Thaiger by following our
Facebook page
.
Songkhla soi dogs heading to the US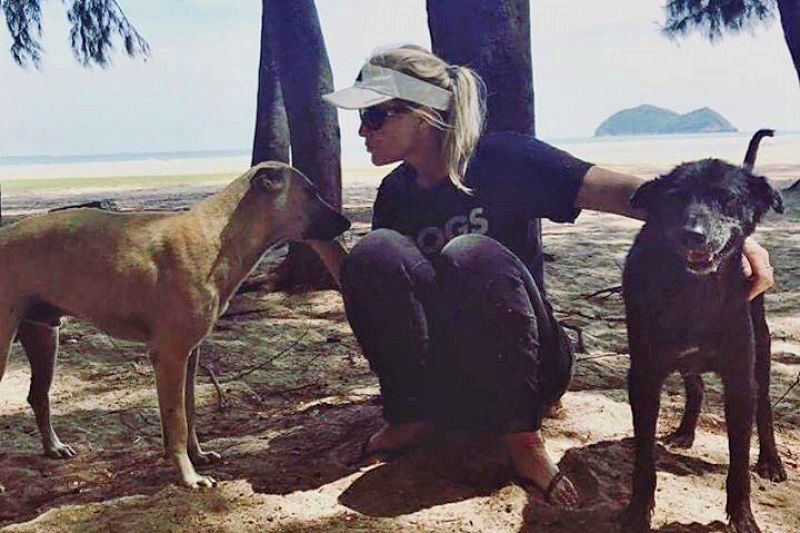 PHOTOS: Workpoint News | Thai Street Paws Rescue
5 dogs out of 29 that had been left to die in an abandoned home in Songkhla are now heading to the US to meet their new owners.
Officials from the Division of Animal Welfare and Veterinary Service and Smiledog Home volunteers report that the 29 dogs and 8 cats were abandoned at a house in Songkhla. Two representatives from Smiledog are taking care of the animals in Songkhla as their health improves and the lucky 5 dogs prepare for their long plane journey. A team of vets from Song Tale Veterinary Clinic have been providing expert medical care.
The owner of Thai Street Paws Rescue, Tamara Johnston, is an Australian teacher who teaches in Songkhla. She has played a major role in saving these animals and is the reason why 5 of them will be traveling to the US in September. She has been rescuing stray dogs and finds new owners for them without any adoption costs, except the travel fees for the animals.
Siripun Knampromwong from Smiledog Home says that the dogs have been happier since the rescue. They are playing with each other and have enough space to run around. There are still some animals available for adoption, those who are interested can contact via the Facebook page.
STORY: Workpoint News | Thai Residents
Facebook page
.
Thai bus travels 'sideways' along north-east highway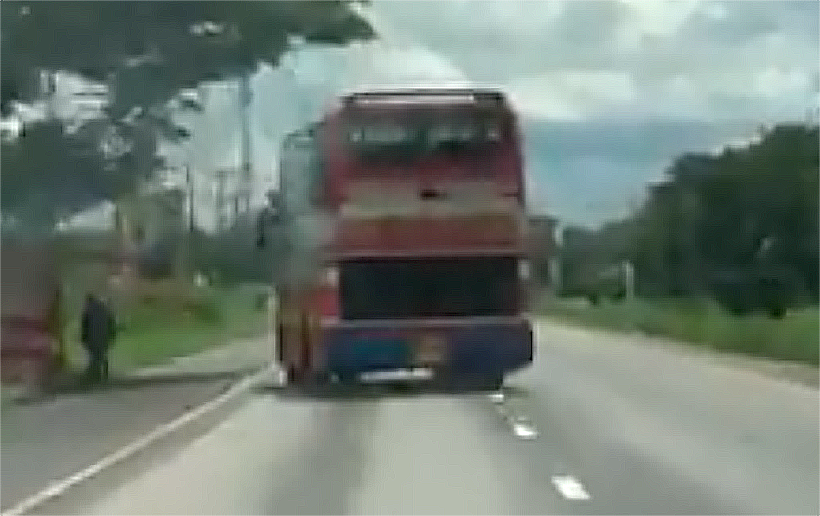 VIDEO: สุดจัดปลัดบอก ปลัดลาออกยังบอกว่าสุดจัด
A bus, making its way from Nakhon Ratchasima, to Udon Thani, has surprised the passengers in the car behind. They did what we all would do in these circumstances. Notify the police? No, post it on Facebook!
The bus was travelling, crab-like, slightly sideways, at reasonably high speed for many kilometres. The bus's wheel alignment was well out of whack or something was loose. Either way, the bus was a danger for everyone on the road, and the passengers, as its journey was captured, making its way through Khon Kaen in north-east Thailand.
On a positive note, the passengers on the right hand side of the bus had a lovely view of the road ahead.
รถบัสโดยสารสายนครราชสีมา-อุดรธานี สภาพรถเอียงคล่อมเลนตั้งแต่ออกจากอุดรธานีมุ่งหน้าขอนแก่น อาจจะเกิดอันตรายแก่ผู้โดยสารได้ ไม่ทราบว่าคนขับรู้สึกถึงความผิดปกติหรือไม่ 🙄

Posted by สุดจัดปลัดบอก ปลัดลาออกยังบอกว่าสุดจัด on Tuesday, 20 August 2019
Keep in contact with The Thaiger by following our
Facebook page
.